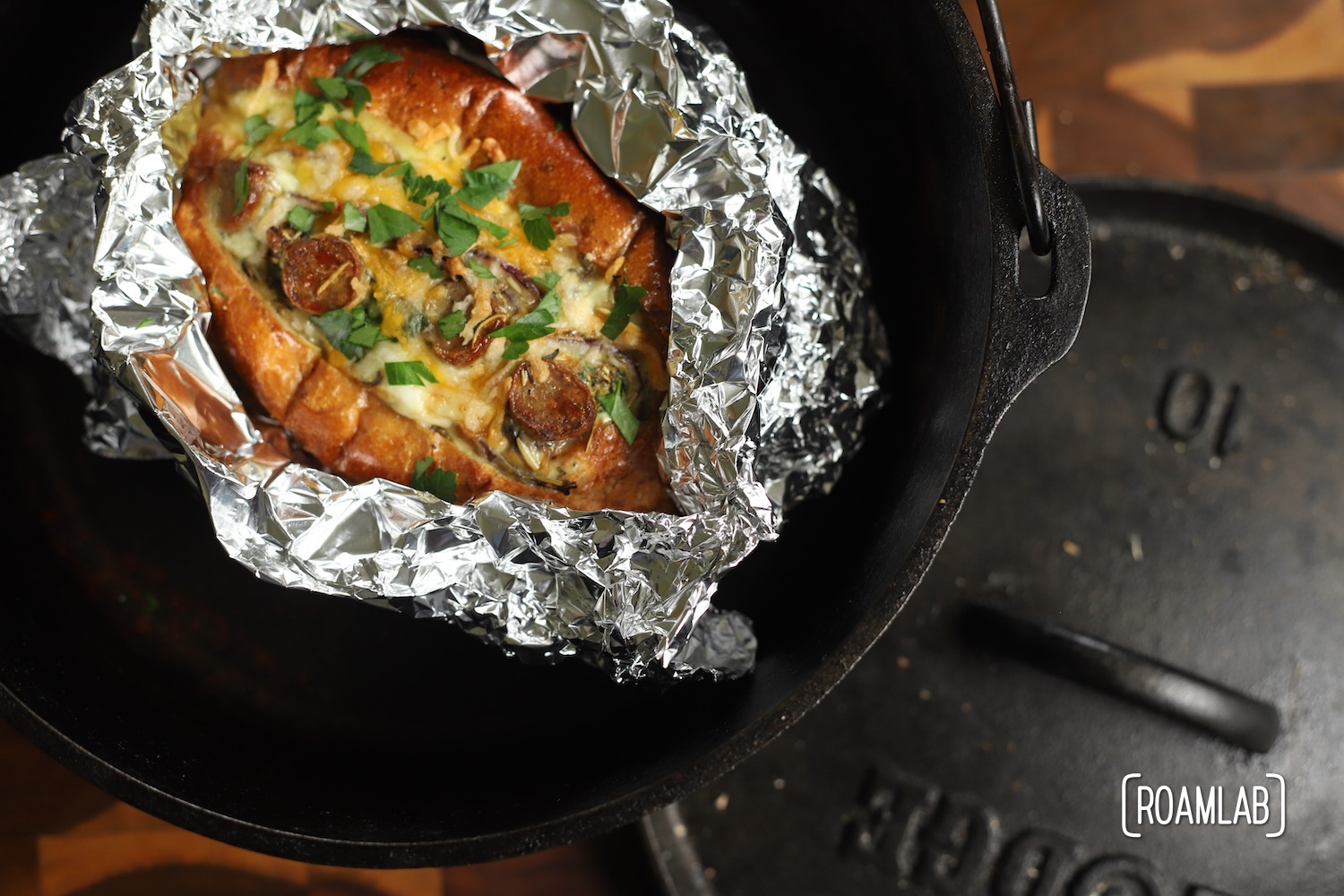 Egg Boats
Campfire Cooking
How many ways can you prepare eggs? I don't know, but I'm ready to find out. Today's latest experiment is egg boats. Yes, we already did a potato egg boat but what about bread? Call it a bread bowl frittata, savory stuffed french toast, or the poor man's quiche. But these flavorful, bready breakfast delights are flexible and allow for no end of creativity at home or over the campfire.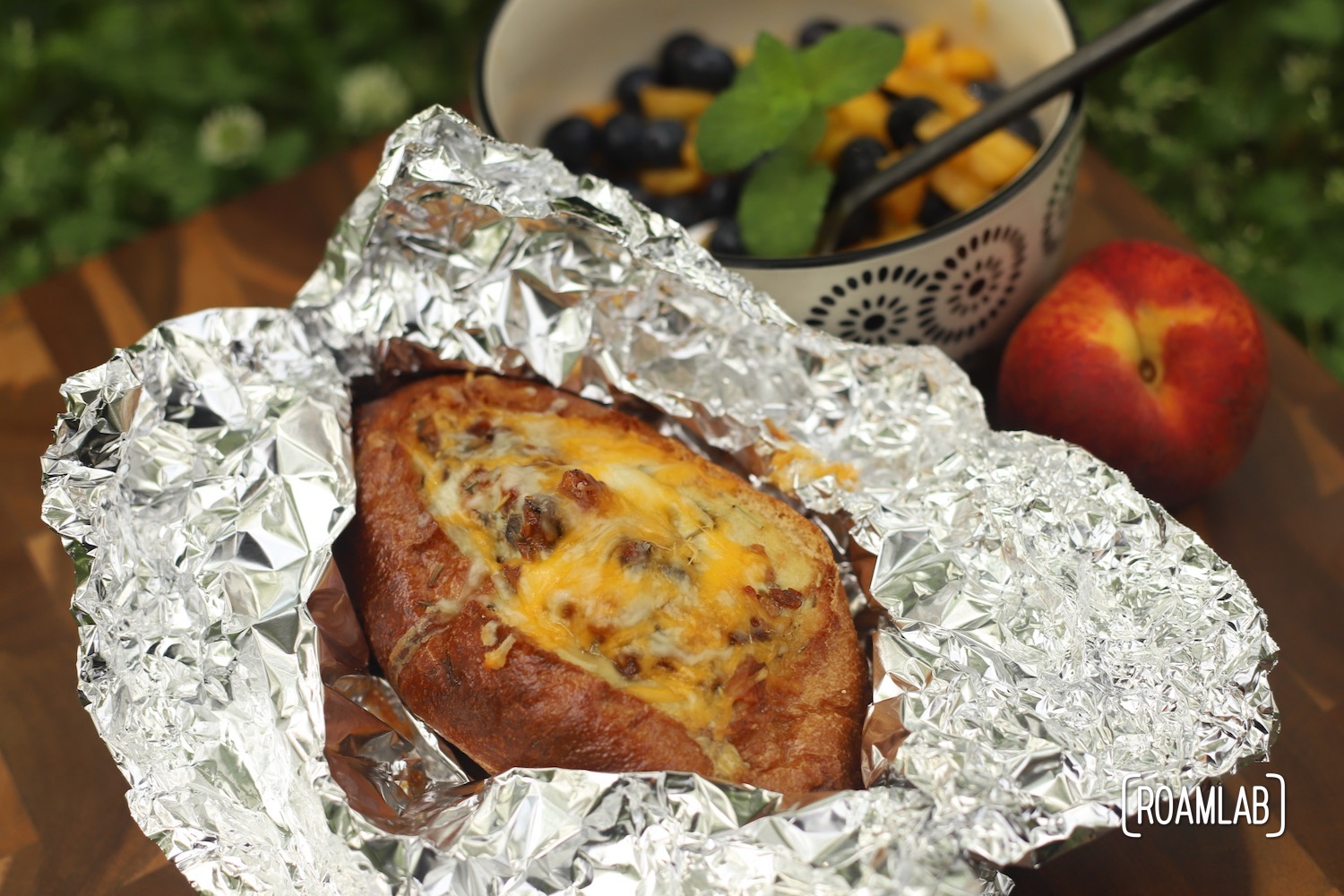 Lessons Learned
We prepare our egg boats in our dutch oven with coals but this recipe can be done in your home oven as well. In my book, there's no wrong way to cook these egg boats, so long as the egg and any meat is cooked through. But there are certain methods I have found to make the process a little less error-prone. For example, using a dutch oven and tin foil may seem redundant, but it makes the process much more straightforward. So, I'll dive into a few of the lessons learned while developing this recipe before spelling it out, step by step.
Create A Structurally Sound Bread Bowl
The key to preparing these dishes is to create a proper bread bowl that can contain the egg mixture while it is liquid. So, it's important that whatever bread is used is not pre-sliced. We used fresh hoagie rolls, but there's a lot of room to improvise with different rolls of bread. We cut off the top half-inch to expose the bready interior and then pull out chunks of bread to hollow out the inner bowl.
Once the bowl is hollowed up, it helps to wrap the bowl in tin foil so that it won't rip or fall apart if it gets too soggy.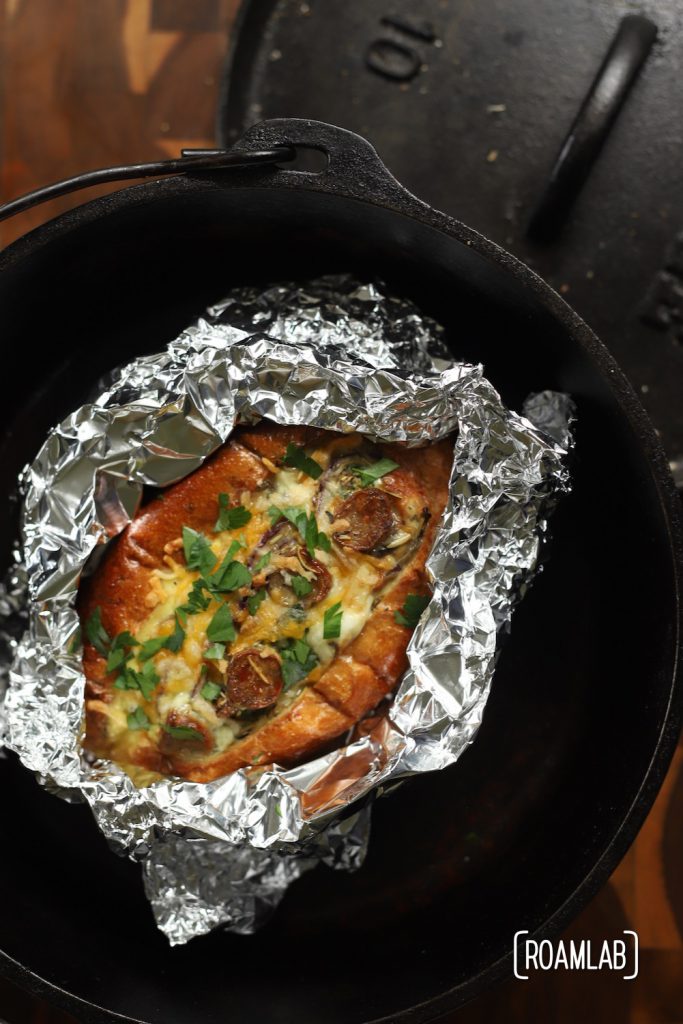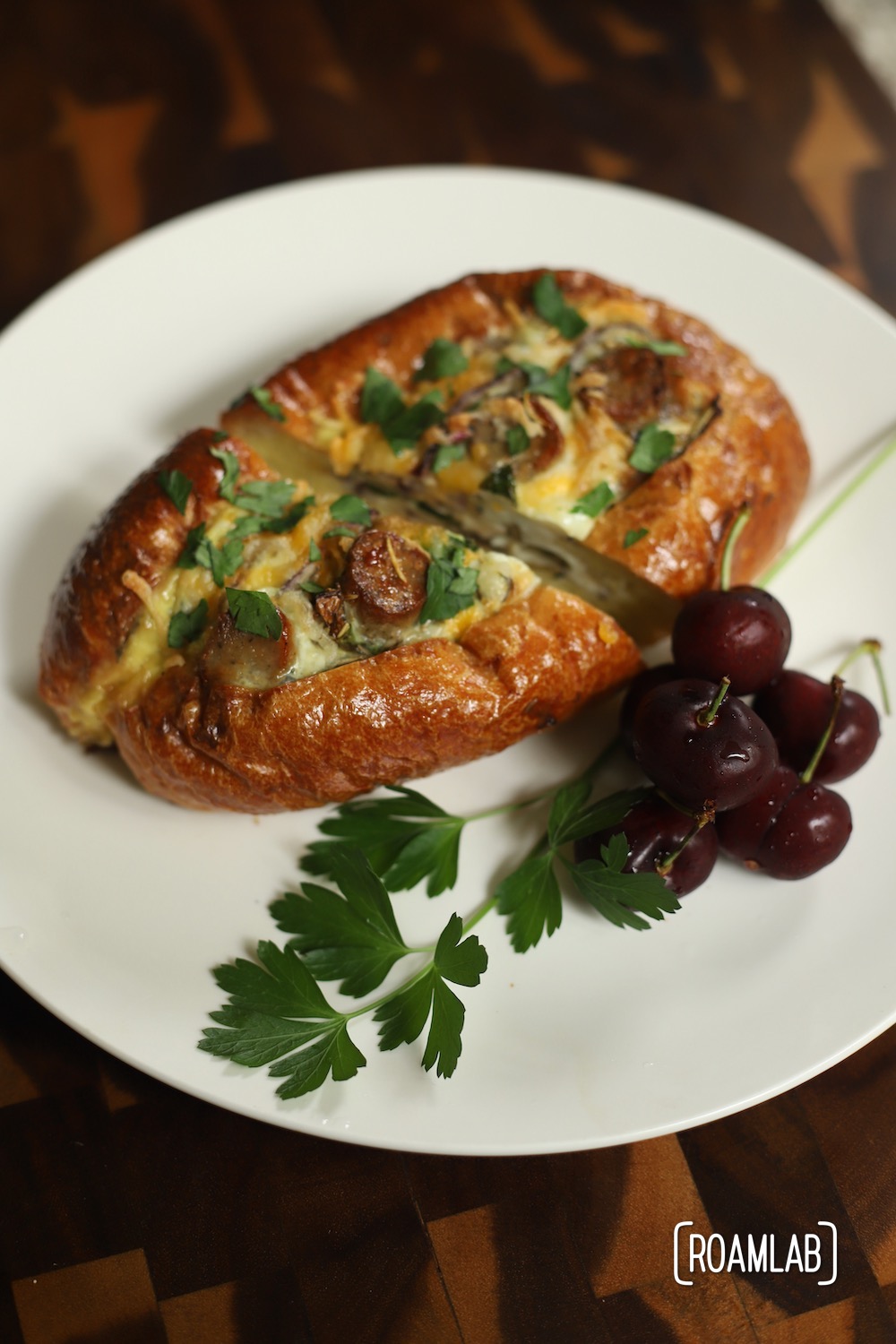 The Managing the Egg Mixture
Pouring the egg mixture can also be a nuanced step. Depending on the bread, it can take a while for the egg mixture to saturate the bread. So we often pour as much of the mixture into the bread boat as will fit and then set the boats aside for a few minutes. The level of the egg mixture should drop as it soaks into the bread. Top off the bread boat with some additional egg mixture, secure the tinfoil around the bread boat, and then carefully place the packets into the dutch oven.
One nice part of this recipe is that it's easy to check on the boats as they bake. Unwrap the top of the foil packet and give the boat a gentle shake to see if the egg mixture is still liquid under the surface. When the egg is cooked through, remove the egg boats from the heat and set them aside on a plate to cool.
The bread may be a little spongy like a bread pudding. If you want it to be crispy, you can remove the bread from the tinfoil and replace it in the dutch oven to crisp for another five minutes.
Make It Your Own
One of my favorite parts of this recipe is the opportunity for endless remixes. Once you have the basic idea down, it's easy to mix in your own favorite ingredients. Swap out the sausage for bacon, ham, or chorizo. Heck, forget about meat and create a vegetable medley. Add your favorite herbs. Experiment with different bread rolls. So, we have the details of our recipe below, but consider the following as a series of recommendations. Not hard and fast rules.
Egg Boats Recipe
Serves 2
Ingredients
1 8-inch long hoagie roll
4 eggs
1 white mushroom
1 tablespoon red onion, diced
1 tablespoon spinach, chopped
1 pre-cooked sausage link
1/2 teaspoon rosemary
1/2 teaspoon thyme
1 tablespoon shredded cheese
salt and pepper to taste
Equipment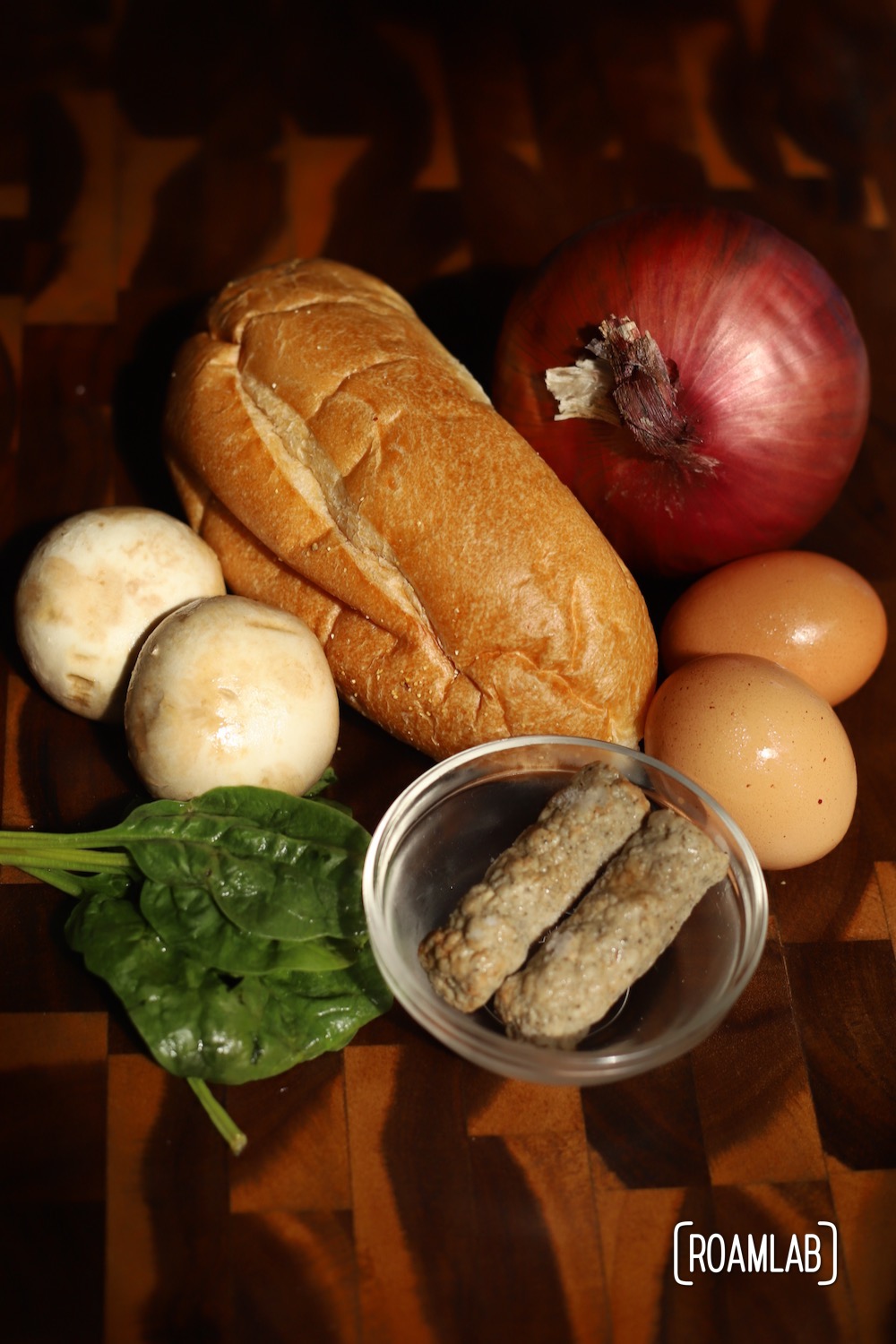 Directions
Heat the dutch oven to 325 degrees
Slice the top half-inch off the hoagie roll
Pull out extra bread to make a bowl
Fill bread bowl with mushrooms, red onion, spinach, sausage
Beat eggs with rosemary, thyme, salt, and pepper
Pour egg mixture into bread bowl
Use the remainder of the egg mixture to brush around the bread
Wrap bread bowl in tin foil
Bake for 30 minutes or until the egg is solid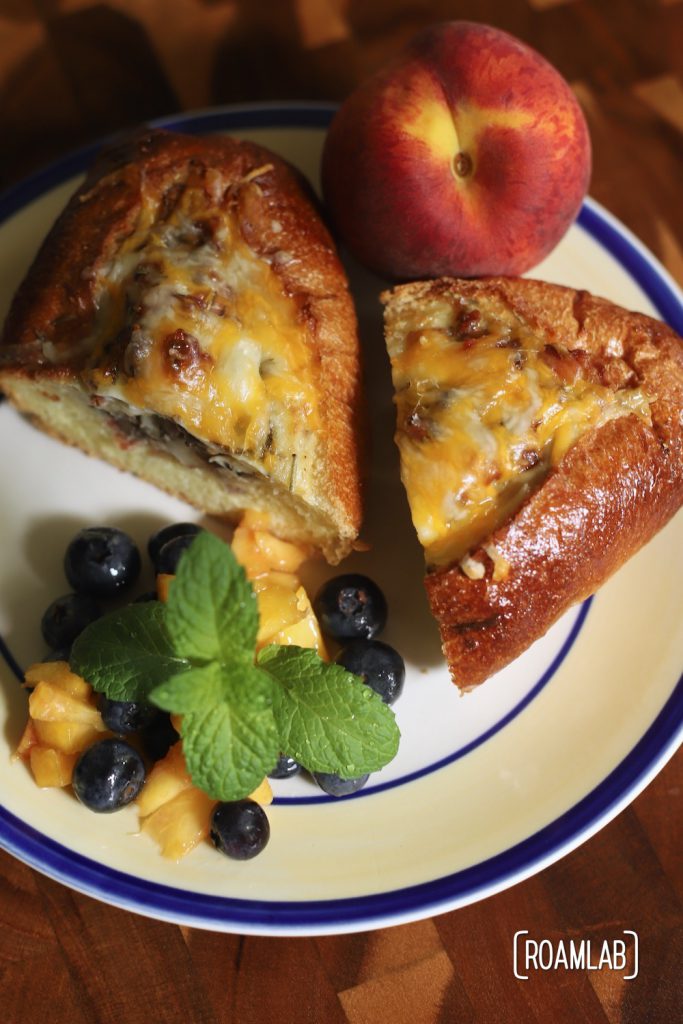 Pairing
These egg boats can be meal enough on their own. But you can lighten up breakfast by pairing them with some fresh fruit. We enjoy a medley of ripe peaches and blueberries. Feel free to add whatever is in season for a side of fruit or a fresh fruit salad. You can even get fancy and top it with a sprig of mint.