With plans to camp at Imperial Sand Dunes canceled, we find ourselves, late in the afternoon, wondering where we will spend the night. Fortunately, the ranger at Imperial Sand Dunes has some advice: check out Tumco Ghost Town in the Cargo Muchacho Mountains.
Tumco Ghost Town
The sun is low as we reach the abandoned town of Tumco. This is a region that has experienced the boom and bust of gold speculation for over 300 years. It is one of the first gold mining destinations in California, though few remember it. Gold was first discovered by Spanish colonists traveling northwards from Sonora, Mexico. In fact, the Cargo Muchacho Mountains are named after the two young muchachos cargados or "loaded boys" who returned to camp with gold ore.
Tumco gained its current name in 1910 from The United Mines Company (TUMCo) in one last attempt to reach the remaining gold ore. Yet, by 1911, miners were pulling up stakes to move back to Yuma as accessing the gold deposits proved too costly. Now, what remains are fallen walls, aged holding ponds, and sealed mine shafts. We wander along the dusty trail, winding past shards of glass from broken bottles and the rusted remains of tin cans.
Camping in the Cargo Muchacho Mountains
There is no developed campground outside of Tumco Ghost Town. You won't find any vaulted toilets, let alone running water. There is a large, flat, gravel lot for parking where three large RVs had already leveled out and set up for the night. Yet, along with the lot, there is a nearly indiscernible gravel road which two truck campers are also camping along.
We follow the lead of our fellow truck campers and drive down the bumpy gravel road closer to the foot of the Cargo Muchacho Mountains. We settle into a relatively secluded nook, flanked by a sharp ridge. While I spot a crude fire circle near where we are parked, there is no wood for us to burn. So, we pull a couple cold ones out of the cooler and cook up a quick meal on the propane stove.
As dusk gives way to the deep dark of night, we climb into the camper and call it a day.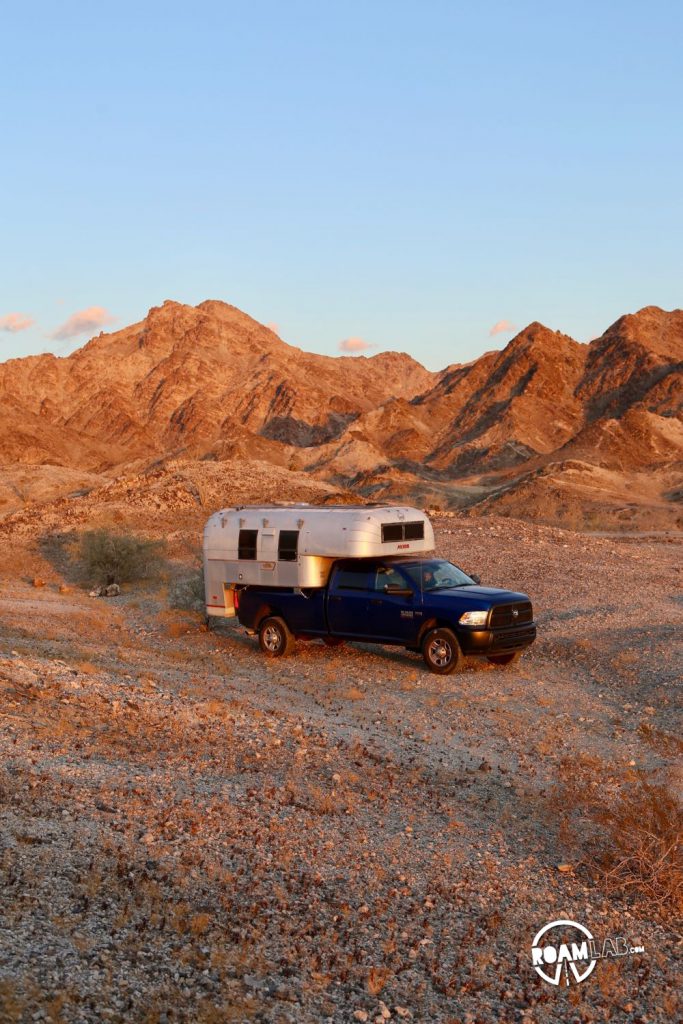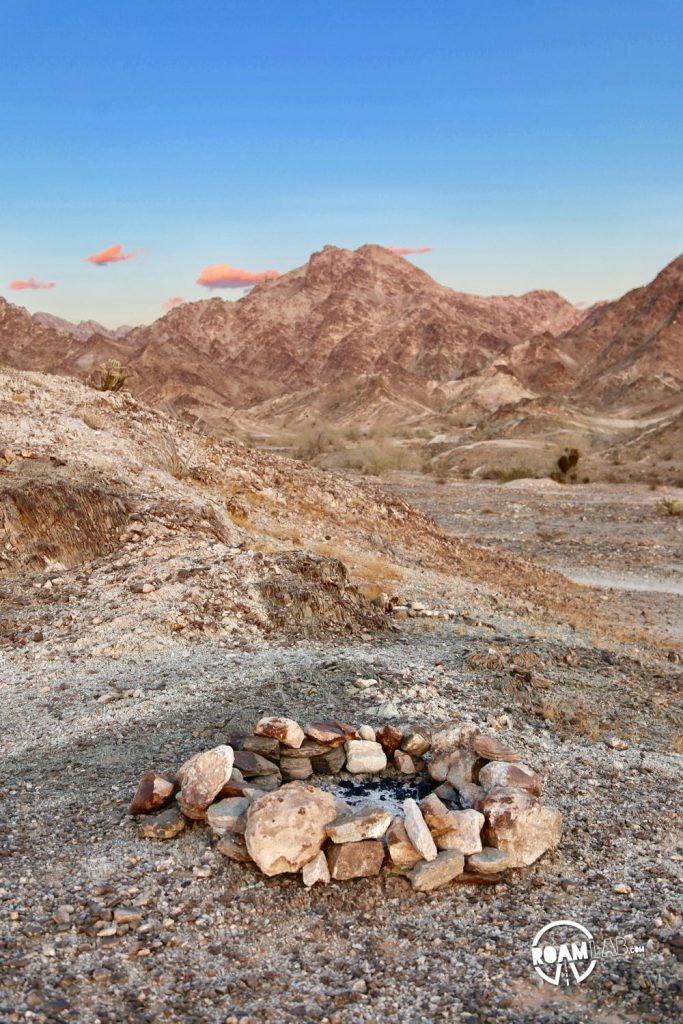 Sunrise Over The Cargo Muchacho Mountains
Waking up before the sun has become a common ritual. I look out to see the lightening sky and crawl out of bed. I've already scoped out where I want to go. The steep, sharp ridge climbs steadily from the base of out camp into the mountains. I scrabble, crawl, and climb over loose gravel and rock formations. Yet, the view as the sun hits another distant mountain range makes the early hike worthwhile.