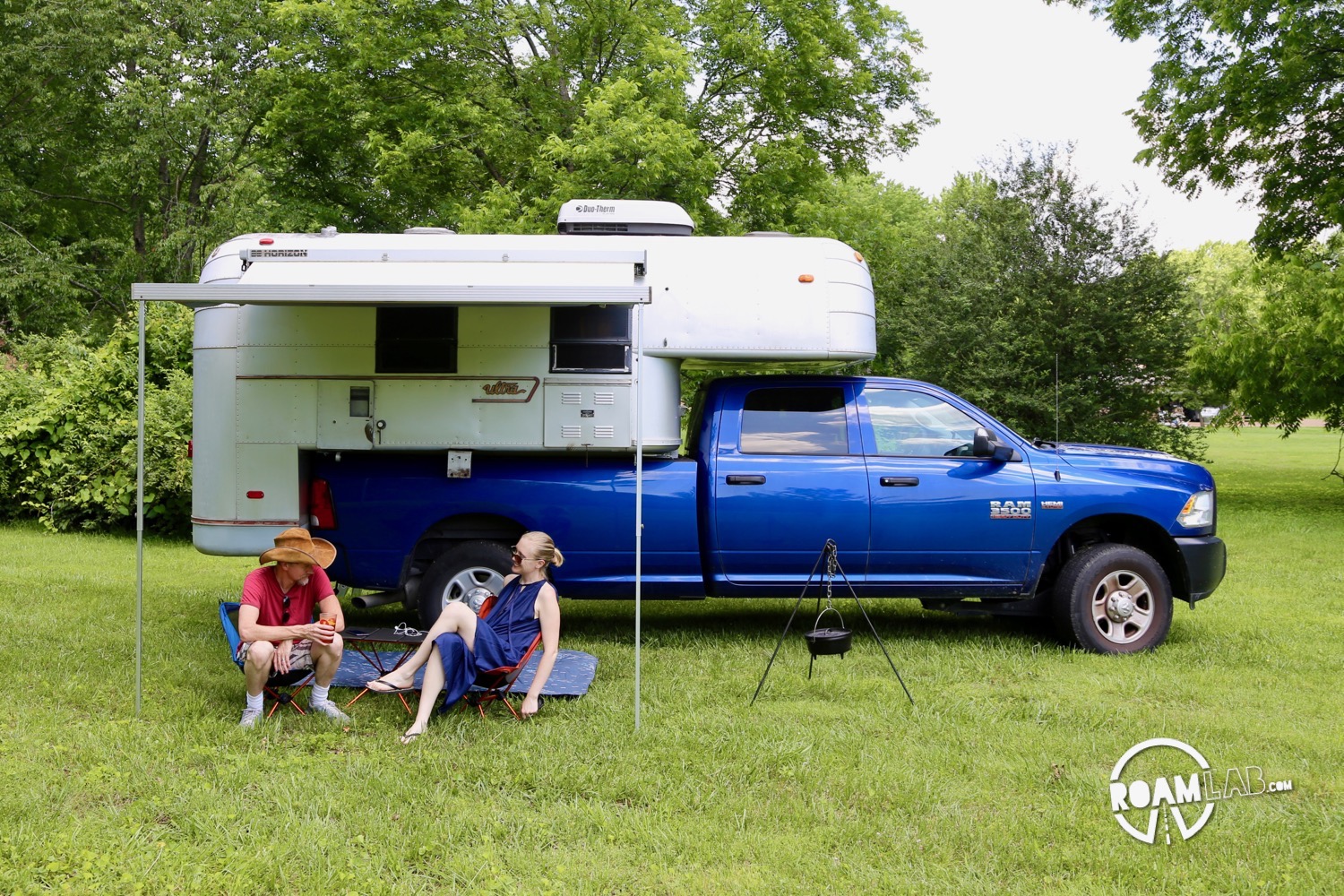 Avion Ultra Truck Camper Floor Plan
We have looked at a lot of truck campers. Like any home search, there are things we love and things we dislike. One of the many appealing aspects of the Avion is its layout. There is a large table, wide open space, and a dedicated bathroom. But there is a major problem: a lot of the wooden fixtures are rotten. So, we are pulling everything out and starting from scratch. When one starts from scratch, the floor plan starts to change.
Original Floorplan
Two features stand out as problematic with the original floor plan: the zig-zag walkway and the east-west full bed. I can only imagine, one late night, wandering from bed to the bathroom and bashing one's hip against the seat back sticking out as the walkway turns. We assume this was a design choice to better arrange heavy items like the dinette set and the bathroom, but it is a problematic waste of space. Similarly, the east-west full bed means that, not only is there little space for two people to sleep, but one person has a very difficult time getting out of bed without waking the other. Both of these features ranked high on our list of things to change.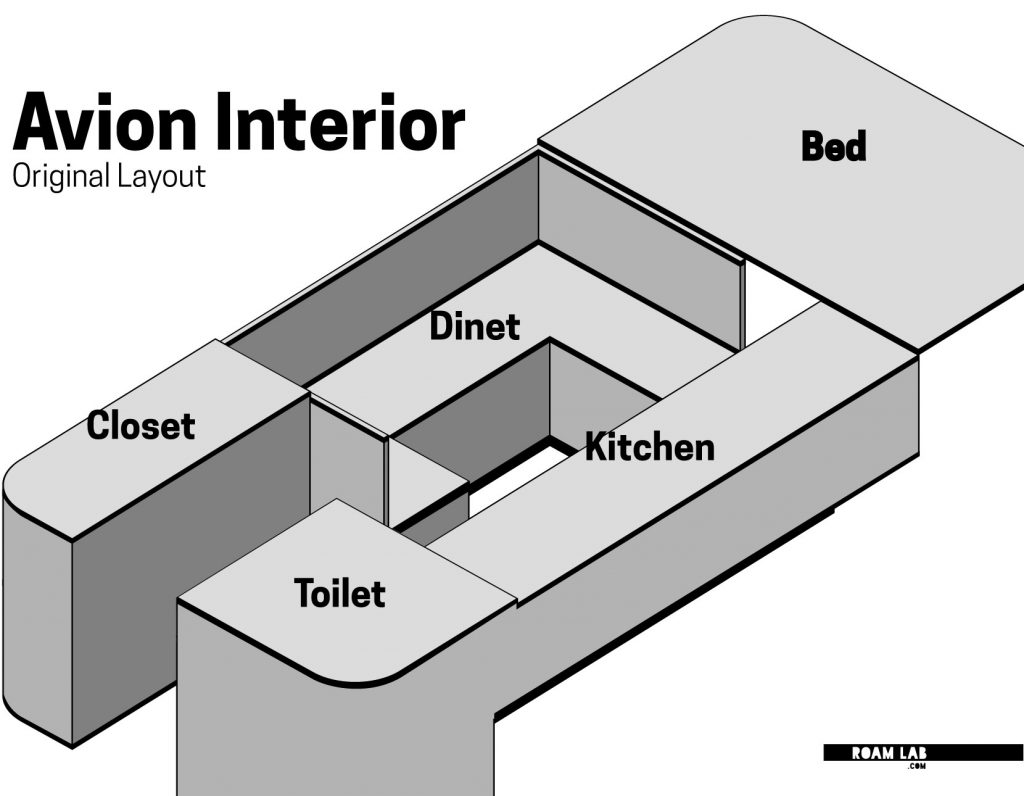 Updated Floorplan
With the new floor plan, we are flipping the table and kitchen to straiten the walkway and extending the camper nose to flip the orientation of the bed and allow for a queen bed. Extending the camper nose by 18 inches and pushing the bed 5 inches into the cabin space will allow for a bed long enough for a north-south configuration which has long been one of our major concerns.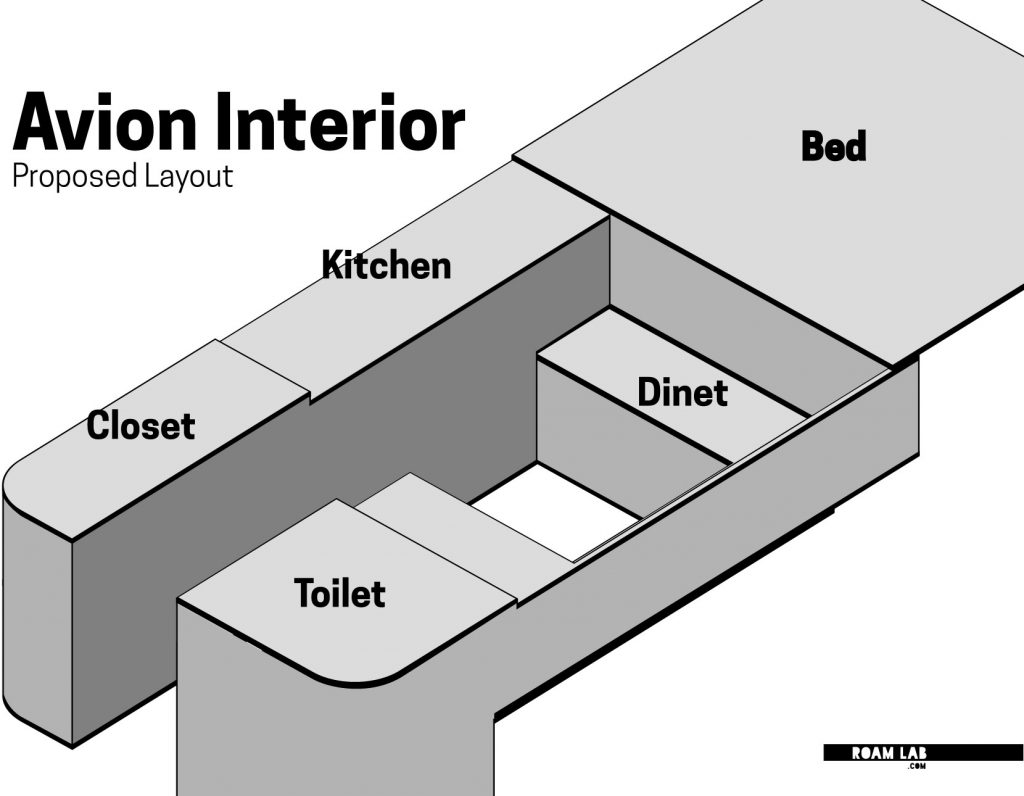 By switching this floor plan, certain features such as the windows will no longer match up with the interior. This is, mainly, not a big concern. The only notable feature is that the gap between the passenger side windows that had been for the stove top's back splash will now be on the side with the dinette. This also means that certain openings for items such as the propane tanks and the refrigerator vent may no longer match up to their particular features. All of these are not game stoppers, but points of consideration.