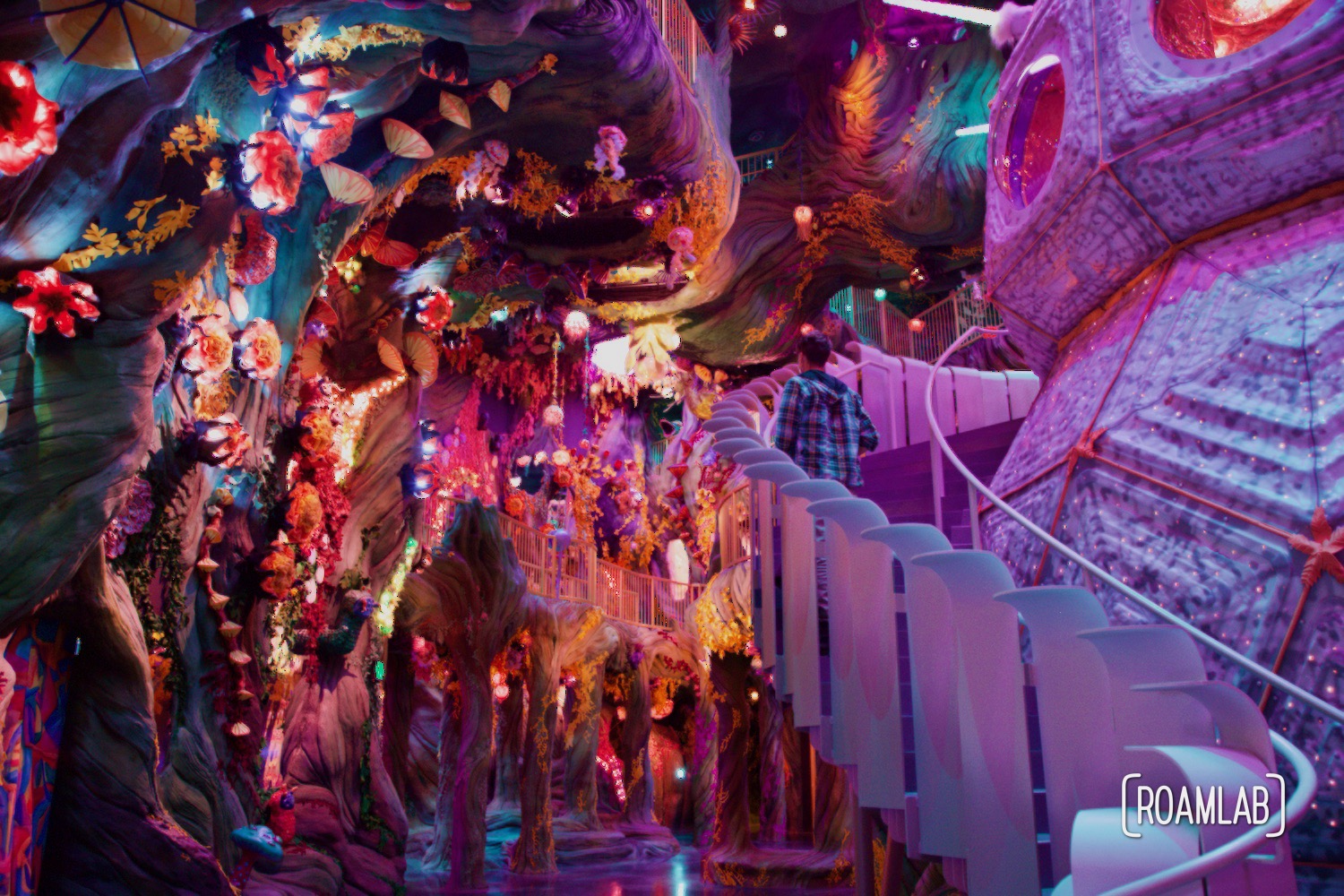 Convergence Station
Meow Wolf Denver, Colorado
In the heart of Denver, Colorado is a portal to another world…four worlds, to be precise. Meow Wolf's latest offering in immersive art, Convergence Station, ushers visitors through a transdimensional hub to explore the Ice cities of Eemia, the cyberpunk metropolis of Immensity, the 6th-dimensional forests of Numina, and the subterranean libraries of Ossuary. Wander worlds where memories have become money, uncover the nefarious intentions of QDOT leadership, and investigate the suspicious disappearance of the Forgotten Four.
Meow Wolf has consistently transfixed visitors with its mind-bending environments, explorable art, and intricate storytelling since their original alternate reality experience in Santa Fe, New Mexico: House of Eternal Return. The reality-warping story of a family whose disappearance opens a series of portals into alternate dimensions of cybernetic hampsters and trailer trees started a series in retrofuturistic storytelling. The unfortunately timed opening of Meow Wolf's second location in Las Vegas, Nevada in 2020 might have doomed lesser attractions to an early grave but Omega Mart's corporate commentary has a shelf life longer than the Canned Mammoth and Monument Meats for sale in this surreal supermarket. Convergence Station is the third installation by Meow Wolf with over 70 installations across 4 floors. It's a triumphant collaboration between 300 artists and its central location in downtown Denver is sure to expand awareness far beyond the southwest cities that it has already reached.
The Origins of Convergence Station
Each Meow Wolf location stands apart, with mesmerizing worlds built around an intricate storyline. Convergence Station is the Denver hub of the Quantum Department of Transportation (QDOT). Three decades ago, The Convergence united the distant worlds of Immensity, Eemia, Ossuary, and Numia and meshed them together in physical space. These divergent worlds that knew nothing of each other are now bound together. In the turbulent fallout of this convergence, memories have been lost, warped, or transferred between individuals. Memory storms are a new natural hazard and memories, known as MEMs have become the local form of currency.
While the origins of this Convergence is a mystery, it is one with many clues to be uncovered. Thanks to Convergence Station connecting Denver to the Transmonic Rift Access Mechanism (TRAM) System, we can travel to these worlds and uncover memories of the Convergence, secrets to its origin, and a dangerous conspiracy that puts all the worlds at risk.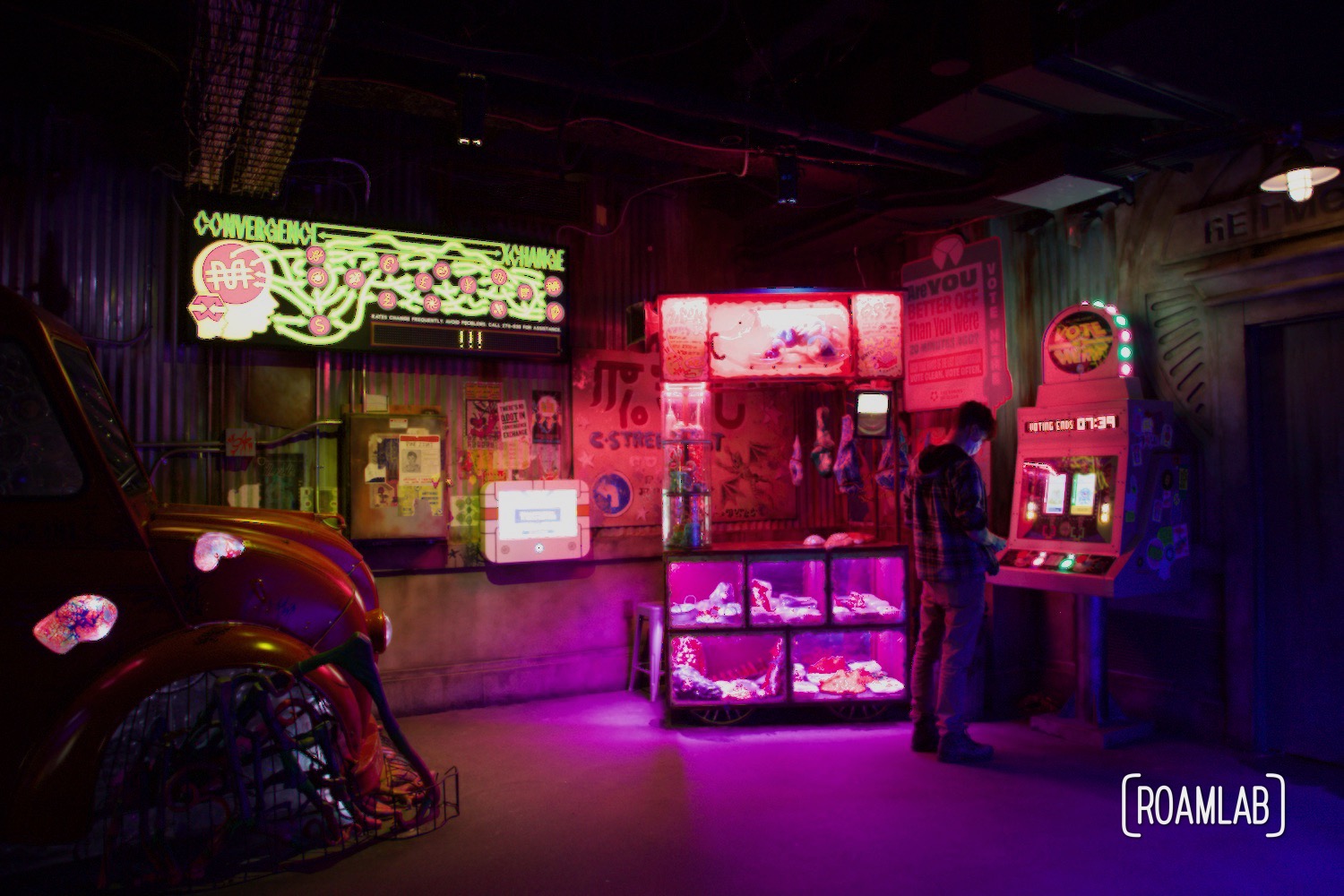 Converged Worlds
The world-building of Convergence Station takes Meow Wolf's already notable immersive design to a whole new level. There is meticulous intentionality in the unique details of each world. The whimsical creatures and psychedelic scenery are distinct to these environments yet meshes seamlessly across the experience of the Convergence.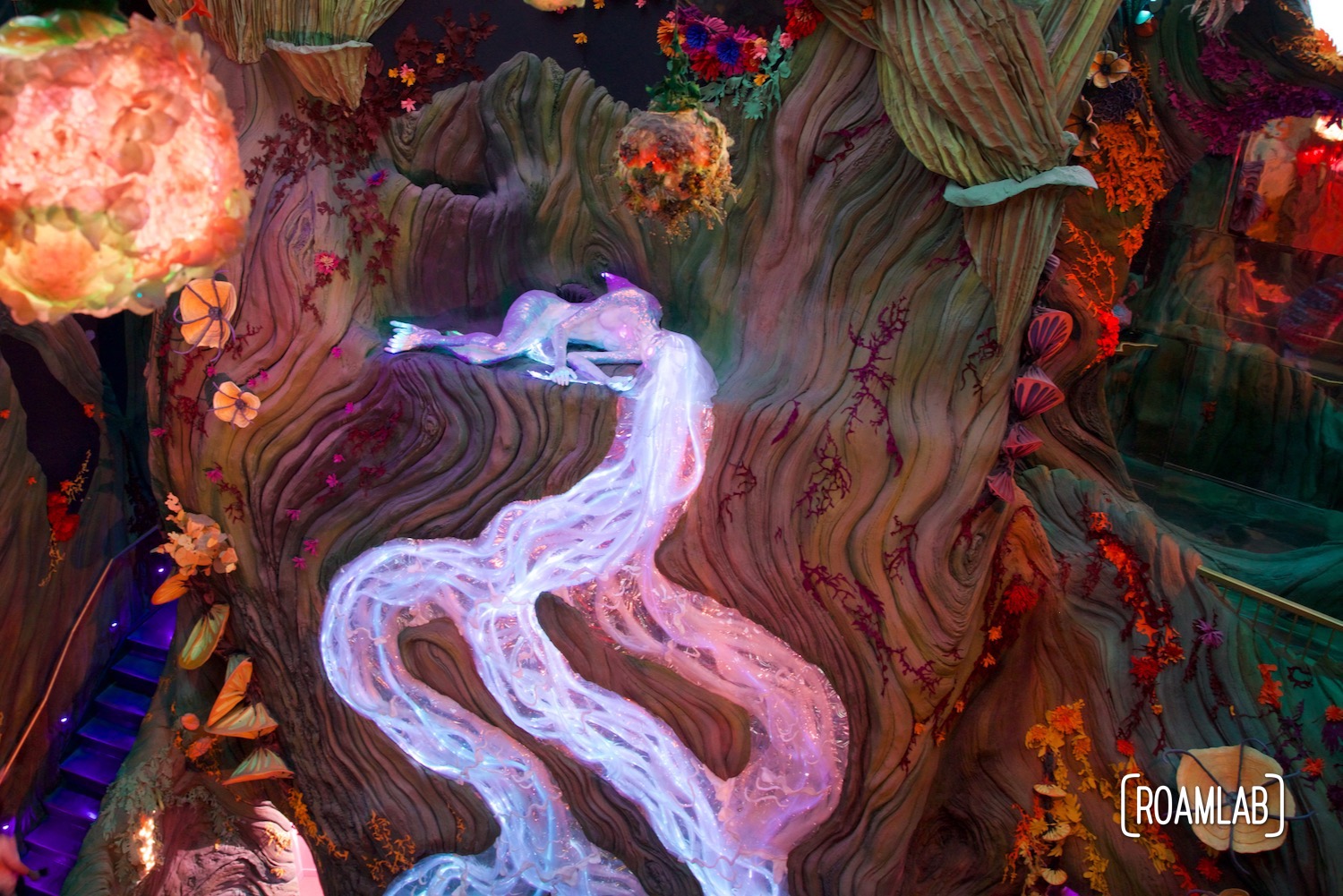 Immensity
The dream of 80's cyberpunk is alive on C Street. This neon metropolis is the gritty side of the Convergence where rocket cars blare their music in front of alien shops, an unlimited collection of tenants call the Infinite Apartment Complex home, and a new political official is voted in via an arcade game every 15 minutes. It's a retro-futuristic cityscape where Blade Runner meets Akira. The 2000s may not have brought us the Hollywood future we were promised but Immensity does.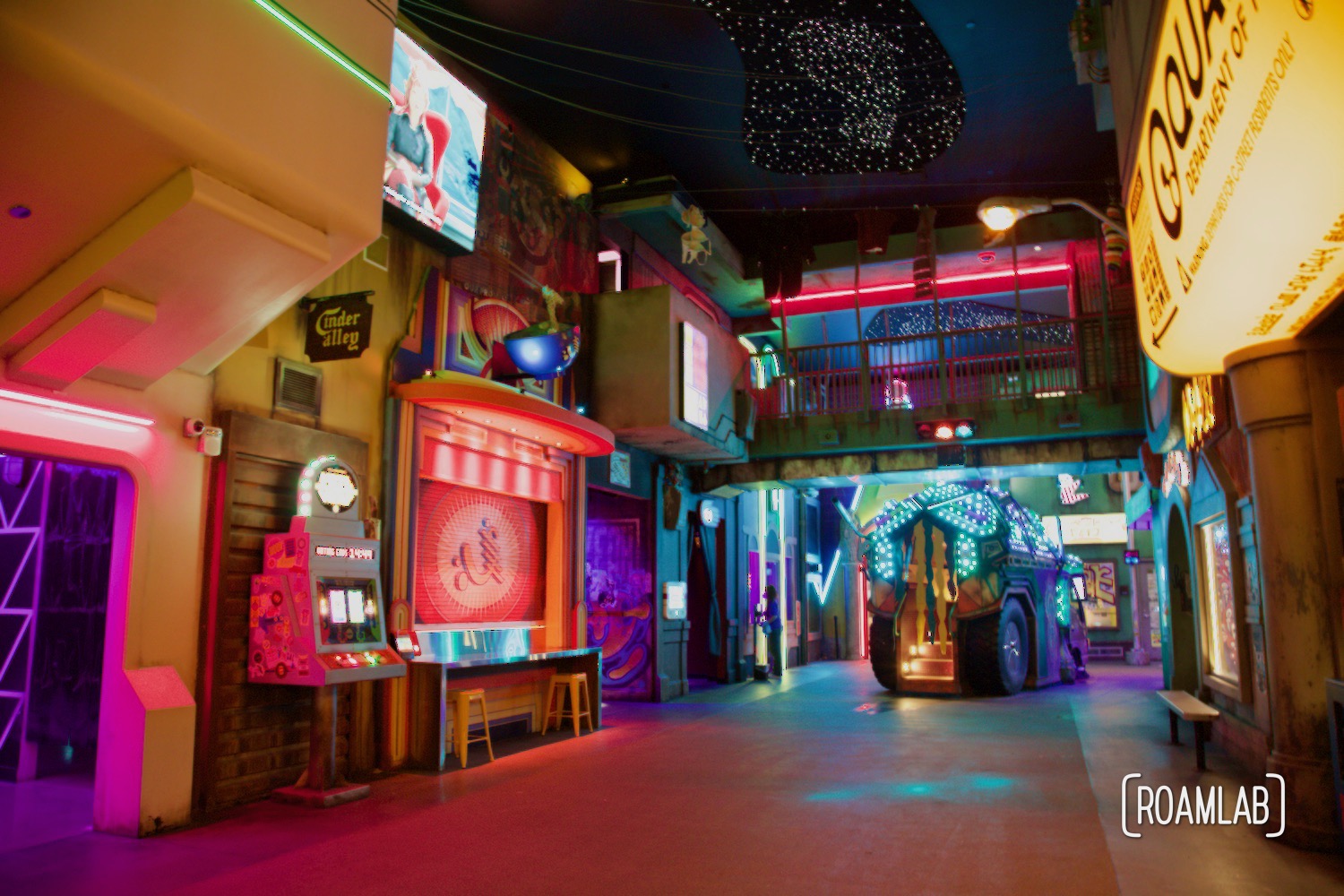 Ice Cities of Eemia
The Ice Cities of Eemia is, perhaps, one of the most unique environments of The Convergence. The Kaleidogothic Cathedral blends stained glass aesthetics with alien figures in neon shades to form a psychedelic house of worship. In stark contrast, the Biomechanical Navigators that flank the cathedral are childhood dreams brought to reality. A reclining mecha suit and insectoid rover complete with illuminated panels and angular appendages.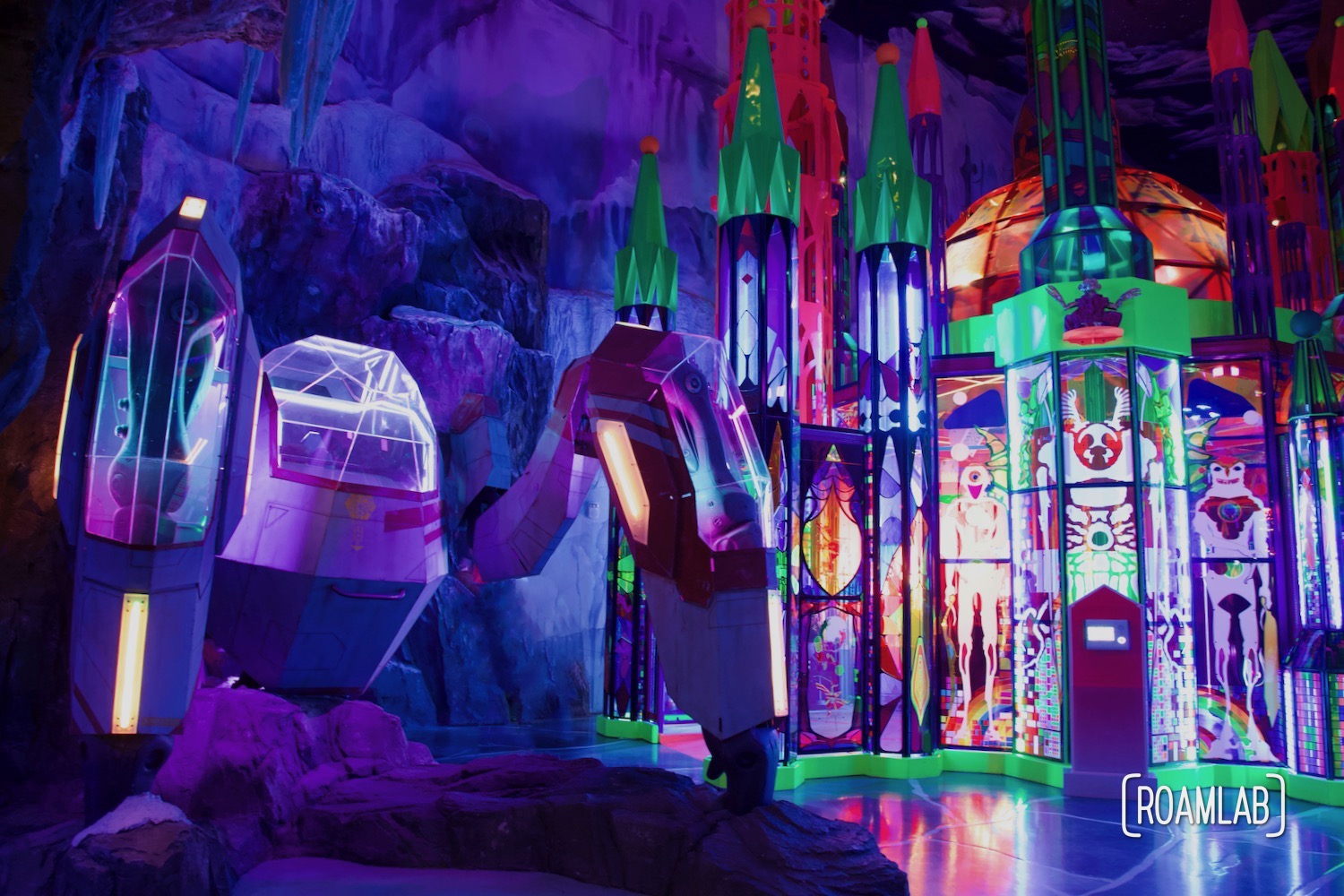 Subterranean World of Ossuary
The Subterranean World of Ossuary feels like the museum of knowledge it was meant to be. Here, the books are piled so high in the ancient library that they arch over couches and climb the walls. It is a labyrinthine reliquary with each artifact a mystery to the uninitiated.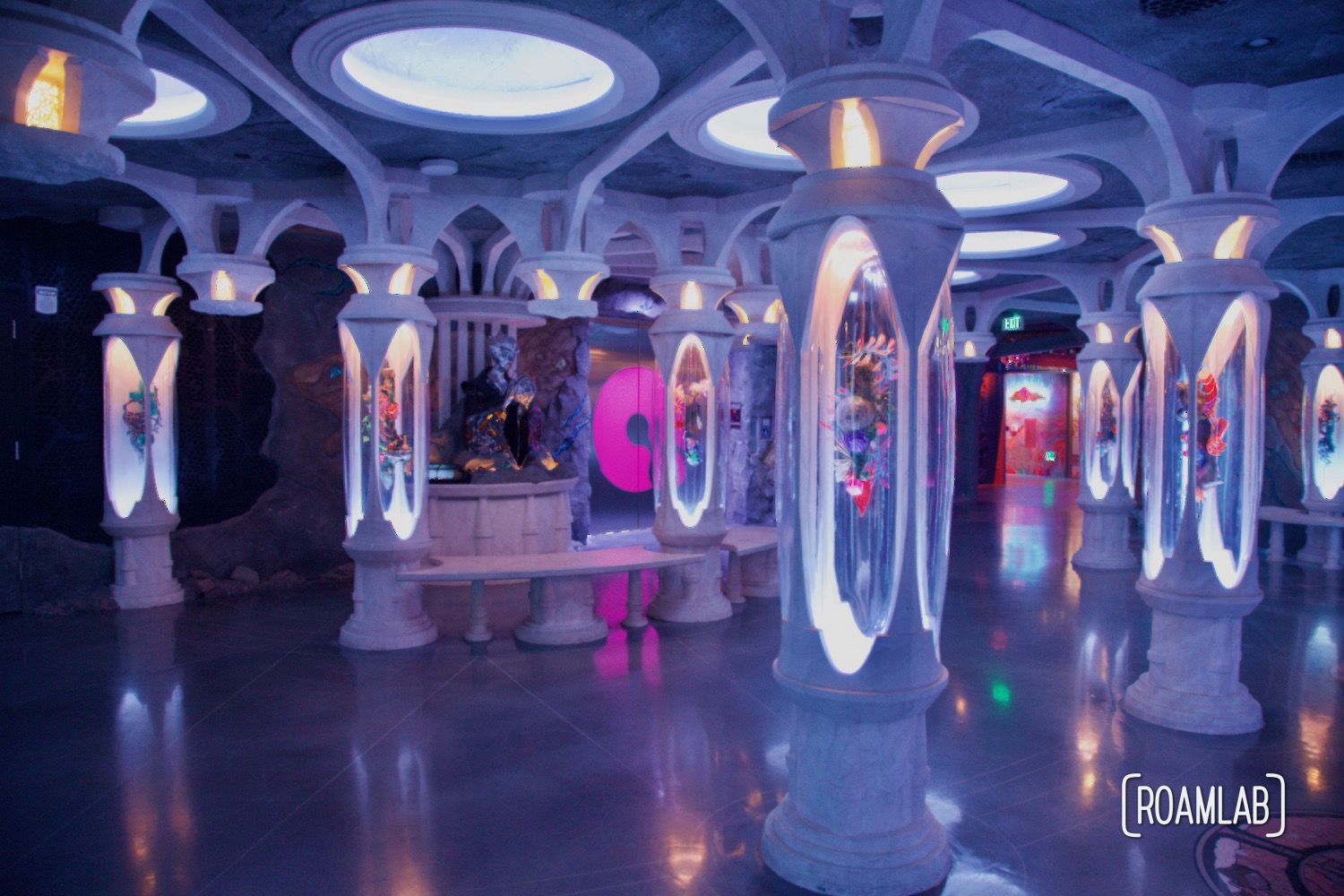 Numina
Numina truly is the jewel of the Convergence. This three-story fairy tail rainforest is lush with colorful mushrooms, whimsical creatures, and devoid of right angles. It is a psychedelic 6th-dimensional landscape where the walls not only have ears, they will speak, if you care to listen.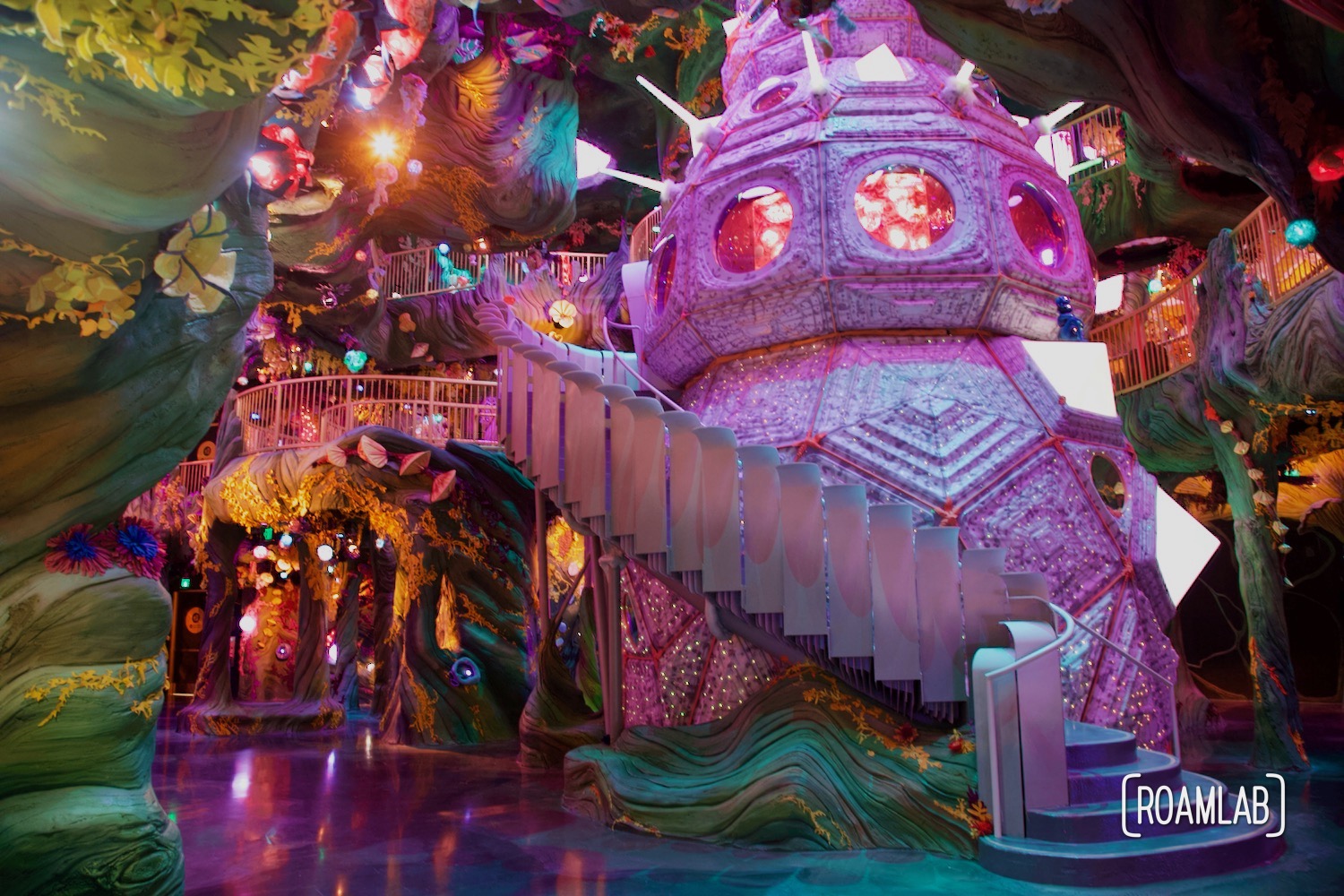 Our Experience
We are dropped off in the parking lot of Convergence Station in anticipation of the 10 AM opening. Our initial urge to rush between locations to take in all the unique and mind-bending landscapes gives into the inertia of curiosity as we begin to pick up on the subtle hints of the location's underlying storyline. We return to the lobby to pick up a QDOT pass and share a beer. As soon as we return to the Convergence, we start "blooping" displays to unlock memories of the many denizens of each world. We are not alone in our curiosity. When we reach an impasse in our investigation, we ask a friendly local for help finding other memories.
We Progress
As the day progresses and we gain momentum in our investigation, we also have to exercise a greater degree of patience. The floors fill with the noisy chatter of other visitors. Hidden doors pop open as new people tumble into already crowded rooms. An impromptu line forms around MEMports as we all wait to unlock new memories.
There are still upsides. We watch one visitor busy himself translating an alien script from one of the many seemingly random displays. Yes, there is no end to the details we can explore. The only problem is time.
We spend all morning and into the afternoon exploring the space. We pause for lunch, delicious though pricy tacos at HELLOFOOD. Even so, it's not enough time. We have appointments in the afternoon and have to leave with the mystery only partially investigated. Incomplete as our experience may be, we leave delighted in the worlds we have explored and the experience of diving headfirst into a completely alien experience. We will return sooner than later.