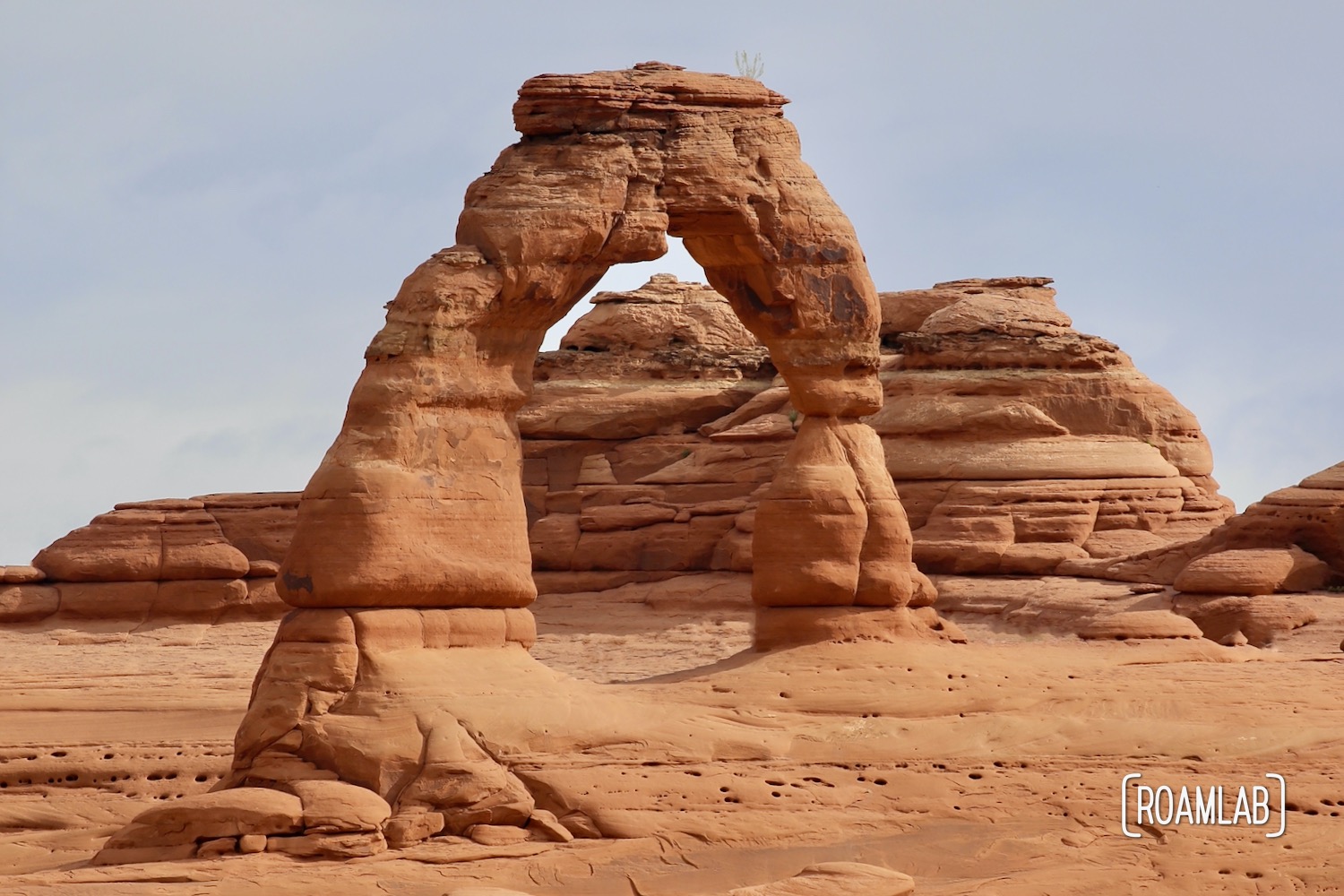 Call it the "Cowboy's Chaps", "Old Maid's Bloomers", or "Salt Wash Arch", the Delicate Arch strikes a pose that has inspires visitors of from around the world. As the largest freestanding arch among over 2,000 in the Arches National Park, the Delicate Arch is the most recognizable. The opening is 46-feet high and 32-feet wide. It is an icon of the park and even the state of Utah. Of course, that means that everyone wants to visit it.
Visiting the Arch
The Delicate Arch tends to be a "must see" on most visitors to-do lists. While it isn't visible from the road, there three trails of varying difficulty for visitors to choose from.
Lower Delicate Arch Viewpoint Trail
The Lower Delicate Arch Viewpoint is only 100 yards down a sandy level trail for a view of the arch one-mile away. At that distance, the Delicate Arch is just a taste in the distance to whet your appetite to tackle one of the other two trails. But for those with limited mobility, this is an optimal compromise, with a trail level enough for wheelchairs and railing to steady visitors.
Upper Delicate Arch Viewpoint Trail
The Upper Viewpoint trail is 0.5-miles up stars carved into the stone. Be sure to wear proper footwear. While the trail is short, it is easy to slip on the sandy stone stairs. From here, a zoom lens can capture a satisfying shot of the Delicate Arch.
Delicate Arch Trail
For an iconic shot of the arch, you need to tackle the 3-mile, in-out trail up to the arch itself. This is a serious hike, steadily gaining 480-feet uphill. The trail is exposed slick rock with no shade. Be sure to bring at least 2 liters of water per person and proper gear for the weather conditions. While this is still a relatively short distance, people have had to be rescued from this hike under extreme conditions.
Despite the challenges, as an iconic shot in an iconic park, this trail is incredibly popular. If you want a picture in front of the arch, you will likely have to wait your turn along with a line of other visitors. Between the crowds and midday heat, this is a trail best taken early in the morning.