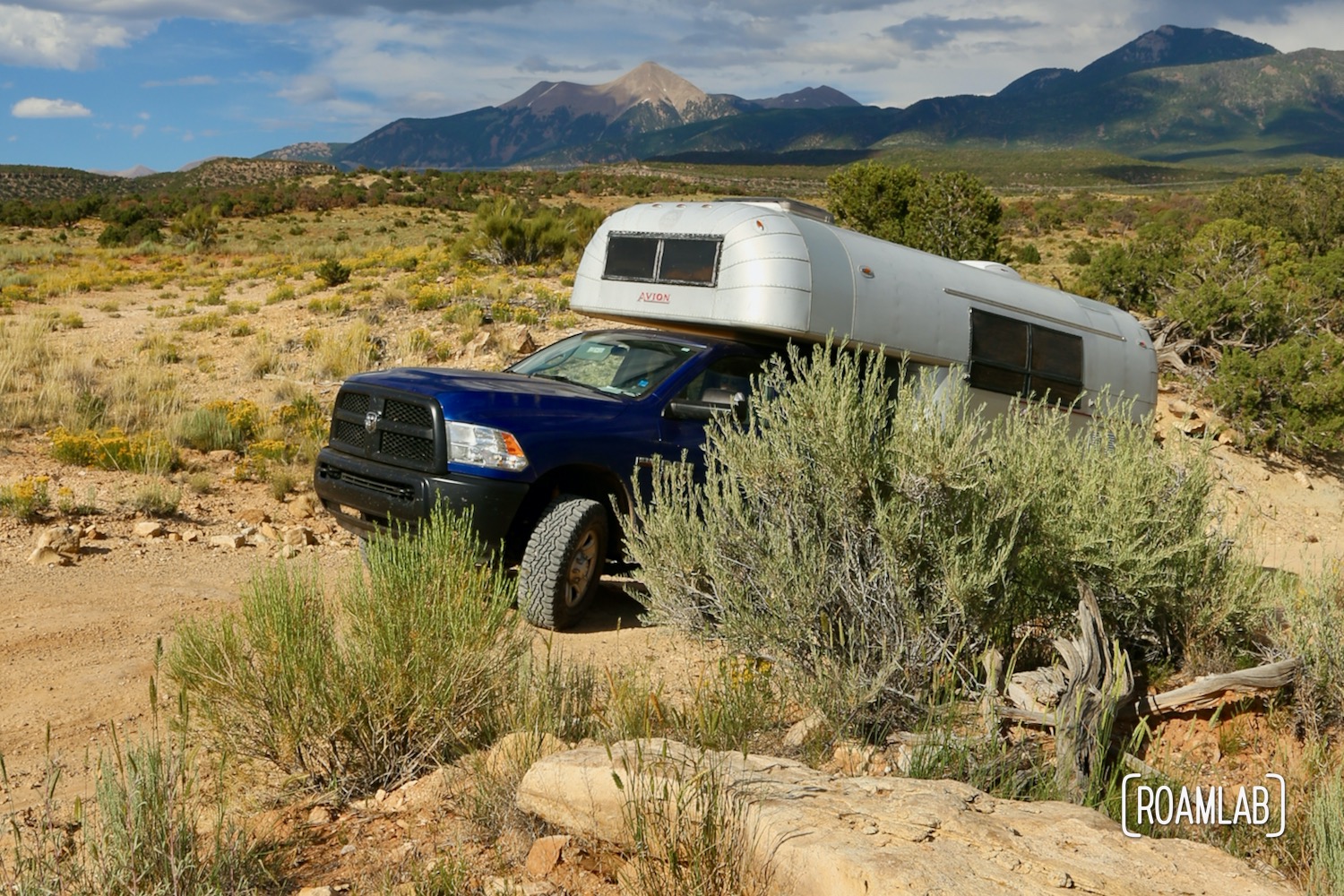 Utah Border to Moab on the Rimrocker
Off-Road & OHV Trail
Before we start
This is the fourth post in a five-part series on the Rimrocker Trail. If you have not read the previous posts, you may want to start at the beginning before continuing.
Utah to Moab
The Rimrocker Trail from the Utah state line to Moab skirts around Mount Peele, with a shifting environment from lush green grazing prairie to arid brush land and red stone desert. The snow capped mountain remains a near constant feature in the background.
Buckeye Reservoir is the last notable landmark before crossing into Utah on the Rimrocker trail.  The transition into the Beehive State is marked with a cattle guard, fence, and a small sign announcing the border.  As soon as you cross the cattle guard, you are no longer in Manti–La Sal National Forest, you are traveling through private grazing land.  The road is, for the most part, well maintained.  (We even cross paths with a small compact car throwing up gravel on its way to the forest.) Pine trees quickly give way to wide open prairie land, speckled with grazing cows.
This stretch of Geyser Creek Road and Two Mile Road boasts some of the most accessible vistas along the Rimrocker Trail.  And when the trail turns off onto the incredibly narrow and rocky La Sal Pass Road and the even smaller and rockier 128, I am quite sure that I must be making a mistake.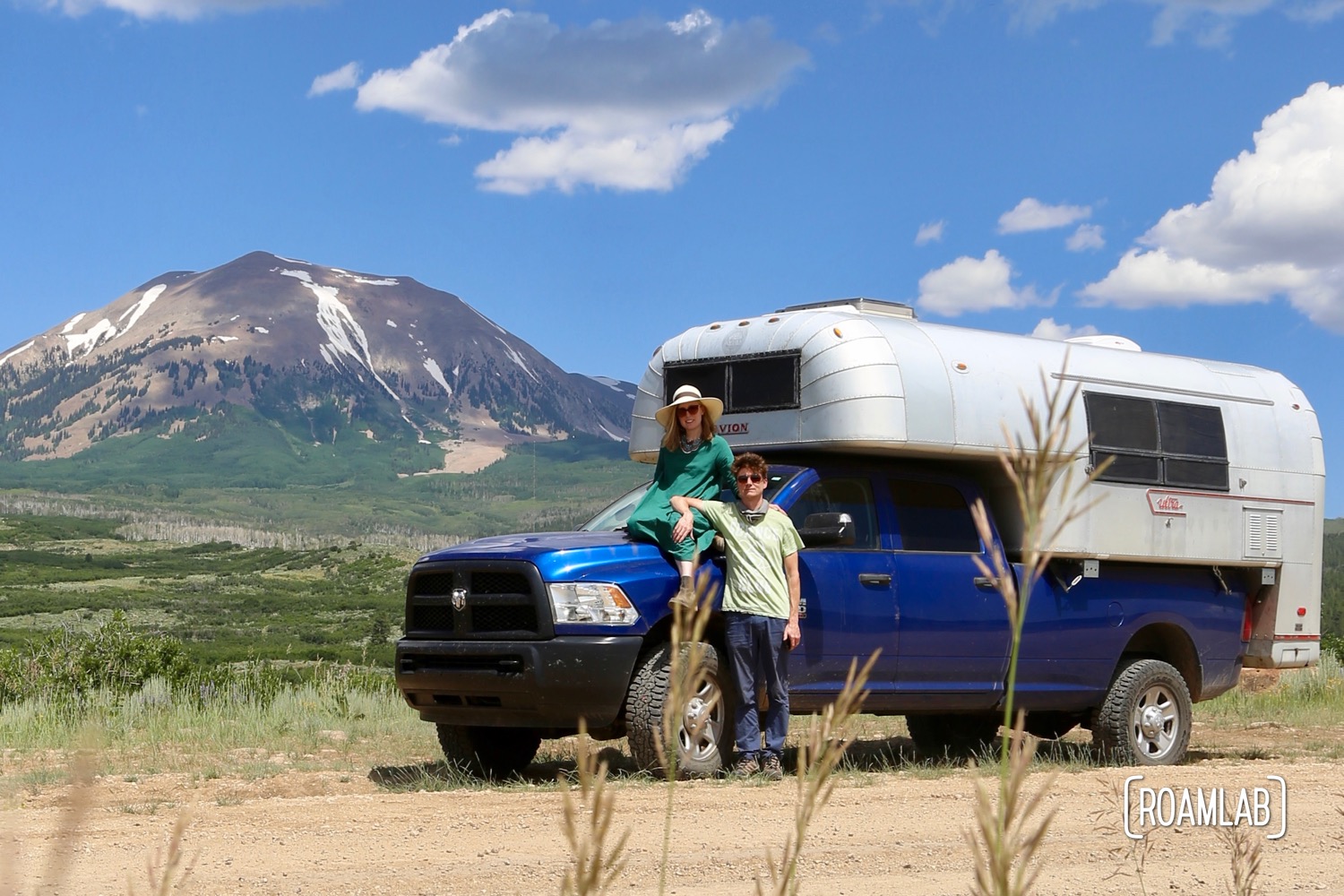 Pausing by the mountains for a family portrait.
The Colorado switchbacks and cliff-sides may be harrowing, but it is the Utah section, from La Sal Pass Road to Black Ridge Road—with its overgrown sage, oak, and juniper trees—that is the most troublesome.  Frankly, leads me to discourage future truck campers from taking this trail.  Brush crowds the trail, scraping the sides and roof of our rig. Whatever trail maintenance has been done here has been done with much smaller rigs in mind.  This stretch of trail is for ATVs, Jeeps, and small trucks.  We did it.  And have the dents to prove it.
La Sal Detour
The section between Two Mile Road and Black Ridge Road, while scenic, doesn't really justify the agonizing craw over boulder strewn dirt paths. To us, this stretch is a time sink.  The views were pleasant, but not worth the hours of constant jittering over piles or rocks, pulling back tree limbs, and a few Arizona pinstripes left by thicker branches that we tried and failed to avoid.
Fortunately, this section is easy to skip.  Rather than turning off onto La Sal Pass Rd, stay on Two Mile Rd until  it ends on Highway 46.  Take 46 west for 7.3-miles to turn off on Black Ridge Road (BLM 174) road and reconnect with the Rimrocker trail for a whole new and beautiful terrain.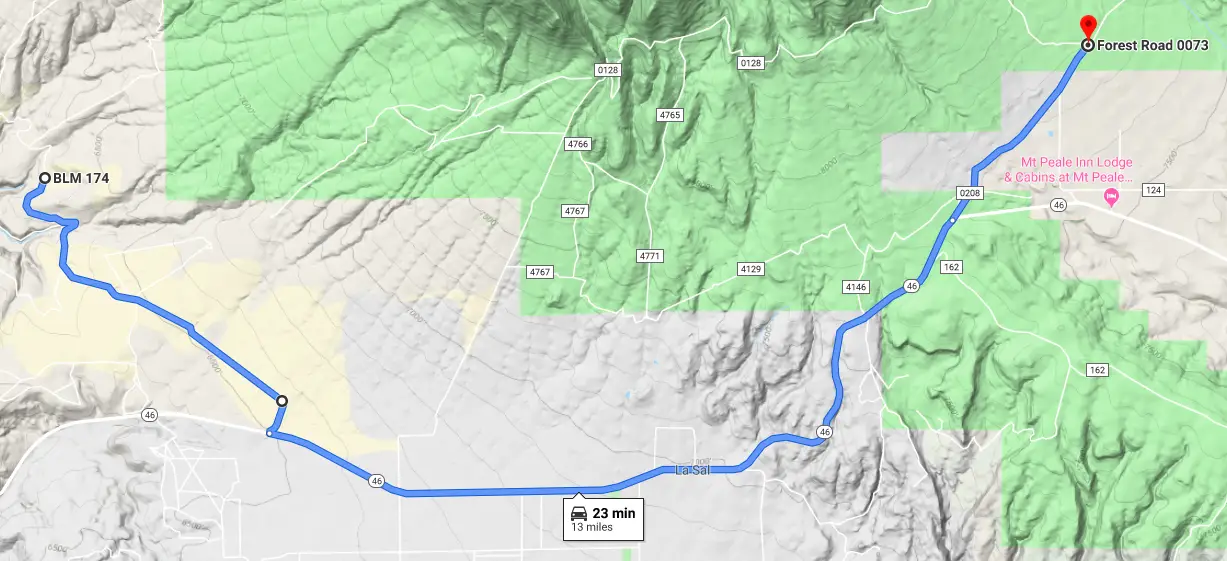 La Sal Detour Map
Black Ridge Road is a refreshing break with wide, graded, dirt roads and mountain vistas.  The terrain shifts from grasslands to open rocky expanses with the first hints of the red rock formations that have put Moab on this map.  To us, this is the last great hurrah of the Rimrocker Trail.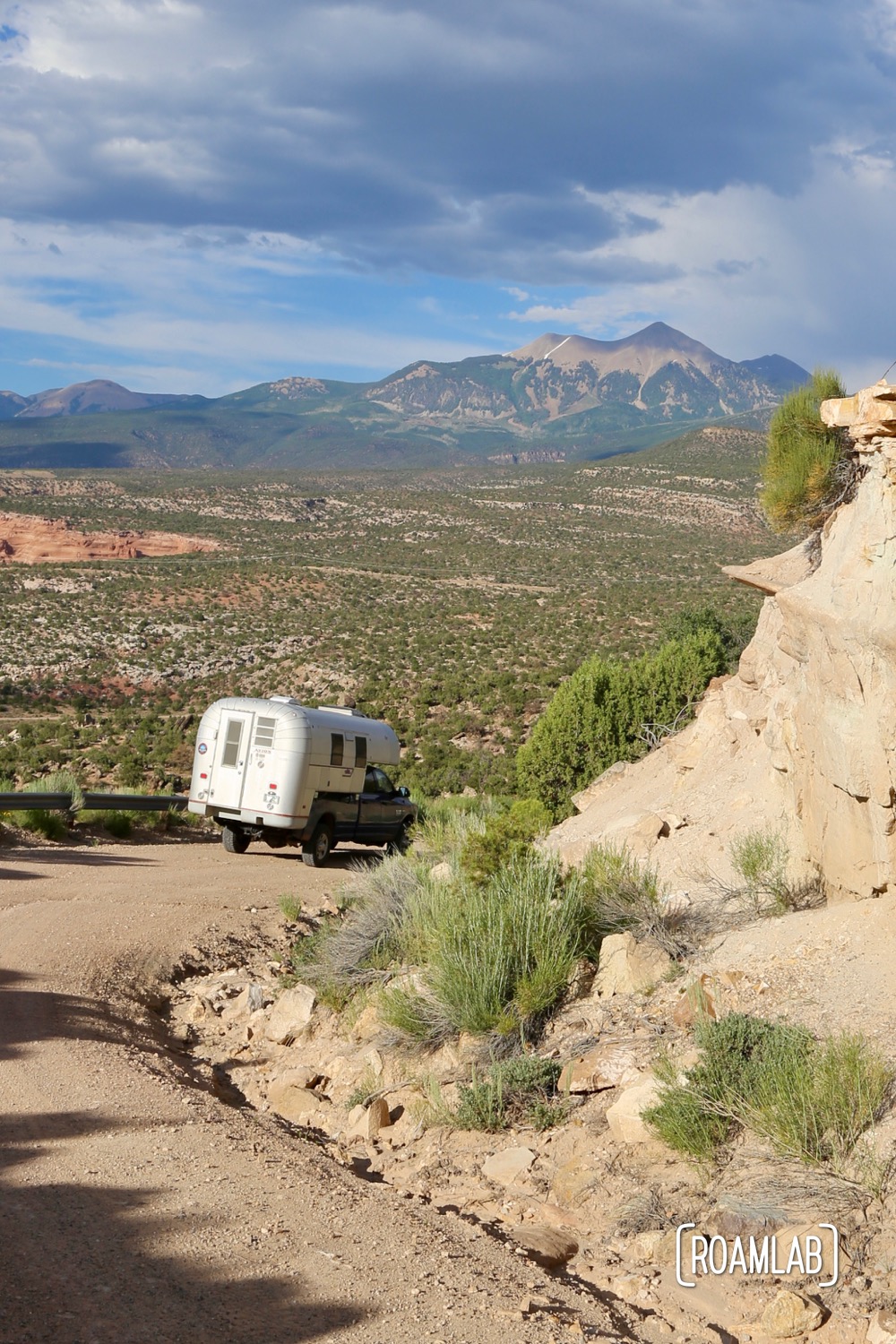 Descending into Pole Canyon.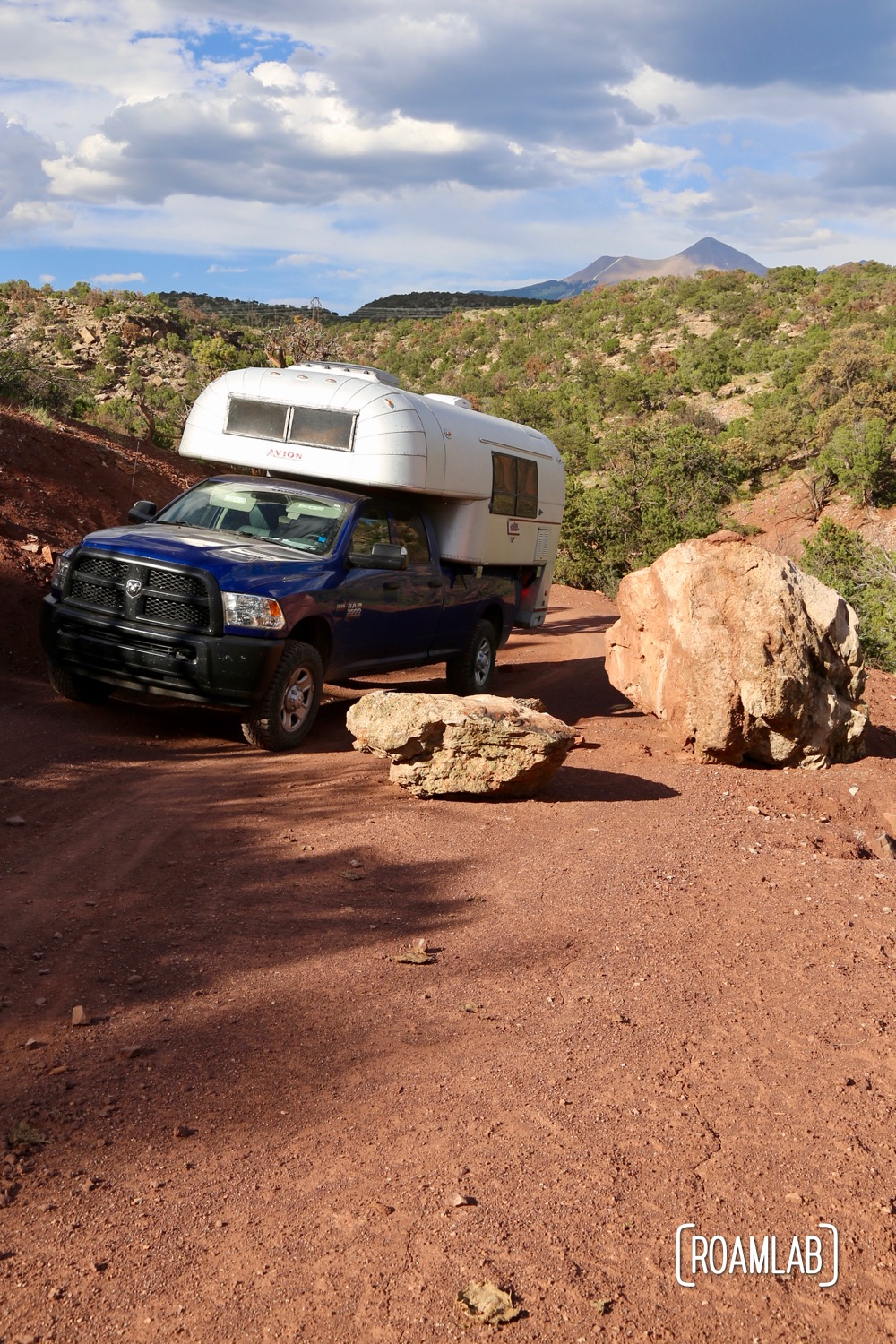 Winding around the red dirt roads outside of Moab
Yellow Circle Detour
At the point where the Rimrocker turns off Pole Canyon Road to Yellow Circle, you can just as easily turn onto the 191 and wiz into Moab.
Yellow Circle Detour Map
What remains of the Rimrocker after Pole Canyon road mainly for completionists who want to say that they did the whole trail or ATVs which aren't permitted to drive the 191.  Or, hey, if you like technical driving just for the sport of it, you can enjoy some here, with the deep washes and steep hillsides.  Even so, most of what remains at this point is a drive along surface streets into Moab, paralleling highway 191.  For us, we are just ready to get into town, have some dinner, and find a place to camp for the night.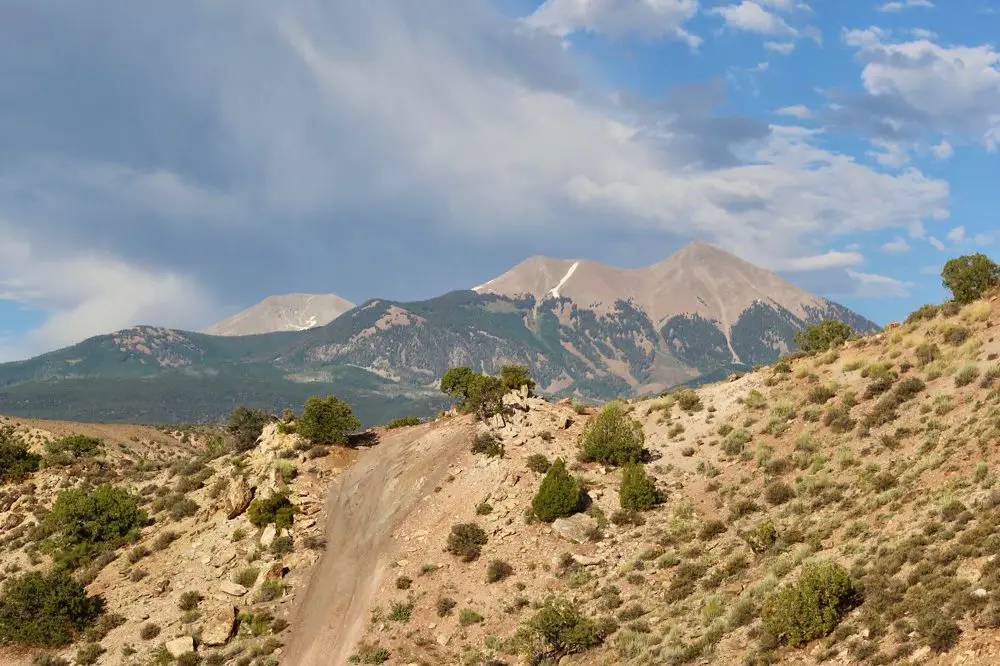 Can I convince anyone that we drove up this trail?