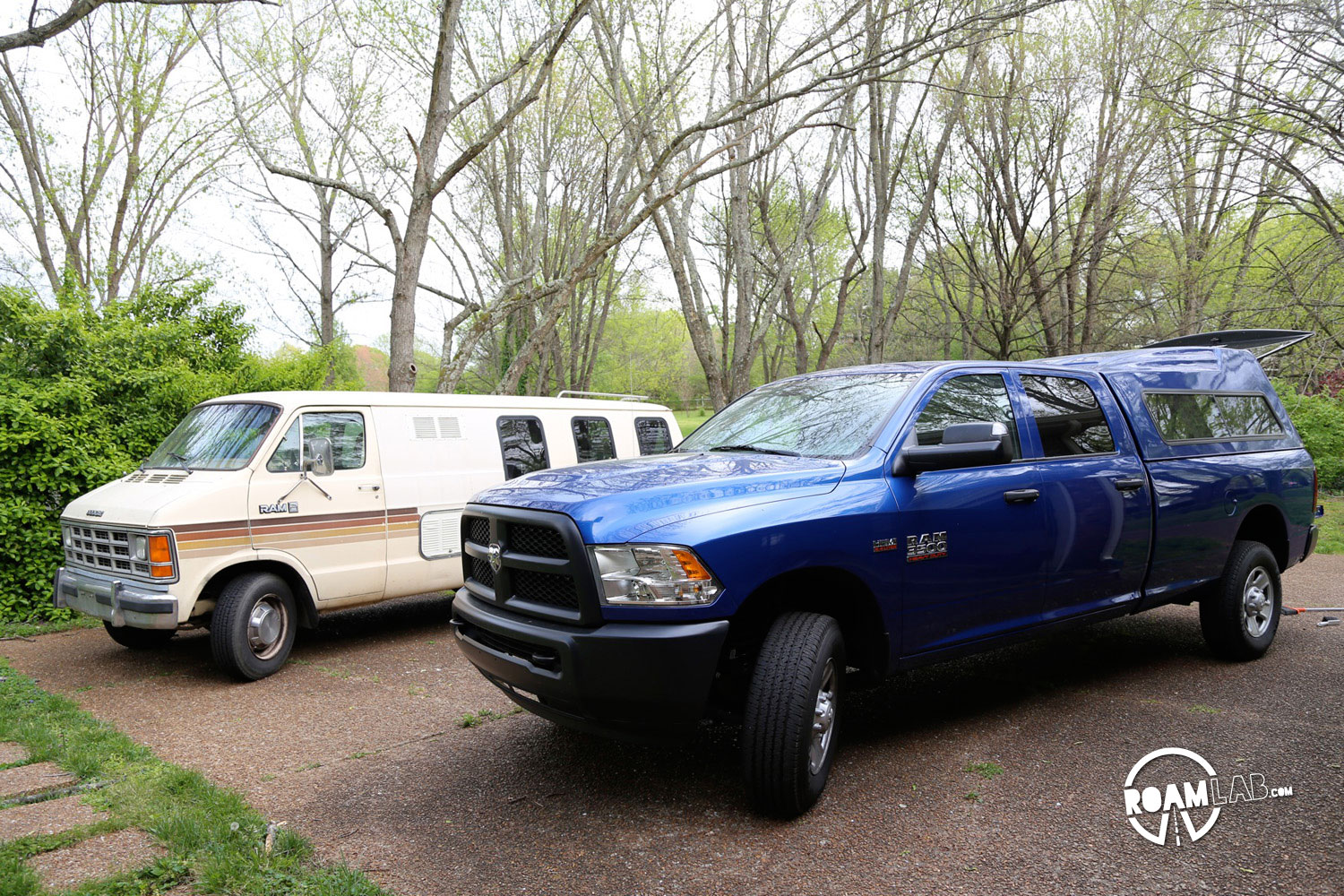 Dodgy II: The Truckening
As has been alluded to earlier, dear Dodgy has not been at top form. Aside from her preexisting maladies—broken air conditioning, speedometer, temperamental gas gauge, and such—the passenger side window had stopped working. Of course, there is little that duck tape can't "fix," but we didn't want the window fixed in place. Rolling down the window was the only was we could manage the heat. With summer around the corner, we needed a more permanent solution.
The time had come. Our test of traveling the country in a van had succeeded. We were fine with the compromises that had to be made for van life. Now we were ready to put down real money and enter the next stage of testing. From our time with dodgy, we had been able to refine what we thought we needed into what we knew we needed. Early visions of an airstream were long past. We wanted mobility and efficiency. We wanted four wheel drive for off-roading but the flexibility to go most anywhere. We wanted a heavy duty truck but with a gasoline motor, so that we could access more gas stations. We wanted an extended bed to turn into our sleeping area and a dual cab for excess storage and the occasional passenger. We wanted a new car, because owners can really do some damage to their trucks if they aren't careful about the loads they carry, and we didn't want surprises. And we wanted a Dodge because they do a much better job at managing the interior space so that there are plenty of storage nooks. Did you know that the Ford offering only had two cup holders?!?!? The Dodge equivalent had eight.
And so we started looking for a Dodge Ram 3500 with a dual cab, extended bed, and gasoline engine. There wasn't enough time to custom order one, we needed a dealer to have it in stock. So details like color weren't a concern. We accepted that most heavy duty trucks were commercial purchases and, therefore, tended to be white. There are very few heavy trucks with gasoline engines. Most are diesel for such heavy loads. There were no trucks that fit the bill in our immediate area. We test drove similar models that were diesel. There was a GMC model that met the basics but only had three cup holders and was generally…meh. So we spread the net and eventually found a blue beauty in Ohio.
It was a 2015 model that the dealer had ordered in anticipation of a sale. Unfortunately for them, the intended buyer didn't come through and so they were stuck with a very particular truck that most people don't want: a colorful, Dodge Ram 350 with a gasoline engine, dual cab, and extended bed. The truck sat on the lot for a year and the dealership just wanted to open up that space for when the 2017 models come out. They dropped the price at a loss, with the anticipation that they could make up the difference with a low valuation on the trade-in car. Unfortunately for them, we called—ready to pay in cash and with a stripped down commuter '86 Dodge Ram van to trade.
They didn't want to trade. But they did want to sell. They wanted to sell so badly that they drove the truck to us at no extra charge.
So, I present Dodgy II: The Truckening!