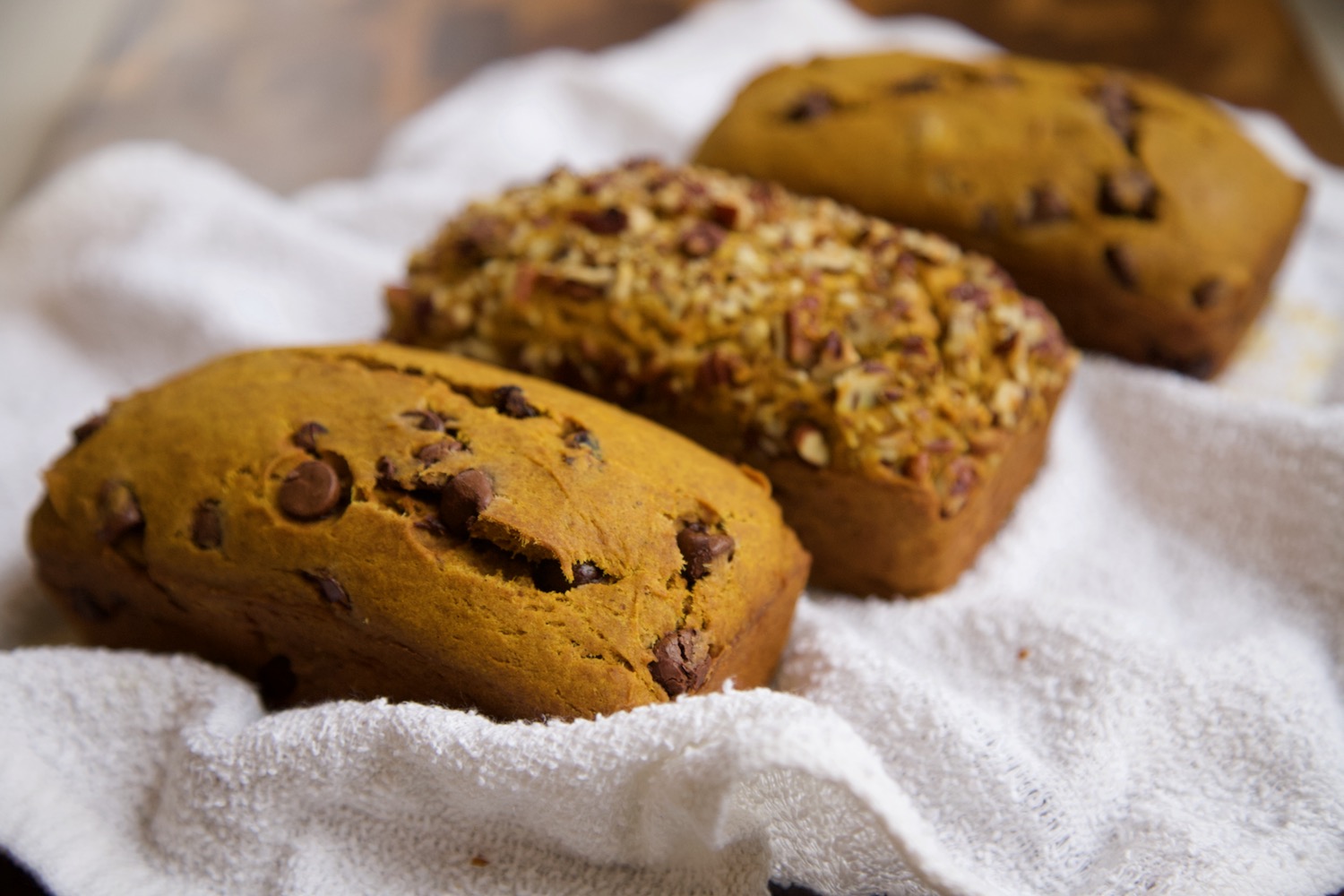 Pumpkin Bread
Holiday Dessert Recipe
Hello, fall! I hate to see the warm, long days of summer pass, but along with the golden leaves, there is one upside to this season: pumpkin! And while many may be turning towards pies this Thanksgiving, I'm mixing it up with an old favorite: Pumpkin Bread. My first entry into the world of pumpkin bread was Trader Joe's seasonal offering. It is simple and delicious. But after living several years without a Trader Joe's nearby, I started poking around for a recipe I could complete from scratch any time of year.
Now, I could just try to replicate that classic pumpkin bread, but there are a few additions I can't help. I've seen others add nuts or raisins to their squash bread. But for me, pumpkin bread is a holiday treat, so I like to double down on those Thanksgiving vibes and throw in some chocolate chips and craisins. Recently, I've also been experimenting with pecans. I find the chocolate and craisin combo is incredibly popular among my friends and family, but feel free to alter yours as you see fit!.
Pumpkin Bread Recipe
Makes 1 standard loaf (3 mini loaves)
1½ cup flour
1 cup granulated sugar
4 tsp pumpkin pie spice
½ tsp salt
½ tsp baking soda
½ tsp baking powder
¼ cup canola oil
15 oz can pumpkin puree
2 eggs
(optional) 1 cup chocolate chips
(optional) ½ cup craisins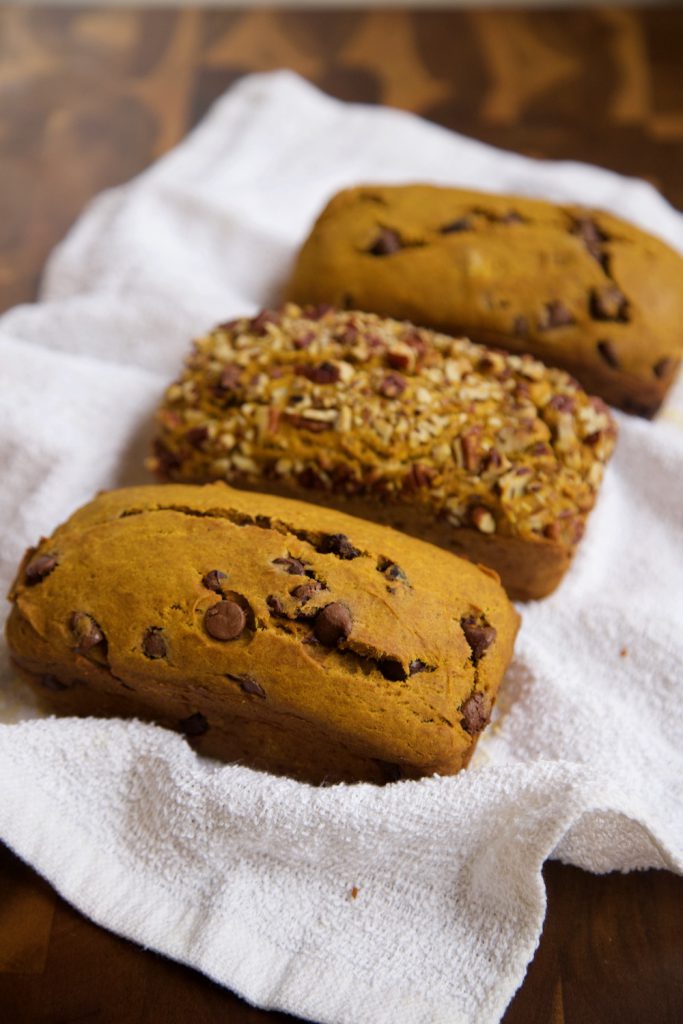 Directions
Preheat oven to 350°F
Mix dry ingredients in one bowl and wet ingredients in a second bowl
Mix two bowls of ingredients together
Pour batter into greased loaf pan
Bake loaf for 1 hour (Or appropriate length of time for pan size. Test doness by piercing center of loaf with a toothpick)
Remove loaf from baking pan and set aside to cool on a rack.
All Shapes & Sizes
With bread batter, there are, over course, many different ways to bake the bread. I've used this recipe for mini loaves and muffins as well as the standard loaf size. On these occasions, I simply adjust the baking time based on the size of the baking container.
| Pan Type | Pan Dimensions (Inches) | Baking time (minutes) |
| --- | --- | --- |
| Standard Loaf | 8½ x 4½ x 2½ | 60 |
| Mini Loaf | 5¾ x 3 x 2¼ | 50 |
| Muffins | 2½ diameter | 45 |
Baking time table based on pan size
Storing Loaves
We have a hard time waiting for the loaf to finish cooling before we cut it and start enjoying it. I tend to prepare several loaves at a time. Once they are cool, we'll store one in the refrigerator to enjoy now. But extra loaves we individually wrap in plastic wrap and store together in plastic bags in the freezer to enjoy later. They thaw out well. We simply transfer a loaf from the freezer to the refrigerator the night before we want it. Personally, I like to slice the loaf and toast individual pieces so that the bread is warmed and crisp and the chocolate chips are gooey.
Mix it Up
Pumpkin bread is fine on it's own. The savory squash mixed with seasonal cinnamon, nutmeg, ginger, and cloves will always be a classic. But it's also a fantastic springboard for experimentation. As I noted earlier, I've seen a lot of pumpkin bread recipes that include raisins and walnuts. So, those do work. But there are tons of fun and seasonal alternatives. My favorite will always be craisins and chocolate chips. But I've also tried a wide variety of alternatives. Try adding any of these ingredients to personalize your recipe.
1 cup chocolate chips & ½ cup craisins mixed into the batter
1 cup of chopped pecans. Mix half into the batter and sprinkle the remaining on the top of each loaf before baking.
1 cup cream cheese. Blend cream cheese with ½ cup sugar. Pour on top of the batter (in the loaf pan, just before baking), and mix into the batter with a toothpick to create a marbled swirl.
Spread cream cheese frosting over the loves once baked.
A mixing tip: Try out different twists on the recipe by mixing the bread batter and holding off on adding optional toppings. Split batter into three different bowls and add whatever toppings you want into each.