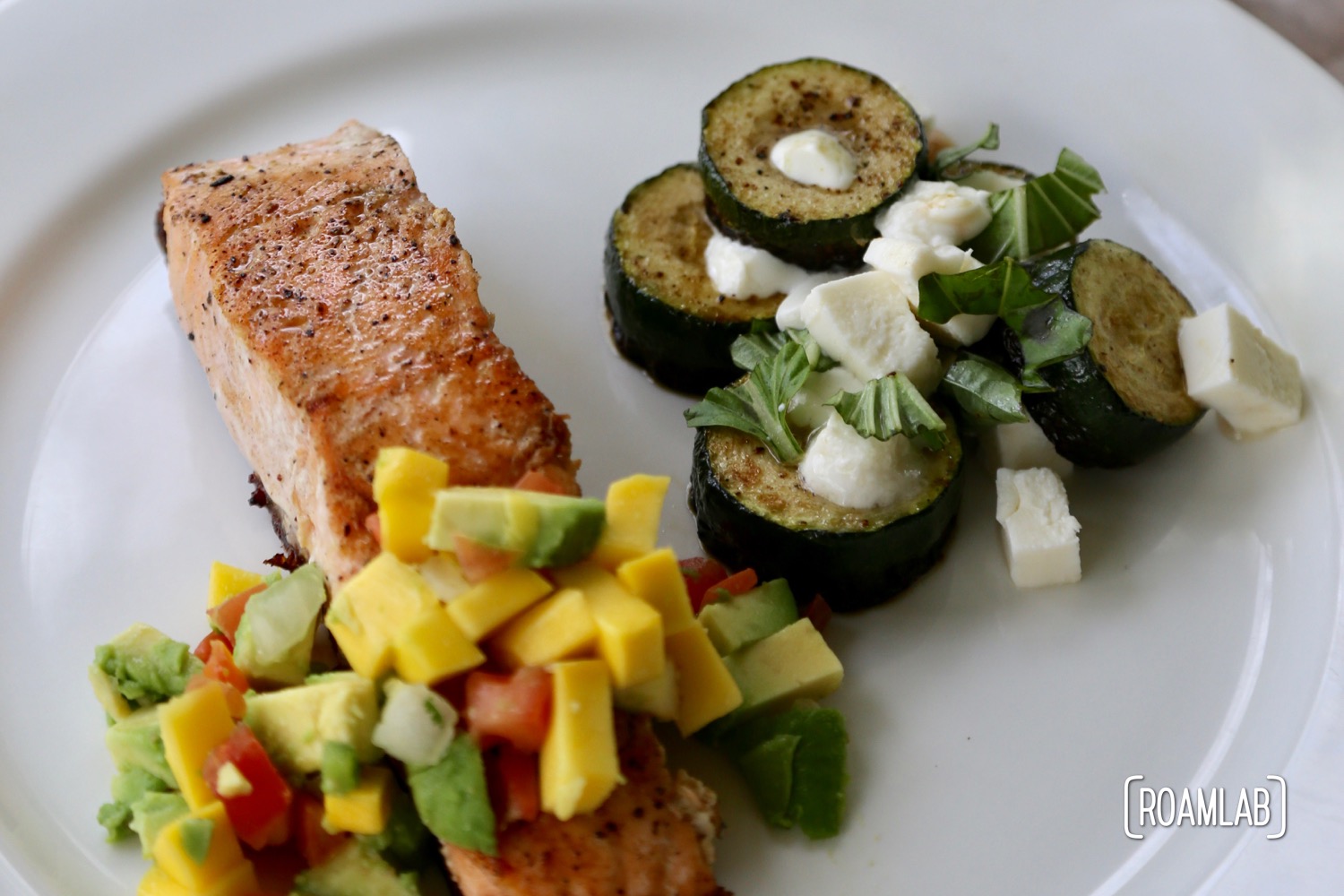 To me, salmon is a comfort food. The crisp exterior and smooth rich interior hits the same spot for me as a creme brûlée. A comparison that is even more apt with this recipe that includes notes of sweetness from the tropical mango salsa side. While I have loved pan frying salmon long before our nomadic adventures, this recipe is well suited to my current outdoor cooking with a live flame. All that heat makes for one sublime sear. So, stoke up the fire. Get the oil in your skillet smoking hot. And get ready for one fantastically seared piece of seafood with this cast iron skillet salmon and mango salsa recipe.
Salmon And Mango Salsa Recipe
Servings 2
Ingredients
Salmon
1 lb salmon fillet with skin cut in two, lengthwise
olive oil
salt
pepper
Mango Salsa
1 mango finely diced
½ avocado finely diced
1 roma tomato finely diced
⅛ red onion finely diced
1 tablespoon cilantro chopped
2 teaspoon lime juice
salt to taste
Equipment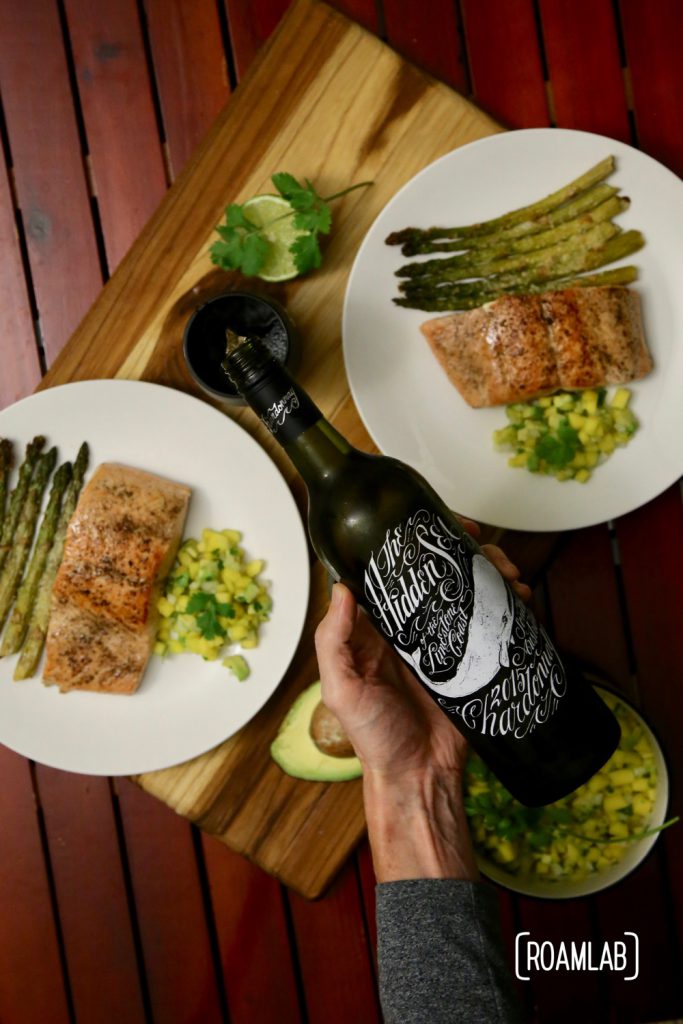 A note on sourcing salmon: Occasionally, I come across a vendor selling salmon without the skin. While I don't eat the salmon skin, it is super handy when cooking. It is a buffer between the salmon meat and the direct heat as well as extra fish oil for the fillet to cook in. While I have done this recipe with skinned salmon fillets, it is much more difficult to achieve a crispy exterior without terribly overcooking. So, I heartily advice sourcing salmon with the skin intact.
Directions
Salmon is one of my favorite fish but it can be easy to overcook. For that reason, I make a point of having everything else I plan to serve ready before I start cooking the salmon or at least to a point that it will be ready to eat within ten minutes and requires little oversight on my part. That includes the mango salsa. When the salmon is ready that means it is time plate everything and serve immediately. This is one dish that should not wait.
Mango Salsa
Mango Salsa is a relatively simple to prepare. The process is mostly a matter of finely chopping everything and being careful not to mash the softer ingredients such as the mango and avocado. In fact, this is a part that you can easily prepare in advance. I often will prepare a large batch of pico de gallo—pretty much the onion, tomato, lime, cilantro and salt portion of the recipe—a day or two in advance. Then I add the avocado and mango when I'm ready to prepare the whole meal. So long as you can keep the salsa chilled, it should last a few days.
Mix onion, cilantro, lime juice, and salt.
Once the cilantro and onion is evenly blended, mix in the roma tomato, mango, and avocado. Mix in each ingredient carefully. You don't want to wind up with mango guacamole.
Set aside or chill if preparing before your are ready to serve.
Salmon
When cooking salmon, my goal is to achieve a sear without overcooking the salmon fillet. An easy way to monitor how cooked through the fillet is is to keep an eye on fillet's profile. When you start to see the bottom portion close to the skillet turn a pale pink, you can see that the the bottom side is cooked and it's time to flip the fillet. Once again, you can keep an eye on the side of the fillet to gauge that how cooked through the fillet is. It is very easy and disappointing to overcook fish. Remember that the fillet will continue to cook a while after it is removed from heat.
Sprinkle salt and pepper over each salmon fillet.
Heat iron skillet with one tablespoon of olive oil over medium high heat.
When olive is hot enough to easily coat the pan, place salmon fillets in pan, skin side down.
Flip the salmon fillet once the skin is crispy, brown, and the sides of the salmon start changing color to a lighter, cooked color.
Once the flesh side of the fillet has a nice sear (this should only take a few minutes) remove the salmon and serve immediately.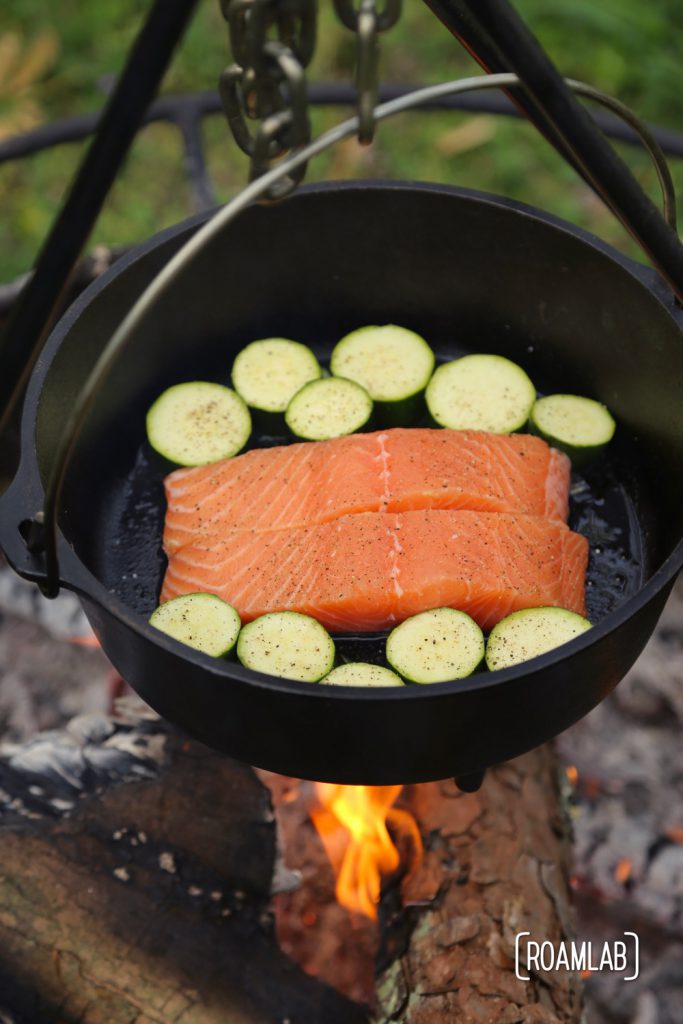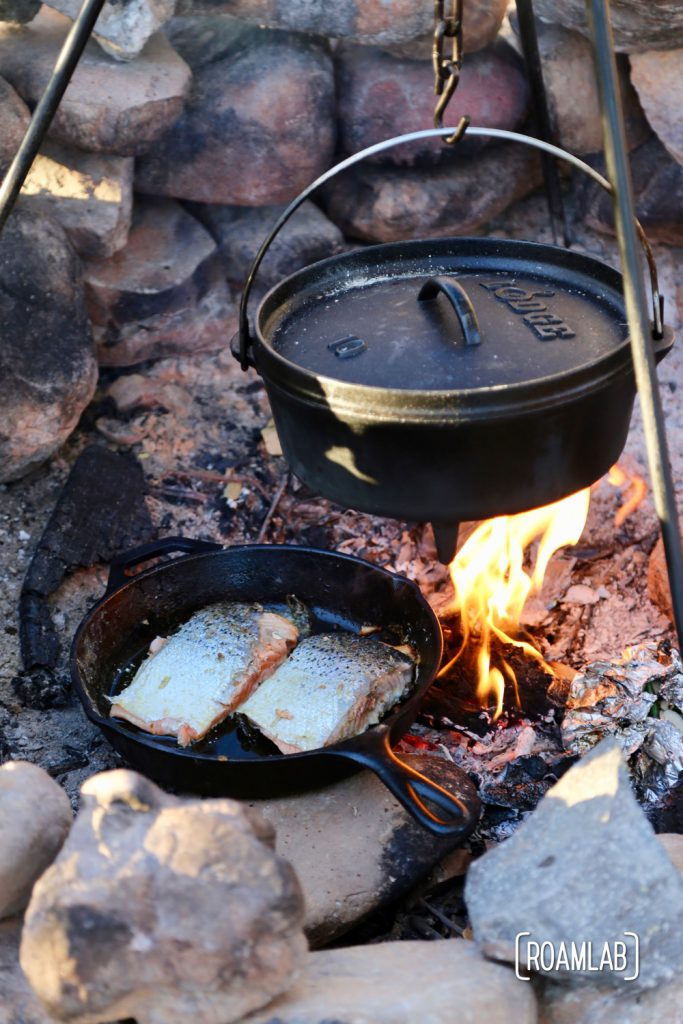 Pairings
This dish already packs a lot of flavor. You really don't need to add much of anything. If we are looking for a lite dinner, we may keep things simple with a green vegetable side such as asparagus or zucchini. For larger meals, serve on a bed of beans and rice.