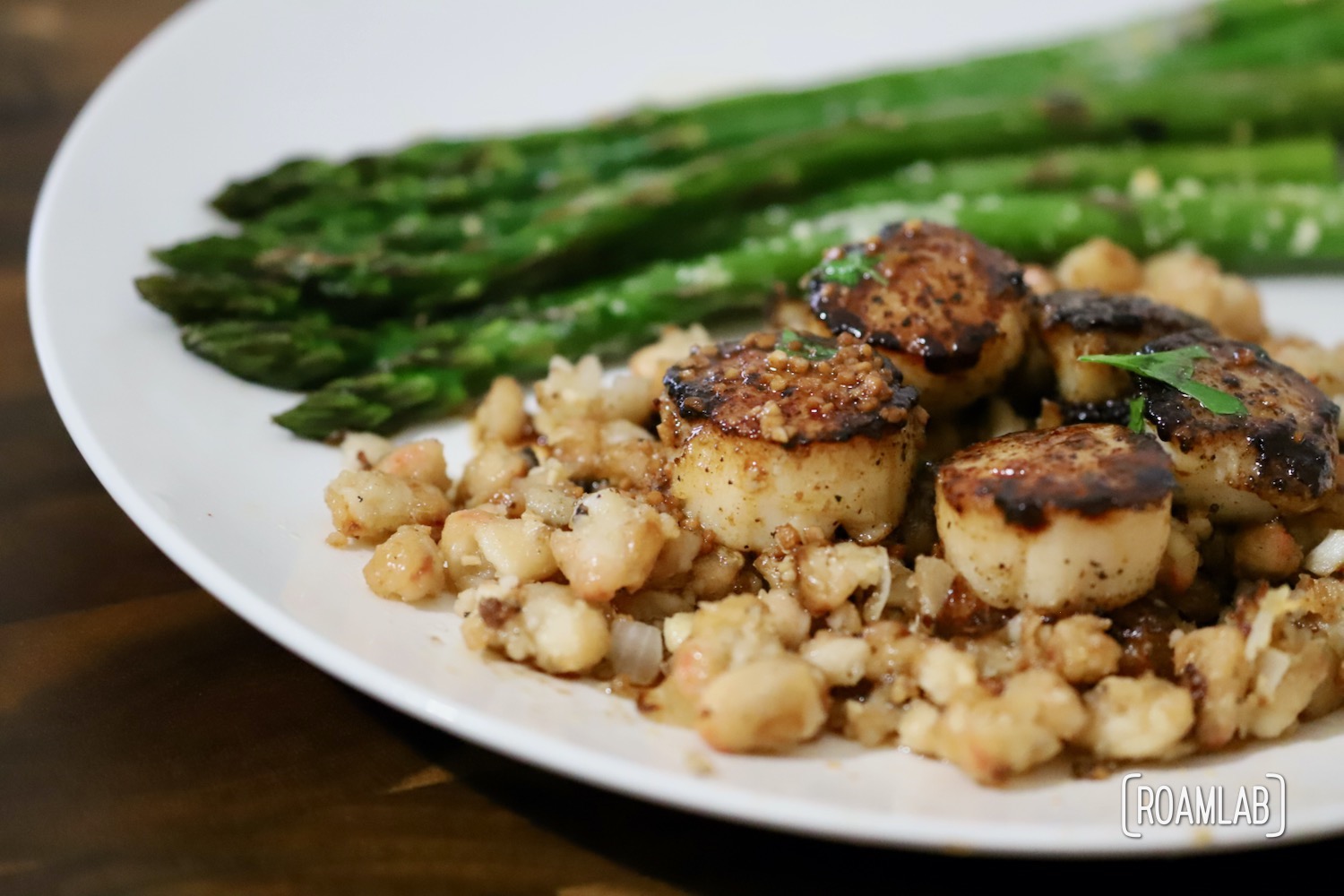 Sea Scallops & Parmesan White Beans
Campfire Cooking
I love scallops. These bite-sized crustaceans are a fun alternative to more common seafood options like shrimp or salmon. Of course, getting them right, rather than chewy balls of rubber, takes an attentive eye. All the same, this super simple recipe makes sea scallops an easy undertaking and can stand alone as a meal or be easily paired with a fresh vegetable. So, dig in to my sea scallops & parmesan white beans campfire cooking dinner recipe.
Sea Scallops & Parmesan White Beans Recipe
Serves 2
Ingredients
Sea Scallops
8 large sea scallops
Salt & pepper to taste
1 tablespoon olive oil
1 tablespoon butter
White Beans
1 can great northern beans, drained and rinsed
2 tablespoons parmesan cheese, grated
¼ onion, diced
1 tablespoon garlic, minced
(Optional) Sauce
¼ cup white wine
1 teaspoon garlic, minced
2 tablespoons chopped fresh green herbs (parsley, rosemary, thyme, or whatever you have around)
1 lemon, juiced
1 tablespoon butter
Equipment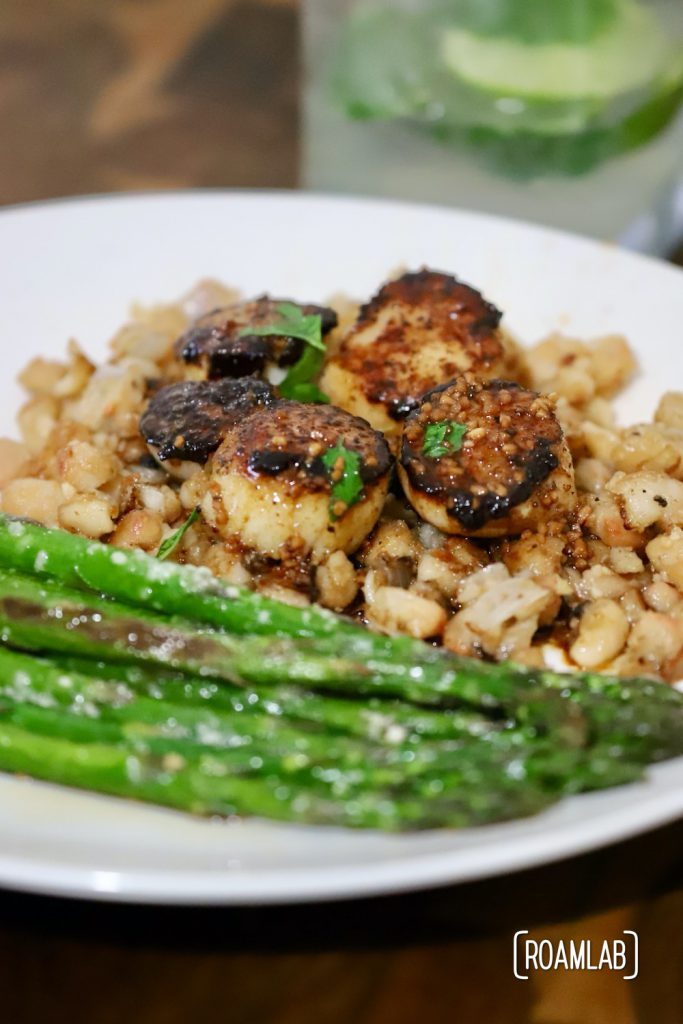 Directions
One thing I love about this recipe is how many items in it are shelf stable. I have canned beans, onion, olive oil, salt, and pepper in my chuck wagon at all times to be used whenever the mood strikes me. All I need are some scallops. I tend to buy a small bag of frozen scallops. This way, they last longer in my cooler and contribute to the chill of other perishable foods. Being rather small, though, they thaw out relatively quickly.
White Beans
I originally started experimenting with this recipe as a side for salmon. While the two go well together, I was even happier when I combined the white beans with scallops. If you want to add a bit of color to the dish, also consider sprinkling in some fresh parsley.
Heat a tablespoon of olive oil in skillet at medium heat
Mix white beans and onions in skillet
Fry until onions are soft and white beans begin to break apart.
Mix in Parmesan
Remove from heat and split between two plates
Scallops
Scallops are very delicate. Be very careful not to overcook them. It will only take a few minutes. Once you have placed them in the skillet, don't move them until you are ready to flip them. This way, they have a chance to brown nicely on each side.
Heat a tablespoon of olive oil in skillet at high heat
Lightly salt and pepper sea scallops
When the olive oil begins to smoke, place sea scallops in pan
After two minutes or once scallops have a light brown sea, flip scallops over
After another 2 minutes, remove scallops from heat and place on bed of white beans
Serve immediately
(Optional) White Wine Sauce
Generally, I do not prepare this scallop dish with a sauce. But occasionally I'll have a lot of browned scraps at the bottom of the plan from the scallops and figure: it's a shame to waste these. And so I'll whip up a sauce to drizzle over everything.
Cool skillet to medium heat
Add in butter, garlic, and white wine
Free any browned remnants from the skillet
Reduce white wine and butter until most of the liquid has evaporated
Mix in herbs and lemon juice
Drizzle over scallops and white beans
Pairings
This dish can stand on its own but I like to add a fresh vegetable to bring some color to your plate. I absolutely recommend pairing these sea scallops with asparagus.  It brings the whole dish together and brightens up the meal.