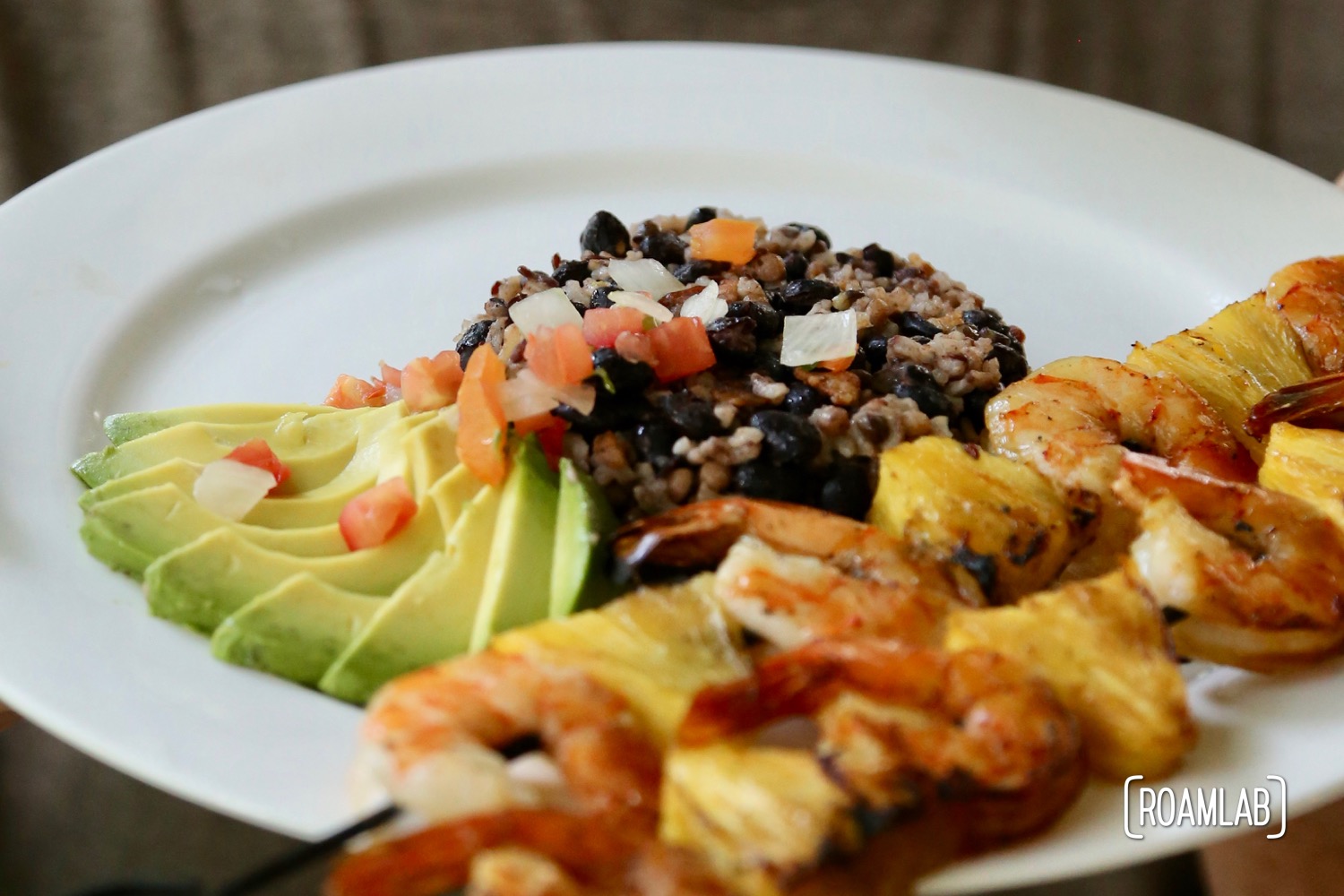 When summer rolls around and the humidity starts to rise, I yearn for piña colada, mangos, and other tropical dishes such as these Pineapple Shrimp Skewers. My access to frozen drinks may be limited by my lack of a blender and limited access to ice, but this fire grilled pineapple and shrimp is so simple to prepare and really hits the spot with a mouthwatering mix of sweet and savory. I find that two of these skewers make for a simple, satisfying, and light meal. But you can also throw them together for tasty appetizers when hosting a group.
Pineapple Shrimp Skewers Recipe
Servings 2 (2 skewers each)
Ingredients
20 large raw shrimp, unshelled and deveined
20 large pieces of pineapple
1 tablespoon olive oil
salt and pepper to taste
Equipment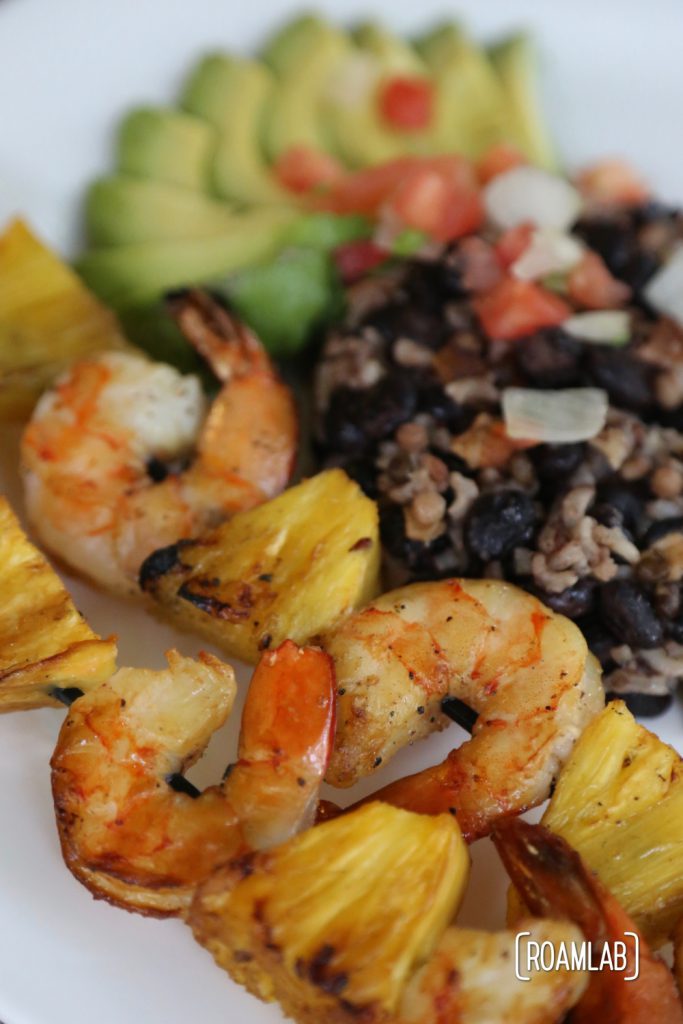 A note on campground grills: a lot of public campgrounds include fire pits with attached grills. They are there for cooking. But there are also there 24-7. I prefer bring my own grill, so I am confident about where it has been and what it has been exposed to. Before I traveled with the grill though, I have relied on these public grills. In the interest of sanitation and clean grilling surfaces, you should, at the very least, bring your own scouring brush to clean off the grill before cooking. Personally, I prefer to simply cover the grill with a sheet of tinfoil.
Directions
This is a fairly flexible dish. The single thing you can do to make this dish difficult is to use a thin skewer. The skewers I used in these pictures are simple square rods. In ideal circumstances, these can work. But, too often, while flipping a sewer, a shrimp comes loose and will spin freely on the skewer. So, each time you flip the skewer, it becomes a battle to make everything flip for an even grill. I would advise paying the few extra dollars for a double pronged or flat skewer, instead. If you already are invested in this type of troublesome skewer, you can mitigate the trouble by using two skewers per kabob to spear the shrimp and pineapple in parallel.
Heat up grill and brush with nonstick oil
Mix olive oil, salt, pepper, and shrimp in a plastic bag.
Spear shrimp on skewer, alternating with pineapple slices.
Place on grill.
In approximately 4 to 5 minutes, flip skewer when bottom side starts changing color and pineapple starts to brown on the edges.
Remove from heat after another 4 to 5 minutes and serve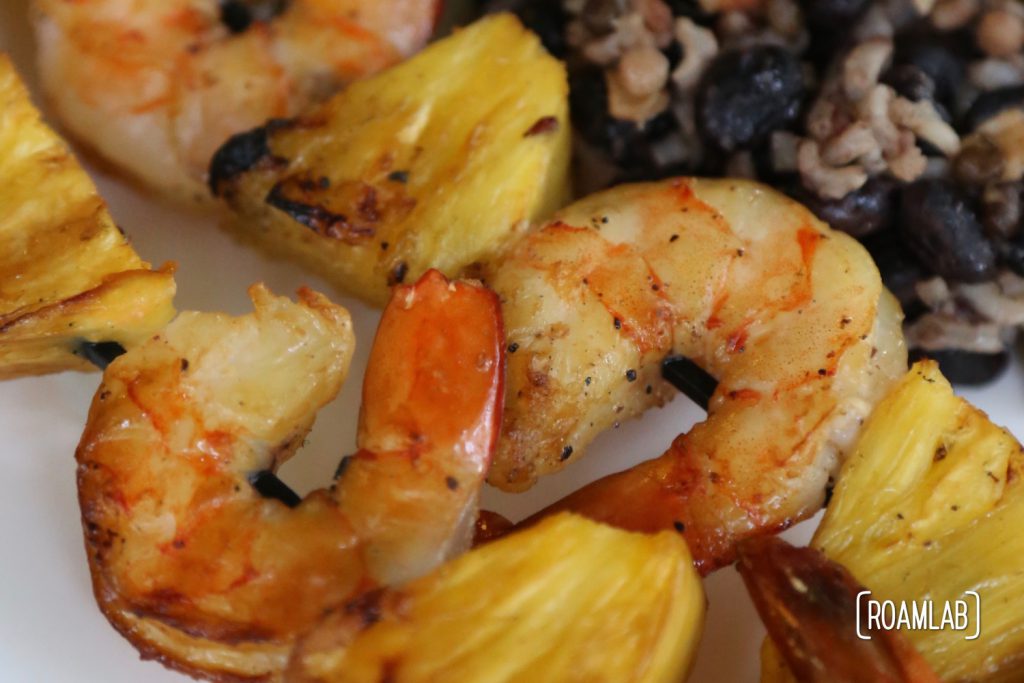 Pairings
There's a lot of different ways to enjoy this dish. Personally I prefer the skewers serve on a bed of beans and rice or with a fresh pico de gallo. The sweet shrimp and tangy pineapple already have so much flavor that the beans and rice serve to balance out the selection.
How do you like to serve pineapple shrimp skewers? Please, let us know in the comments!