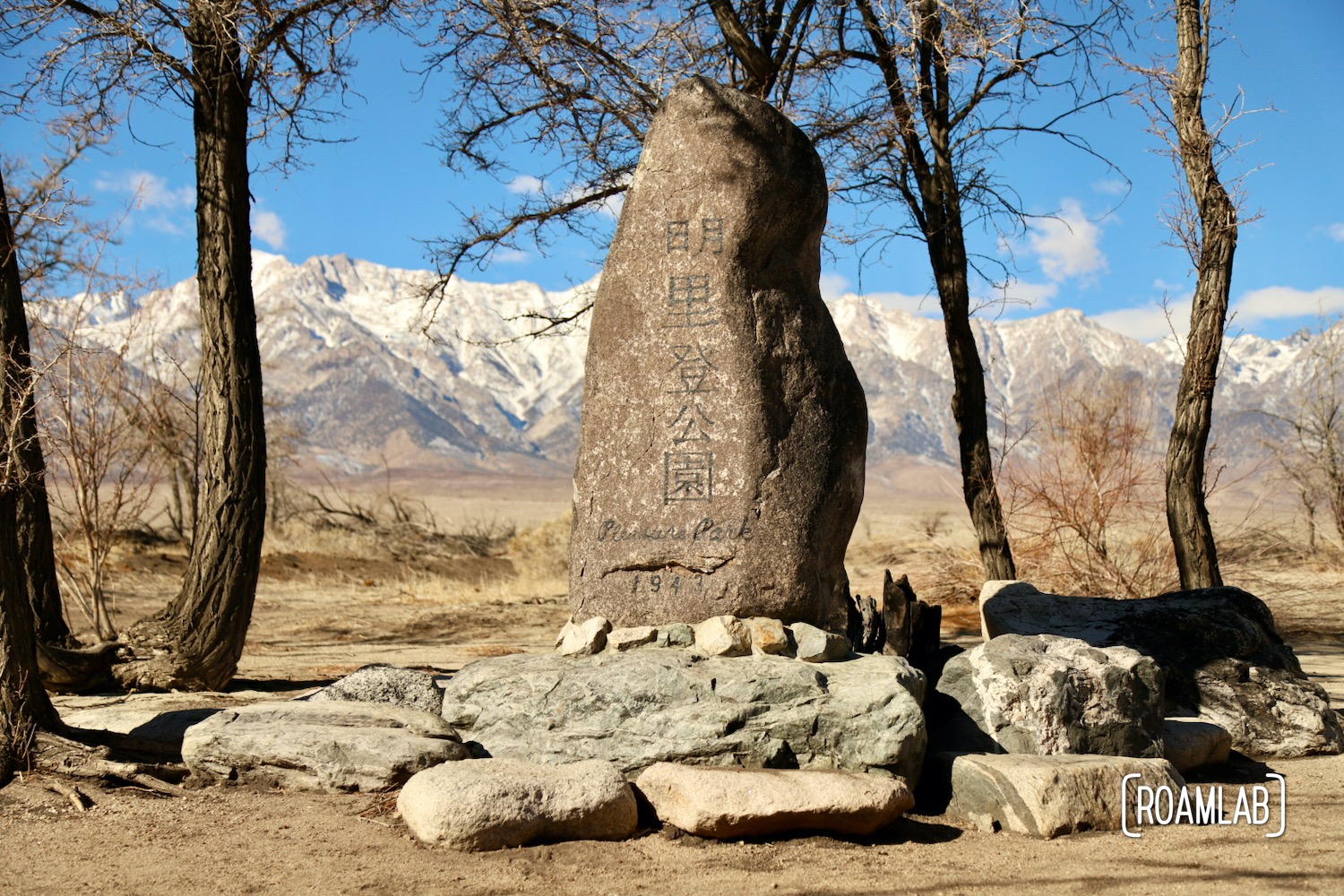 Manzanar National Historic Site
Sometimes, pretty things are deceptive. They hijack our ability to really understand the implication of what we are looking at. The brilliant snow-capped mountains. The ornate stonework. The meticulously designed grounds. It is so pretty. It is also Manzanar. ⁠⠀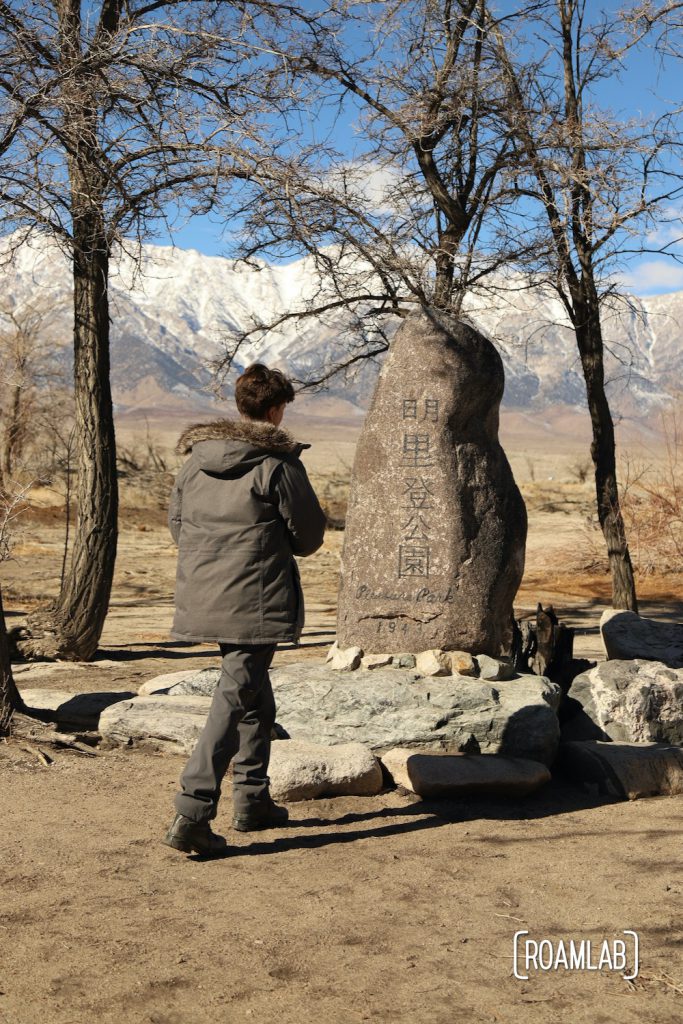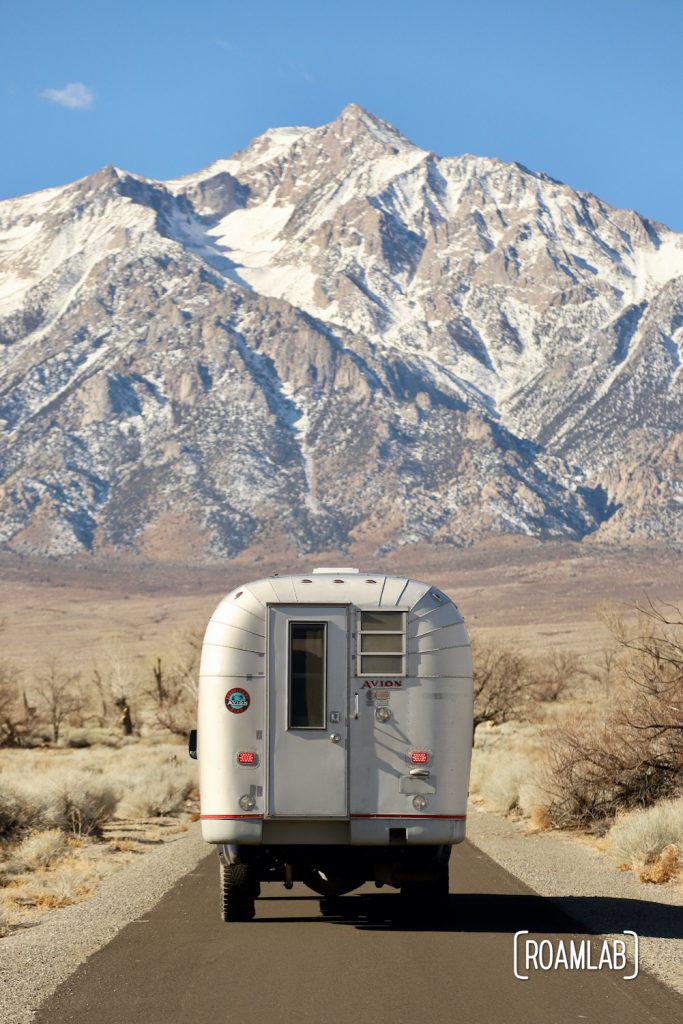 History of Manzanar
Manzanar was a concentration camp for American citizens of Japanese heritage during WWII. Executive Order 9066, signed by President Franklin D. Roosevelt, gave over 110,000 people of Japanese descent along the west coast only days to sell their homes and belongings and wrap up their affairs before being relocated to government camps, including Manzanar.
Like the other camps, Manzanar was placed in an isolated location in Owen's Valley, south of Bishop, California, in the Eastern Sierras. The region had been home to the Paiute people and was later settled by miners searching for silver and gold and farmers feeding the miners. By WWII, however, most of the silver had played out, and farms shut down as demand for their produce waned. What remained was wide, open, isolated land. Along with the guard towers and fences, internees were geographically walled in by the the Sierra Nevada and Inyo mountain-ranges.
Life in Manzanar
Between March 1942 to November 1945, 11,070 people were incarcerated in Manzanar. At its peak, the camp held 10,046 adults and children. The camp was meant to be self-sufficient. Internees farmed and ran many of the businesses that served the community. But in the midst of a war with extensive rationing, substandard resources, and a harsh environment, day-to-day life was a challenge. At an elevation of 4,000 feet, the temporary barracks built to house internees were far from adequate protection from the sweltering summers and bitterly cold winters. Tight living quarters escalated health concerns. And shared latrines meant internees had next to no privacy at all.
Even so, internees found community in shared recreation, music, and art. One-hundred-fourteen baseball teams competed within Manzanar. Gardens flourished in and outside of the walls of the compound. Troops of internees performed traditional and contemporary theater.
Closing Manzanar came with its own challenges. Despite the conditions, some internees refused to leave. Their rushed incarceration back in 1942 meant that many lost everything in their absence and had nothing to return to at the war's close. Even so, whether voluntary or involuntary, inmates gradually moved on to pursue their uncertain futures. The final internee left Manzanar on November 21, 1945.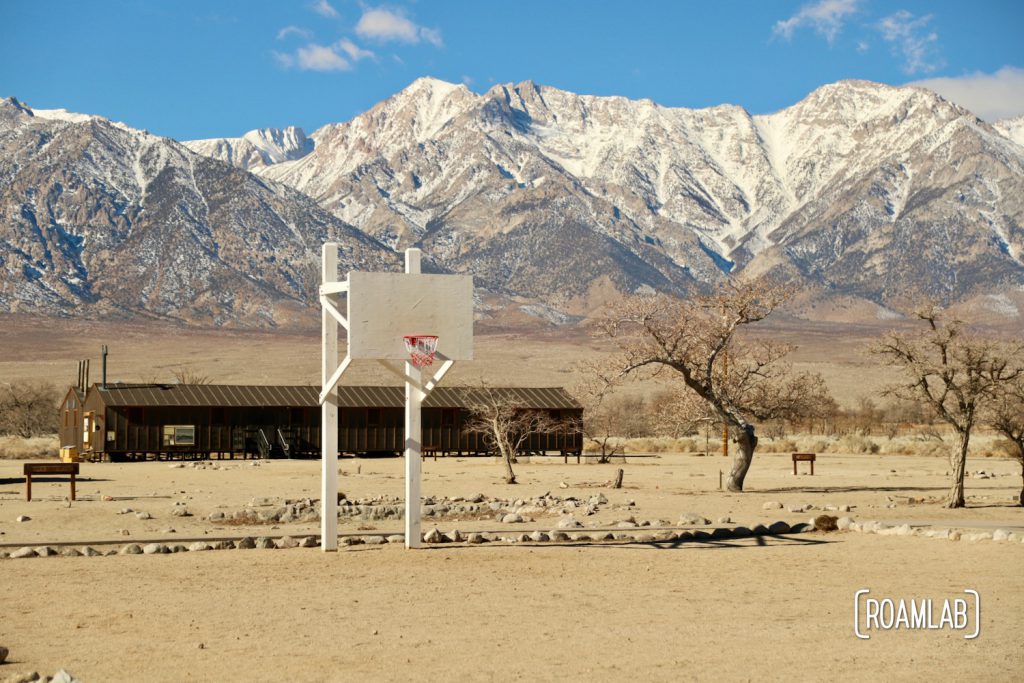 Manzanar Today
The original barracks, guard towers, and fences were torn down soon after the Manzanar camp was closed. All the same, the grounds have been preserved as a National Historic Site. Along with a visitors center, the grounds host an auto tour through the grounds. The one-way paved road travels past reconstructions of guard towers, barracks, and even some recreation sites such as a basketball court. It's a somber reminder that children, as well as their parents and grandparents, were held here.
Barracks 1 and 8 are models of the original barracks that housed internees. The barracks may be solitary structures today but would originally have been part of a block of 14 barracks—one of 36 blocks in Manzanar. The recreated barracks now house displays about day to day life in Manzanar.
Soul Consoling Tower
The most iconic spot on the Manzanar site is the cemetery monument constructed by Ryozo Kado in 1943. The cemetery was located outside the barbed wire fencing of the Manzanar compound, among an old peach orchard from the earlier farming days of Owens Valley. Fourteen of the 150 people who died while interned at the camp were buried here. Others were either shipped to hometown cemeteries or cremated. Towering above the remaining graves is a white pillar with three characters engraved in the front (I REI TO)—translated to "Soul Consoling Tower." The zenith of the tower is mirrored by Mount Williamson in the background.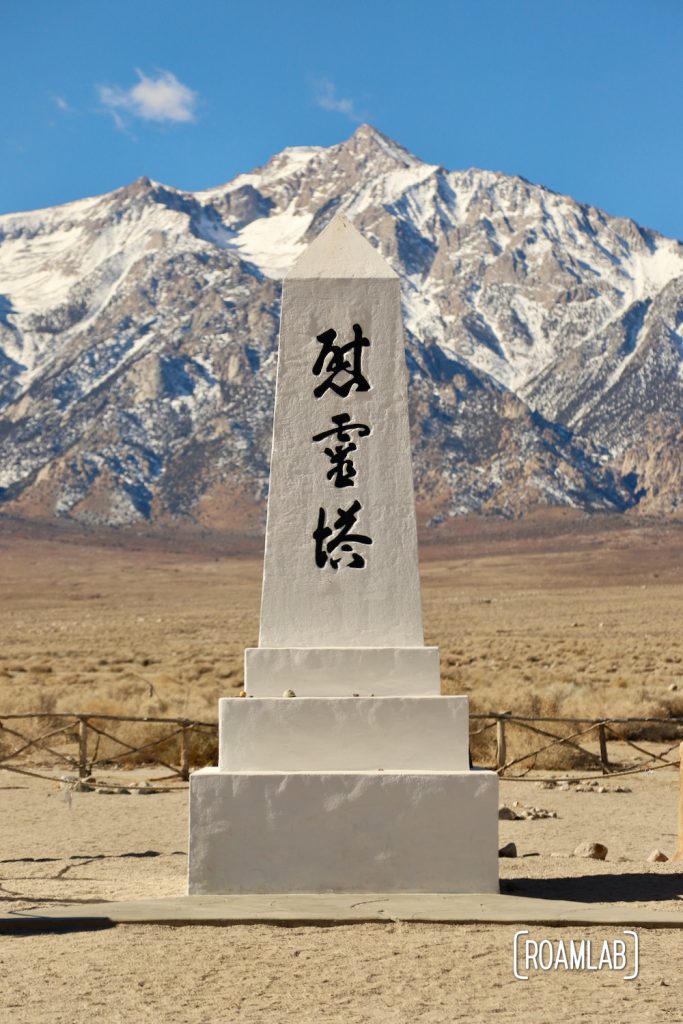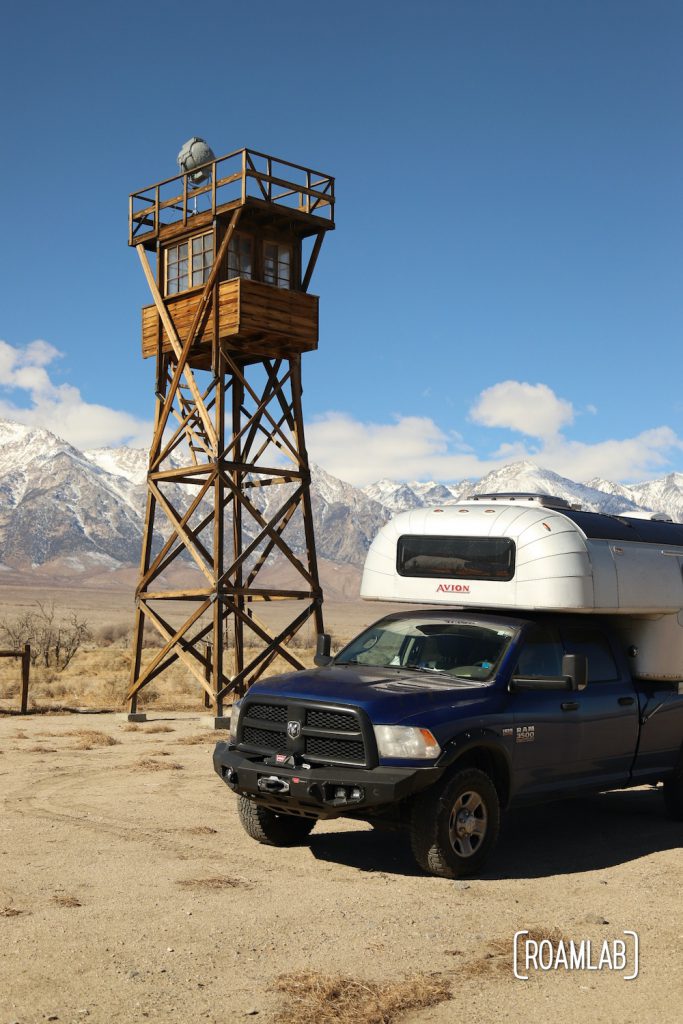 Merrit Park
We were particularly struck by the Merrit Park (AKA Rose Park and Pleasure Park) gardens that residents cultivated. It was a 1.5-acre oasis of lawns, flowers, and pools designed by Kuichiro Nishi (landscape designer) and Tak Muto (floriculturist) and constructed by fellow inmates. Today, this complex of pools straddled by bridges constructed of local wood is resurrected by descendants of Kuichiro Nishi.⁠⠀The original grounds had to be excavated after being buried under feet of sand. In 2008, the children and grandchildren of Kuichiro Nishi worked with National Park staff and volunteers to resurrect the park.
Granted, the gardens are not as lush as they once were. Part of that may be due to the fact that the water rights for much of the Eastern Sierras have been bought up by Los Angeles. Gone are the waterfalls, pools, and creaks. Many of the plants arranged by Tak Muto could not survive in the absence of regular care and watering. Instead, we have a stark environment of stone, wood, and the harshly beautiful Sierra Nevada Mountains in the background.⁠⠀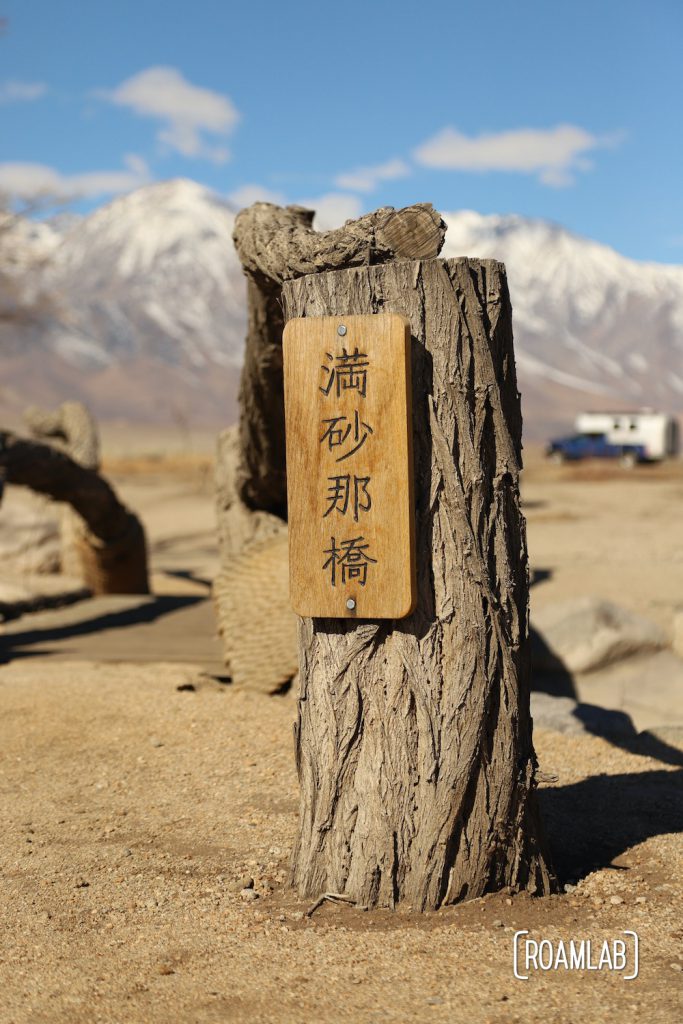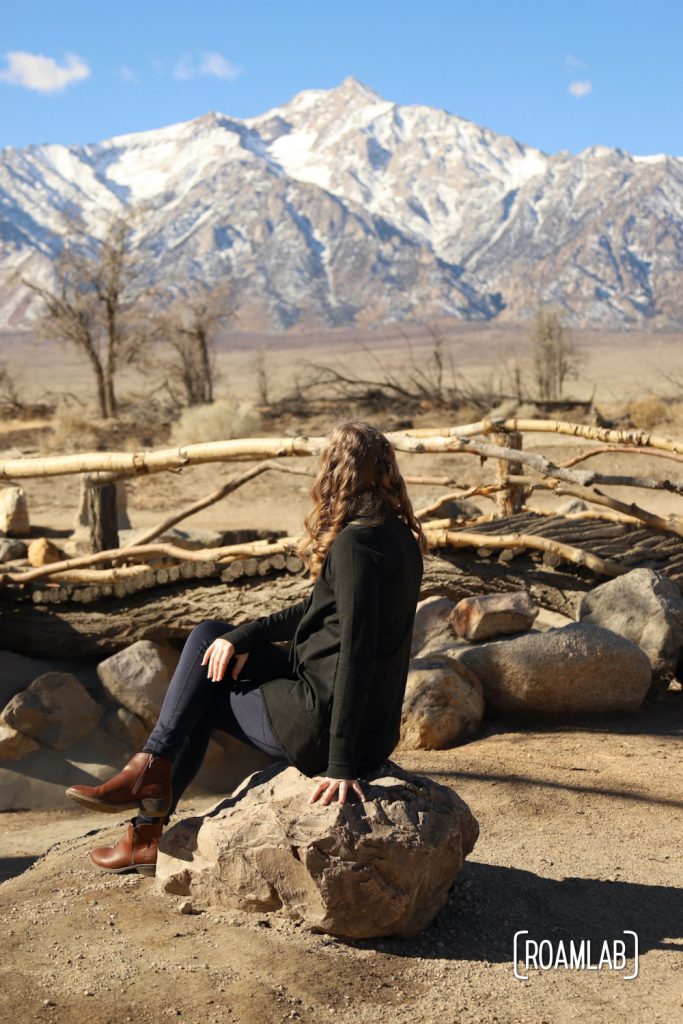 Visiting Manzanar
Today, Manzanar is an easy stop off Highway 395, 10 miles north of Lone Pine, California (or a 3.5-hour drive from downtown Los Angeles.). The compound is immediately west of the Highway and visible to passers-by. Start at the museum in the Visitor's Center. If it's closed, visitors can still explore Manzanar and learn about the history through information displays scattered through the grounds. Pick up informational brochures at the gate or outside the Visitors Center. Depending on how deeply visitors dive into the displays and explore the grounds, Manzanar can easily fill anywhere from an hour to half a day.
Manzanar's position right off the highway makes it an easy addition to a road trip along Highway 395. This route through the Eastern Sierras is one of my favorites. I featured it in my 20 Road Trips for 2020 post, and Manzanar is in the middle of a collection of fascinating stops. Travel 12-miles south for the epic Movie Road or 16-miles to Tuttle Creek Campground. Traveling north is less than an hour's drive to Bishop, California, and attractions such as Bishop Tuff and Pleasant Valley Pit Campground. Regardless of what other stops may draw you up Highway 395, Manzanar is one roadside attraction you should not pass by.