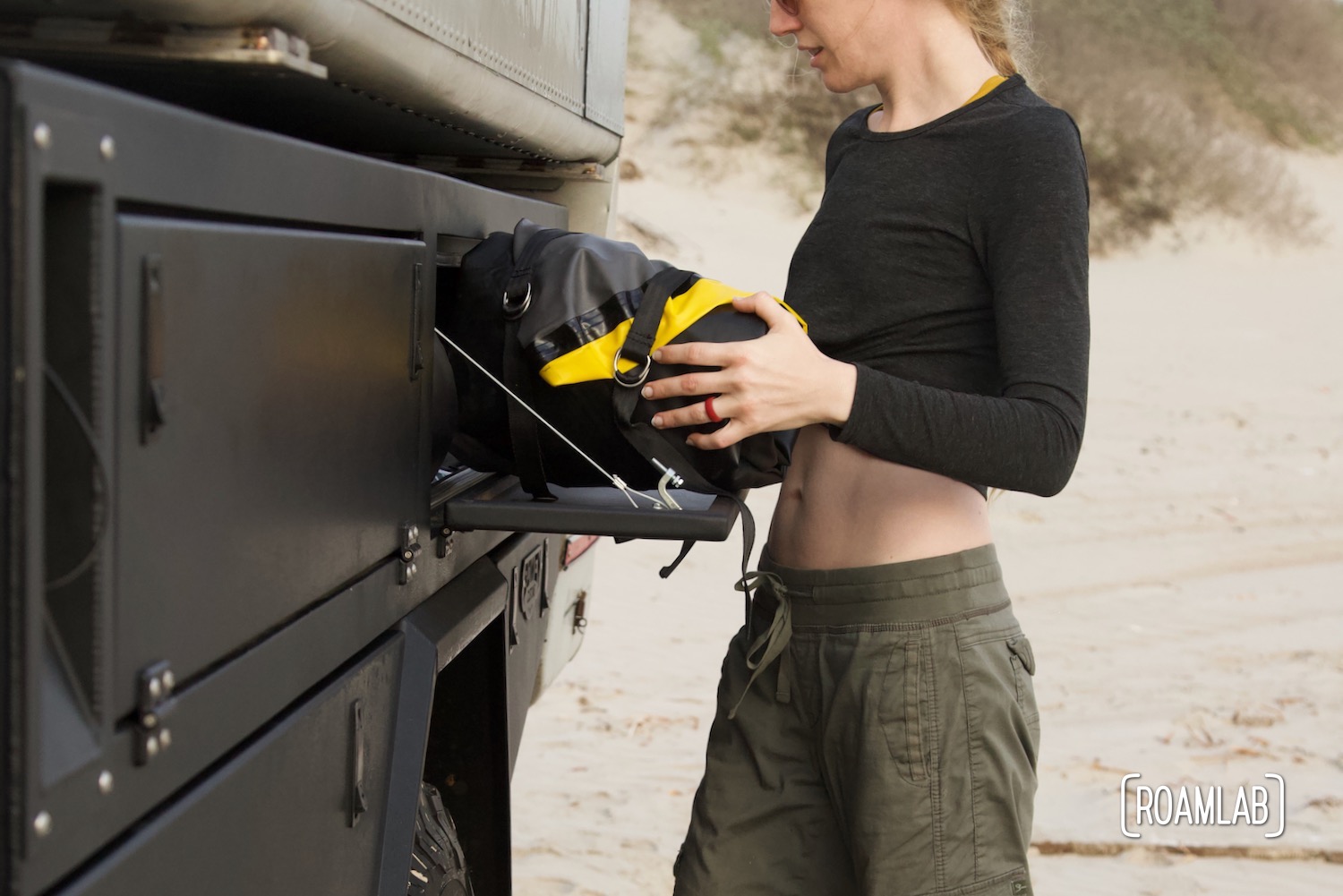 Watery Roads
Pack Rafting for Overlanders
Rarely do we get things right the first time around.  Our rig is in a constant state of change.  Our collection of gear expands and contracts like a living organism as we take on new equipment and jettison equipment that we no longer find useful. Last summer, we offloaded a set of cheap inflatable kayaks after years of begrudging their bulky size and awkward assembly. You may have noticed their replacement this winter: a set of Kokopelli Rogue Lites.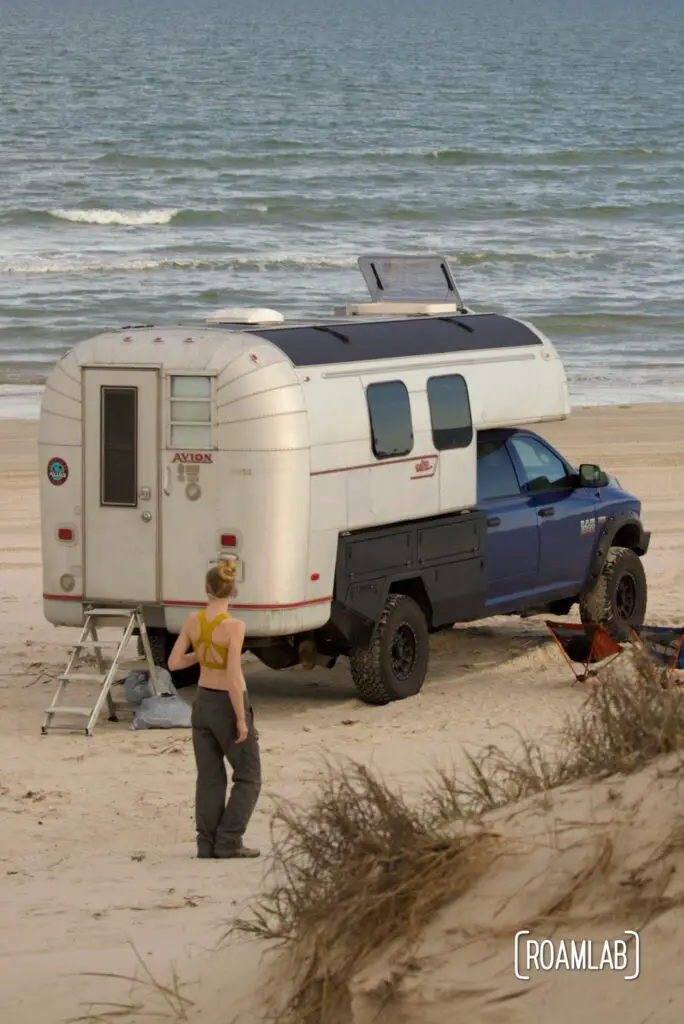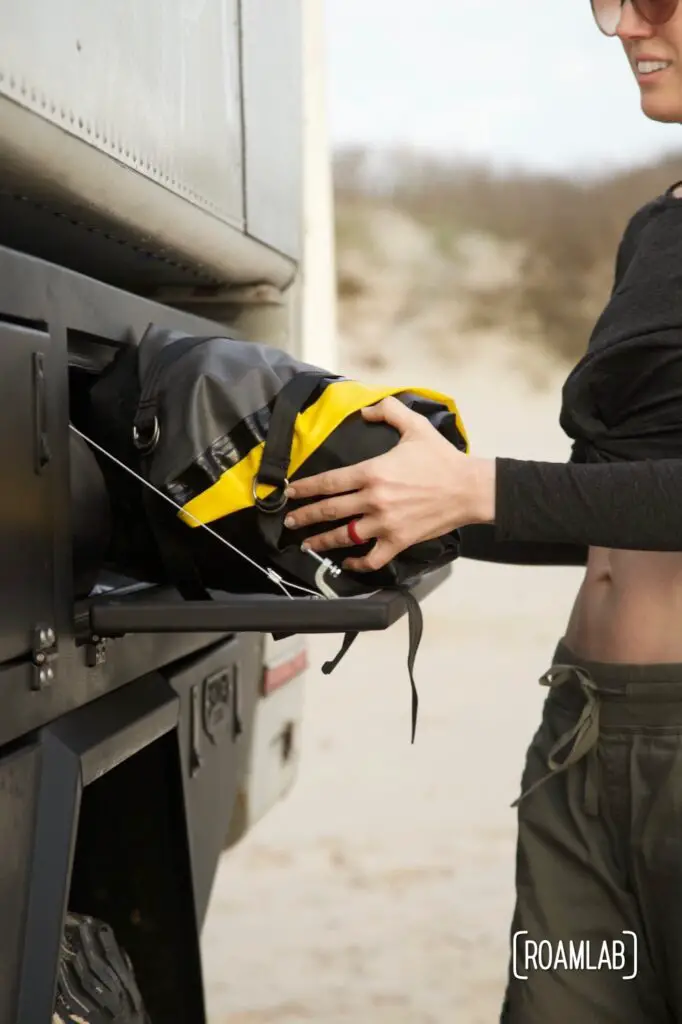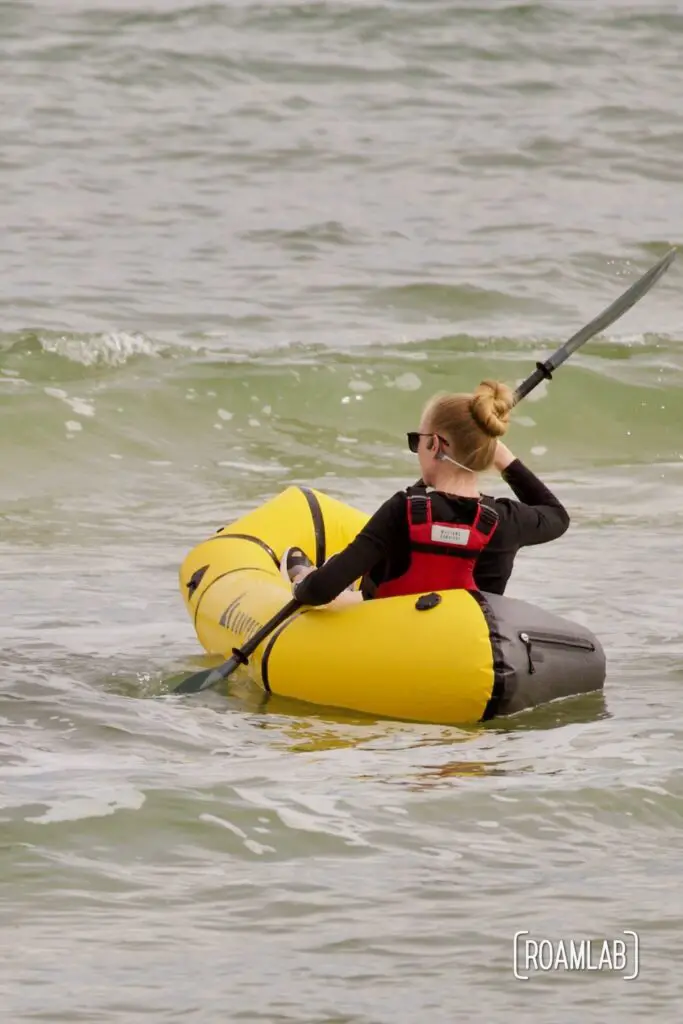 Expanding Horizons
Roam Lab has always been a website about outdoor exploration. In the early days with our 1986 Dodge Ram van Dodgy, we mainly camped in developed campgrounds and hiked to wilderness areas. To reach more remote terrain, we've continued to expand into new disciplines. With Dodgy II: the truckening and our DIY remodel of a 1970 Avion truck camper, we stepped into overlanding, driving dirt, rock, and sandy trails to find isolated campsites. We even have a set of mountain bikes to tear down single track trails. But there are places our kitted-out truck camper and bikes can't reach.
Aside from a few low-level river crossings, water is one environment where our truck is limited. We can camp on the beach, but we need watercraft and accompanying gear to reach a small island in the middle of a lake. Of course, there are many options out there, but most of them are prohibitively bulky. Our pursuits call for light and packable gear that we can bring with us while overlanding, hiking, and mountain biking. Fortunately, there is a name for this kind of recreation: pack rafting.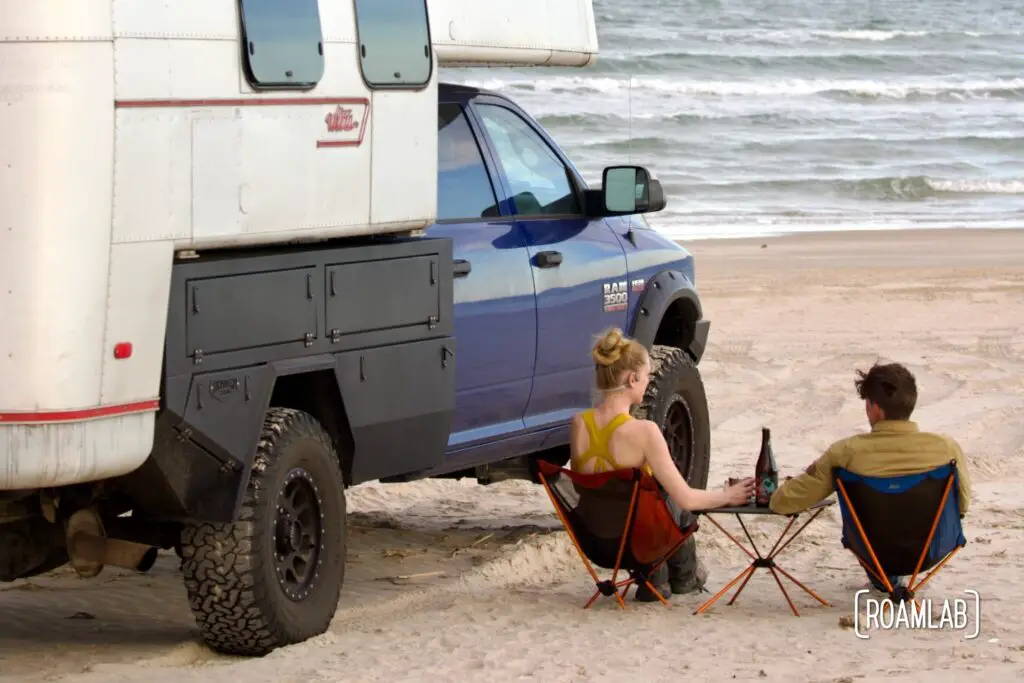 About Pack Rafting
Pack rafting, or packrafting, is a versatile outdoor water sport enabling adventure-seekers to explore remote waterways, rivers, and lakes. At its core, pack rafting relies on inflatable, lightweight, and highly portable rafts designed to be carried in a backpack or bike. These rafts can be easily inflated and deflated, making them perfect for multi-sport adventures where paddling is only one part of the journey.
Its adaptability and convenience set pack rafting apart from other water sports like kayaking, canoeing, or traditional rafting. Pack rafts can be carried easily during a hike or bike ride, allowing adventurers to access hard-to-reach waterways, discover hidden lakes, or even combine water and land-based journeys. This versatility makes pack rafting an ideal choice for those who love exploring off-the-beaten-path destinations and simply enjoy combining various outdoor activities.
And that is us to a tee!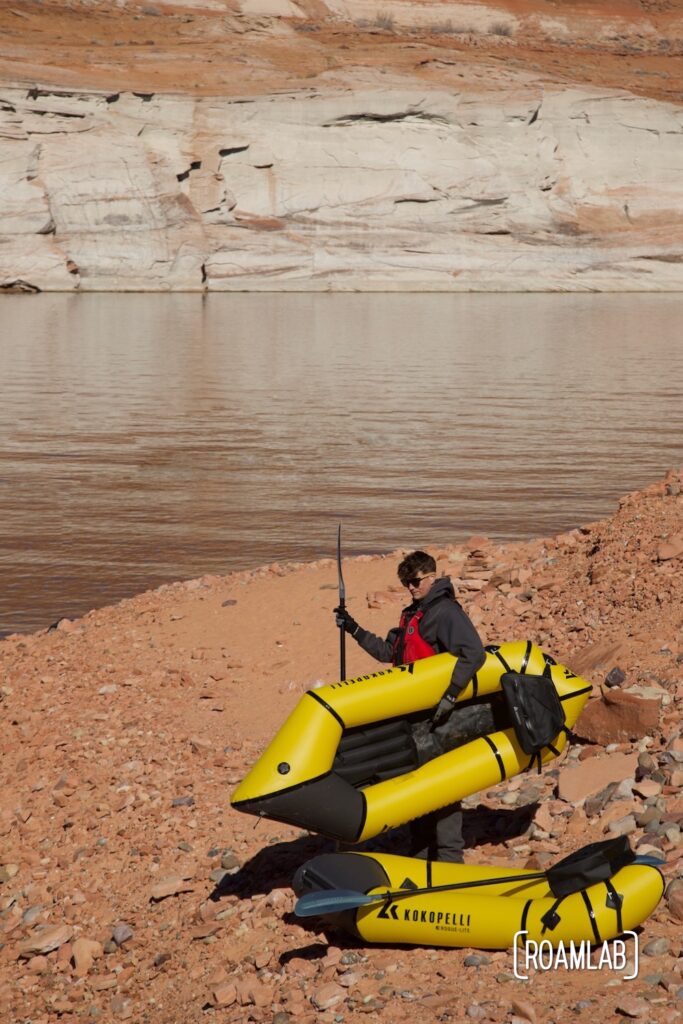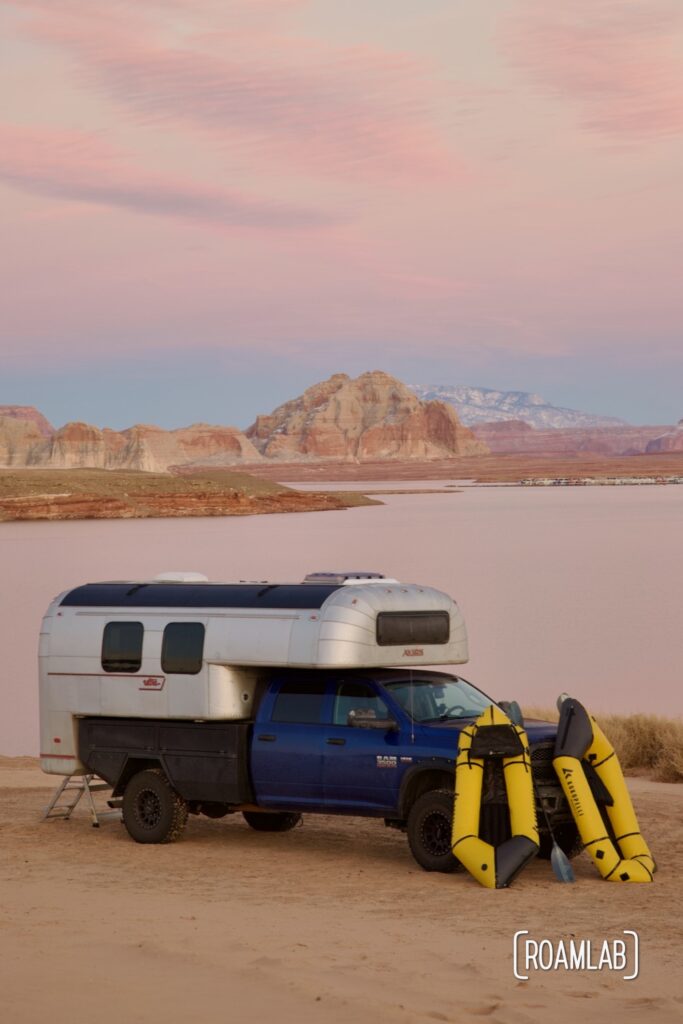 Pack Rafting Gear
During our time on the road, one rule has proved itself true time and time again: if it's tedious to do, we'll eventually stop doing it. ⁠Effort, space, and time are all limited. We don't want to waste it on the wrong equipment. So, this time, we've put a lot of thought into our gear. Given the nature of pack rafting, we may travel by foot, bike, or truck to our launch point. But when it's time to push off from shore, we always have our pack rafts, PFDs, dry bags, collapsible paddles, and gloves.
Pack Raft
Pack rafts fill a specific niche with broad applications. For all the emphasis on packability and versatility, pack rafts can come in a wide range of features and capabilities. First and foremost would be the raft's water rating. Water conditions can vary between a placid lake and high-class white water rapids. And the appropriate raft varies with those conditions.
With those conditions in mind come other raft features. They can be long enough for two people and extra gear or short and compact for maneuverability. They can be self-bailing, with a valve to empty water that gets into the raft. Or, they can have spray decks to seal off the interior from water splashing over the sides. Some are built with interior storage, including a zipper in the raft walls to stow items that are not needed during the paddle.
But selecting the right pack raft is all about balance. Sure, having a fully tricked-out raft would be nice, but each feature makes the raft heavier and bulkier. For serious white water rafters, the extra weight is worth the slog. But we prefer to keep things lightweight. So, we issue the bells and whistles for a stripped-down Kokopelli Rogue-Lite. We make one addition of an interior access zipper to support multiday trips. But these are otherwise lightweight models meant for lakes, bays, inlets, and Class 1 rivers.
That said, do you see how small they can pack down? They are small. Like, pack-down-to-the-size-of-a-paper-towel-roll small. We can easily fit them in our truck bed with paddles, vests, and dry bags. That means we can keep our outdoor gear outside our indoor living space. They also fit in our backpacks, which came in handy when we walked with them through downtown Austin and will come into play for future hikes.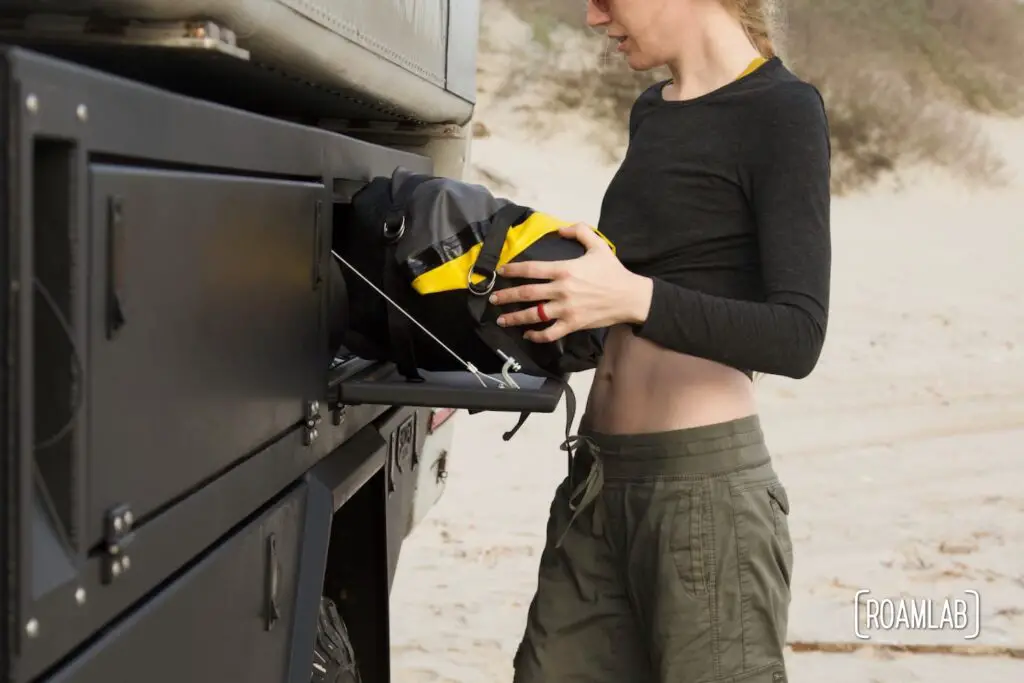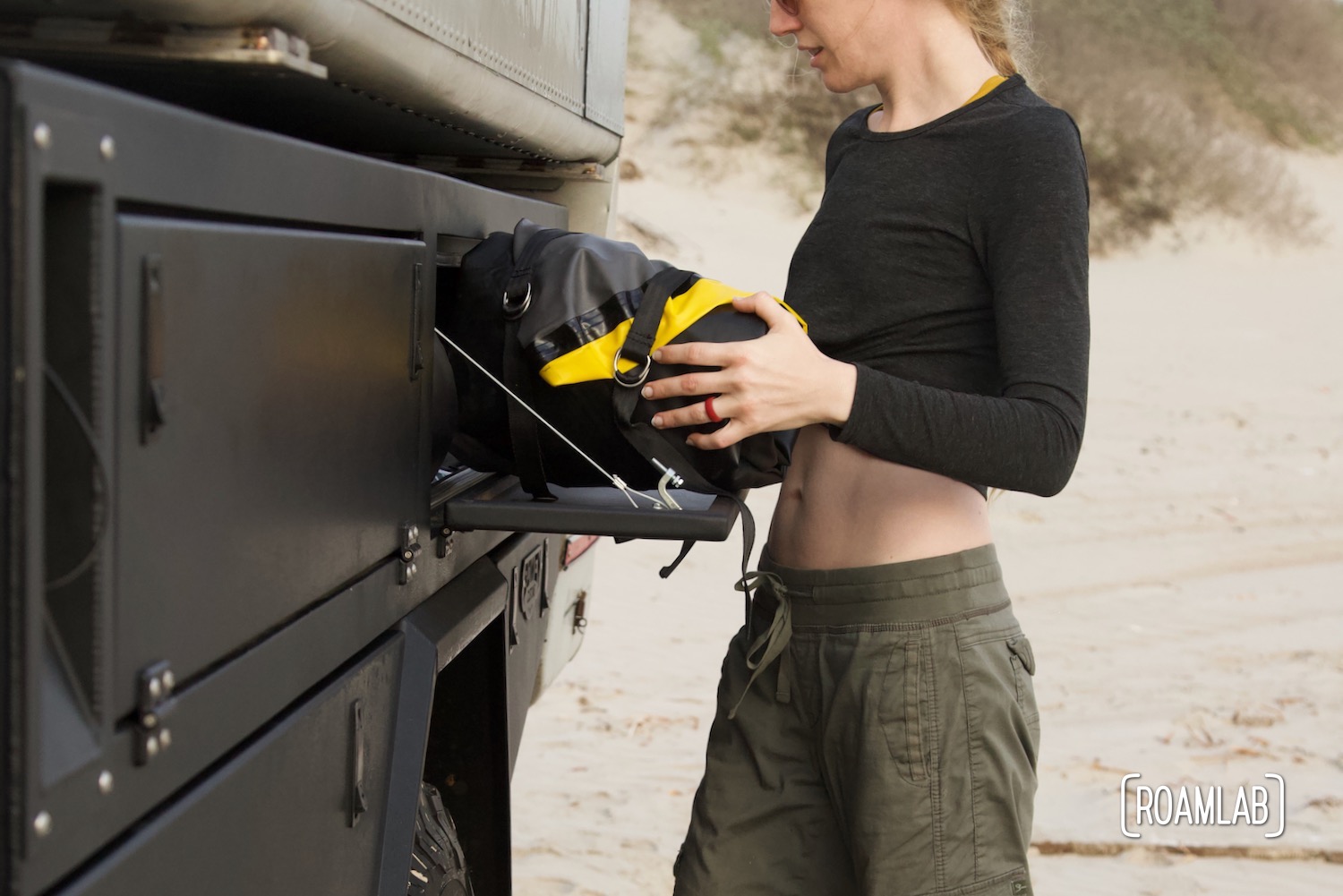 An Aside about Bike Rafting
We have also picked up a couple of mountain bikes (more on that later). So, we look forward to pairing up the bikes and rafts for some bike rafting. We've already tested out biking with our rafts at Dead Horse Ranch State Park. That time, we rode our bikes down to the ponds with our rafts strapped to a wheel rack. Next, we will test out paddling our rafts with the bikes strapped to the front. Then, it's time to bring those hands together for an extended adventure on land and water!
Personal Floatation Devices (PFDS)
I have to admit; this is a new term to me. I used to call PFDs "life vests." But the world of personal floatation devices expands far beyond life vests. There are foam PFDs, inflatable PFDs, throwable PFDs, pet PFDs, and PFDs for every water rating. So, like the raft, it's important to pick the PFD that fits our purposes.
We want PFDs designed for adults rafting on lakes and reasonably smooth rivers. There's a PFD for that. Well, there's lots of PFDs for that. We opt for the Mustang Slipstream Foam Vest. It comes with many bells and whistles…well, one literal whistle but lots of pockets. The zipper pockets are handy for carrying keys and phones, but the fleece-lined pockets have been a surprisingly welcome feature to warm our hands. The zippered front entry makes it easy to take on and off with synching on the sides and shoulders to ensure a snug fit. And the extra wide arm holes allow for a wide range of movement when paddling.
But of great importance to us: it is bright red. When on the water, we want everything we have to stand out from the terrain to be easily tracked in case of an emergency. We feel extra visible between our bright yellow rafts and bright red vests.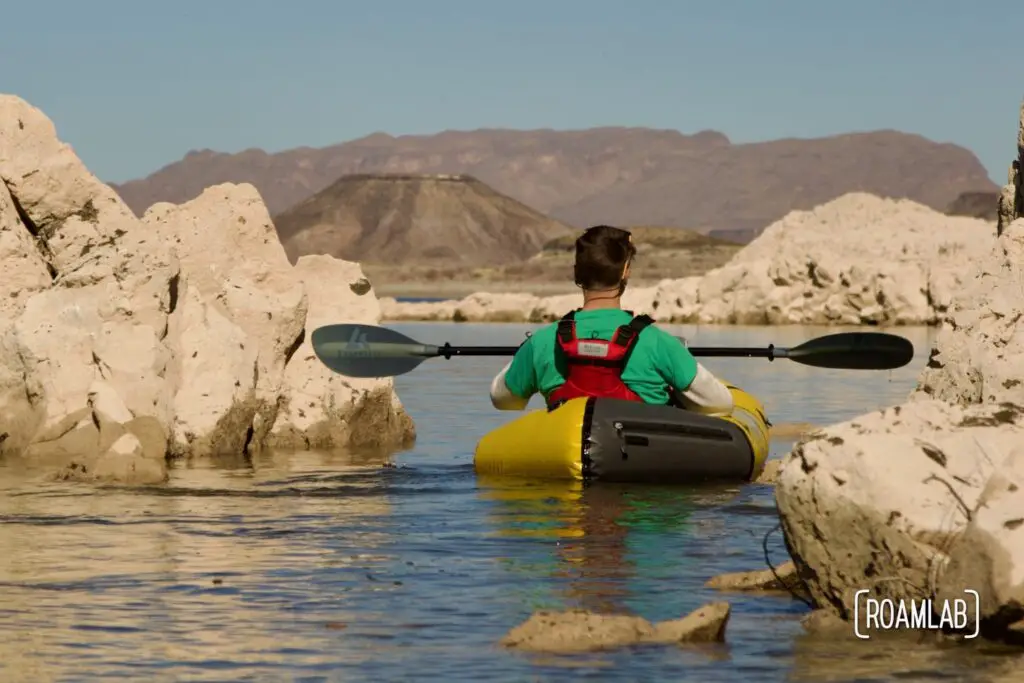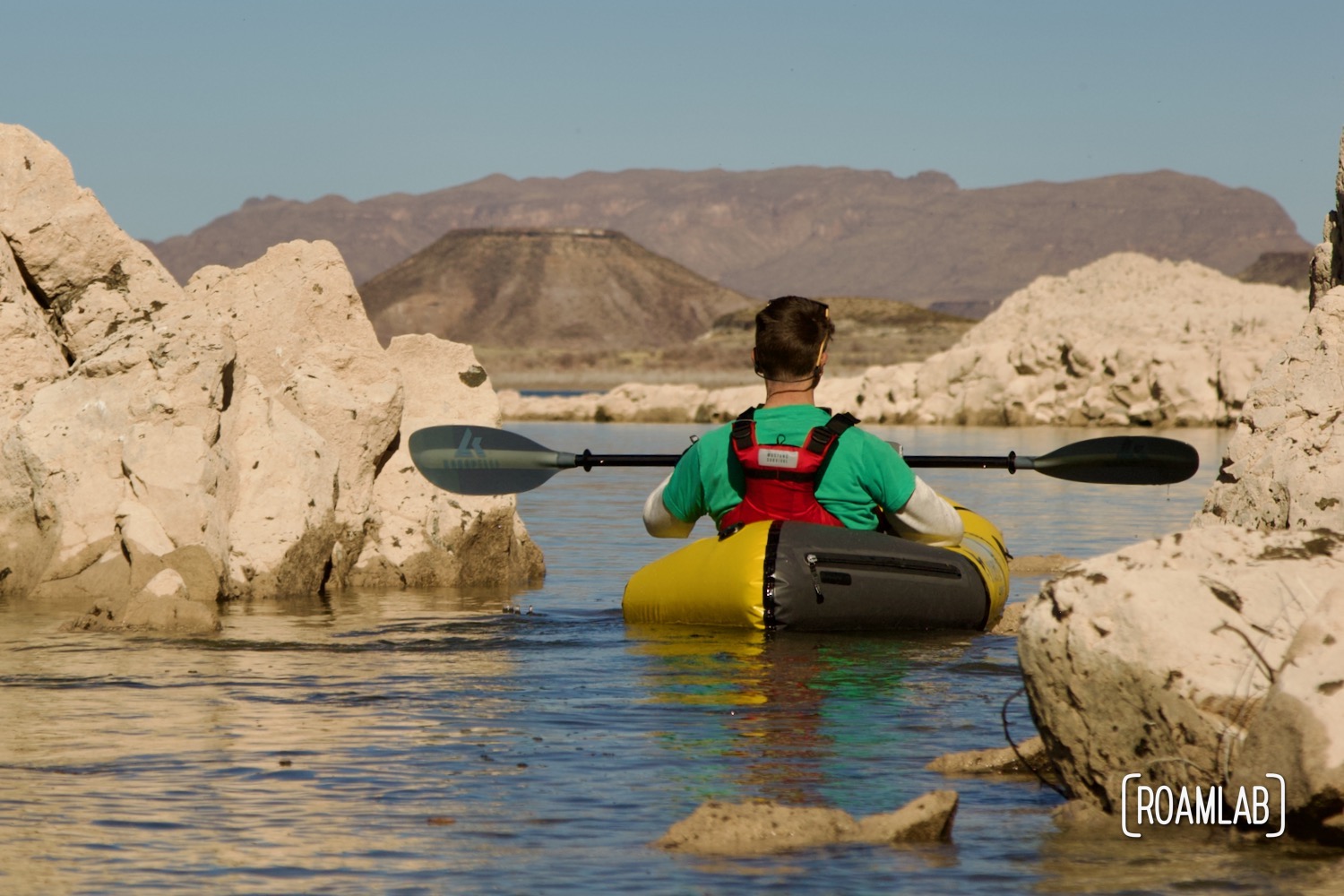 Dry Bags
Dry bags are exactly what they sound like; they are designed to keep their contents dry. With that in mind, they can come in many shapes and sizes. The most common are simple sleeves with a roll top to seal and pack down to the length of the contents.
Along with a few standard roll-top dry bags, we have a set of Delta Deck Packs designed to strap to the front of our raft. I'm particularly fond of these because they stay out of my foot space and are easy to access with a waterproof TiZip zipper. They are the only reason I feel comfortable taking my camera on the water. Regardless of their form factor, I consider a dry bag necessary if we want to take anything more than our keys with us.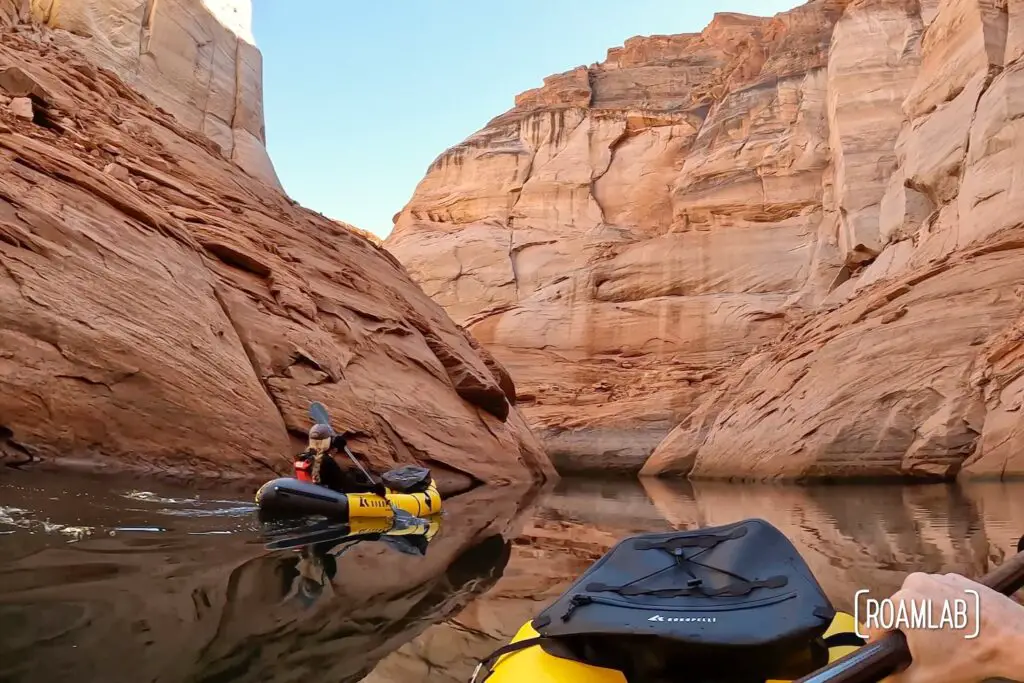 Paddles
The perfect pack raft won't get you very far without a paddle. But conventional paddles are longer than we are tall, which would be incredibly awkward for travel. Fortunately, pack rafting paddles are designed to be as packable as the rafts. We have a set of Kokopelli Poudre Adventure Paddles, which break down into four pieces. The carbon fiber construction also makes them super light. So they are easy to toss in a backpack and hike to our launch point.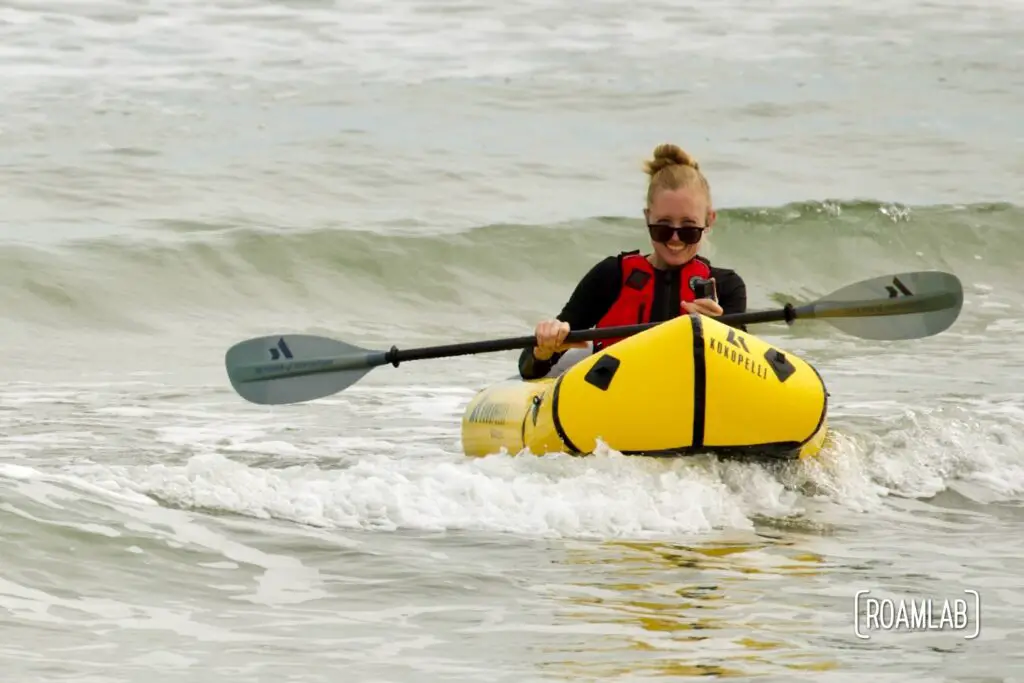 Gloves
Be it winter or summer paddling; we use gloves. We may want to keep our hands warm or protected from the sun, depending on the season. But year-round, we want to avoid blisters. At the moment, we use fishing gloves. After all, they are designed for similar applications: grip in a wet environment.⁠ But I'm still hunting around for a perfect fit.
⁠
Choosing Your Own Gear
Like so many things we discuss, I can't emphasize enough how much our gear is a personal choice. There are so many options out there, and what works for us works for us. What works for others may be profoundly different. But at least we hope to start the conversation and narrow down what features are particularly desirable for overlanders like us.