1970 Avion C11
Classic Truck Camper & Home
As of 2017, we travel in a 1970 Avion Ultra Truck Camper. While many people assume we took an Airstream and turned it into a truck camper, these classic rigs came from the manufacturer in this shape. Granted, we certainly have added our own flourishes. Yet, almost all of the exterior aluminum is original from the factory.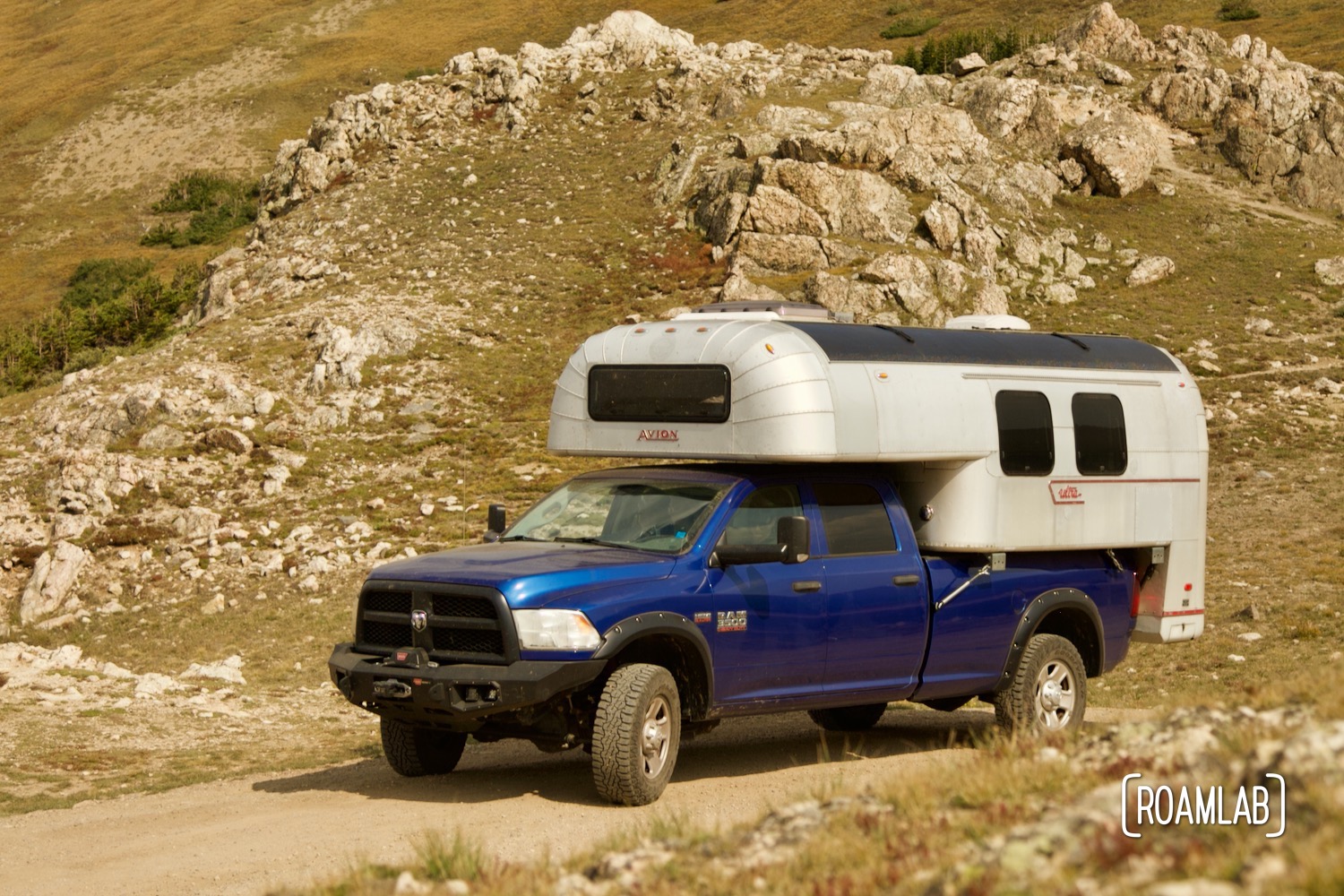 Off-roading in the colorful wilderness of Colorado
By the Numbers
 
Factory
1970
Modified
2021
Length
15 ft
16.5 ft
Weight
2800 lbs
~1000 lbs
Solar
–
1100W
Battery
12v 65Ah Lead Acid
24v 360Ah LiFePO4
Picking a Truck Camper
How We Settled on a 1970 Avion C11
After years traveling in a van and then a truck camper with a covered bed, we finally were ready to dive into our next home on wheels. Early on, we agreed that we wanted a truck camper. After all, that was why we bought the truck. We considered new and vintage models, popups and hard sided, flat beds and slide-ins. Heck, we even looked into building our own camper from scratch.
At the core of all this, was that we wanted a project. We wanted to make something awesome. And we wanted to make it our own. So, we settled on a vintage truck that we would gut and fully customize the interior. There were several models in the running: a vintage Alaskan, Amerigo, or Avion truck camper. We monitored Craigslist for any of these campers being listed. We visited sellers with other vintage truck campers. But nothing quite stuck with us until Spring of 2017 when a listing went up for a 1970 Avion Ultra in North-East Florida. It was a long, harrowing drive to pick up the aged classic. In the end, however, we had the project that we were looking for!
From the Beginning
Our Avion is already 47 years old when we first load it into our truck bed in a Florida back yard. 47 years of sun, rain, and general wear and tear. We discover small skeletons in the closet, a vintage set of cast iron in the cupboard, and a comprehensive collection of paperwork about the Avion from the day it was first loaded onto a pickup truck back in 1970.
See More
Renovating The Avion
The Avion is a beautiful rig. Yet, despite the love of previous owners, our Avion is 47 years old when we purchase it and showing its age. The jacks are broken, structurally critical portions of plywood are rotted through, and the bed is so unstable that we are disinclined to put our weight onto it. So, we strip and replace every piece of wood with a fiberglass foam composite. We tear out the inner walls, chip out the aging insulation, and reinforce the original camper ribs. It is a long, extensively researched, and meticulous process. And we have documented every step.
See More
Frequently Asked Questions
It didn't take long for us on the road to start anticipating the questions that people might ask us when we stop for fuel or provisions. So, before you feel the need to ask, here's a quick rundown of already frequently asked questions.
Is that an Airstream?
Nope!  This is an Avion.  Avion as a company has operated from the 60s into the 90s, producing aluminum trailers, motorhomes, and truck campers such as ours.

While the curved aluminum silhouette may seem to be quintessentially Airstream, it can be found among many vintage campers such as the Avion, Silver Streak, and Bowlus Road Chief.  The last of which predates the first Airstream.
What year was that made?
Our Avion is a 1970 model.  Interestingly, this is the last year that Avion produced truck campers.  In 1970, the original founders of Avion sold the company to Fleetwood.  The Avion brand continued to produce their iconic aluminum trailers, but not truck campers.  Instead, the original team continued producing almost identical truck campers under the label Cayo for a few more years.

Are those solar panels?
Yup!  We have 10 flexible solar panels mounted on our camper's roof (with velcro).

Did you make that yourself?
Well, kind of.  Most of the exterior of our Avion is original to when it was first built in 1970.  But we certainly have made our own adjustments.  We have added quite a few patches, installed new windows, extended the cabover, and completely gutted the inside.  You can get the full rundown on our build here.