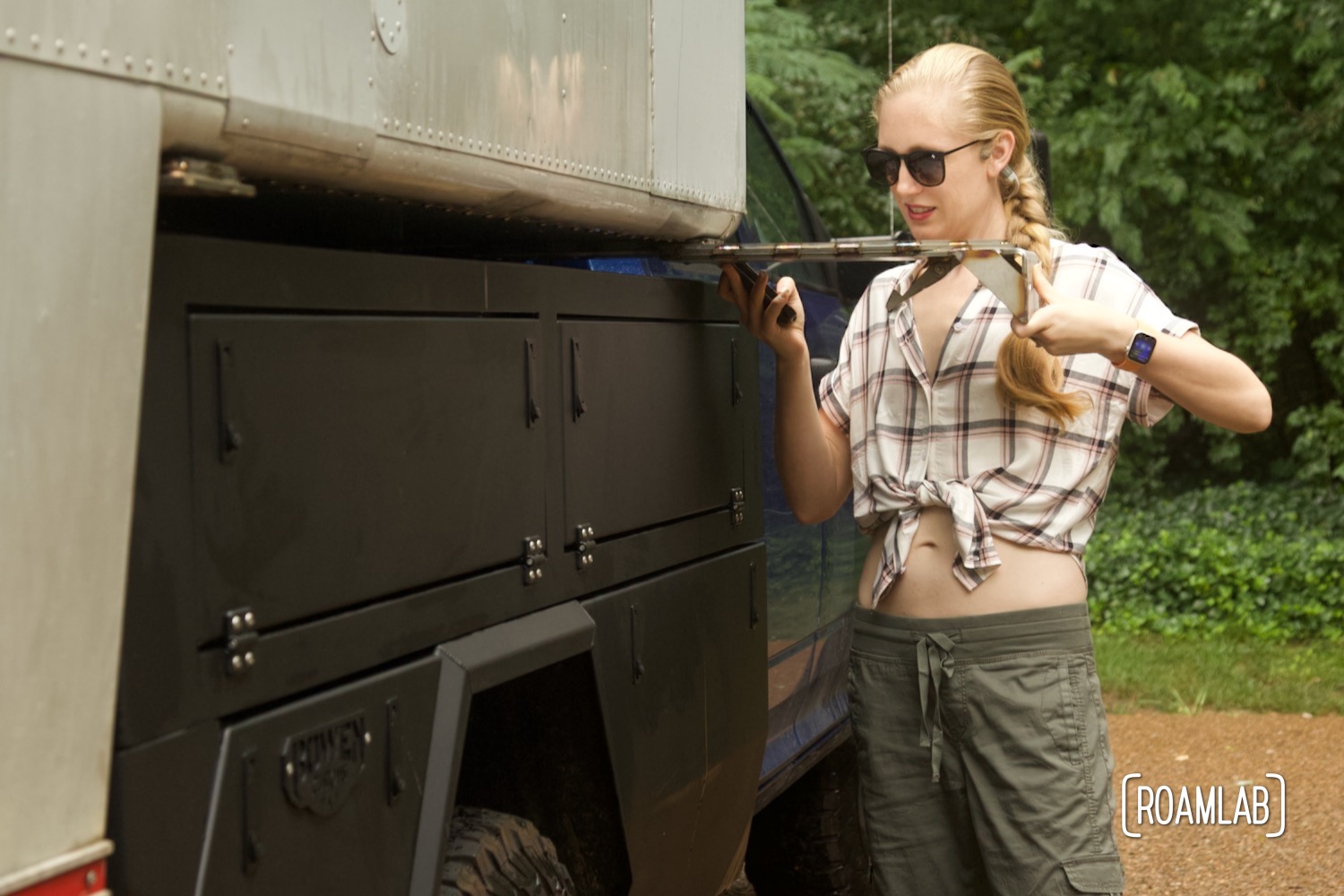 Bowen Customs Quick-Release Brackets
Two-Part Jack Mounting System
When it comes to truck campers, there are a few must-haves that make life a lot easier. One of those is a jack mounting system that allows you to easily and securely raise and lower your camper. While the design of brackets to connect jacks to a truck camper hasn't changed much for decades, the team at Bowen Customs develop a unique and discreet truck camper mounting system using two-part quick-release brackets as a feature of our new truck bed.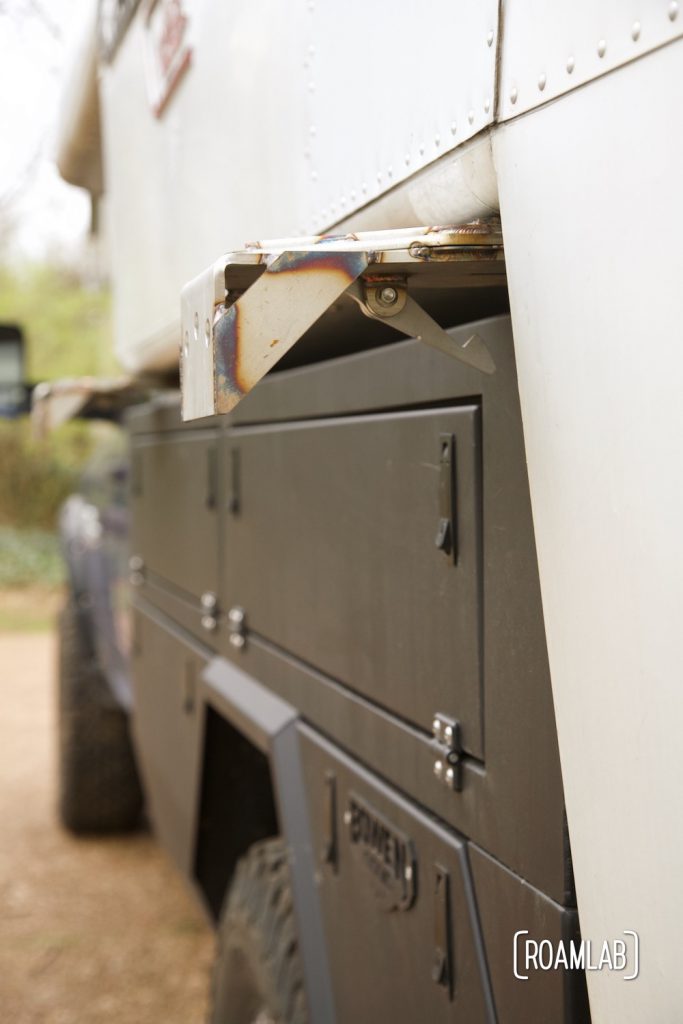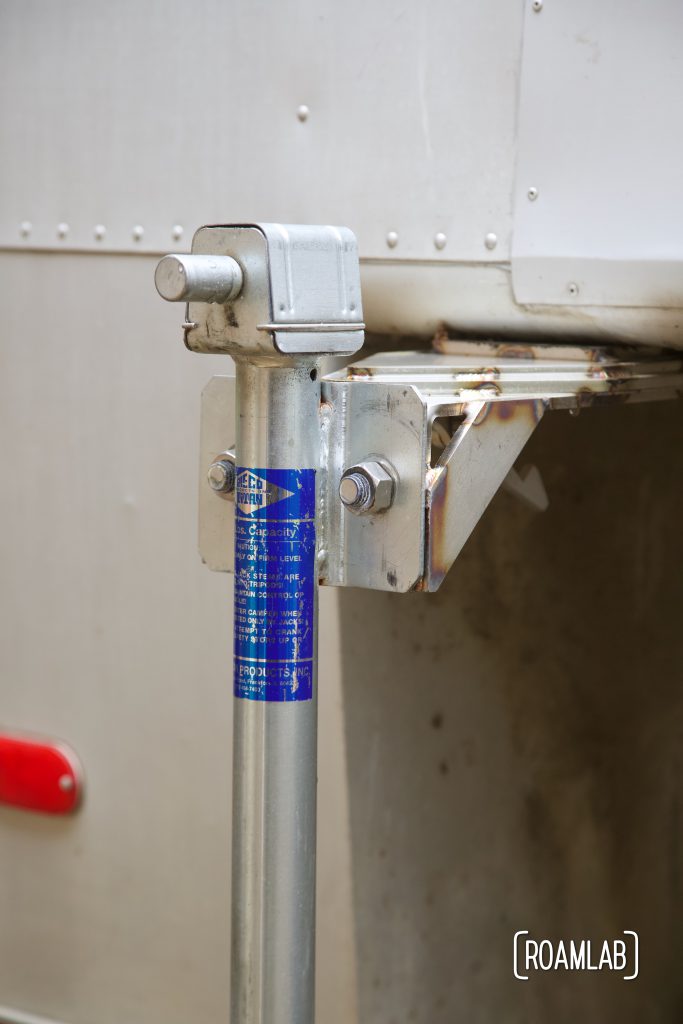 Truck Camper Mounting Systems
Slide-in truck campers distinguish themselves from most other campers by their ability to ride in the factory bed of a truck with minimal specialty equipment. They are a modular halfway point between motorhomes—which are permanently mounted to a truck, van, or bus chassis—and trailers—which are relatively standalone dwellings, connected to their tow vehicle by a hitch. While truck campers can be mounted and unmounted, it takes more than just disconnecting a hitch. Instead, we rely on a set of jacks to raise the truck camper into and out of the truck bed. Having a strong and secure connection between the truck camper and jacks is incredibly important and for that we use brackets.
Brackets provide a stable and secure anchor point on a truck camper for the jack to connect to, which in turn keeps the camper steady while it is being raised or lowered. These truck camper mounting points for jacks are commonly designed as heavy-duty reinforced steel L-shaped brackets with holes on the horizontal surface to bolt to the underside of the truck camper wings and holes on the vertical surface to bolt to jacks.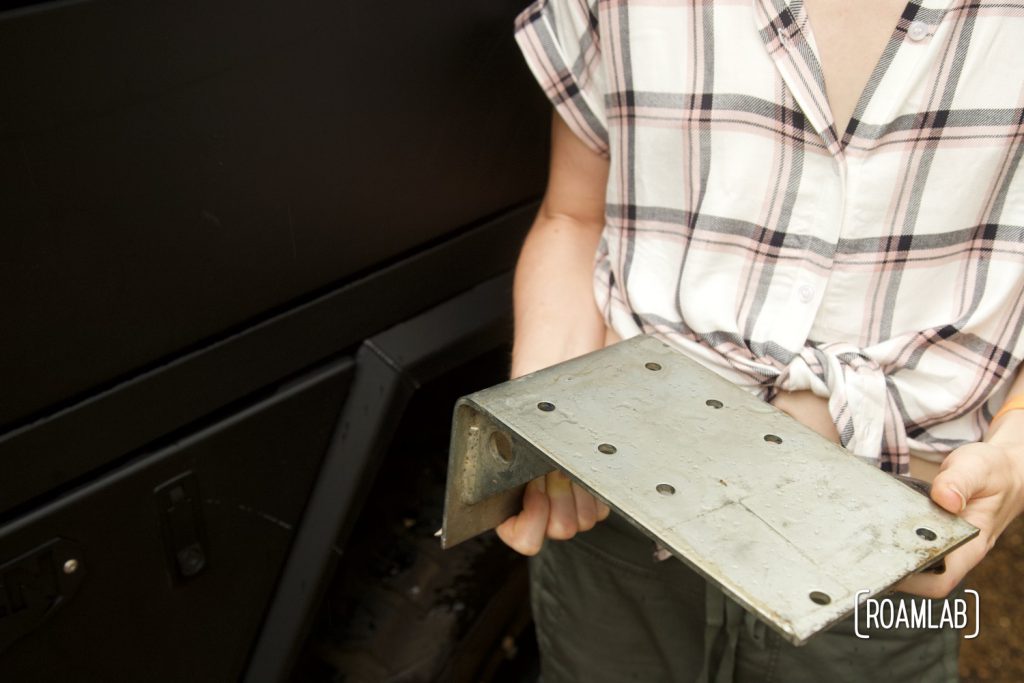 Optimizing the Costs of a Mounting System
Most truck campers have four jack mounting points, one on each exposed corner of the truck camper's wings. This position is a compromise between accessibility and affordability. It is the lowest accessible point for the jacks when the camper is mounted in a truck bed, as the factory bed walls block access to anything lower on the camper. At the same time, while an even higher jack mount point would be more stable, that would require taller jack points which would be more expensive and harder to store.
Price, after all, is a major consideration for any truck camper mounting system. A fully equipped truck camper can weigh anywhere between 1,000 and 4,000 lbs and a set of four jacks with the lifting capacity for such weights can cost between $1,000 and $3,500. Similarly, despite the simple design, jack mounting brackets are not cheap because the pressure that these brackets experience while lifting a truck camper requires very thick, solid steel. To save on cost, most of these brackets are made of steel with a zinc coating to protect against corrosion rather than the more expensive stainless steel.
Jack mounting bracket design has experienced a few innovations in recent years. Increased reliance on trucks with a wide wheelbase or dullies has called for mounting systems that allow a greater distance between the camper and jacks. But it's only with our new Bowen Customs truck bed that we finally deviate from conventional jack points.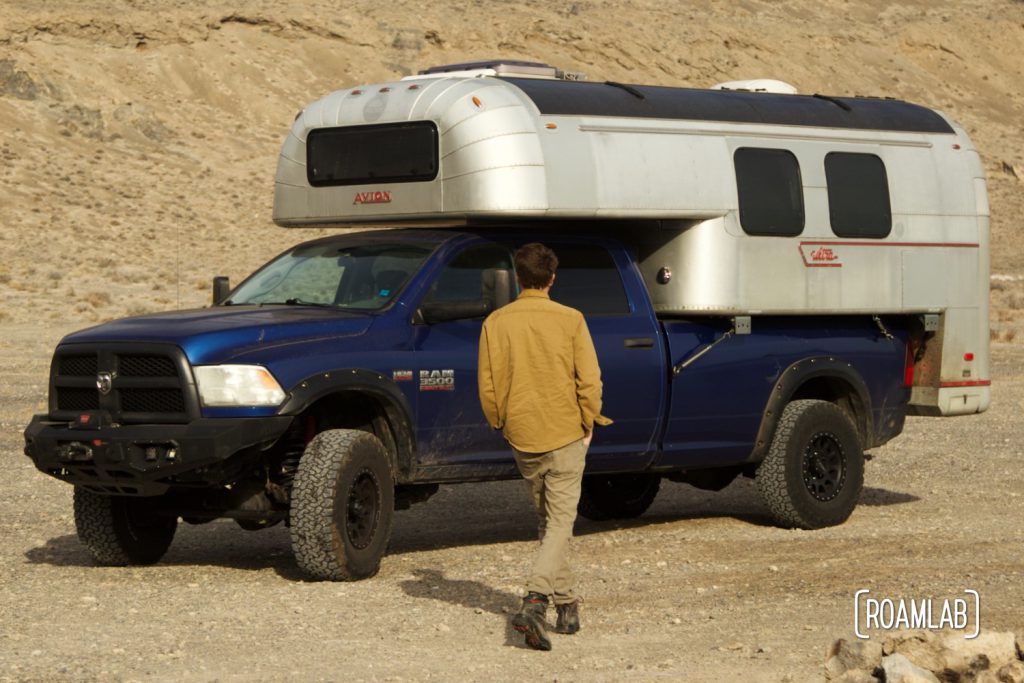 Why we ditched our old brackets
Installing Rieco Titan brackets was one of the first projects we undertook when we began remodeling our 1970 Avion C11 truck camper. And they have served us well for the last five years on the road. But with our new Bowen Customs truck bed, these classic brackets pose a new problem: they block the new bed's storage doors from opening and closing while the camper is mounted to the truck bed.
Given the main point of our new custom truck bed is to create storage, this is not acceptable. We consider shortening the storage doors so they will not encounter the jack points, but that will greatly diminish the utility of the storage doors. Instead, Brent and his team propose a remarkable and elegantly simple solution: custom quick-release brackets. Not only will these allow us to completely access to our truck bed, the discrete design will also make for a sleek look for the camper when it is on the road.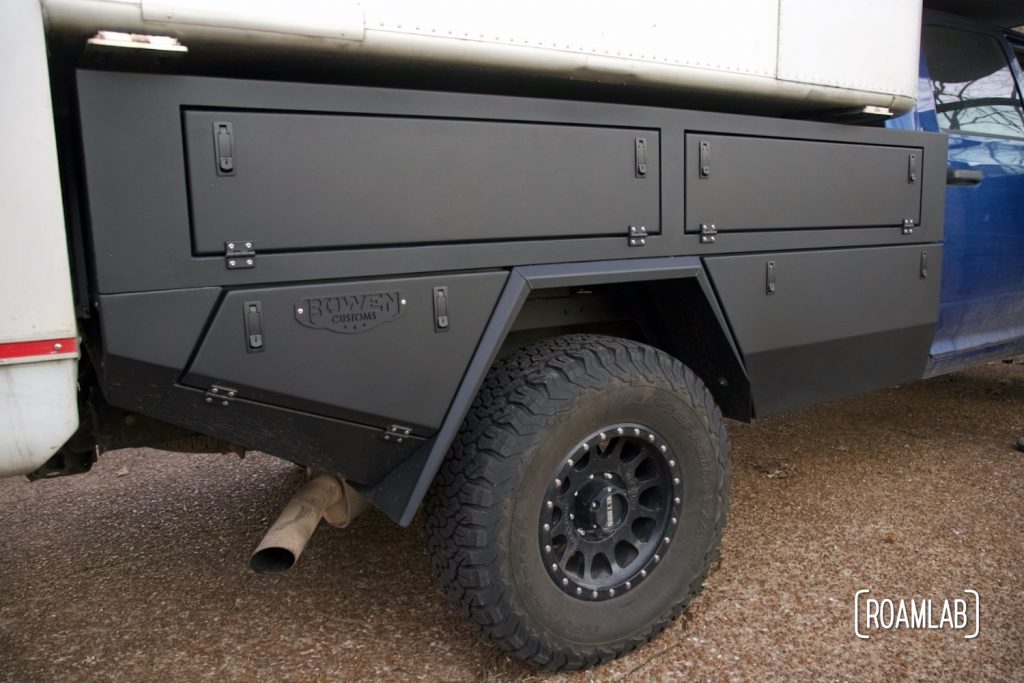 Introducing the Bowen Customs Quick-Release Brackets
Brent introduces these one-of-a-kind Bowen Customs quick-release brackets as CAD sketches over a video chat. Immediately we can see what an elegantly simple and practical addition these are to our mounting system. These two-part brackets included a discrete mounting plate that is permanently attached to the truck camper wing and a removable bracket that slides into the mounting plate when needed. This exceptional design allows us to easily mount and unmount the truck camper when needed and stow away the jack points when not. With our enthusiastic approval, the Bowen Customs team fabricates this heavy-duty stainless steel combo with the same skill and attention to detail that they gave to the truck bed itself.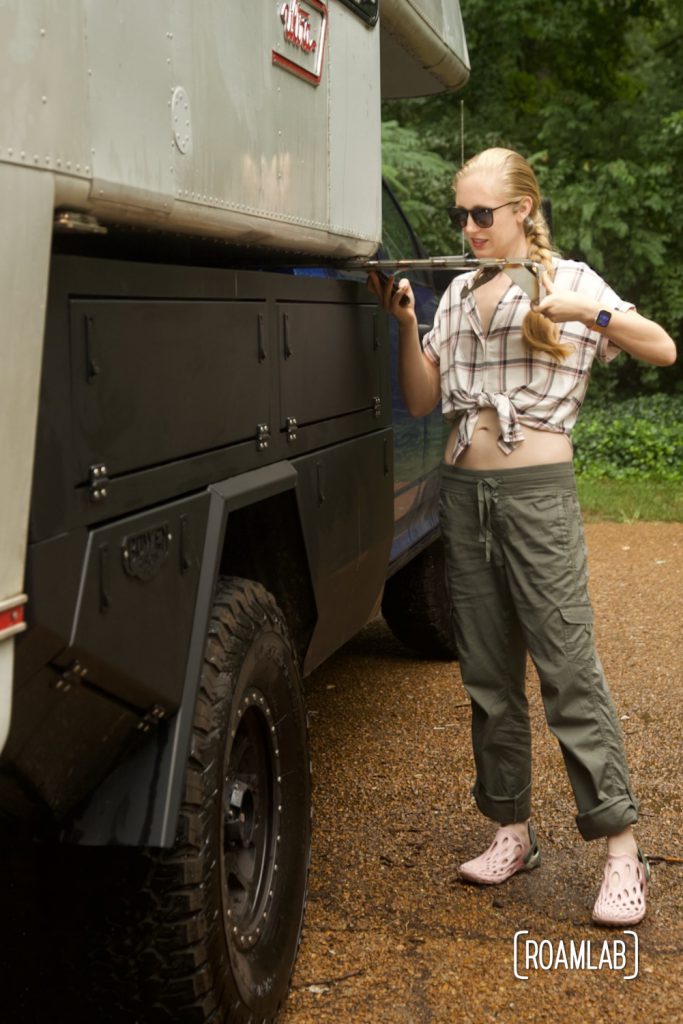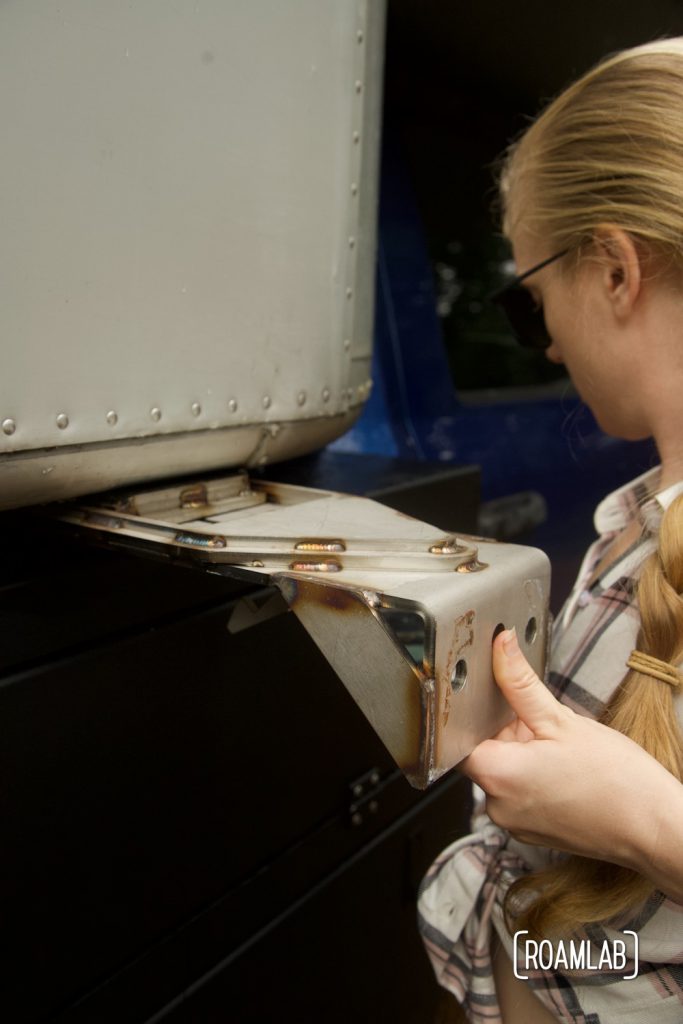 Installing the Truck Camper Jack Mounting Plate
While the new brackets come in two pieces, we only have to worry about installing one: the mounting plate. We want to drill as few holes as possible in the aluminum body of our truck camper. Fortunately, the Bowen team reuses most of the preexisting holes from our previous brackets. This way, we only have to drill an additional two holes per mounting plate. The additional holes help offset the added pressure of the new mounting system. You see, along with making them removable, Bent's team extended the brackets to allow more space for our wider wheelbase. Not to mention that the brackets also double as an interior mount point (Which we address in our post about the new tie-down system).
While the brackets are stainless steel, out of an abundance of caution against corrosion, we add a thin rubber sheet between each mounting plate and the aluminum wall of the Avion's wing. We use ten carriage bolts per mount plate along with an accompanying washer, lock washer, and bolt. Fit is particularly important here because any bolt that sticks down too low may block the removable bracket from sliding onto the mounting plate. So we wind up trimming a few bolts to make room for a snug fit.
Once each of the four mount plates is secured in place, the rest is simple. We slide each bracket onto the mounting plate and now we can bolt the jacks to the truck camper to load it into our new truck bed.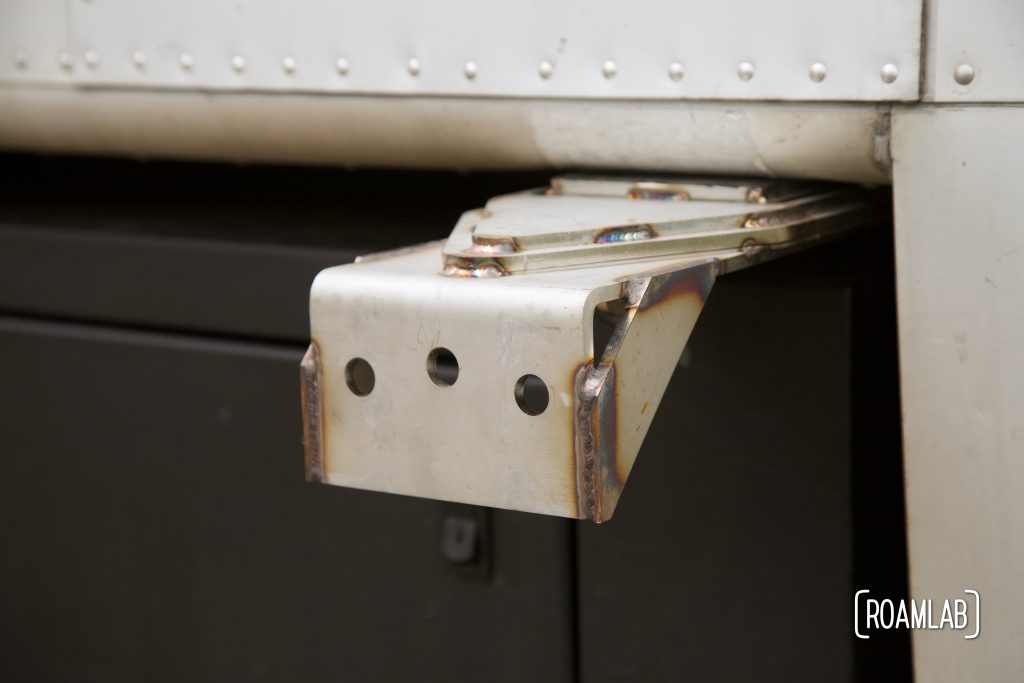 Key Features of the Quick-Release Brackets
With a few hundred miles under our tires and a couple of rounds of mounting and dismounting the truck camper since we installed the new brackets there are a few key features that distinguish the Bowen Customs quick-release brackets from our original set:
Stainless steel construction: The heavy-duty stainless steel used in the jack points ensures that they can handle the pressure from raising a truck camper while minimizing the risk of corrosion, which is a common concern for campers.
Discreet design: the unobtrusive two-part design leaves only the slightest hint of the mount plates visible when the truck camper is on the road.
Full access to our truck bed storage: Now we can easily access the truck bed storage doors without worrying about brackets getting in the way.
Easy Quick Release Mechanism: Even with all the moving parts, the quick release mechanism makes it simple, secure, and straightforward to mount and unmount the truck camper.
Reuse preexisting holes in truck camper wing: By making the extra effort to reuse preexisting holes in the truck wings, we only had to drill 2 additional holes per jack point. It may seem like a minor consideration, but holes in aluminum are potential leak points, can lead to structural weaknesses, and are difficult to patch. Call it an obsession, but I can't stand to drill holes in our camper body unless they are absolutely necessary.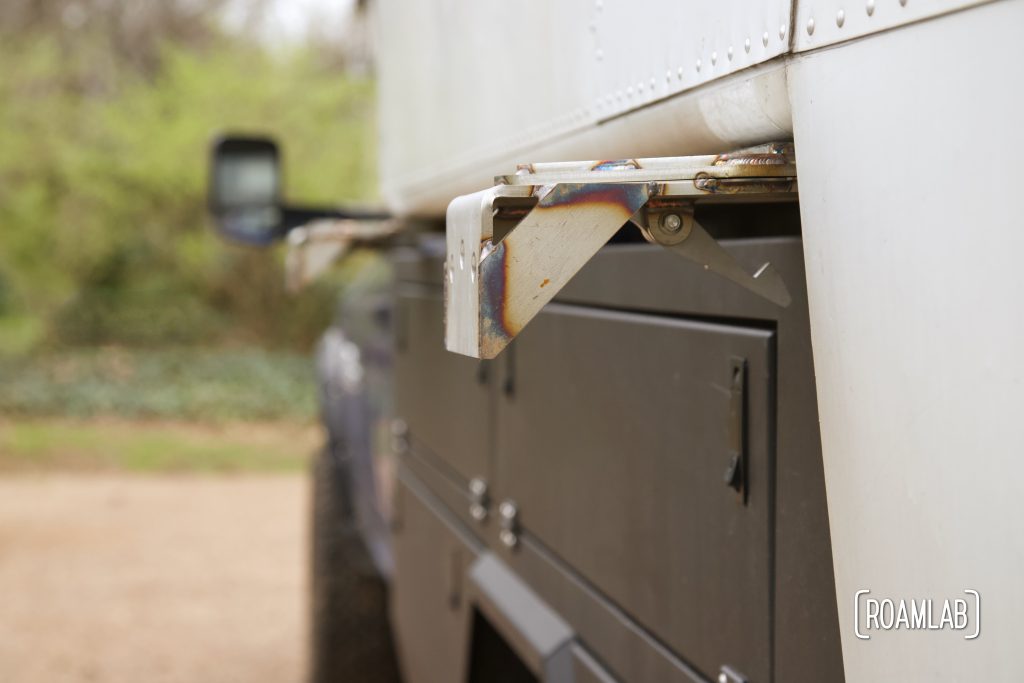 On the road with Bowen Customs Quick-Release Brackets
We are very pleased with our Bowen Customs quick-release brackets. Their heavy-duty stainless steel construction, unobtrusive design, and easy quick-release mechanism make them a decisive upgrade from our previous brackets. By freeing up the vertical space that used to be covered by our original jack mount points, we can proceed with designing our new truck bed without making inefficient concessions to hardware that is rarely used.
Brent Bowen and his team knocked this design out of the park and I only hope they'll seriously consider our urging to make more of these for other truck camper owners in the future.