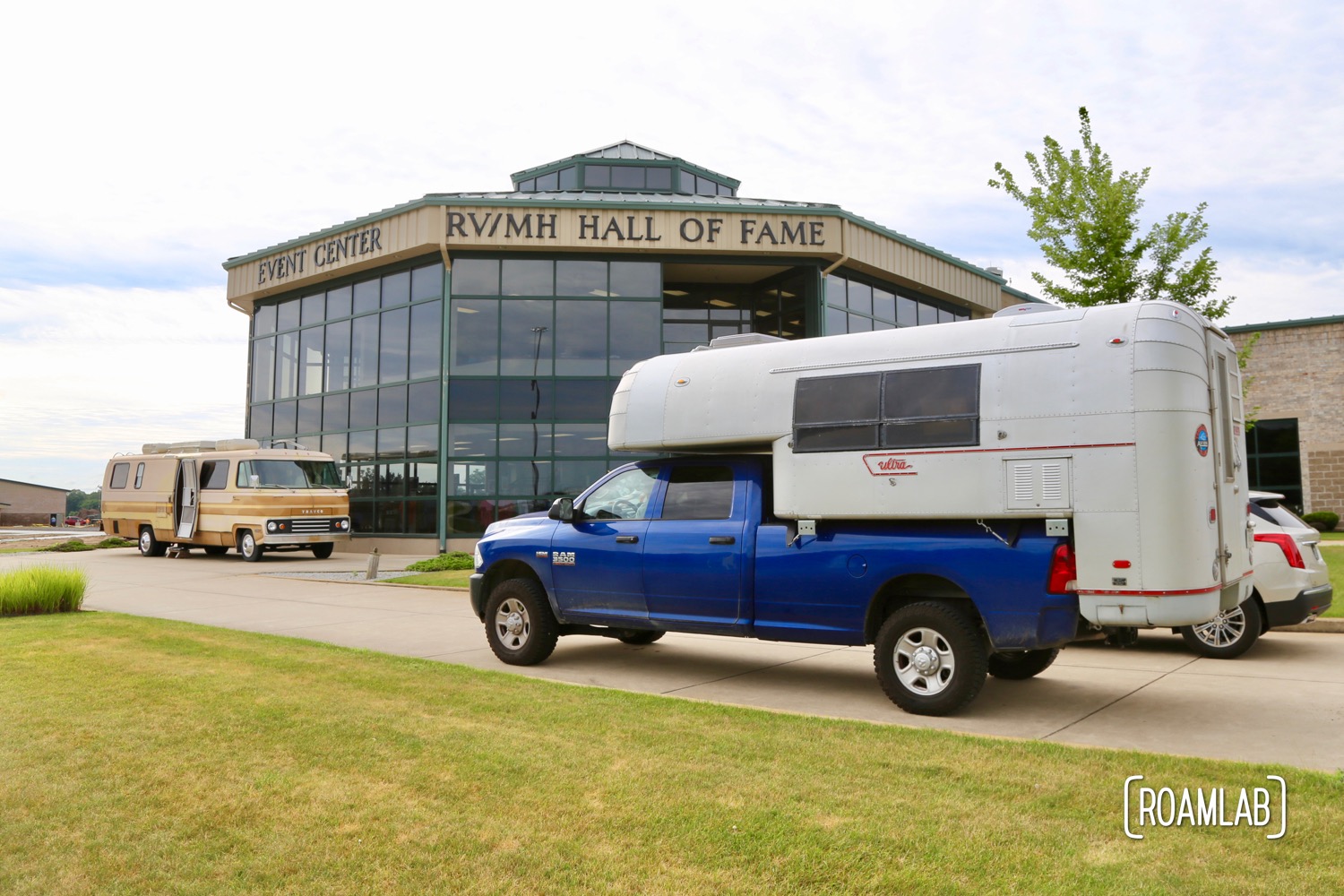 Just off Interstate 80, along the border of Michigan, in the town of Elkhart, Indiana is the RV/MH Hall of Fame and Museum. While, as the name suggests, this expansive, two story building features both Recreational Vehicles and Manufactured Homes, we came for the RVs. And, honestly that's all you need with such an extensive collection of unique campers, from grand progenitors of vehicular camping to custom rigs constructed for movie stars.
Touring the Museum
The museum is divided into several large halls. Along with the obligatory gift shop in the front, the museum includes halls devoted to historic and modern RVs, an extensive library of books and other historic industry documents, as well as the Hall of Fame featuring major players in the RV and MH area.
The Founder's Hall
The Founder's Hall deserves special consideration. This section on the first floor is built out so that visitors follow a road through RVing history with classic rigs "parked" to the side of the road, nestled among synthetic plants and camping equipment. It is one remarkable RV park. Several campers are arranged as if the owners had just walked away from camper, with chairs and camping gear in place. It is difficult to convey the remarkable breadth of RVs represented. The collection includes a 1913 Earl Travel Trailer, Mae West's 1931 Chevrolet Housecar, and so many other revolutionary and notable models.
While the collection suffers a predictable lack of truck campers, we were immediately drawn to the 1916 Telescoping Apartment. For all intents and purposes, you can consider this the great grandfather of truck campers. Built into the back of a truck, this expanding enclosed sleeping compartment includes an exterior kitchen, much like modern teardrops and small overlanding trailers.
GoRVing Hall
in a neighboring GoRVing Hall, the museum features examples of modern RV construction from partnering RV manufacturers. As the name suggests, a large display in the same room explains the history of the GoRVing campaign and projects to promote RVing among modern audiences.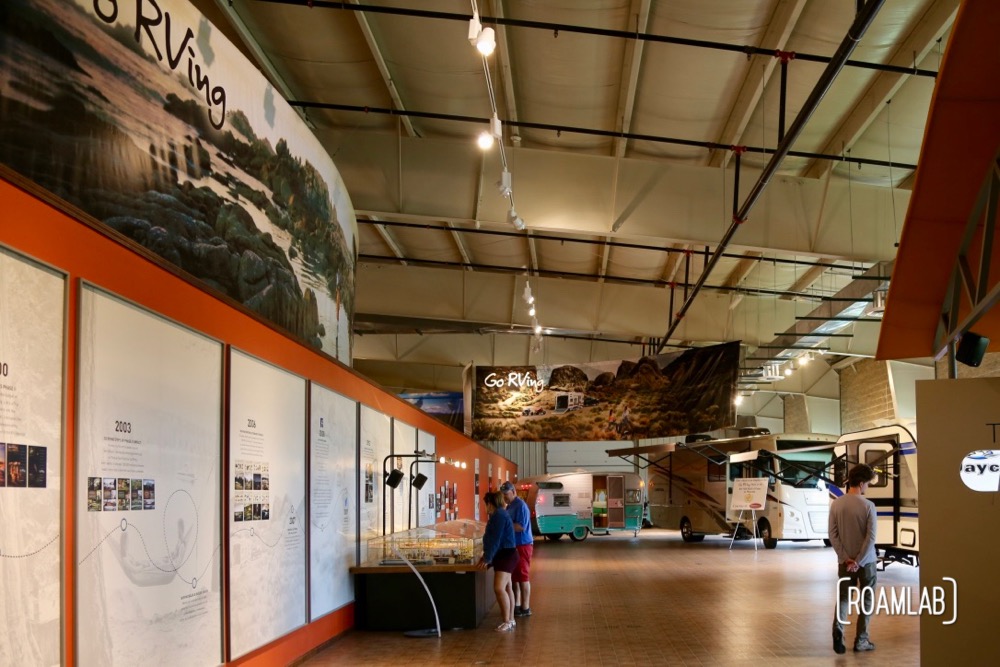 A Brief History of the Museum
The museum has been around long enough to collect a wide range of documents and displays. While the foundation was established in 1972, the museum first opened in 1991. It was later relocated to its current location of Interstate 80 in 1991. Today, the museum is a not-for-profit maintained by admission prices and industry support. Said support is pretty noticeable, given the frequently branded signs highlighting heavy hitters in the RV industry. The GoRVing Hall is one of many examples. But there is one case, in particular that really gets to me….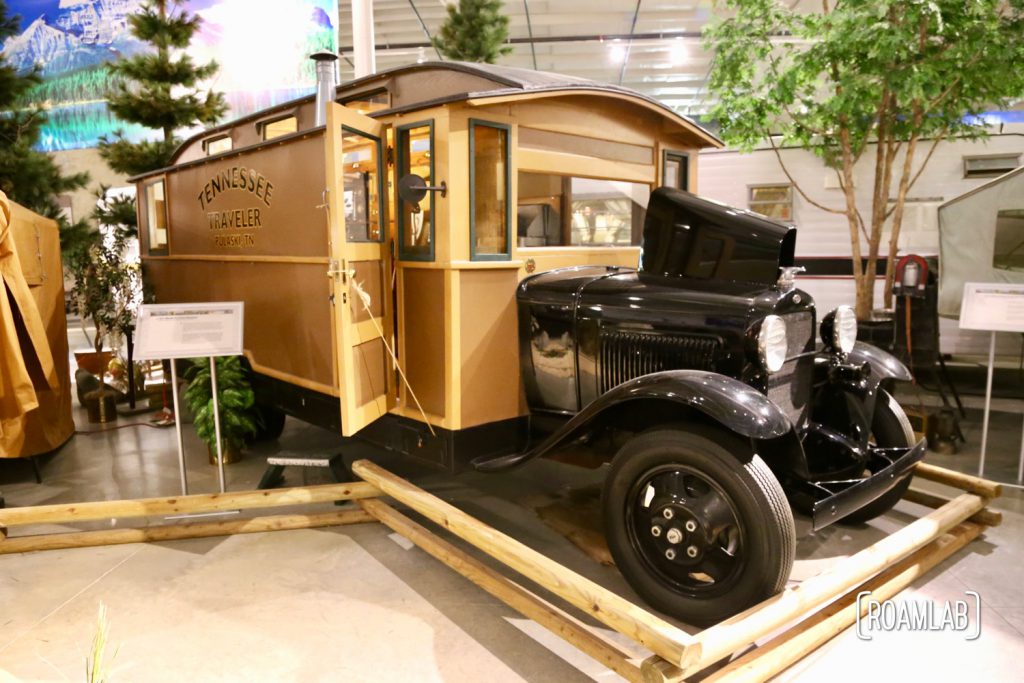 A Note On Aluminum Campers
There is one element of the RV/MH Hall of Fame that may have me a little overly sensitive: their handling of aluminum bodied campers. Thor Industries is a major sponsor of the RV/MH museum. It's nearly impossible to miss their branding pretty much everywhere in the museum. Among displays that are roughly ordered by vintage, I can't help but notice the a couple Airstream trailers promoted to the entrance of the Founder's Hall, under a massive banner for Thor Industries.
Apologists are not out of bounds pointing our that I may be soured to the situation due to the complete lack of Avions on display. I am. This Elkhart based museum is only an hour drive from Benton Harbor, Michigan where Avions were manufactured. Yet, it can't seem to be bothered to celebrate local manufacturers like the Cayos. But I digress. Instead, let me tell you about the Bowlus Road Chief.
While Airstream may have a long and storied history as an iconic aluminum camper, it certainly isn't the first. That is the Bowlus Road Chief. William Hawley Bowlus designed these remarkable trailers in 1934, after an already notable history as an aircraft designer. Bowlus built the Spirit of St. Louis, which Lindberge flew across the Atlantic Ocean on the first non-stop solo transatlantic trip. When he designed the Bowlus Road Chief, he incorporated the same streamlined, aluminum design that had informed his work with airplanes. Wally Byam, founder of Airstream, adopted the Bowlus design when creating his Clipper trailer after working as a salesperson for Bowlus.
While a modern entrepreneur is currently reviving the brand, production of the original Bowlus Road Chief only lasted from 1934 to 1936, leaving under 50 known original pieces still in existence. And one is in this collection. But I'd certainly not blame you if you visited this museum and missed the Bowlus. It is squeezed in the far back corner between two other campers so that the only portion even visible is the small, rear entrance.
At least the 1954 Spartan Imperial Mansion gets a decent amount of display space. While it, too, is banished to a far corner of the museum, it's long shining body is exposed enough to be recognizable and visitors can enter for a better sense of the interior. Still, it is a shame that this, too does not get more exposure. As a museum of Recreational Vehicles and Manufactured Homes, this vintage luxury mobile home certainly spans the two.
All the same, I was disappointed not to see any Silver Streaks, Boles Areo, or Avions on display.