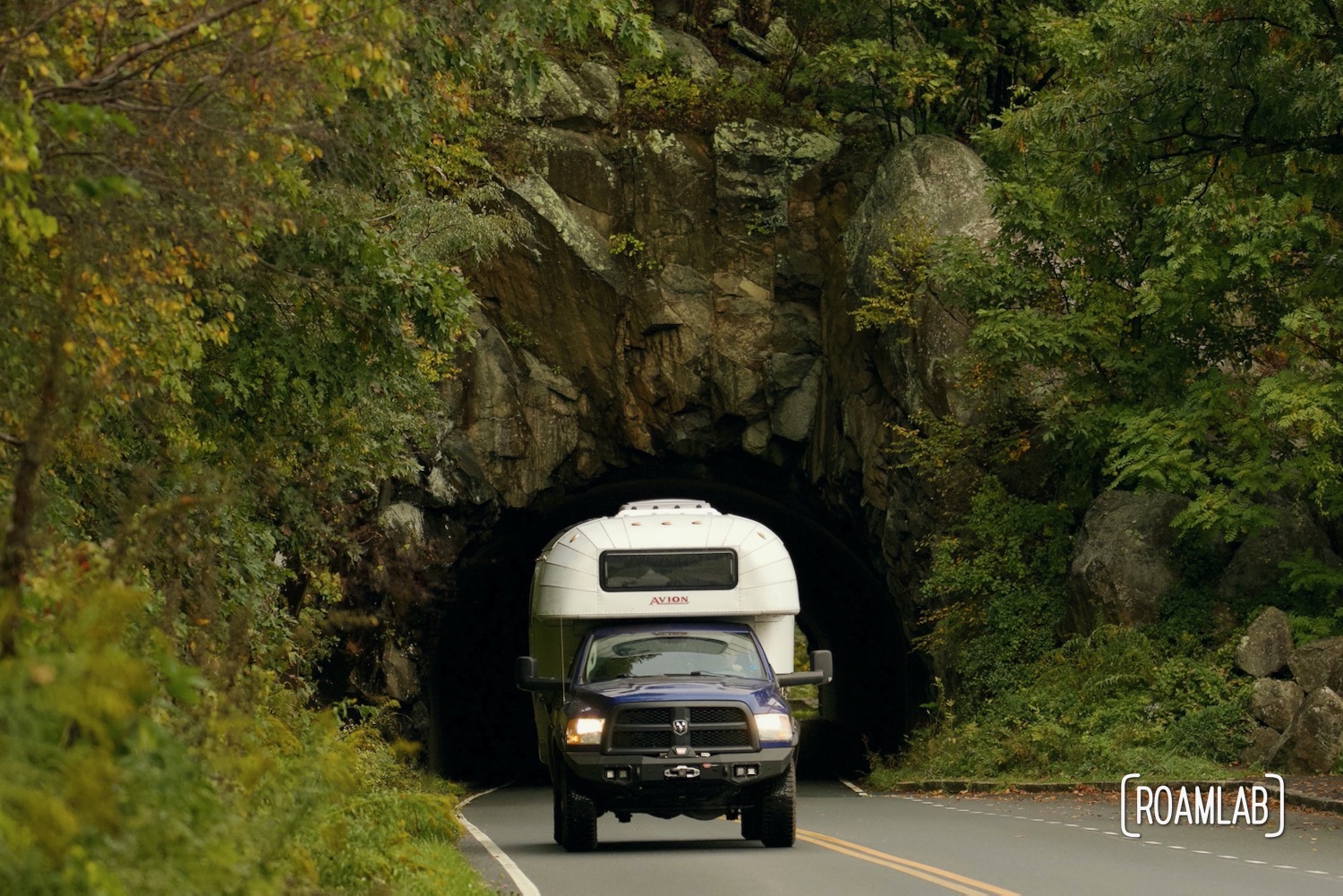 A Trip Down Skyline Drive
Shenandoah National Park
Shenandoah National Park rises above the valleys and urban development of northern Virginia as part of the Blue Ridge Mountains. From its inception, park administration has carefully developed portions of this wilderness as a destination for motorists. Skyline Drive is the main artery through the park, following the ridgeline and connecting Front Royal in the north and Waynseborrow in the south.* The route was built at the dawn of popular motor travel and features prolific pullouts and almost 70 overlooks that continue to serve modern road trippers. We join other leaf peepers in the fall to drive the full 105-miles of Skyline Driver just as the leaves begin to turn.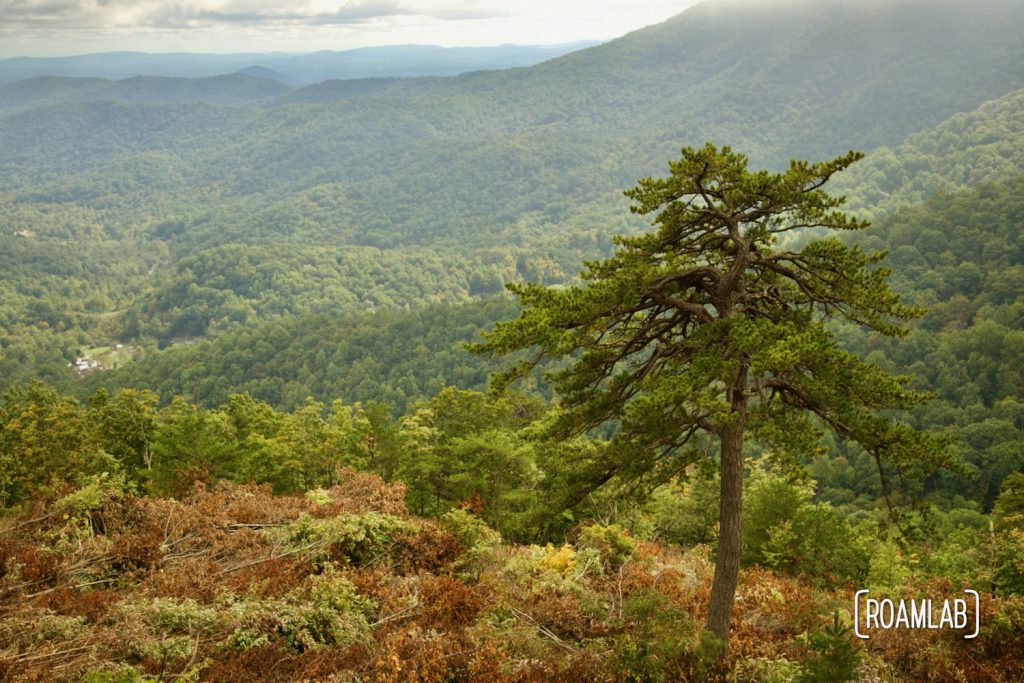 Wandering Through A Rain Forest
When we turn onto the northern terminus of Skyline Drive, south of Front Royal, Virginia, the road is shrouded in clouds and a light drizzle obscures the views. Whether is a common concern in Shenandoah. This region is a temperate rainforest, after all. We can hope for a break in the weather but, as one rangers notes, "there are no guarantees"
Despite the rain and thick clouds, the sun breaks through by 10:30, and the green and golden mountainside shine through the whispy remains of the morning fog. We continue a game of peek-a-boo in and out of cloudy patches. Some spots so thick we slow for visibility, others brilliantly clear that we feel that a new sun has dawned. The overlooks are a similar patchwork of brilliant vistas and bright white abyss.
Fortunately, the frequent overlooks give us plenty of opportunities to catch a view whenever there is a window in the weather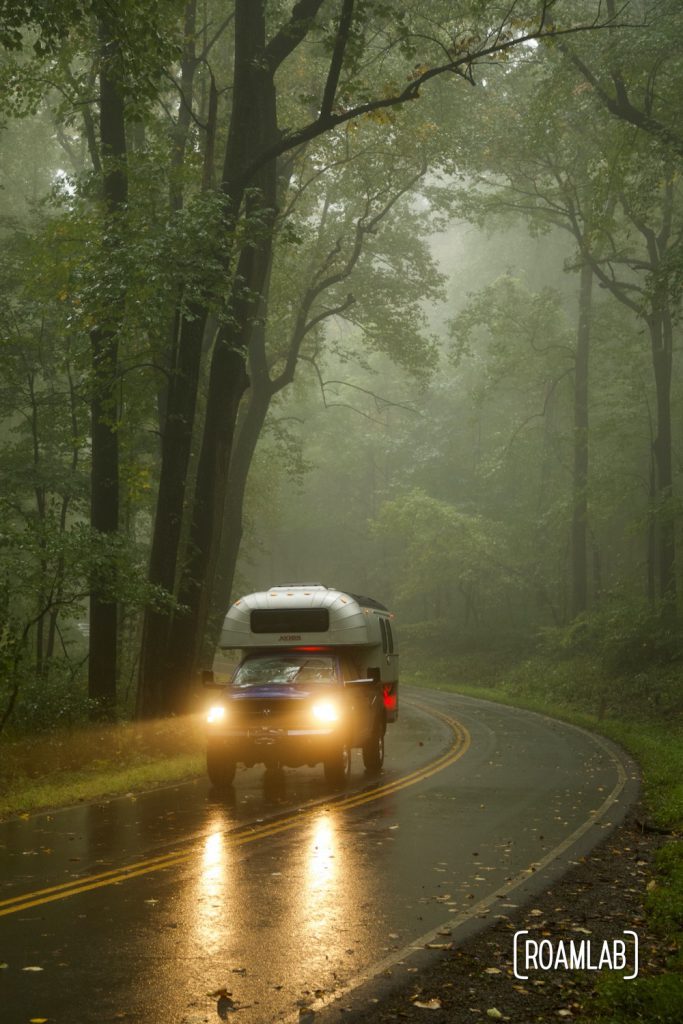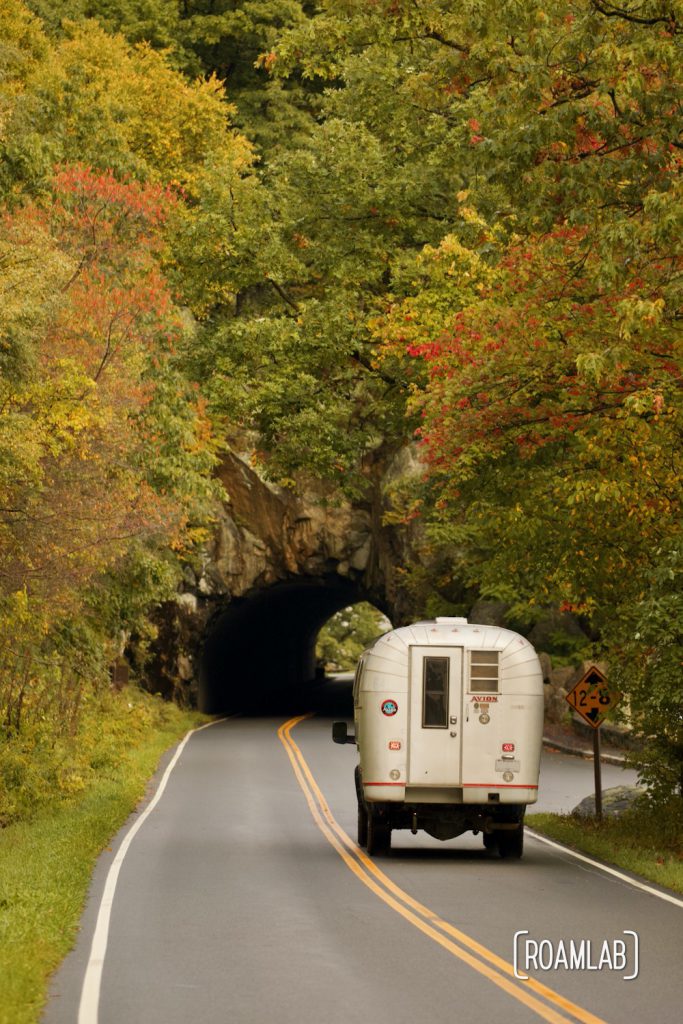 Driving
With a speed limit of 35 miles per hour and many tantalizing stops, the 105-mile length of Skyline is a full day of activities and easily more. If we had the option, I would have snagged a campsite at Big Meadows and split the day trip into two.
Skyline Drive is developed for leisurely driving, but it comes with some caveats. While the route generally follows the crest of the Blue Ridge Mountains, Skyline Drive does occasionally cut through tunnels. RVs and trailers are welcome, but can't be taller than 12′ 8″. As the route climbs between peaks, it also has a fair share of switchbacks and steep inclines. Yet another reason not to rush. That elevation also can lead to weather-related closures. When we visit, the road is not closed, but portions are so densely clouded that we have to slow down and run our hazard lights to alert drivers behind us.
But the winding road and low-speed limit make for a trip meant for cruising. Roll down the window and take in the expansive vistas on each side. Keep an eye out for black bears and white-tailed deer. And pull over for a hike or two.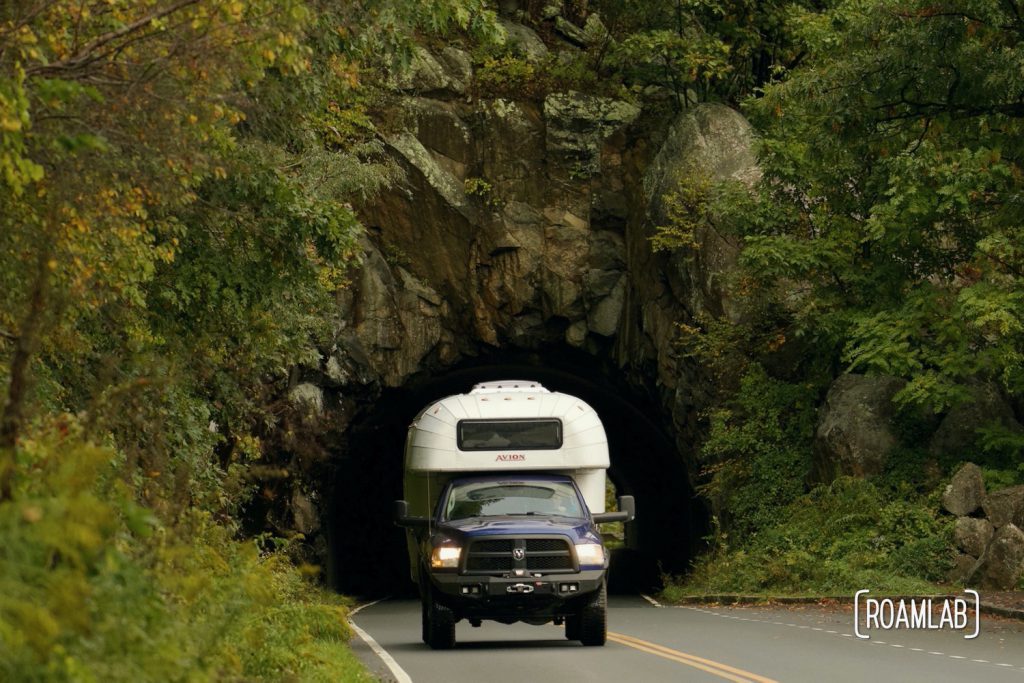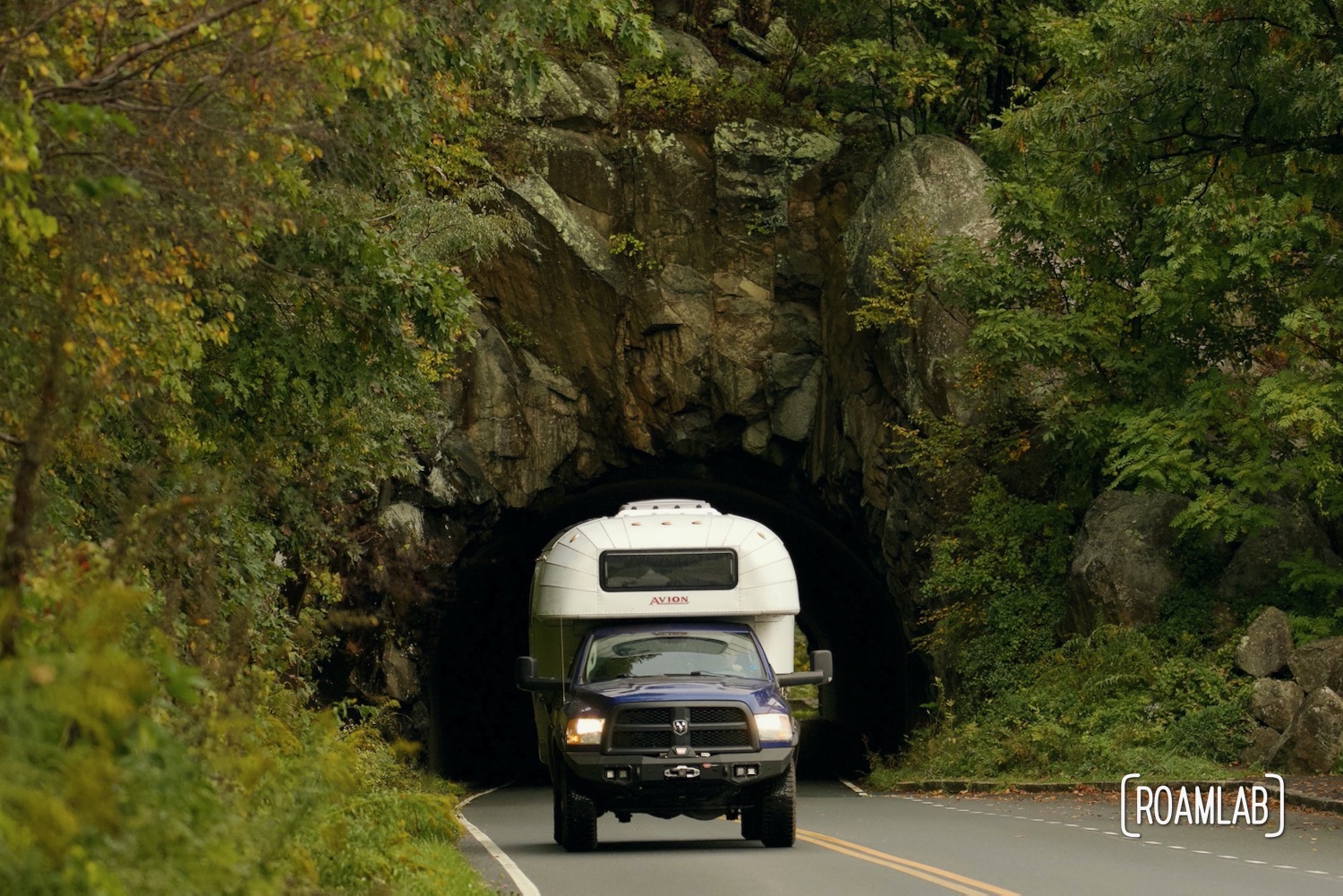 Hiking
Even in inclement weather, the parking lots and pull-offs for hiking trails fill quickly. The trails may be muddy and visibility may be low, but there's still a lot of nature to explore. The park offers a wide array of trails, from short nature hikes to multiday backpacking. The Appalachian Trail weaves along the same crest as the Skyline Drive and occasionally joins with other trails.
Due to weather delays, we don't have a lot of time to hike, but we still manage to stretch our legs on Dark Hollow Falls trail. This relatively short but predictably steep path follows the stream that feeds the falls. While many waterfall hikes culminate in a single view of the falls, this water feature continues to tumble along the mountain's side for nearly half of the trail's length. While the trail may only be 1.5-miles, we still take a couple of hours to appreciate the many remarkable views.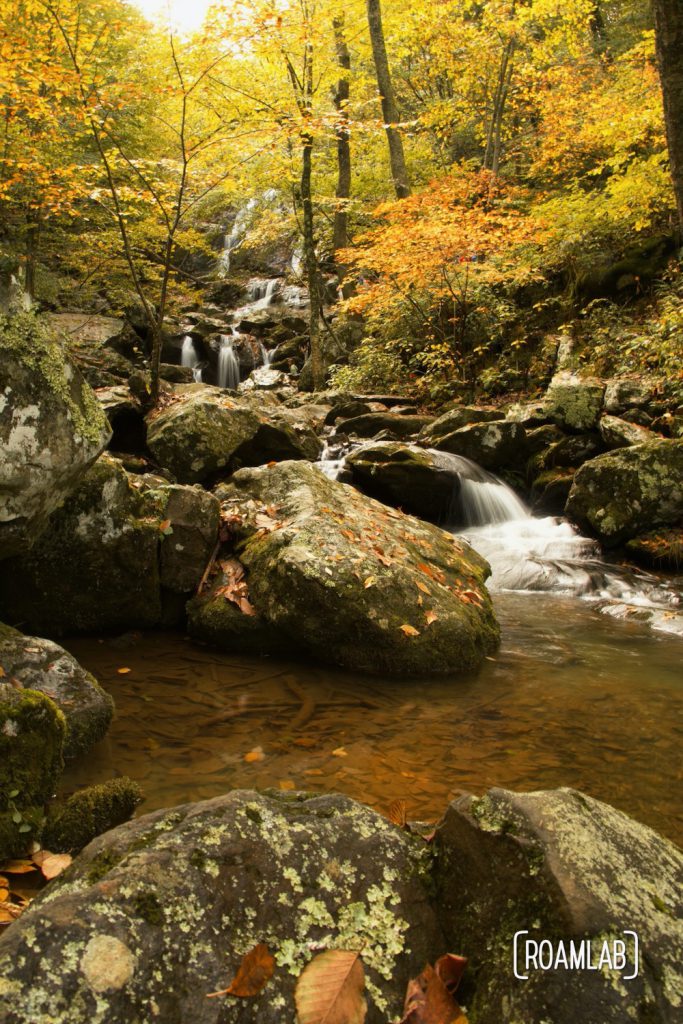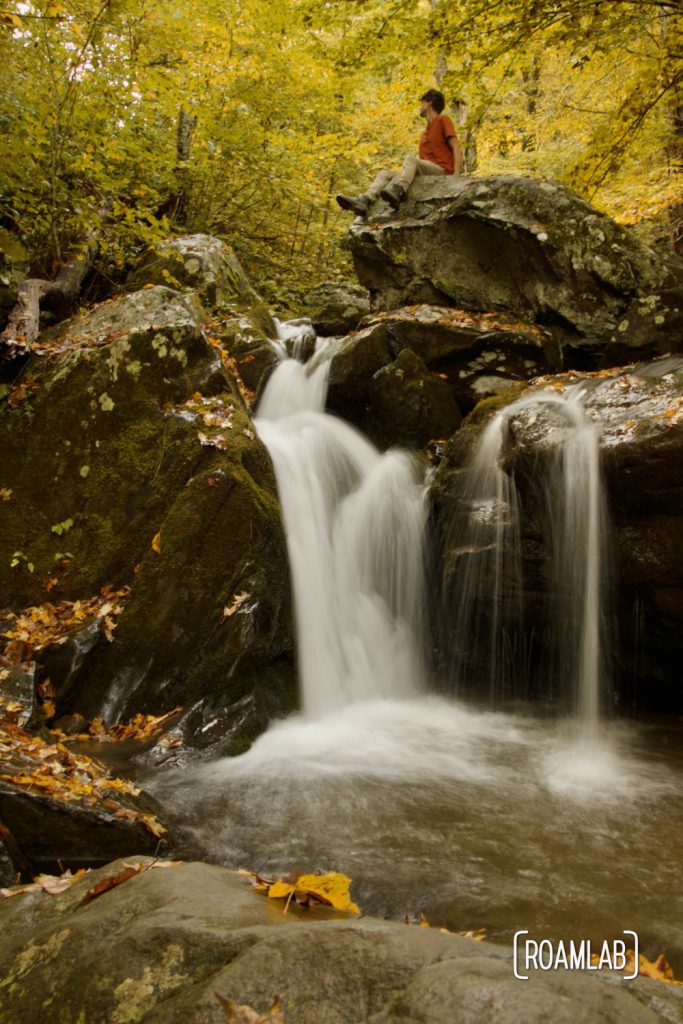 Camping
Shenandoah hosts several campgrounds along Skyline Drive. Those with reservations book up early on weekends and holidays. Yet they still include a collection of first come first serve sites for last-minute travelers such as ourselves. There are no guarantees without a reservation, but visitors early in the afternoon tend to have good luck.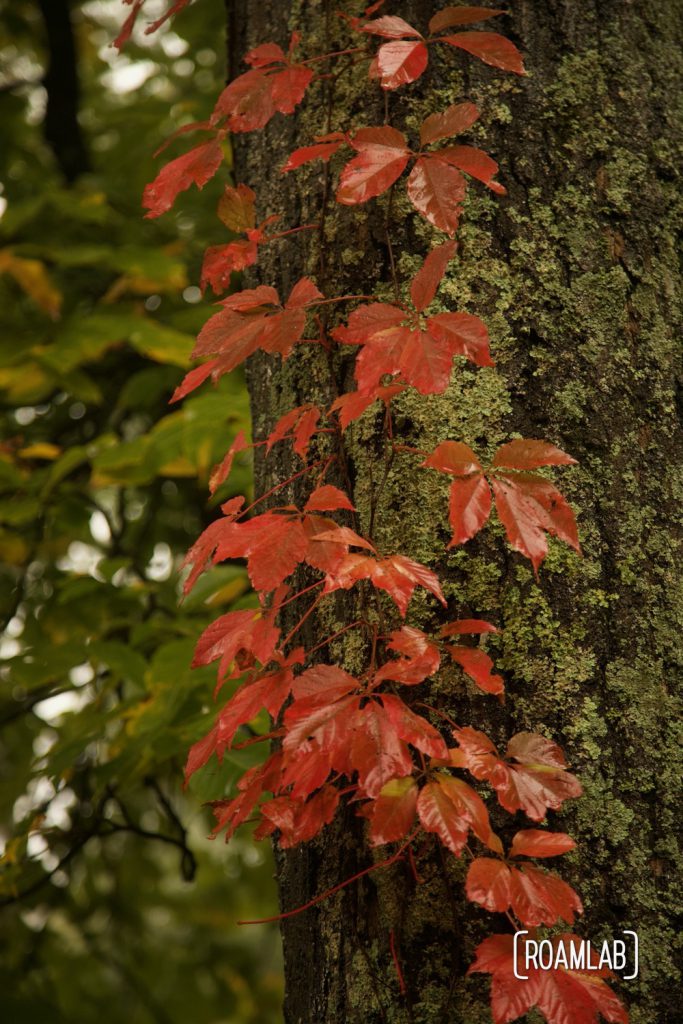 Looking back on Skyline Drive
My only regret after our visits to Shenandoah is not having more time to explore this beautiful park. I allotted a full day, but we could have easily spent a long weekend exploring the route. With weather potentially limiting one's enjoyment, it would have also been nice to have the luxury of time to just stop when the clouds were too thick to appreciate the views below and wait for better weather. Even so, our short flirtation with Shenandoah only leaves us wanting more.
---
*The southern terminus of Skyline Drive concludes at the northern point of the Blue Ridge Parkway, which continues along the Blue Ridge Mountains to Rocky Mountain National Park.