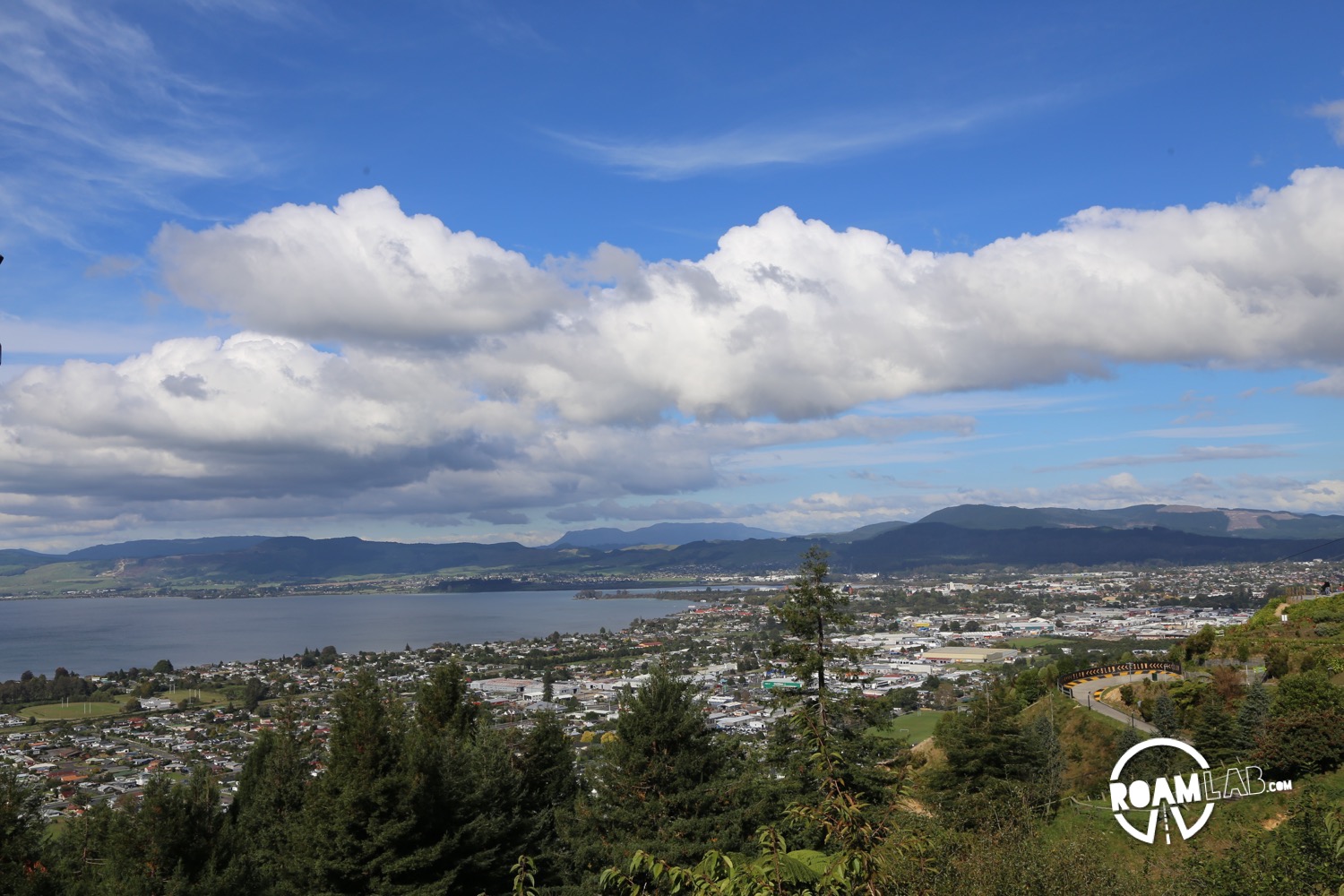 Te Puia's Pōhutu Geyser, Skyline Rotorua, and Tamaki Maouri Village
Rotorua, New Zealand
Despite not sleeping the night before, last night's sleep was terminated early due to the traveler's dreaded jet lag. I woke up at 3 am. I got out of bed at 5:30 am. I noticed a family of hedgehogs retreat to a bush at 5:45 am. I watched the sunrise at 6:00 am. By 7:30 am, everyone else was awake. The day could begin.
Te Puia
After breakfast a breakfast of pancakes and huevos rancheros at the Picnic Cafe, we enjoyed the creme de la creme of Rotorua thermal attractions: Te Puia. Sure, it has bubbling mud pits and roiling fumaroles, but the true draw of Te Puia is Pōhutu ('poor-hoo-too') geyser. Pōhutu means "constant splashing" in Māori. The name is apt, as Pōhutu erupts once or twice an hour. It is the largest active geyser in the southern hemisphere, reaching as high as 100 feet. Sadly, while we see the eruption, the cloudy sky is the same color as the geyser steam so that the spectacle is hardly visible.
We also take the time to join a guided tour of Te Puia. We enter the darkened kiwi house, where two kiwi birds scavenge for food up against the glass. Along with the natural wonders, Te Puia also hosts an arts center where students study traditional Maori art forms of carving wood, stone, and minerals as well as delicate weaving.
Skyline Rotorua
By the time we were done with Te Pui, we were ready for lunch and opted for the, admittedly touristy but undeniably delightful gondola ride at Skyline Rotorua. Up top, we enjoyed and extravagant buffet and a bird's eye view of Rotorua, Lake Rotorua, and blissfully blue skies.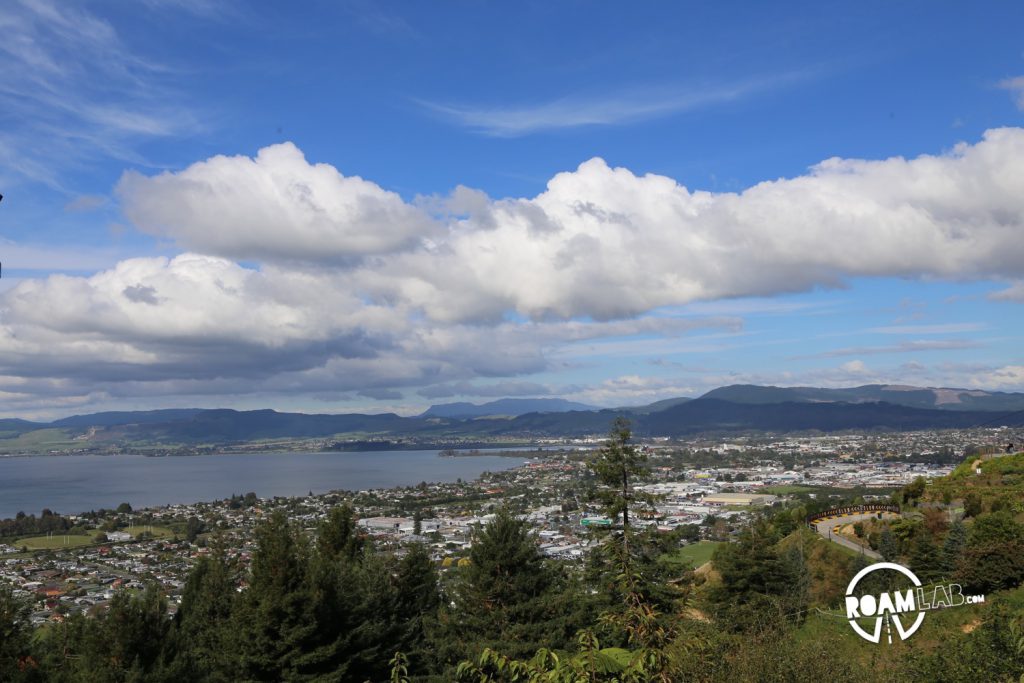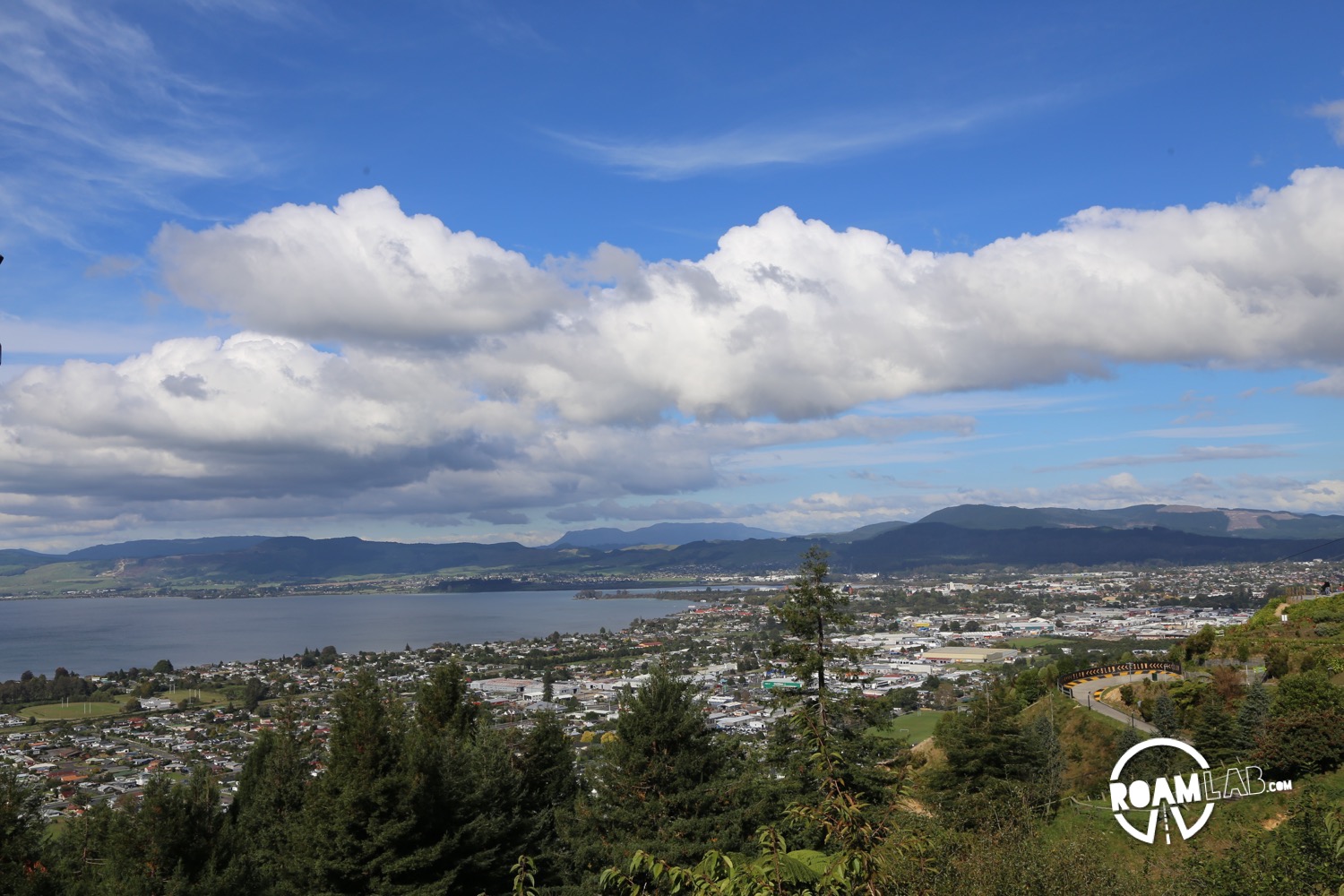 Visiting a Maori Village
We relax after lunch with some wine on the porch. We have to save our energy because, tonight, we are heading to a Maori village. In hindsight, I rather wish that I had pre-gamed the to degree as the cacophony of women that join us on the bus to the village. I am sober when the Maori warriors raise their arms, bulge their eyes, and protrude their tongues in the traditional "te wero" (the challenge). So I have the restraint not to laugh as our fellow "tribespeople" do. I also have the presence of mind to take a video of Cowboy being instructed in the same actions a few minutes later as we rotated through the several small workshops where we were introduced to the Maori games, ceremonies, carving, sailing.
The visit concludes with a traditional "hangi," a feast from an earth oven. Living in a geothermally active region of New Zealand, the Maori used hot rocks to cook their meals by burying the food with the rocks. We line up at long tables to eat chicken and root vegetables and relax at the end of the day.