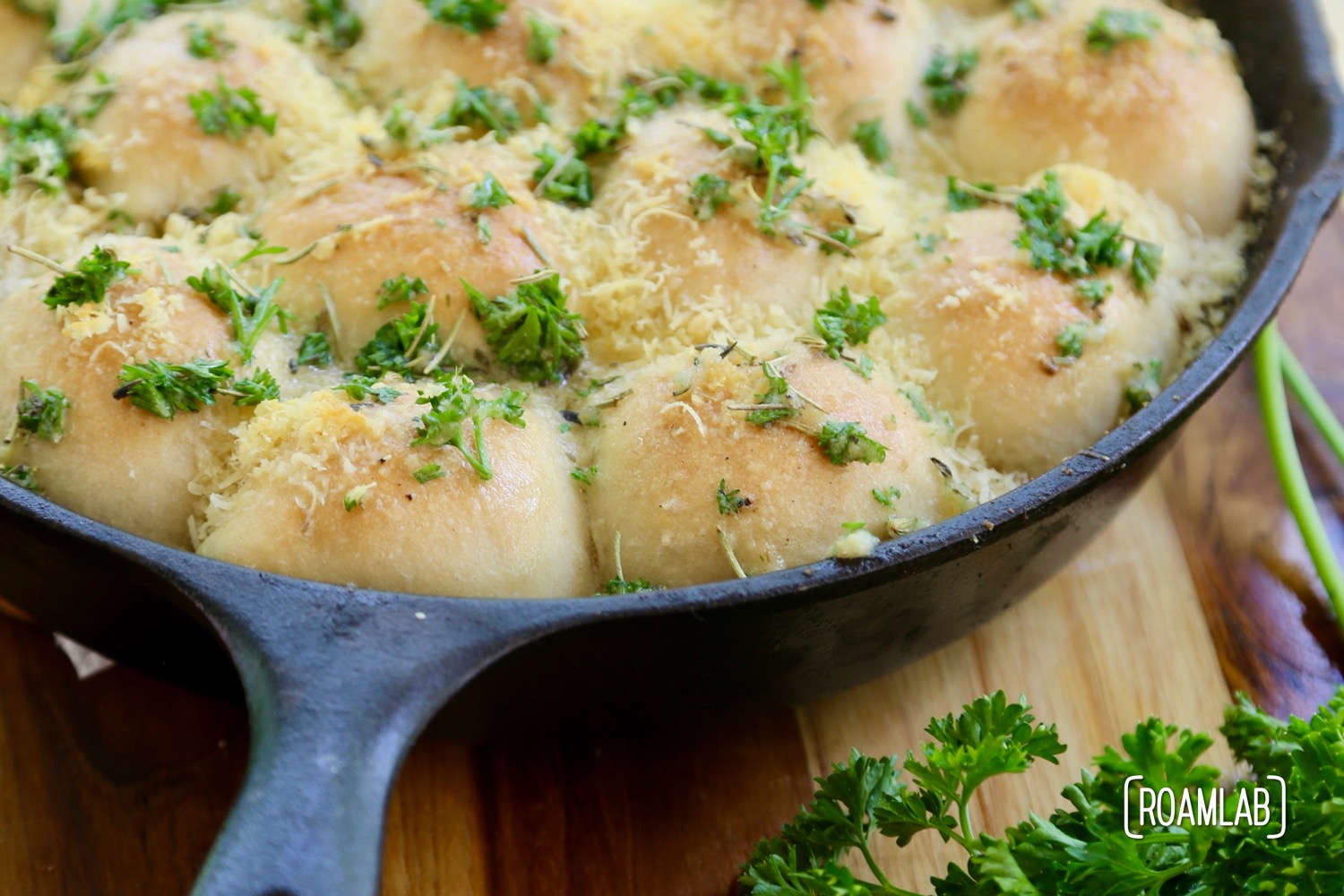 Cast Iron Skillet Stuffed Cheesy Buns
Campfire Cooking
As much as I love making main dishes, I have some friends that I will gladly hand the chefs cap to, when we are cooking together. At times like those, however, I want to bring something special to the table as either an appetizer or complementary side. These mini cheesy buns are a fun side that stand out as something special on the dinner table. Bake some mozzarella, parmesan, and bread dough for your campground crew in this cast iron skillet stuffed cheesy buns campfire cooking appetizer recipe.
Stuffed Cheesy Buns Recipe
Makes 20 rolls
Ingredients
Bread dough
1 standard roll of mozzarella chopped in ½-inch cubes
1 cup parmesan cheese, grated
1/4 cup butter (half a stick)
1 tablespoon fresh parsley, chopped
2 cloves garlic, minced
salt to taste
flour
Equipment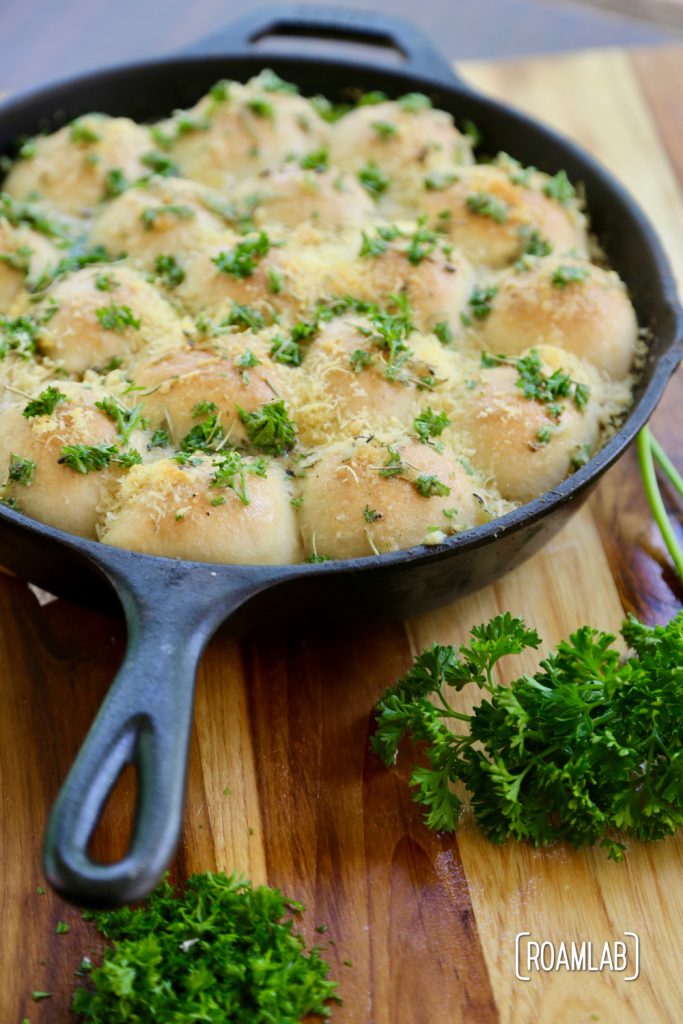 Directions
I have opted to make this recipe a bit simpler by using store bought bread dough. I find it hard to ensure optimal conditions for dough to rise in my little truck camper. So I don't bother. For those inclined, mix up your own a batch. But I find that the cheese and butter are such central pieces to this recipe that wether or not the dough is home made doesn't make much of a difference. Besides, buying frozen dough at the store is kind of like buying a block of ice to help chill other perishables until it is time to use the dough.
Set out bread dough to reach room temperature
Roll out dough to a thickness of a ½-inch.
Use the rim of a cup to cut 2-inch dough circles. My small travel wine glass worked well. The goal is to have 20 dough circles. So, you may need to roll out the scraps to make 20 circles.
Place mozzarella cube in the center of each dough circle and wrap the dough around it, pinch the dough to seal. Getting a complete seal really matters here. My first time, I did a bit of pinching but didn't fully seal the mozzarella so the cheese just melted through the holes and I was left with "cheese bottomed" rather than "cheese stuffed" buns.
Arrange sealed buns on a greased skillet.
Chop up the remaining mozzarella and tuck the pieces between the rolls
Bake for 15 minutes or until the buns are a very light golden brown and remove from heat
Sprinkle top with parmesan cheese.
Return to heat for another 5 minutes.
Blend melted butter, parsley, salt, and garlic.
Brush butter mixture over cheesy rolls.
Serve immediately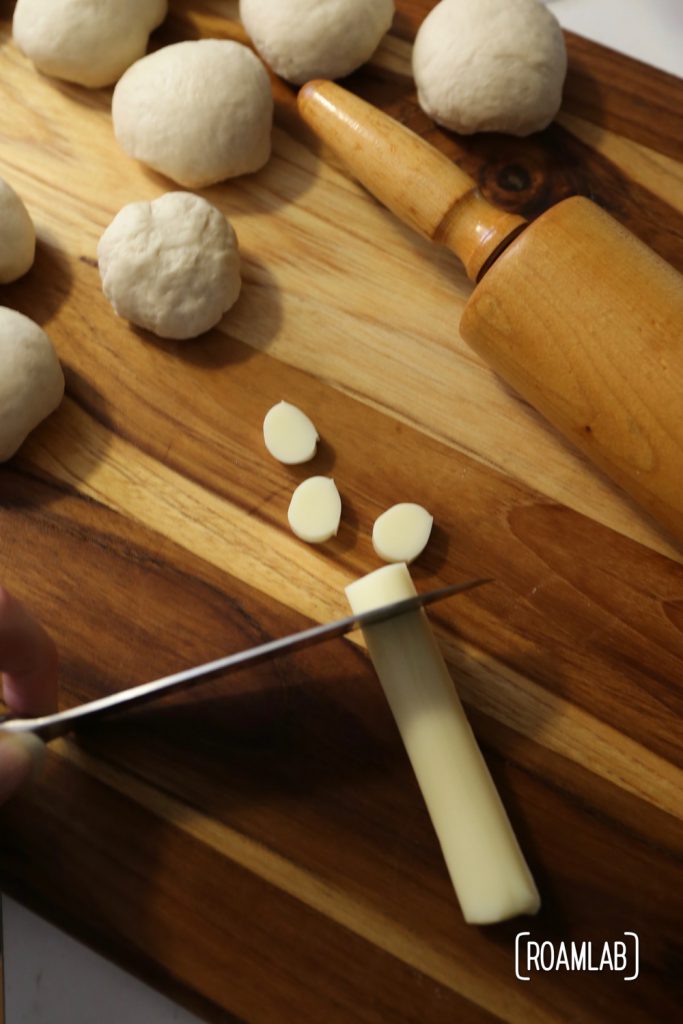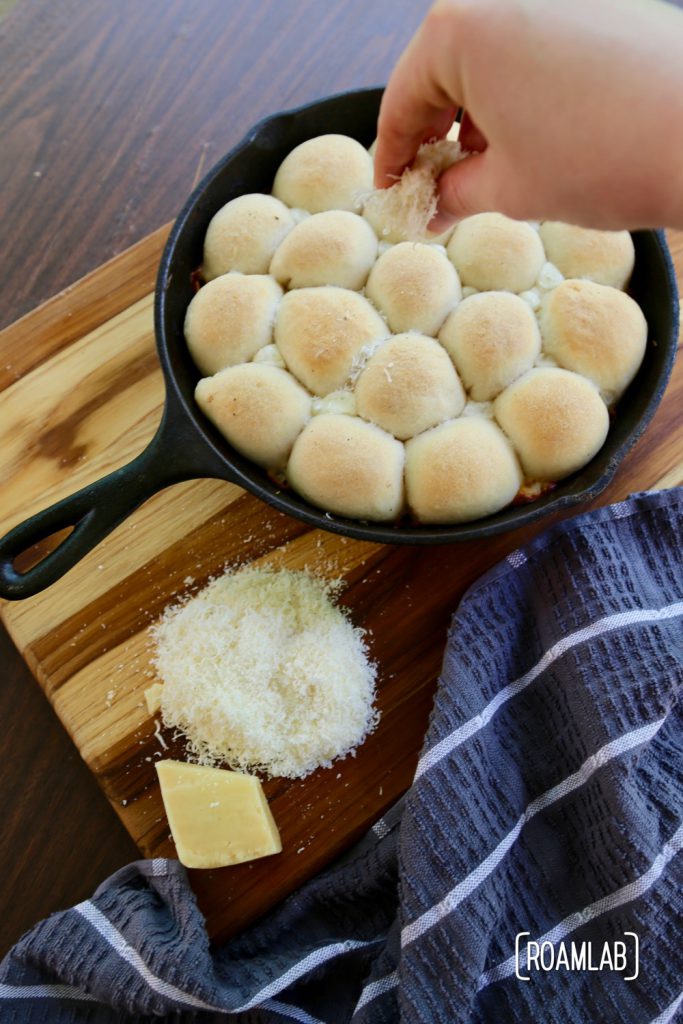 Pairing
These are such fun little treats that you can enjoy on their own. That said, I like these side by side with some sweet and savory BBQ. The cheesy, bready goodness plays off well with the rich notes of a wet brisket or ribs.