Misty Mountains
Great Smoky Mountains National Park is America's most popular national park. Part of that has to do with its proximity to large population centers of the Eastern states. But plenty of its draw comes from the lush vistas, extensive wildlife, and rich history. Unlike the jagged young peaks of the Tetons, Rockies, or Sierra Nevadas, the Smoky Mountains are much older and weathered with slopes mixing colorful deciduous trees that put on a show in fall. The hollers were homesteads for isolated communities, typified by Cades Cove. And the peaks straddle the state line, with views of Tennessee to the west and North Carolina to the east.
Visiting the Great Smoky Mountains
The Great Smoky Mountains, like any National Park, has its popular draws: Cades Cove, Clingman's Dome Overlook, and Newfound Gap are all popular destinations but don't be afraid to take a risk and find a less popular destination.
There is a distinct shortage of parking inside the park. The Visitor's Center is often mobbed and parking for popular trailheads are filled early in the day. On weekends and high season, it makes sense to avoid the crowds and get creative by exploring more of the eastern side of the park and less popular trails.
One way to mix things up is to explore by bicycle. Much of the park involves elevation gains while traveling up and down the mountainsides. But Cade's Cove is relatively level. Finding places to park a car can be a headache along this loop, it's easy to find a spot to pull off with a bicycle. Best of all, keep an eye on the Cades Cove schedule for mornings when the road is closed to motorized traffic.
Things To Do In Great Smoky Mountains National Park
Drive the 11-mile loop of Cades Cove
Hike to the observation tower at Clingman's Dome
Grab a selfie from Newfound Gap
Spot the heritage rooster at the Mountain Farm Museum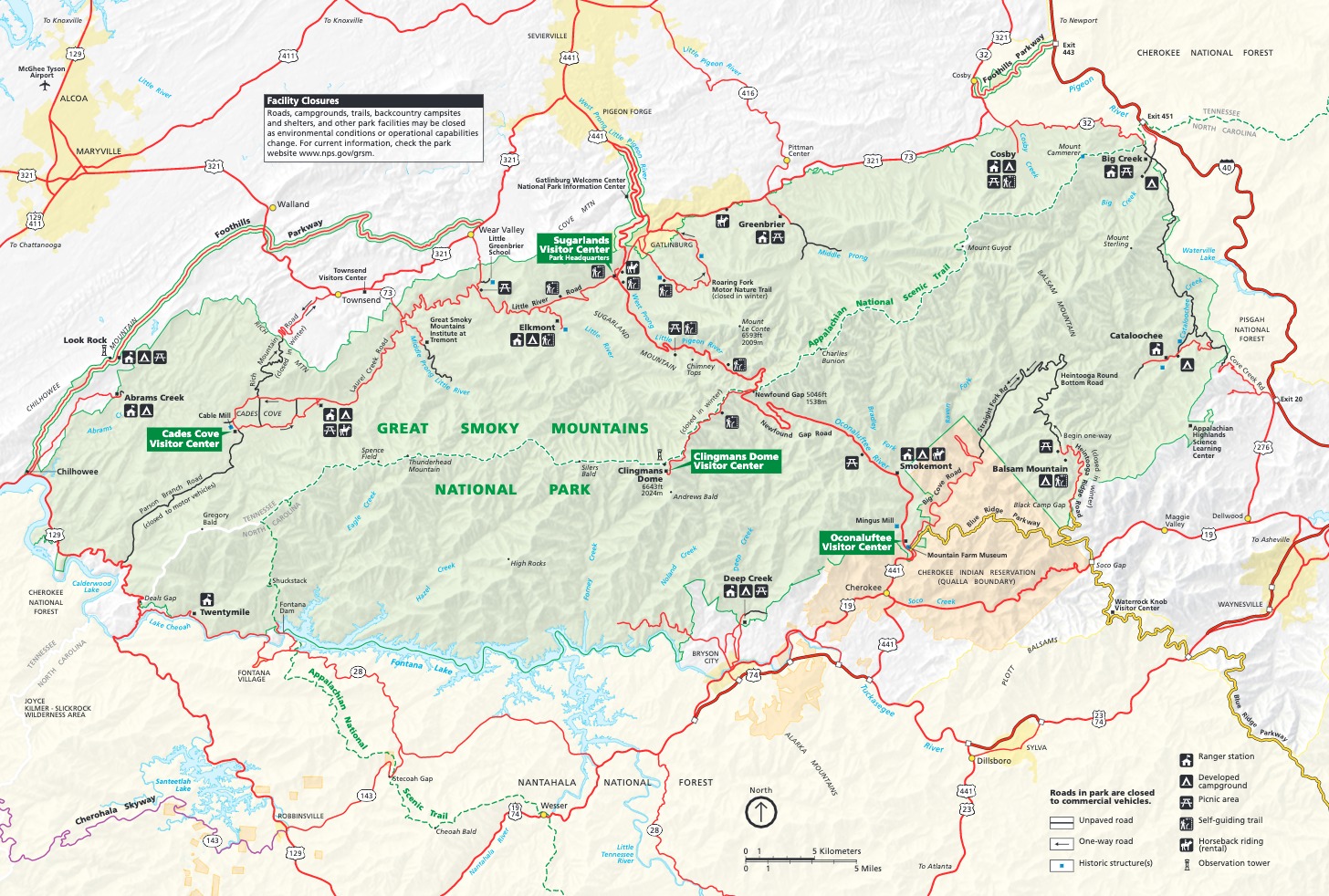 Great Smokey Mountains National Park
Map