Pomegranate Margarita
Campground Mixology
Back when I lived in NYC, one of my favorite haunts specialized in a frozen Pomegranate Margarita. They became a touchstone for a period in my early 20s that I haven't had the opportunity to revisit in years. But this last week I bought a cup of pomegranate seeds to eat and discovered that they fermented faster than I could consume them. So, here I am, unsure what to do with a bunch of partially fermented pomegranate seeds when it occurs to me: these would be great in a cocktail!
With that in mind, I take my seeds and a muddler and get to work. It's worth noting that, in our current nomadic lifestyle, we generally don't have access to power hungry appliances like blenders. So, rather than attempting a full recreation of the frozen margarita of my youth, this margarita is on the rocks. Along the same lines, as the aim of this exercise is to use fermenting pomegranate seeds, I am simply muddling the seeds and leaving the chewy seeds at the bottom of the drink. Fortunately, these seeds are heavy. So you don't have to eat them if you don't want to. I like them at the bottom, though as a touch of color and texture. But, if you want to fish them out or serve the drinks with a cocktail strainer, they should be equally delightful.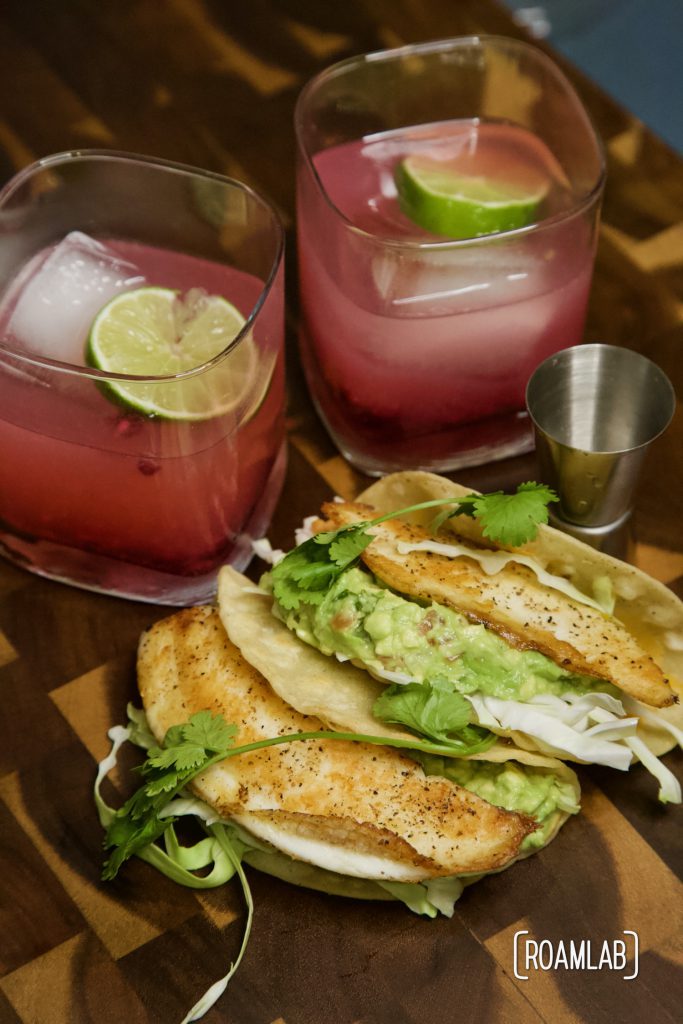 Pomegranate Margarita Recipe
Serving size 2
Ingredients
4 oz Blanco tequila
2 oz Fresh lime juice (1 juiced lime)
1 oz Orange liqueur (triple sec, Cointreau, ect)
1 oz Simple syrup (equal parts sugar and water)
2 tablespoons pomegranate seeds
Ice cubes
Optional Garnish
Preparation
Optional: For those who like a salted rim, dip the serving glass rims into a shallow bowl of water and place the rim on a plate of kosher salt or roll the edge along the salt.
A Note on Taste: As noted earlier, there are two optional approaches to handling the pomegranate seeds: seed in the serving glass or out of the serving glass. The seeds are chewy and can be a distraction for some but I like them. If you do not want the seeds in the glass, muddle the pomegranates in the shaker before adding the other ingredients. If you want the the seeds in the cup, muddle one tablespoon of pomegranate seeds in each glass before pouring the shaker contents and ice into the glass.
Add tequila, lime juice, orange liqueur, and simple syrup to a shaker with ice and shake. Place fresh ice to the serving glasses and use a strainer to pour the margarita into the serving glasses.
If you opted to muddle the pomegranate in the glasses, use a spoon to mix the pomegranate with the rest of the liquid.
Serve with lime wheel or any other garnish of your choosing.