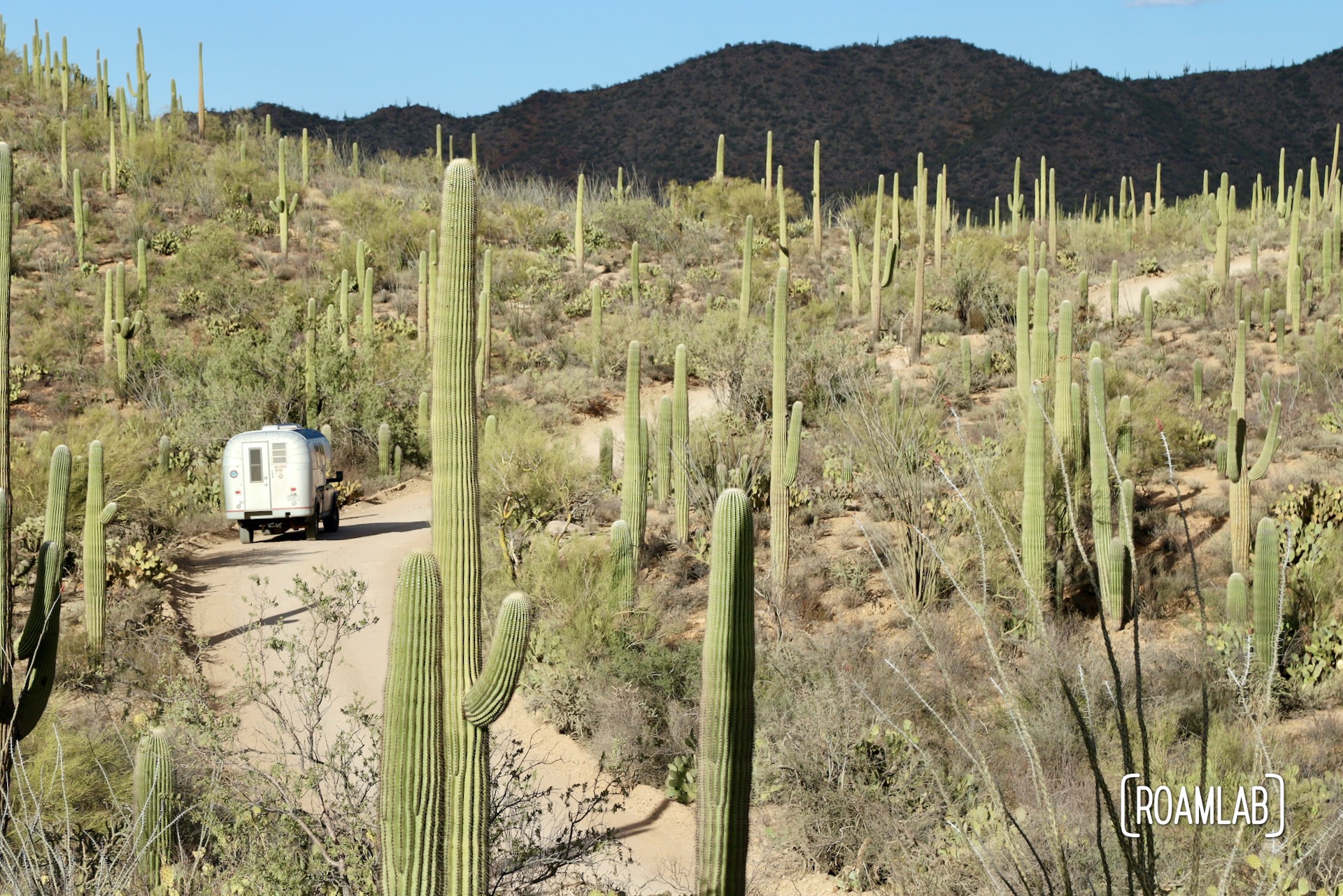 Scenic Bajada Loop Drive
Saguaro National Park
We have driven many a scenic loop. It's often one of the most accessible means to experience the natural beauty of an area. But the 5.2-mile Scenic Bajada Loop Drive offers more than just views. This one-way, single-lane trail through the Tuscon Mountain District of the Saguaro National Park is a lightly trafficked dirt road through a forest of cacti, transforming a drive into a mini-adventure.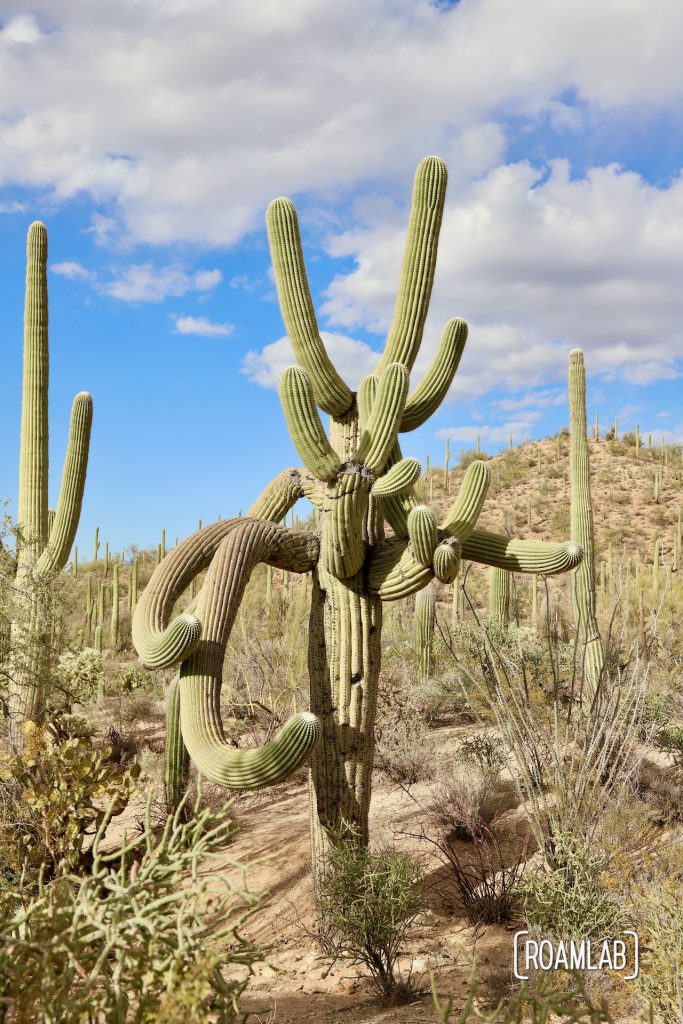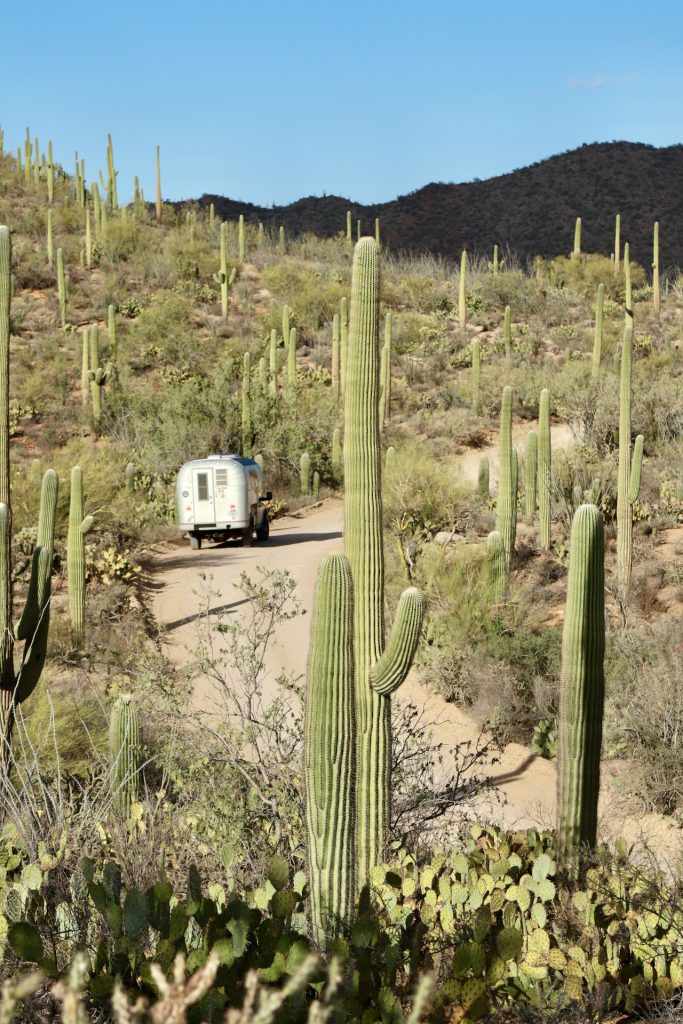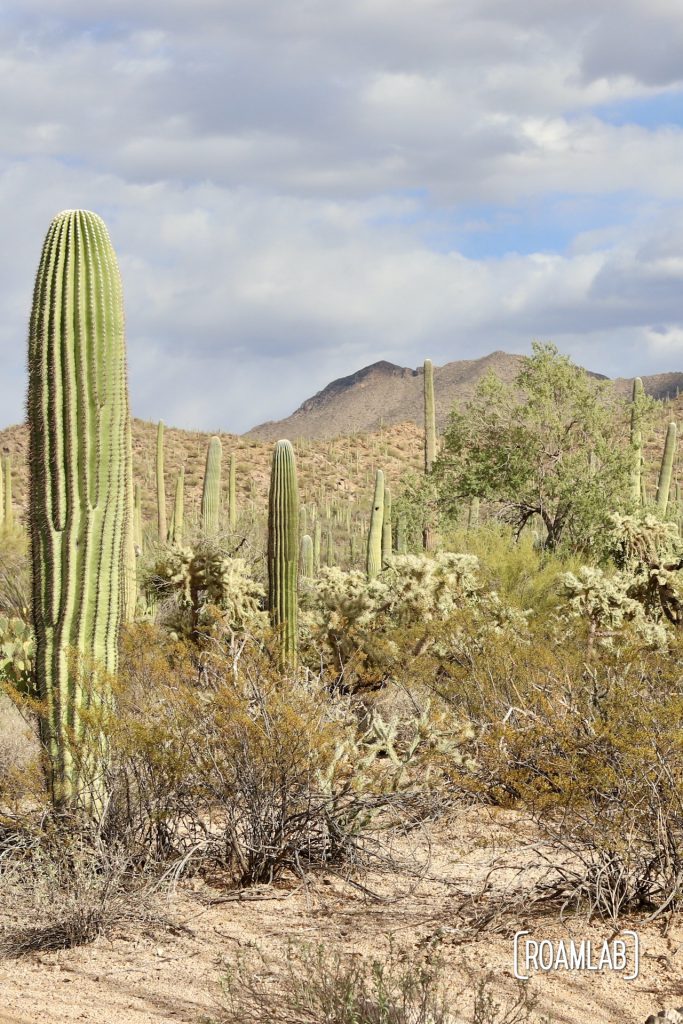 Driving Scenic Bajada Loop
Located just one-half hour west of Tuscon in southern Arizona, Saguaro National Park is generally a draw for visitors between fall and spring. This dry, dusty region isn't a summer vacation destination, but Scenic Bajada Loop is a year-round opportunity to see these sweltering saguaro from behind temperature-controlled glass. Whatever the weather conditions, Bajada Loop is a comfortable way to explore. Better yet, this evenly graded route is accessible by any car and is also popular for walking and biking.
Since a portion of the loop is one-way, drivers can only complete the drive by traveling counter-clockwise. The trail starts off Kinney road, 1.5 miles north of Red Hills Visitor Center. Turn east on Hohokam Road. The road is two-way for the first 0.8 miles but narrows into a single-lane one-way route after the Hugh Norris Trailhead. While there is a parking lot at the Valley View Overlook Trailhead and a few pullouts along the way, Hohokam remains a relatively narrow road with cacti and brush growing close to the edges. The route gently rolls along the hilly landscape, flanked by Apache Peak to the north and a ridge building up to Wasson and Amole peaks to the southeast.
After 2.3 miles, Hohokam Road ends in a T-junction with Golden Gate Road. Turning right (east) on Golden Gate Road would continue an uninterrupted 3.7 miles to West Picture Rocks Road. A trip that Google estimates to take half an hour to drive. Instead, Bajada Loop turns left (west) for another 2.4 miles of flat, gravel, two-way exiting onto North Sandario Road. Completists can continue the 0.3-miles to Kinney Road and 0.2 miles to Hohokam. But, if you're headed north for your next adventure, you might as well skip the extra half mile.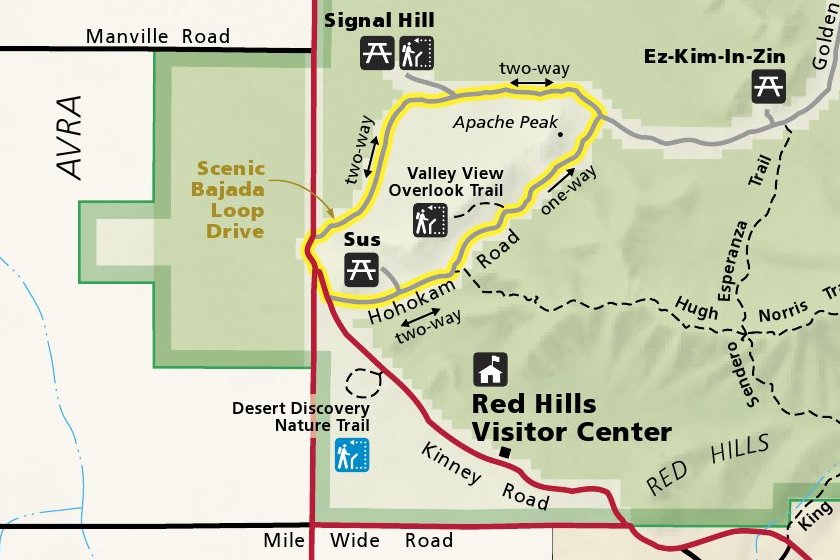 Our Experience
We wander onto Scenic Bajada Loop Drive one mild winter afternoon. We arrive to hike Valley View Overlook Trail. But once past Hugh Norris Trailhead, we only have one way to go after completing our hike. At the time, we are unaware that we are on a scenic drive. All we know was that it is beautiful and deserves many pictures. Looking back, I think the frequent stops to leap out of the car and capture a shot are worth it.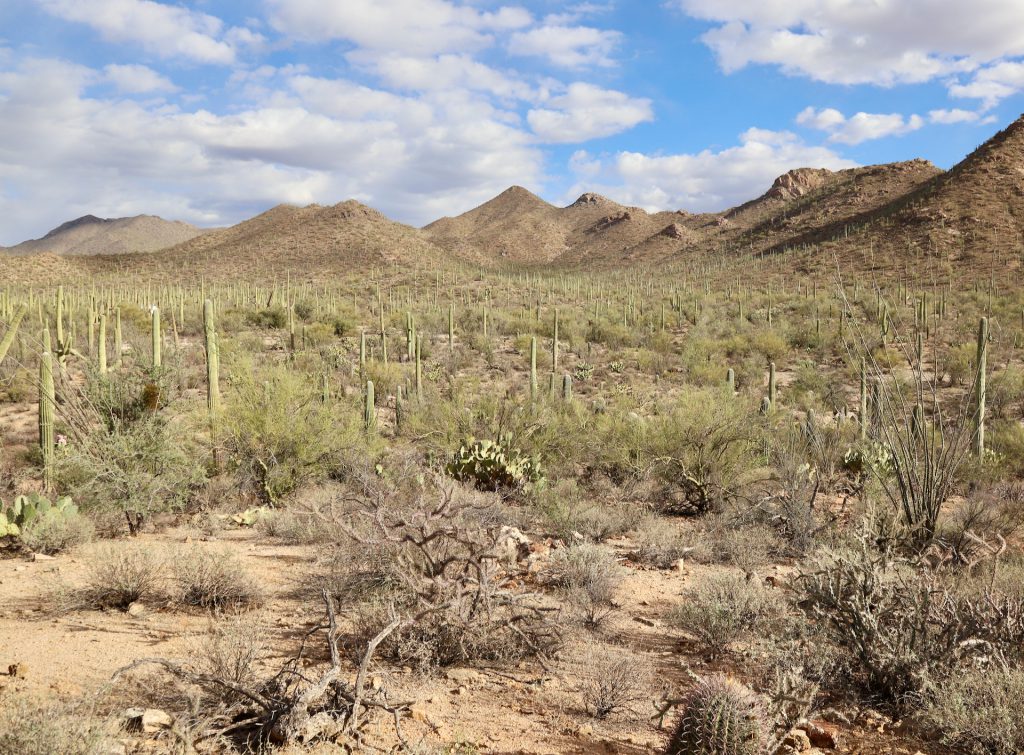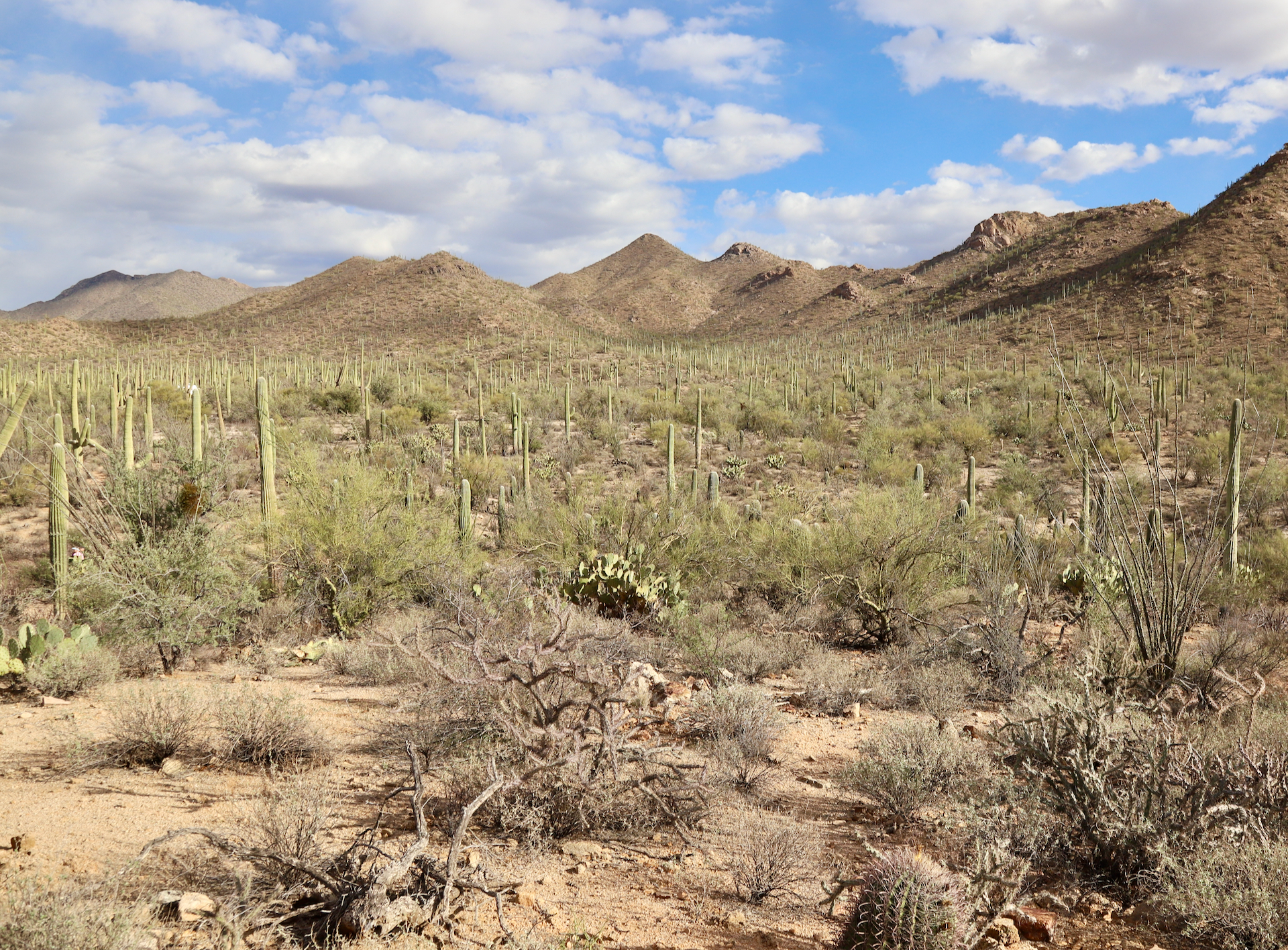 Nearby Attractions
Saguaro National Park might as well be the suburbs of Tucson, Arizona. Its proximity to this metropolitan center makes it close to many attractions but most of our favorites are close by. There are plenty of hikes right off of Scenic Bajada Loop, such as Valley View Overlook Trail. And the Arizona-Sonoma Desert Museum is tucked right at the southern border of the Tucson Mountain District. But, while you're at it, check out our other top stops in Tucson, Arizona.