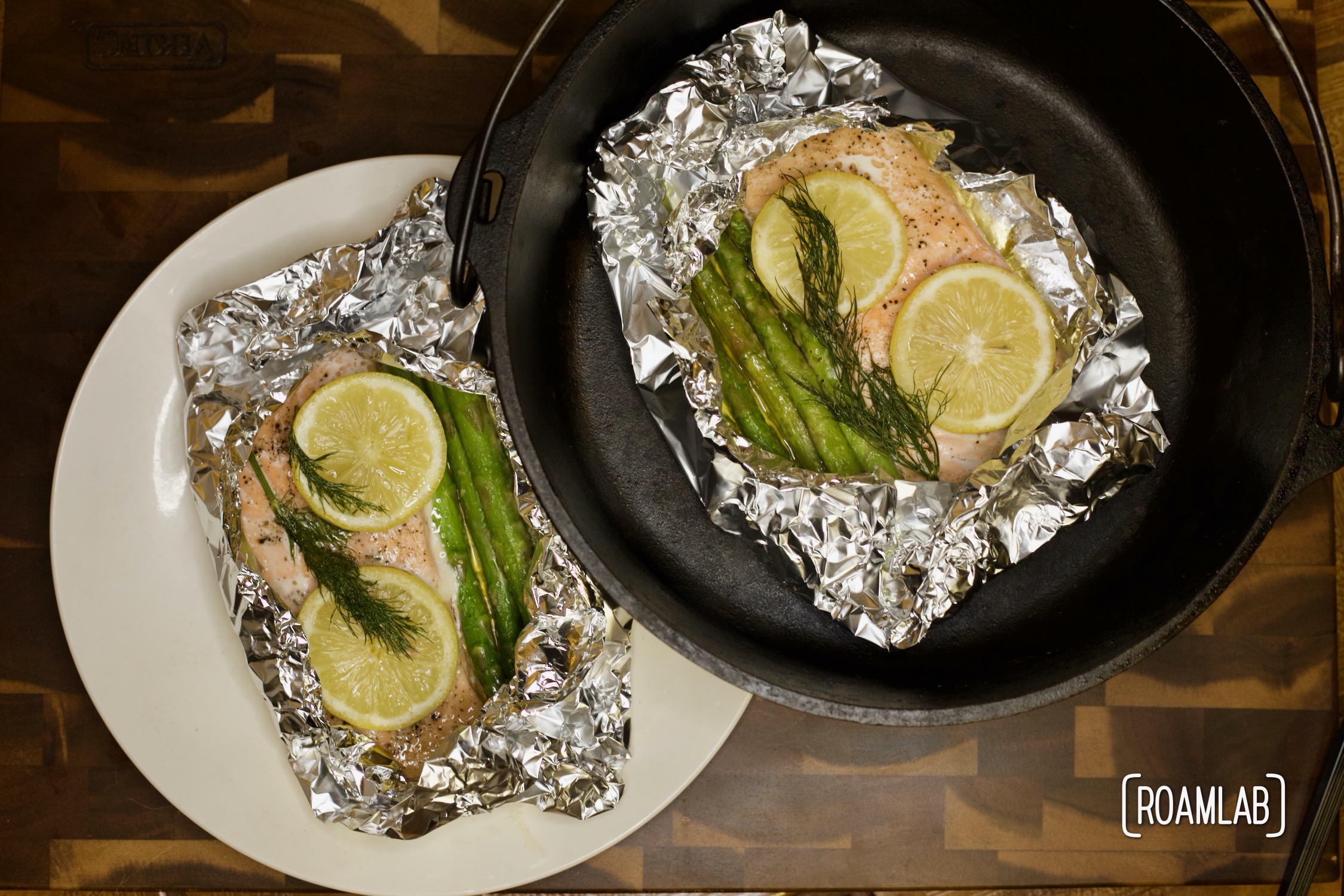 Tin Foil Salmon
Campfire Cooking
There are so many ways to cook with a campfire. While I love a classic cast iron skillet or dutch oven, tin foil deserves special recognition. This incredibly convenient cooking container is perfect for newcomers and old hands. Tin foil is wonderfully flexible, allowing campfire cooks to seal in juices while still exposing ingredients to direct heat. For salmon, this means you gain some extra flexibility. Salmon, like most fish, is easy to overcook. By sealing in the moisture with tin foil, you are at less risk of coming out dry. The result is a simple, easy tin foil salmon recipe for the campfire or the home oven.
Tin Foil Salmon Recipe
Serves 2
Ingredients
2 salmon fillets (⅓ pound each)
1 lemon, sliced
2 dill sprigs
1 tablespoon olive oil
salt and pepper to taste
Equipment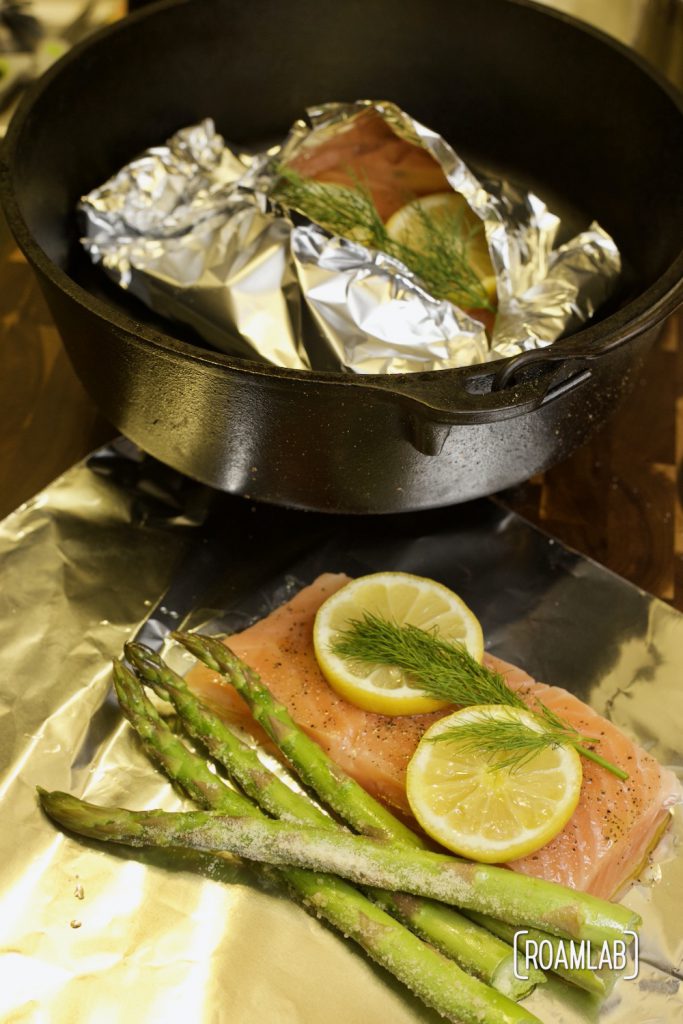 Directions
Tinfoil salmon is an incredibly flexible recipe. In the past, I would simply placed the foil salmon packet in a fire pit, near heat. This gets the job done but can be quite challenging to evenly cook. Instead, I prefer to bake the salmon in my dutch oven, when possible. This way, I can ensure an even cook by heating the salmon from above and below. Of course, for you home cooks, all you need to do is preheat your oven for 400°F and go to town. As far as cooking time is concerned. This can vary a great deal based on the thickness of your salmon cut. That I why I advise checking the cooking process occasionally. Use a knife or fork to check the thickest portion of the fillet. The salmon interior should be a slightly deeper pink but easily flake as it is spread apart.
Place salmon on a 12″x12″ sheet of tin foil
Sprinkle salmon with salt and pepper
Drizzle 1/2 teaspoon of olive oil over salmon
Place lemon and dill over salmon
Carefully wrap salmon into a tin foil packet
Place salmon over medium heat (about 400°F)
Remove from heat once salmon easily flakes with a fork.
Serve immediately
When it comes to serving, you can transfer it to a plate. I like keeping the tin foil as part of the presentation. Instead, I set the full tin foil packet on top of a plate. That way, you have the support of the plate when eating but still enjoy that fun foil flair.
Pairings
One upside of the tin foil salmon is that you can prepare a whole meal by simply adding other sides to the packet. I often add a few sprigs of asparagus. It's a classic accompaniment to a salmon. I also enjoy a bed of rice. Personally, I appreciate microwave ready packets of brown rice and quinoa. The two serving packets are easily split between the two tinfoil packets. Start with the rice and some diced onion, then top with the salmon and asparagus. It's a perfect combination! Enjoy!