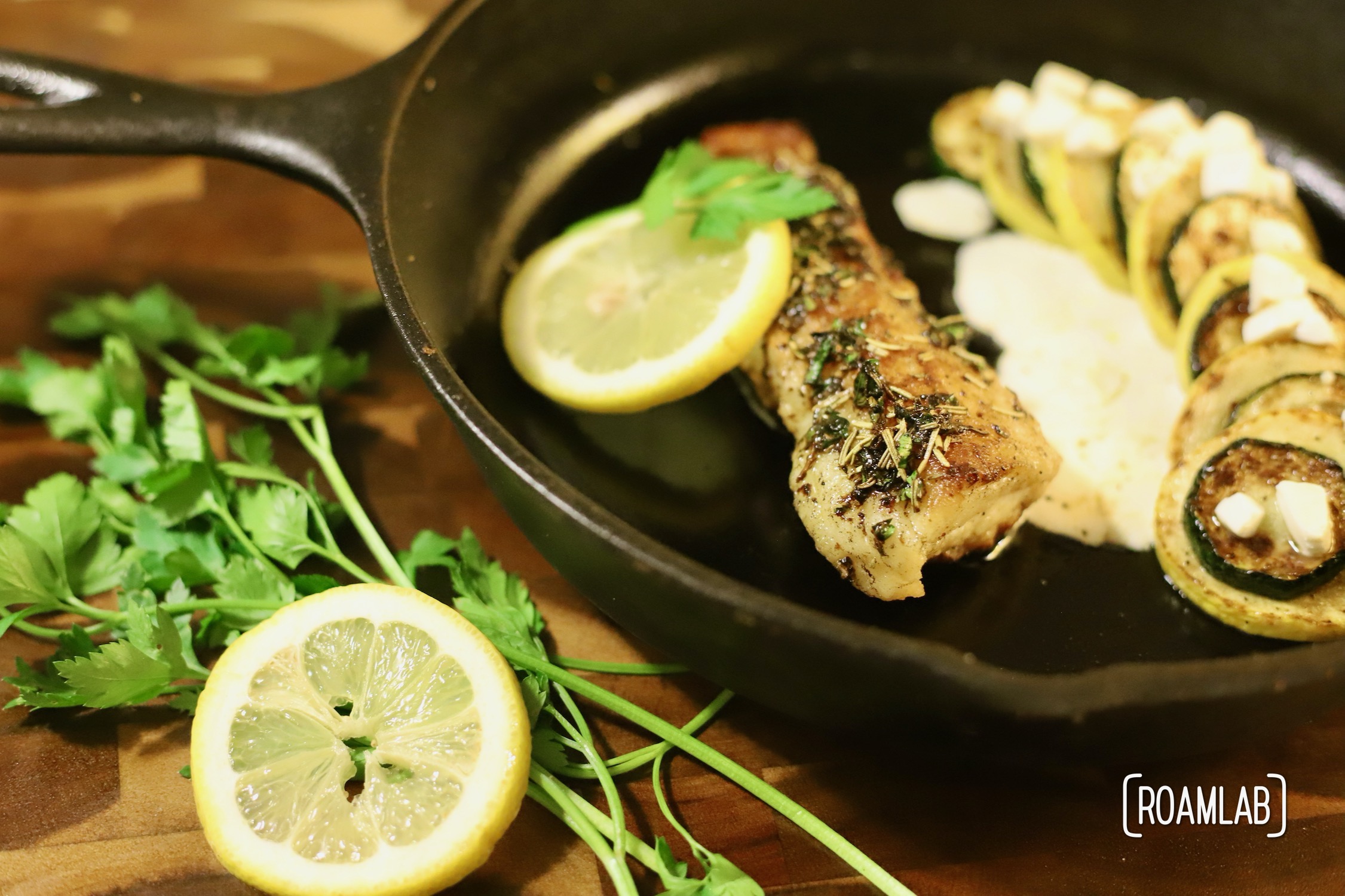 Skillet Seared Sea Bass in a Herb Butter Sauce
Campfire Cooking
I bought sea bass when misreading the price label. While ringing up at the cash register was a rather pricy surprise, I got my money's worth with this recipe. I am generally not one to bother breading fish. I find it a waste of time, flour, and a clean dish. That said, searing this lightly breaded fish in butter and olive oil is a revelation. The rich and crispy result is only compounded by the butter sauce of white wine, lemon, and herbs. While it's not my regular campground fair, I have to share this. If not for anyone else, at least for my own future reference. So, here you go future me. I think you'll love revisiting this Skillet Seared Sea Bass in a Herb Butter Sauce.
Skillet Seared Sea Bass Recipe
Serves 2
Ingredients
Sea Bass
2 pieces of sea bass
¼ cup of flour
Salt and pepper to taste
1 tablespoon olive oil
½ tablespoon butter
Herb Butter Sauce
¼ cup Sauvignon Blanc or other dry white wine
1 tablespoon butter
½ lemon juiced
1 teaspoon dried rosemary
1 teaspoon dried thyme
1 teaspoon dried parsley
1 clove garlic
Equipment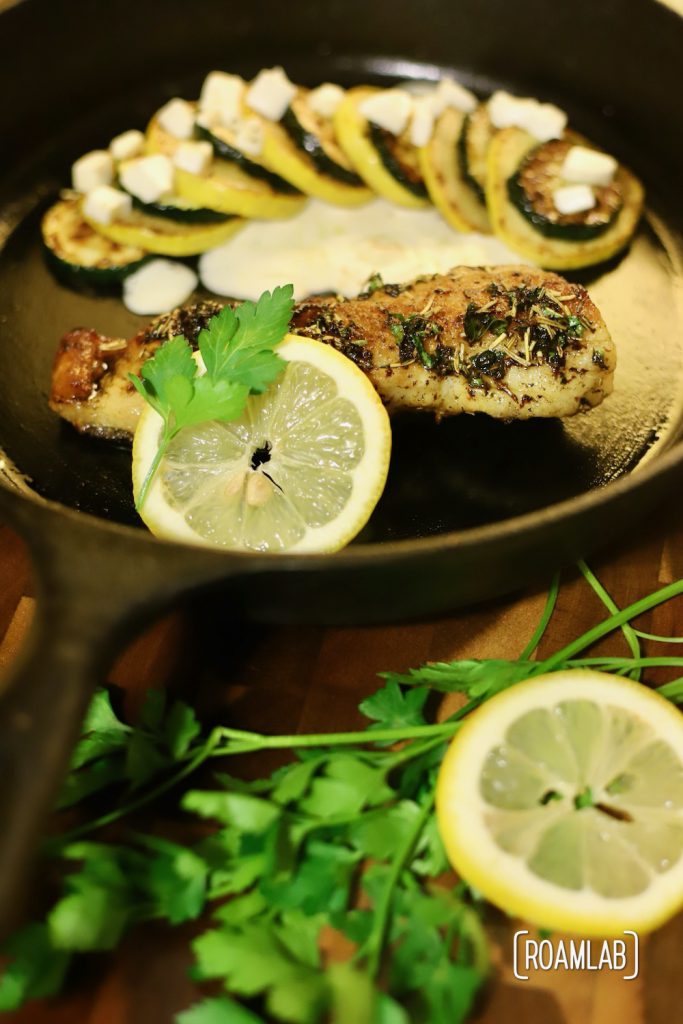 Directions
I am a huge fan or one skillet meals. This recipe comes in two parts but is meant for one pan. First, prepare the fish and set it aside on a paper towel so that it doesn't get soggy with excess oil. Any remaining browned fish and flour left in the skillet then complements the herb butter sauce that is cooked in the same pan. If you intend to include additional side, prepare them ahead of time or be sure that they will be finished by the time this recipe is complete. You don't want that crisp, fried sea bass getting soggy while waiting for other sides to be completed.
Sea Bass
Sea bass is a remarkably delicate and savory fish. Chris likes to compare it to lobster. And this recipe really does highlight that delicate and moist texture. That said, we have experimented with other fish for this recipe. We have found that thick cuts of tilapia (tilapia loins) make for a reasonable and much more budget friendly alternative. But there is a reason we highlight sea bass. It is phenomenal. However you choose to prepare this dish, just embrace the trifecta of white wine, butter, and lemon. It is amazing!
Remove excess moisture by patting down sea bass with a paper towel
Mix flower, salt, and pepper in a plastic baggie
Coat fish in flower mixture and gently shake to remove excess flour
Heat cast iron skillet at medium high heat
Sear fish on each side until it is golden brown and cooked through (about 2 minutes per side)
Remove fish from heat and set on a paper towel
Herb Butter Sauce
This herb butter sauce is fantastic but it is also incredibly flexible. It's hard to go wrong with butter, garlic, white wine, lemon, and these classic herbs. While fresh herbs make for a colorful meal, you can (and I did) substitute fresh for dried herbs. I chose my favorites: rosemary, thyme, and parsley. But feel free to experiment with your own. While I have provided guidelines, feel free to tweak the proportions as you like before serving.
Turn down heat
In same skillet, add white wine and gently scrape the bottom of the skillet to release any remaining browned bits.
Reduce wine by gently simmering it until most of the liquid has evaporated
Mix in butter, garlic, herbs, and satee for a minute
Remove from heat and mix in lemon juice
Served butter herb sauce on top of sea bass
Pairings
It is a little challenging to pair this dish with anything. When Chris first had it, all he wanted was more fish. Even so, I try to round the dish out with a side of zucchini or asparagus, on a bed of parmesan riced cauliflower. Set the seared sea bass on top of the riced cauliflower and then ladle the herb butter all over the sea bass so that any extra butter mixes with the cauliflower. It comes together beautifully. I have contemplated roasted sweet potato as a side but haven't tried it with this particular recipe, yet.
Of course, once you have that Sauvignon Blanc, you might as well enjoy a glass with your fish. Cheers!