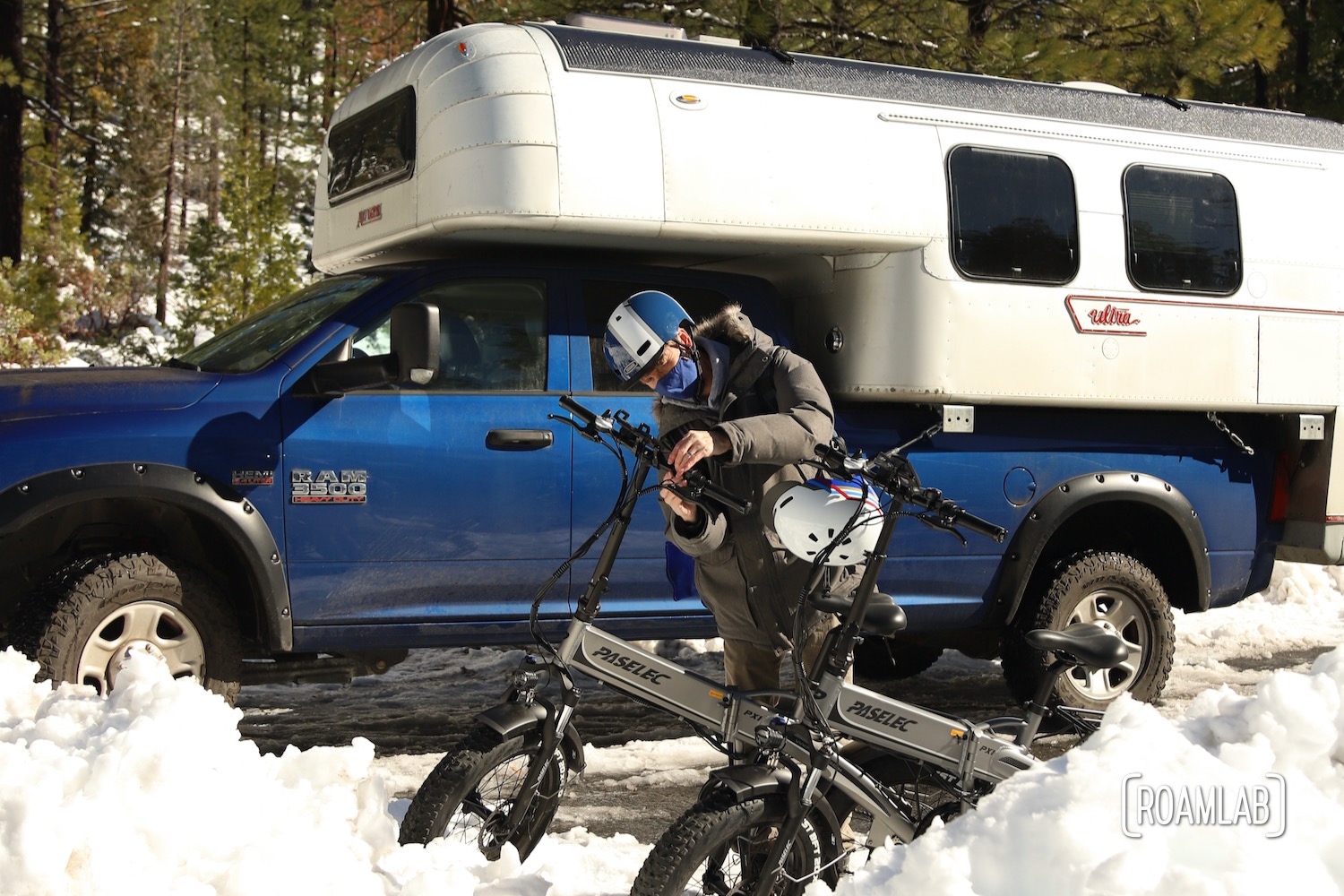 Storing Bicycles On A Truck Camper
Racks, Trailers, & DIY Storage
We've talked about analysis paralysis. before. It is an inability to make a decision due to over-thinking the problem. And it's a common pitfall when encountering challenges that lack an obvious answer. ⁠⁠Heck, sometimes there seems to be an obvious answer but a little bit of digging can expose a world of options that we hadn't even considered.
Take the question of how to store a bicycle on a truck camper. There is an obvious answer: use a bicycle rack. These things were built to hold bicycles while transporting them with a vehicle. They create space for a bulky item in a situation where storage is limited. And as nomads living in a 1970 Avion truck camper, storage is a constant challenge. So, this should be case closed. But not quite.
Because our challenge is more than just spacial. These bicycles aren't cheap. And while they are meant for outside use, we'd like to minimize their wear and tear while not on the trail. It's not as if we can leave them in a garage when we don't need them. They will always be with us. So, we need to balance our space constraints with our interest in protecting these pieces of equipment. And that balance is what has us inspecting our options from every angle.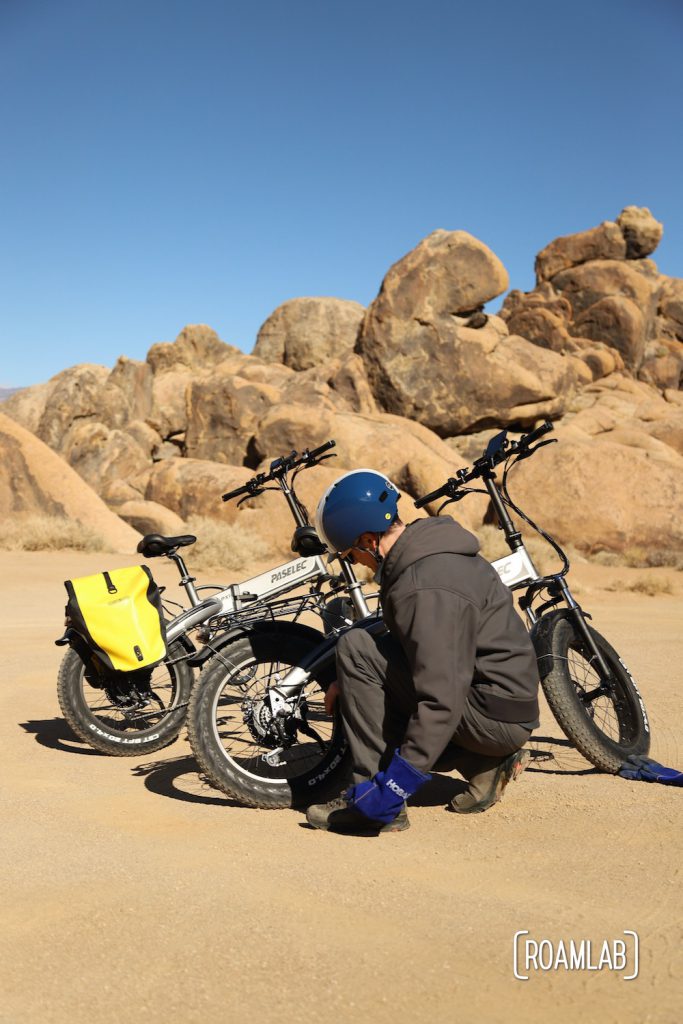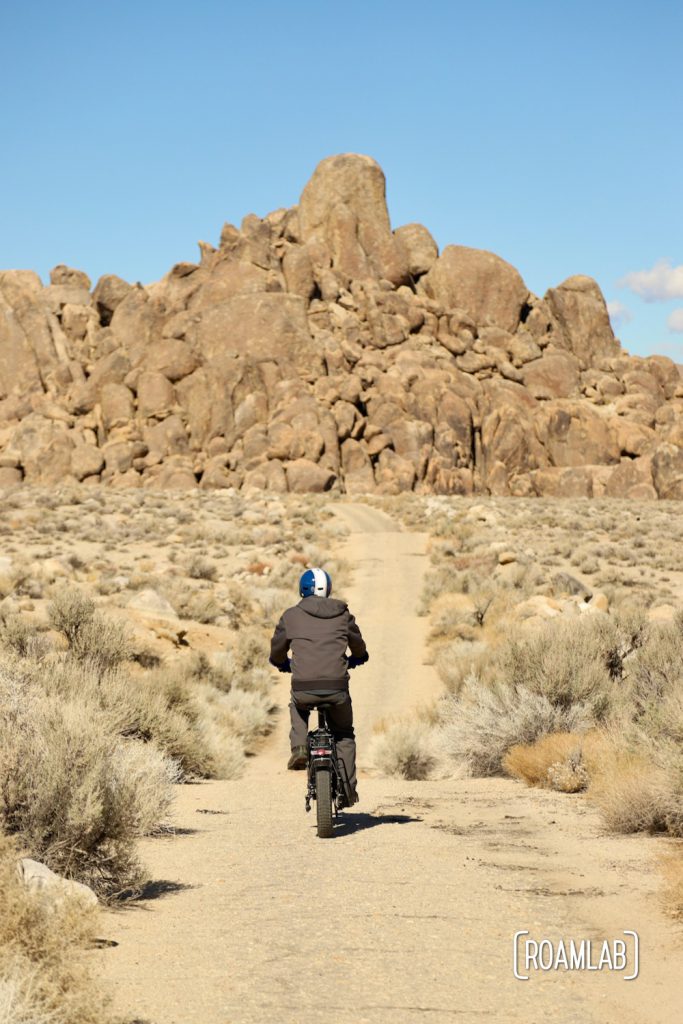 Exterior Storage
Exterior storage is always the first logical option for stowing bicycles while traveling. There are a lot of racks designed to bind bikes to a vehicle while in transit without taking up limited interior space. But this does lead to challenges such as exposure.
Giving the Hitch Mounted Bike Rack It's Due Consideration
There are plenty of other RVers that have settled with a hitch-mounted bike rack. By storing the bicycles outside, they don't have to displace anything from the limited indoor storage. We couldn't use a rear bike rack because it would block the entrance to our camper. But we could invest in a front bike rack (popular among many truck campers) where the bikes would only block our winch. It's not desirable but it is manageable. Of course, this comes with the cost of accelerated weathering from outdoor storage, the risk of theft, and extra work when accessing the winch.
Bike theft is a common problem in many cities. They are relatively valuable objects that are fairly easy to liberate and transport to a second location where they can be sold or parted out. For those who generally camp in developed, monitored locations such as RV parks, it could be worth the gamble. Alternatively, if we opted to stick to cheap bicycles, we could accept theft as part of the risk and simply buy a new bike every time someone with a bolt cutter came our way. But we really want ebikes, since the motor will extend the distance we can cover and allow us to use the bikes in situations that might not have been practical for conventional bikes. And those are expensive.
So a bike rack is a perfectly practical solution. But it's not right for us.
Roof Storage
The next option we consider is roof storage. This is a popular option for a lot of recreational equipment. You have likely encountered kayaks, bikes, or simply storage boxes mounted to the tops of vehicles in the past. It keeps oversized items out of the way when they aren't needed while still keeping them out of reach from curious strangers. If theft is the single concern that struck bike racks from consideration, roof storage may be the ideal compromise. Yet, for us, the problem is three-fold: wear, weight, and space.
Bikes stored on the roof are still subject to outdoor wear and tear. Along with wind, rain, and sun exposure, we have a tendency to frequent trails where clearance can be a challenge. So the bikes could experience a bit of abuse from low-hanging tree branches or rocky overhangs. With e-bikes, despite their rugged construction, there's a lot of electrical components to consider. I'm not thrilled with the idea of leaving out these to the elements 24-7.
Exacerbating the problem: our bikes are HEAVY. They clock in at about 60-pounds. That's particularly heavy for a bike, but we wanted something that could straddle the divide between a street and dirt bike with extra-large tires and high capackty batteries. Furthermore, to reach the roof of our truck camper, we'd have to lift the bikes 11-feet above ground. So, lifting them at all is a workout. Hoisting them over our heads is a non-starter and just plain dangerous.
Finally, there is the question of space. For those with 25-foot travel trailers, there is often plenty of space for roof storage. But we installed ten solar panels last year. Between the panels, fan, and roof hatch, there is no space for storing bicycles on our truck camper's roof.
Once again: roof storage is a useful option for bicycles, but only if the bicycles are light and the roof is reasonably accessible.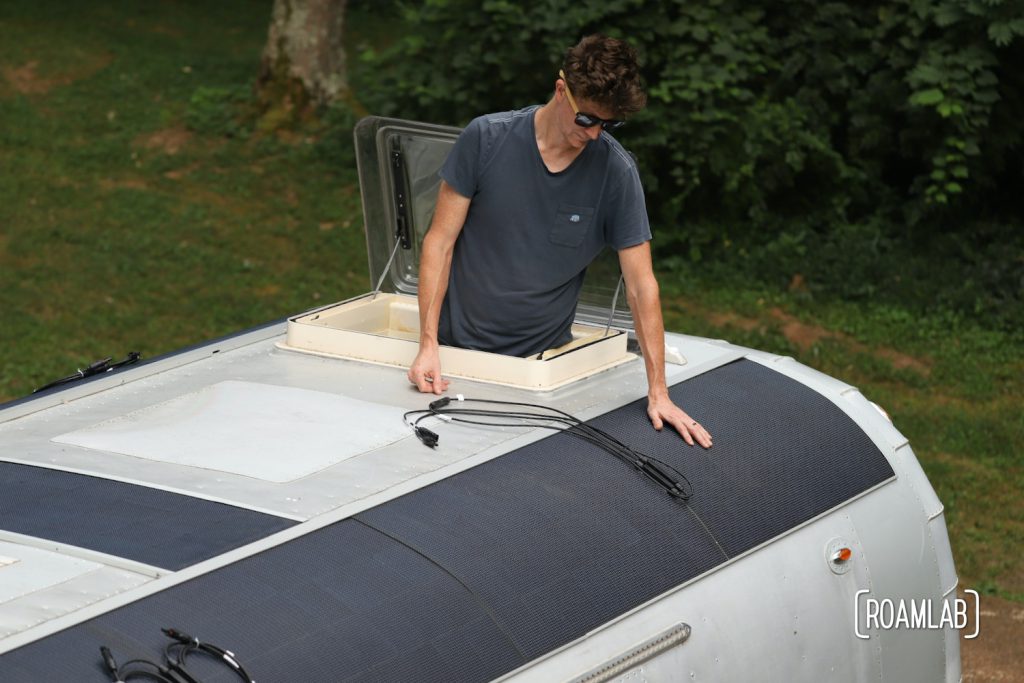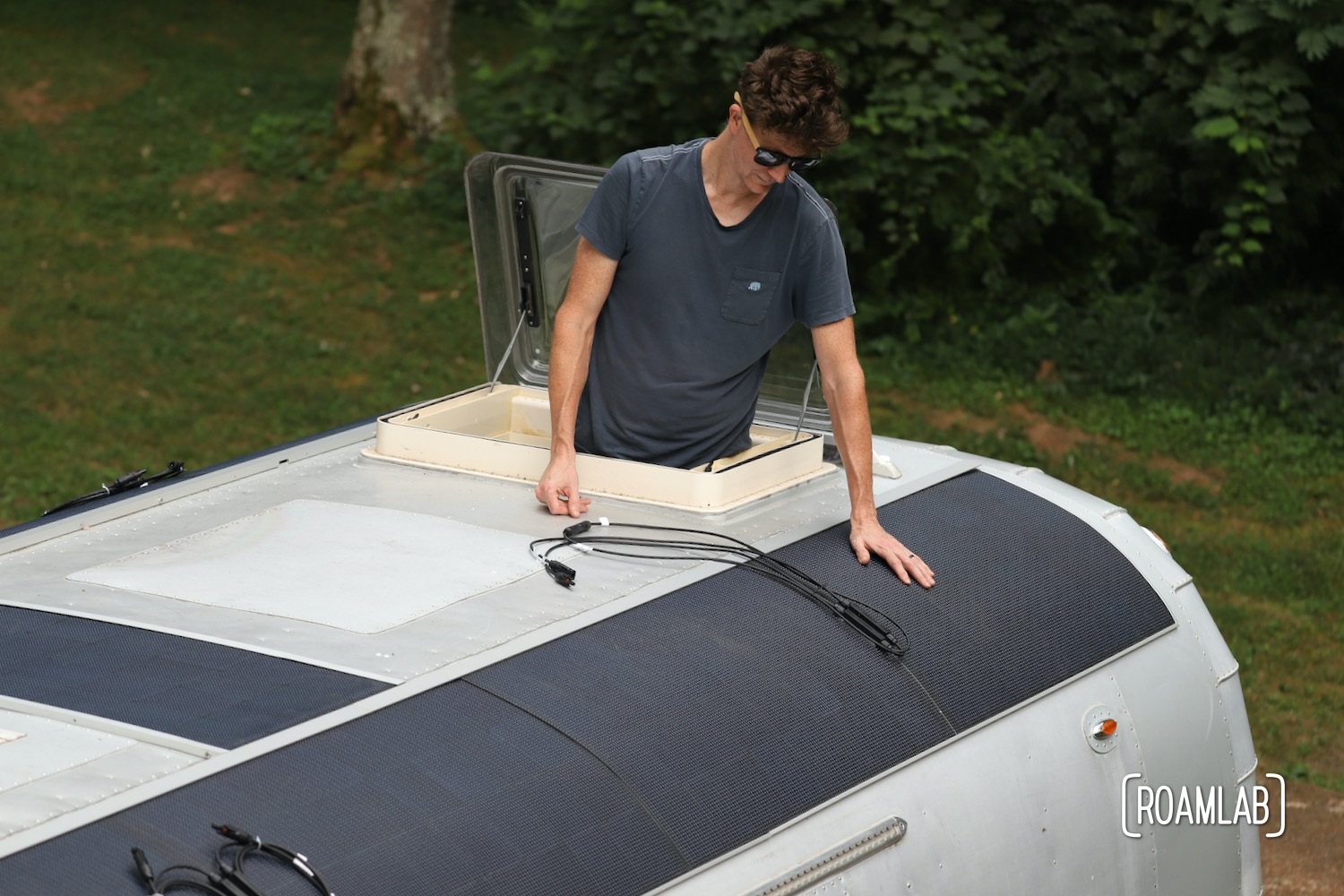 Interior Storage
So, we come to interior storage. Bikes stored inside are much better protected. Consider the popularity of toy hauler RVs which include a whole garage on board where dirt bikes, ATVs, and other smaller vehicles can easily be stored. Granted, those come with a cost, not just monetarily but size-wise. The larger the rig, the fewer places you can reach in it. This is why we chose a truck camper in the first place. Therefore, we don't have a garage. We have very little space at all. So the percentage of storage space that our bikes will consume is significant. This is a tough pill to swallow. But we think these bikes will be worth the trouble. Now where to put them?
In the Truck Camper
Between our truck and camper, the camper represents the largest amount of space. In small apartments, we've seen bikes hung on walls to keep them out of the way when not in use. But we can only identify two spots in our camper that are large enough to fit the bikes: the bed or the hallway. The bed is right out. The bikes would make too much of a mess. The hallway, on the other hand, is feasible. They fit and any mess they might make would be relatively easy to clean up. But they would constantly be in the way. Sure, there are some campsites where we could safely park the bikes outside while we are camping and then wheel them back in the hall when we are back on the move. But we often find ourselves in large commercial parking lots for quick stopovers where the bikes will be nothing but a hassle. Frankly, keeping the bikes in the hallway would be so inconvenient as to negate any value added by the bikes.
I could completely see how storage in the camper could work for RVer's with bigger rigs or who use their camper for limited trips where they only need to transport the bikes to their campsite and can then leave the bikes out until their return trip. But for full-time RVing in a small rig, storing the bikes in the camper is simply impractical.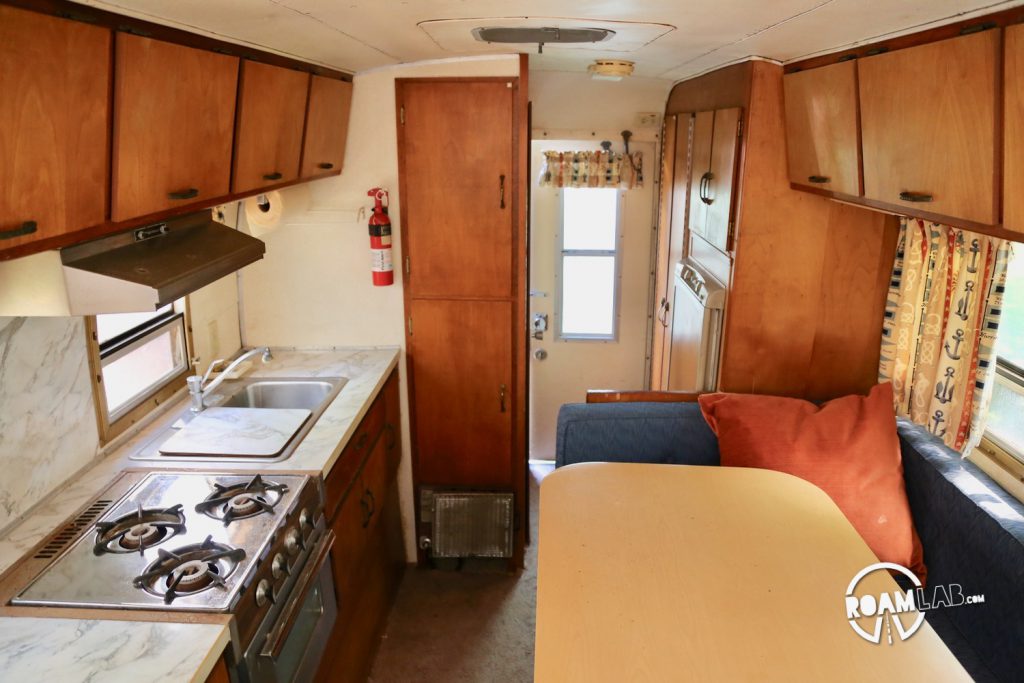 In a Trailer
I only bring up trailers because I have seen some people split the difference on the "access-ability versus storage RV length equation" by having a small rig and a trailer. In this case, I'm not referring to a travel trailer but a storage trailer. So, there are no creature comforts inside, just floor to ceiling storage. With this, one certainly could store bikes along with quite a bit of other equipment. Of course, this isn't an option for us. We don't have a trailer and have no intention of purchasing one. Big rigs, even with a detachable trailer, are not our style.
In the Truck Bed
Of course, this is inherently not an option for truck campers or fifth wheels, but storing bicycles in the bed of a truck is an ideal compromise for travel trailers. A lot of truck towed RVers already have invested in a truck bed topper for some additional storage. So there is not only space but protection for the bikes. And a truck bed is certainly a durable space even for messy bikes to be stowed away.
So, truck beds are perfect storage options for bicyclists with travel trailers, but not truck bed campers. But, for us, the truck bed is already taken.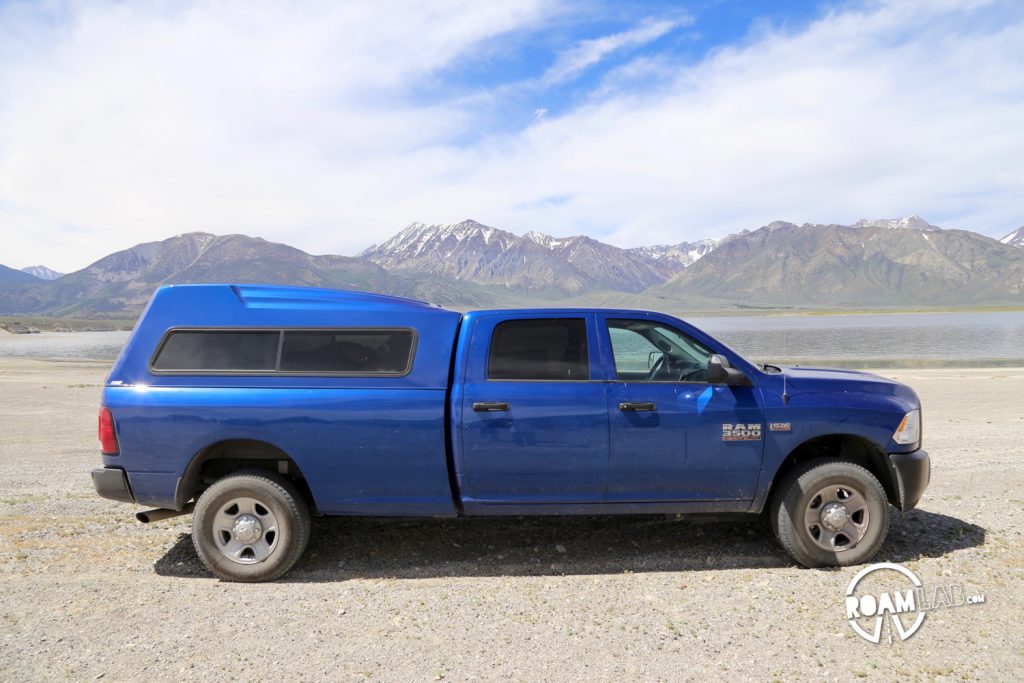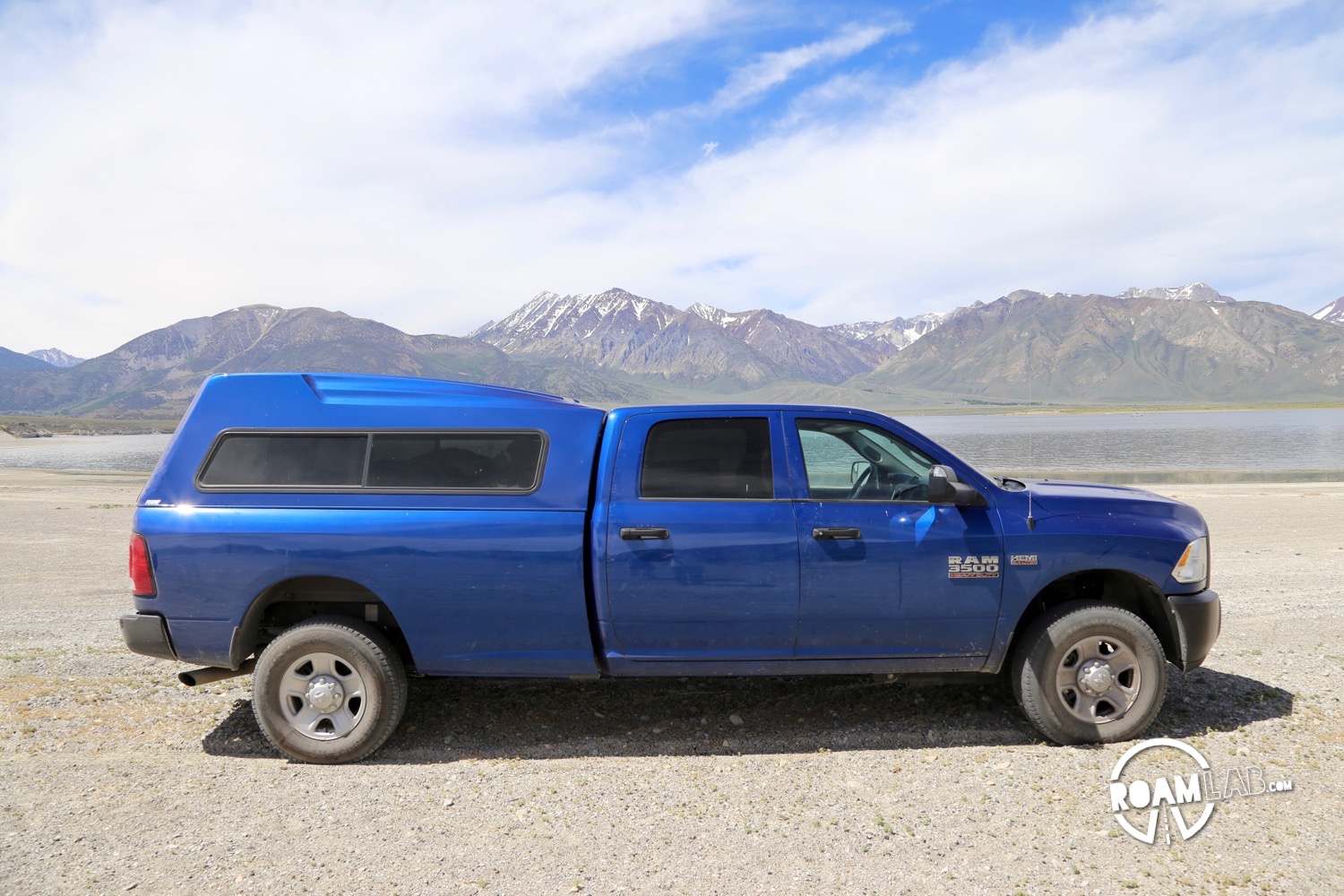 In the Truck Cab
Storing bicycles in the truck cab may seem a little counterintuitive. Of all the storage options out there, it is one of the most limited. There is very little space to work with. Fortunately for us, we have a dual cab. While we occasionally do use the back seat for other people to ride with us, it's very rare and has never been necessary. So, we are taking out the back seat and storing our bikes there instead. We already were using the space for storage: namely our cooking and campsite gear. But as our camper renovation progresses, those items are finding proper storage locations inside the truck camper.
Here comes the other caveat: we have folding bicycles. When collapsed, they are about half their extended length, just a little shy of the distance between the front seatbacks and the back of the cab. So, we are able to orient each bike parallel to each side door. My bike is behind my seat and Chris's bike is behind his seat. There is enough space remaining to fit a large cooler-style refrigerator in between the bikes. Since the lid is on the top, we can access chilled beverages and other treats from the front, without having to move the bikes.
While we have a lot of tweaks to add in the future, At the moment, we have installed a flat platform to level out the floor of the rear cab and allow for a little storage below the bikes. When the bikes are in the cab, they are strapped to hooks on the back of the cab that had secured the rear bench. To minimize any extra shifting while driving, we also tend to push back our seats to securely wedge the bike tires against the seatback. On occasion, we might through a coat over the bikes if they do start rocking on some particularly rough road to prevent any damage.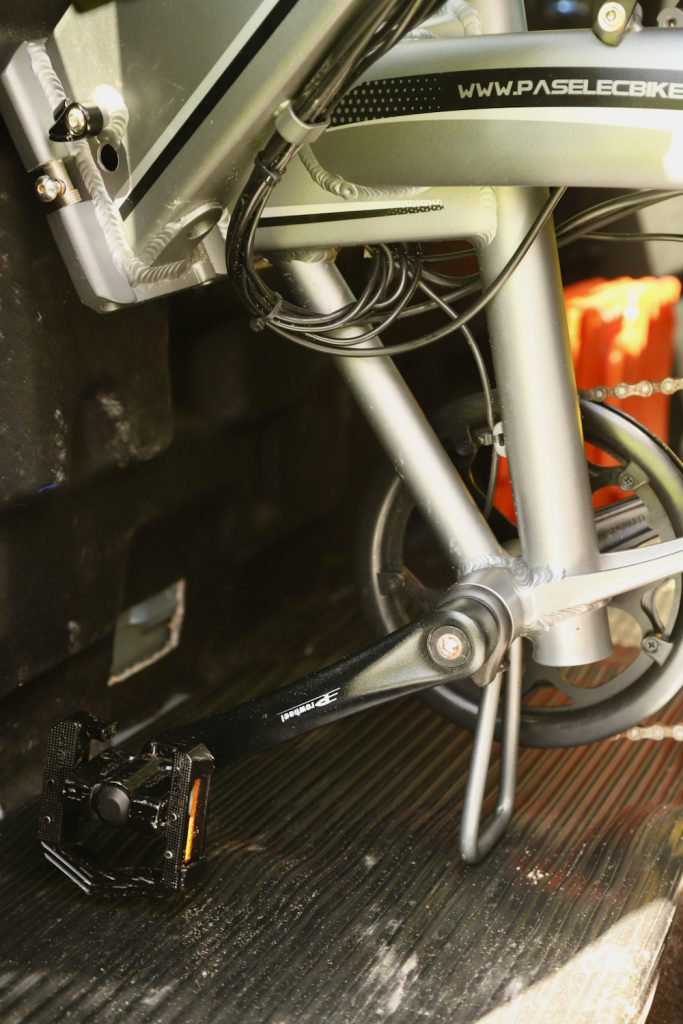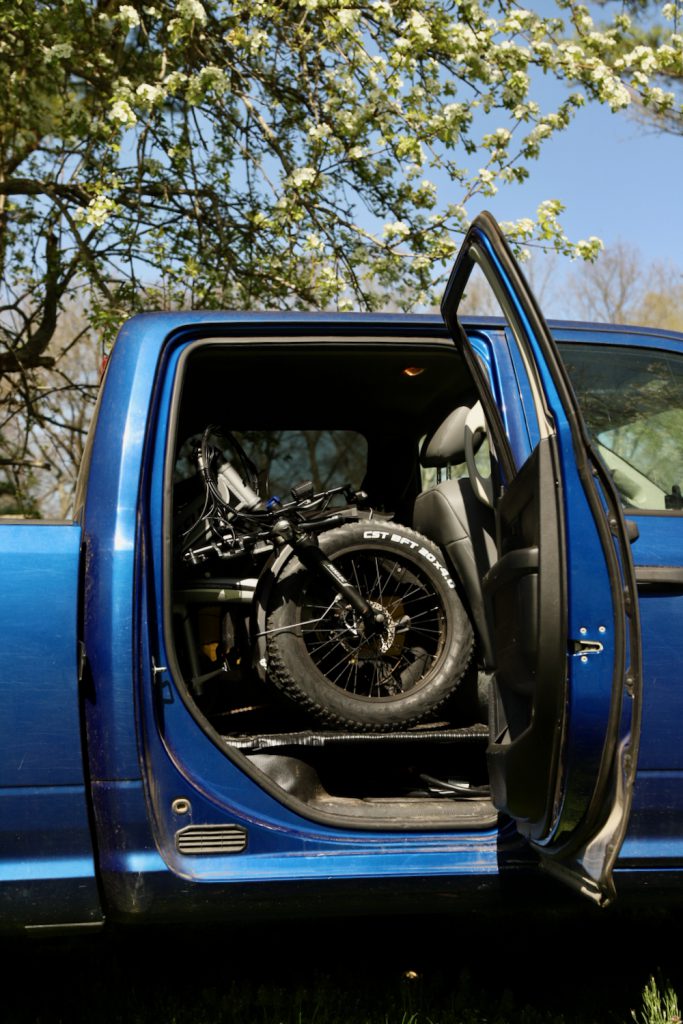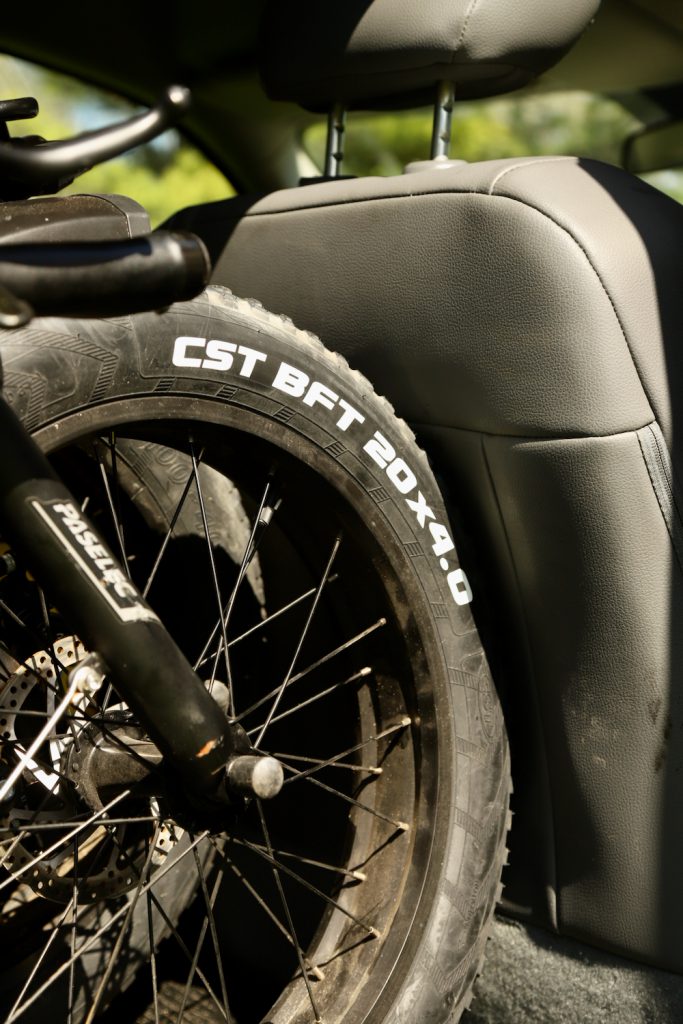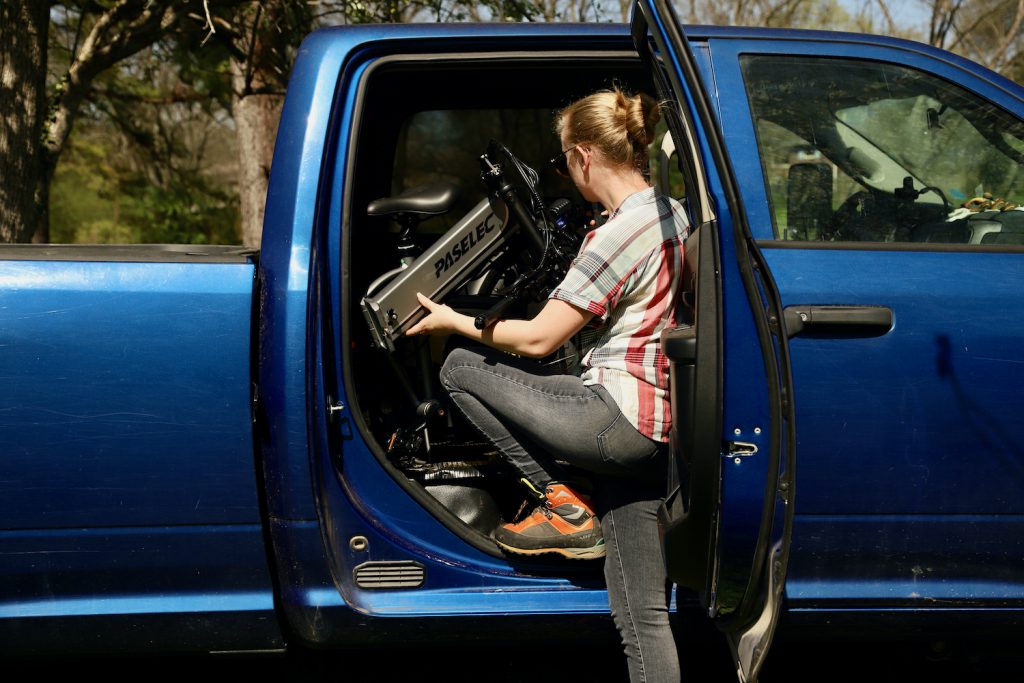 Conclusion
Like all the options listed, our chosen solution is conditional. Storing our bikes in the rear of our truck cab only works because we have a dual cab and only the two of us using the truck. Larger groups or smaller cars likely have to pick some other solution. The truth is, like any large object stored in a small space, traveling with a bicycle involves compromise. And selecting which is best is a deeply personal decision.
Do you travel with bikes? I'd love to hear how you store them in the comments below.