Valley of Fire State Park
Valley of Fire State Park was an afterthought for us. It happened to be a convenient location outside of Las Vegas with boondocking along the park's access road. But, my oh my, it has become one of the highlights of our winter wandering. 
About Valley of Fire
Valley of Fire encompasses 40,000 acres of red and orange sandstone rock formations in southeast Nevada. The fiery red sandstone that gives the park its name may look familiar to other famous parks such as Arches, Bryce, and the nearby Red Rock Canyon. Which makes sense as this "Aztec Sandstone" was formed from dunes stretching from Arizona to Colorado 150 million years ago. While the park's main draw may be the surreal red landscape, it also boasts petrified trees, petroglyphs, and wildlife encompassed by grey tan limestone mountains.
Despite the rugged environment, Valley of Fire carries evidence of human habitants tracing back thousands of years. Petroglyphs found throughout the park affirm the presence of prehistoric man in the region, 11,000 years ago. The petroglyphs themselves are attributed to the Basketmaker culture, which lived in the area 2,500 years ago. The Early Pueblo culture succeeded the Basketmakers, followed by the Paiutes, who lived in the area in 1865 when Mormon settlers arrived and began farming, ranching, and mining the region.
While development around the park continues today, this colorful wilderness is now protected. On Easter Sunday in 1934, Valley of Fire formally became Nevada's first state park (though the state congress didn't formally recognize it until 1935), preserving these dramatic rock formations, diverse wildlife, and human history for everyone to enjoy.
While technically a state park, fantastical rock formations such as the Fire Wave and White Domes draw international attention. Visitors come to hike, climb, camp, and photograph the park. And even filmmakers have been drawn to the landscape as a stand-in for Mars in Total Recall (1990), Veridian III in Star Trek Generations (1994), remote wilderness in The Professionals (1966), and a backdrop for the race finale of Elvis Presley's Viva Las Vegas (1963).
Wildlife in Valley of Fire
The rocky, hot, and dry Valley of Fire environment is still home to hardy desert brush and mainly nocturnal animals. Creosote bush, burro bush, and brittlebush pop up in sandy patches between rock boulders along with occasional cactus such as beaver tail and cholla. Coyote, kit fox, spotted skunk, black tailed jackrabbit, and antelope ground squirrel often escape visitors notice by taking shelter in the heat of the sun and exploring the park in the cool quiet hours that come with dusk. An exhilarating encounter would be with the rare desert tortoise.
There is wildlife spotted during the day, such as the raven, house finch, sage sparrow, and roadrunner. But most noticeable and celebrate is the desert Big Horn Sheep. These seasoned rock climbers are common sights throughout the park.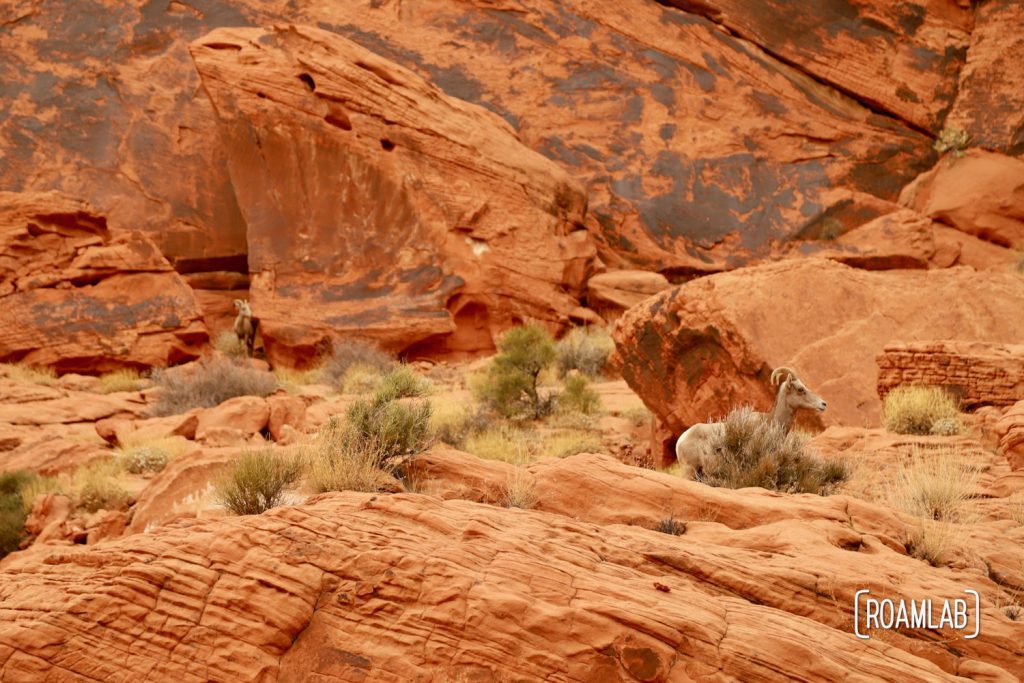 Visiting Valley of Fire
Valley of Fire is an hour drive northeast of Las Vegas along Interstate 15 and the rough and worn Valley of Fire Highway. Being a day trip distance from a major metropolitan site, Valley of Fire enjoys moderate popularity. Campgrounds are often full, and trails can get crowded, but there is always something to visit.
The park includes many conveniences for visitors. Shaded picnic and day-use spaces are scattered around the park with bathrooms at Atlatl Rock, Seven Sisters, the Cabins, near Mouse's Tank Trailhead, and White Domes. Pets are welcome but only on leashes 6-foot long or less. Activities that might pose a risk to the rock faces and relics preserved in the park, such as rock climbing, are limited to designated areas.
The Valley of Fire is a desert and can live up to its name during the summer when temperatures reach 120°. Even in the winter, the valley can surprise visitors with temperatures below freezing. But, more often than not, winter is a comfortable time to be exploring this remarkable and exposed region.
Driving
Valley of Fire distinguishes itself from other parks with not only its rock formations but the scale and expanse of rippling orange and red sandstone that dominates the landscape. While hiking the trails may be exhilarating and deeply rewarding, even a drive down White Domes Road is breathtaking. In this way, Valley of Fire is remarkably accessible to people with varied mobility.
Of course, with so many amazing views, it can be tempting to pull over constantly. It's important, however, to stick to designated pullout sites and parking lots rather than potentially damage the delicate ecosystem or disrupting traffic by stopping in undesignated spots.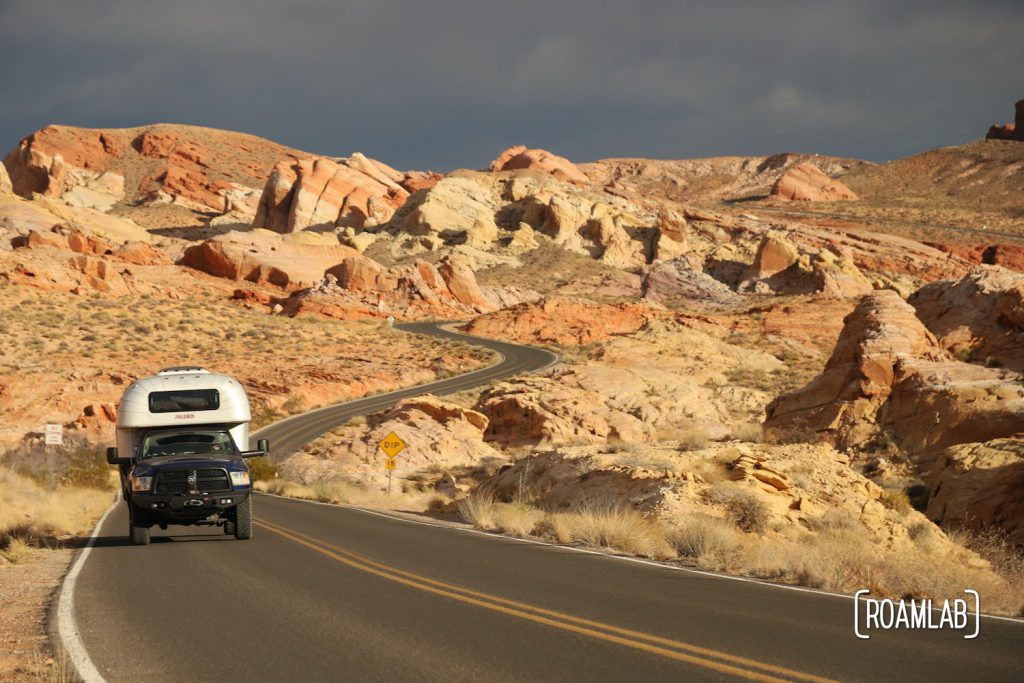 Hiking
Valley of Fire has an extensive trail system for easy and challenging trails. It is one of the few parks where I have a hard time imagining a "bad trail." What could make a hike disappointing wouldn't be mediocre views but lack of proper preparation before starting a hike. In this rough, dry, and exposed environment, it's key to come prepared. Where sun protection, bring water and wear sturdy shoes with solid treads. Check weather predictions before launching on any long hikes. Many trails run through washes or exposed, slick sandstone where flash flooding or sun exposure can be significant dangers. Swing by the Visitor's Center for recommendations and some background on what to look for on your hike.
Camping
Valley of Fire boasts two amazing campgrounds in the park: Arch Rock Campground and Atlatl Campground. Both campgrounds include shaded tables, grills, water, and access to restrooms, a dump station, and showers. Designated RV sites also include electric and water hookups. I'm rather surprised by all the RVs as the access road to either of these campgrounds is narrow with tight corners, but campers manage to wedge their trailers in place.
Together the campgrounds account for 72 first-come, first-serve sites. And between the proximity to Vegas and the downright amazing sites, scoring a campsite can take some coordination ahead of time. Campers can stay a maximum of 14 days over a 30 day period. That hard limit is likely necessary, or the grounds might fill up with semi-permanent residents.
Along with the general campgrounds, there are 3 group camping sites for up to 45 people. Unlike the other first-come, first-serve sites, the group sites allow and actually require reservations in advance.
Boondocking alternatives
The popularity of camping in the park can pose a problem for latecomers that don't score a spot. Fortunately, there are many boondocking opportunities outside of the state park's boundaries. Valley of Fire Highway, which connects the state park to Interstate 15, also travels through extensive public land. Many dirt roads outside of the park's borders lead to dispersed campsites.
Given that this is boondocking, there are no amenities. These aren't primitive campsites with fire rings, picnic tables, and pit toilets. Boondockers pack in their water and supplies and pack out trash. The nearest amenities are found either in the park, or the truck stop off I-15.
Even as a fallback, it pays to plan ahead when boondocking here. Be sure to scout out a site before dark. Like many boondocking situations, these sites are not well marked, and the dirt roads to access them are not easily noticeable when relying only on headlights. In addition, the park's popularity and the affordability of camping on public lands (free), means that any large, convenient boondocking site will likely attract many additional campers. The closer you come to the state park boundary, the denser the campers are gathered. Escape the crowds by allowing a little more distance from the main road.
Be conscious of the park borders. While driving along Valley of Fire Highway, we can spot several pullouts that likely have been used as boondocking sites in the past. Some of the larger sites even have signs alerting passers-by that overnight camping is prohibited. Signs like that usually don't pop up unless overnight camping has been a problem in the past. So don't be part of the problem, no matter how scenic that pullout may appear.
Our Experience
Valley of Fire blew us away. We've been to many scenic state parks where we can appreciate what made them special and then move on to the next diversion. But Valley of Fire is the kind of place that overwhelms the senses. The drive, the hikes, and just exploring the area are exhilarating. Even if you are short on time, it's worth the diversion to drive along White Domes Road and maybe catch a short hike. You'll likely wind up adjusting your plans to extend your visit.