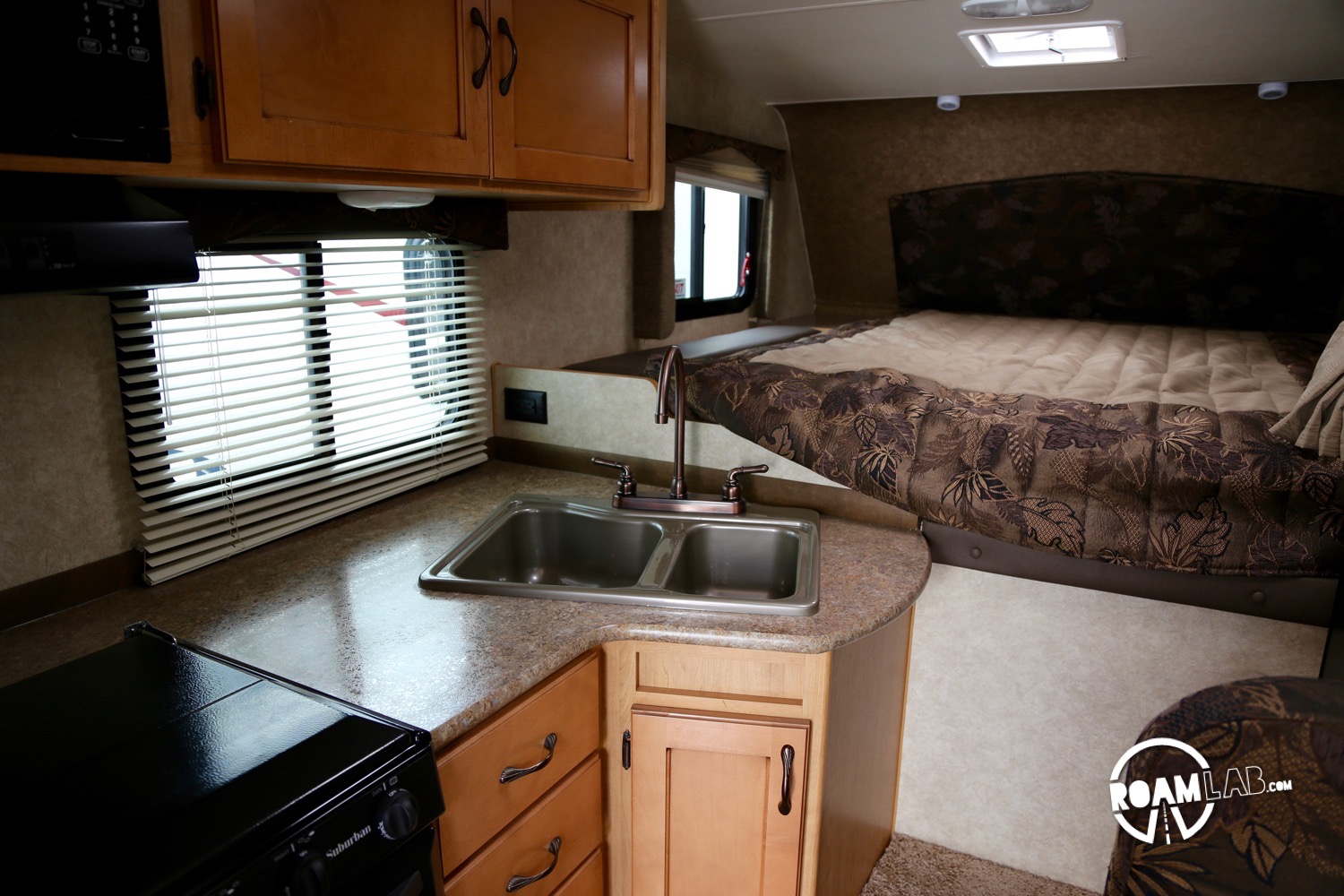 Adventurer Truck Campers
Today we finally got around to viewing some truck campers. We had been researching different campers for quite a while but there are limited vendors that actually stock and sell truck bed campers. If you go to a Camping World there will mostly be RVs, 5-wheels, and trailers. Maybe fewer people want truck bed campers because they are smaller, but it's that size that allows a nimbleness in travel that no other camper provides.
Size still matters, of course. There is a minimum amount of space that the two of us need without either of us being driven mad. But, as Dodgy I and Dodgy II demonstrate, that doesn't have to be that large of a space.
Slide-Out Camper
Truly, it is amazing how large truck campers can get. Some are so extreme that they expand on both sides and the back of the camper to make a mind bogglingly large living space, complete with sofa, marble counter tops, and a decorative fire place. This was not the kind of camper we were looking for. Slide outs are heavy. Not only would they add to the top heaviness and devastate the gas milage of Dodgy, but, frankly, they are out of our league. Such campers are so heavy that trucks needed dualies (an extra tire on each side of the truck's back axle) to haul them.  We had already decided against those because the dualies have trouble with rocks getting lodged between them in off roading situation.  No, we wanted something lighter.
Pop-Top Camper
Our initial plan was to go for the extreme opposite of the luxury spectrum and get a pop-top truck camper. These are the most compact of truck campers. Rather than having stiff siding throughout, the top section can collapse to lower the profile of the truck and camper. This is a favorite rig for those traveling the Pan American Highway as it is relatively light and flexible. We already had enough trouble trying to park in city parking structures. That a lower profile was very appealing. But when we walked in to one of the pop-tops in the lot, there was an obvious problem. The fabric parts of the walls let too much light in the camper. We tend to have erratic sleeping habits when we work and part of the goal with getting a camper would be so that we could better work while on the road. But the camper was so flooded with ambient light that we would have to be well and truly exhausted to be able to sleep when the sun was up.
Table
Most of these dinette areas a designed for small meals and socializing. They're big enough for a few people to sit around and set down their beer. We need a space the skews to the largest size of tables supported. I have a relatively small laptop but the traveling companion's is quite large. So, the table has to be long enough for each of us to have space.
Kitchen
The kitchen is a very important part. Space is a premium, and counter space in particular. That's why having covers for the stove top and sink are important: that opens up more space for initial cooking preparations. I don't cook a big meal every day but I do like to cook fairly often. So having a usable kitchen is a challenge but a necessity. My preference would be to have the model of stove top where the cover sits flush with the rest of the counter top, but this doesn't seem to be a consistently available feature.
Sleeping Area
Finally, there is the sleeping area. This is a truck bed camper, so there is no space for a secluded sleeping area. The only two doors are the one outside and the one to the bathroom. In fact, it's better to have a more opened floor plan. Given that the sleeping area mostly only has enough room for a bed, arrangements where the bathroom and closet are right next to the bed (closing off the sleeping space) can make the space quite claustrophobic. Instead, it is good to have the kitchen and table against the bed so that there is continuous open space. There is a choice between a king sized bed and a queen sized bed. The King is larger but that means it takes up the complete width of the sleeping area so there is very little space to place things near the bed. Since we have always opted for queen sized beds (and have managed many times with twins) a queen sized bed is not only acceptable but preferable. With the remaining space, we can have storage for bedtime articles as well as flat surfaces to keep a glass of water.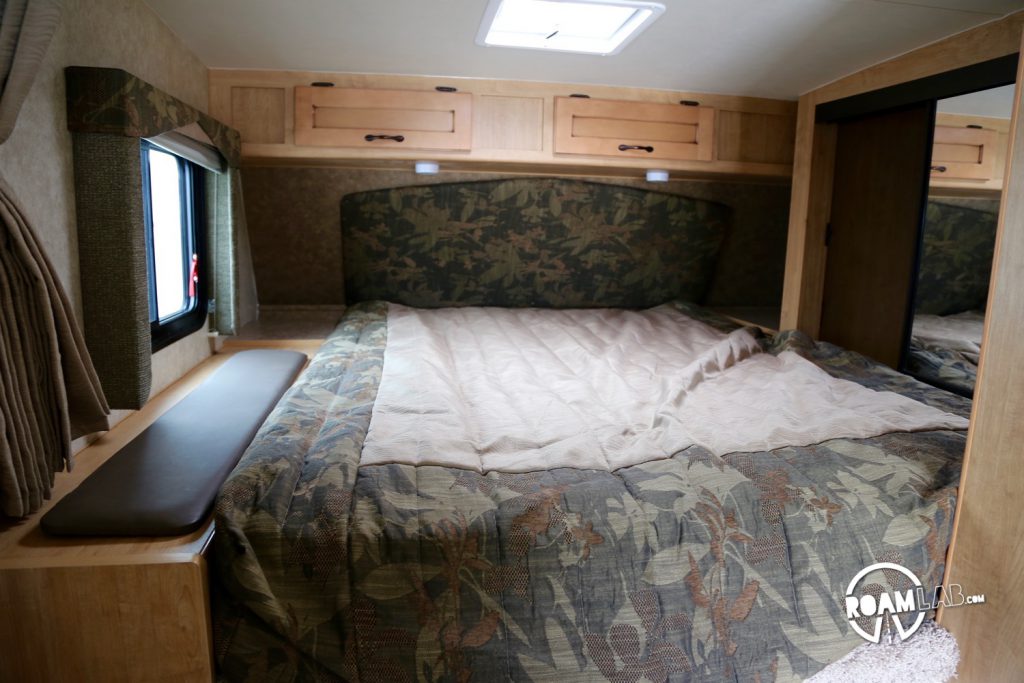 Current Thoughts
We haven't settled on any one camper yet. At the moment, the Adventurer Truck Camper Model 89RB is the closest to what we consider to be acceptable. It has a responsibly sized bathroom, a kitchen with some counter space, a mid sized table top, and plenty of bed-side storage. But it lacks a modernity in design aesthetic which we are searching for. This isn't meant to just be a weekend camper. This is going to be our home. And, for once, we'd like to have a place that is well and truly ours.