Overlanders are world travelers who glory in the road less traveled. They explore on motorcycles, jeeps, and trucks across gravel, dirt, and mud roads and even into regions barely reached by vehicle. They love the wilderness and bring their homes with them, be it a hammock, tent, or truck bed camper. And every year, there is a gathering for those wanderers who may have rolled into North Carolina to meet and learn at the Overland Expo East 2016.
Overland Expo East 2016 was a weekend of lectures, discussions, hands on tutorials, and general overland appreciation on the Biltmore Estate in Ashville, North Carolina. We got weekend tickets with camping, which meant that we rolled onto the Biltmore Estate at 3:30 on Thursday, settled into a field in the back of the Biltmore, and didn't leave until Sunday evening when the event concluded.
We shared the field with other truck bed rigs, complicated rooftop tent configurations, and even towering Unimogs. As someone who inhabits a relatively simple DIY truck bed camper, our neighbors' rigs were simultaneously inspiring and daunting. We were flanked by other trucks with similar truck bed sleeping situations. To our left was a pair of nurses who also had a platform bed under a shell in the back of their truck. Behind us was a popup truck bed camper with an additional trailer which expanded into a full featured kitchen. To the left of that was a homemade tear drop camper. To the left of that was a massive Unimog which the owners had sunk over half a million dollars into. There are so many ways to travel, and there was an impressive representation at the expo.
Inside of the expo proper were vendors selling anything from a freeze dried food "multilevel marketing" scheme to custom campers at every price point. We hemmed and hawed over electric coolers that we could hook into the truck's cigarette lighter. They could be so handy but they certainly weren't cheap! We ogled tents designed to hook off of the truck back to create an extended, covered region. And we spent no short amount of time contemplating the truck bed campers. We could be so much more productive if we had a table to work at and so much happier if we didn't have to go outside in the middle of the night to go to the bathroom. But we'll still have to wait for that happy day.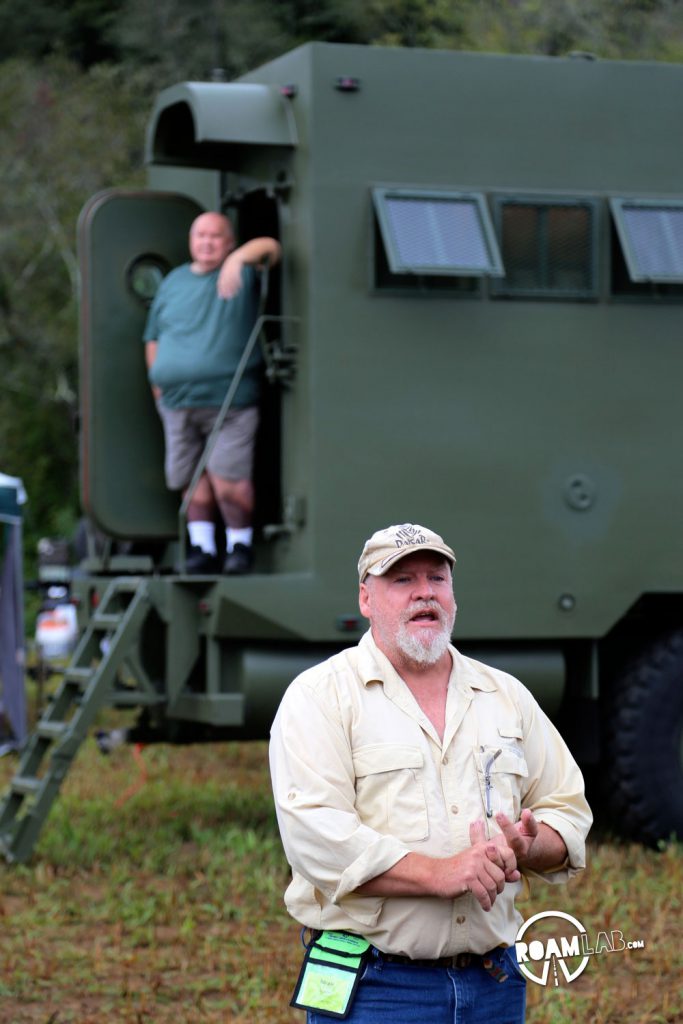 We attended talks covering traveling Africa, top stops in Alaska, bribery at border crossings, and machete skills. One of the best attended talks was the one on security. People have different expectations, but I'm amused that even at Overland Expo, there are those concerned about even camping in a Walmart. More creative guests presented their custom vehicles: hulking military conversations, homey ambulances, rugged jeeps, and others.
But best of all, I truly enjoyed meeting other enthusiastic travelers and hearing their stories. Even though we brought food with us, we made a point to buy dinner in the food tent so that we could sit at one of the large tables and chat with other fellow travelers. It was like trying to find the right table to sit at in high school except that most every table was great and nobody was mean.
Did I mention that Hurricane Matthew was blowing through? Thankfully, we were far inland and only experienced pouring rain and 40 mph winds. A few tents packed it in, but this is par for the course for overlanders. We found our truck bed camper to be reassuringly dry.
Perhaps, next year, we'll make it to Overland Expo West.