River Road
Big Bend National Park
Despite its name and proximity to the Rio Grande, the 50-miles of River Road offer very little in the way of views of this famous waterway.  What makes the road notable is a different aspect of its location: within the borders of Big Bend National Park. 
River Road is a rough gravel combination of East River Road and West River Road traveling through the southwest edge of Big Bend National Park, roughly paralleling the Rio Grande. It's hardly a scenic road, and its main function appears to be access to the 15 campsites located just off it or the Mariscal Mine, which appears to be the only notable landmark along the route to speak of. The park rangers that we talk to are slightly confused why we would want to drive the length. It's relatively bland relative to the rest of the park. But for us, this through trip a matter of curiosity, more than anything else.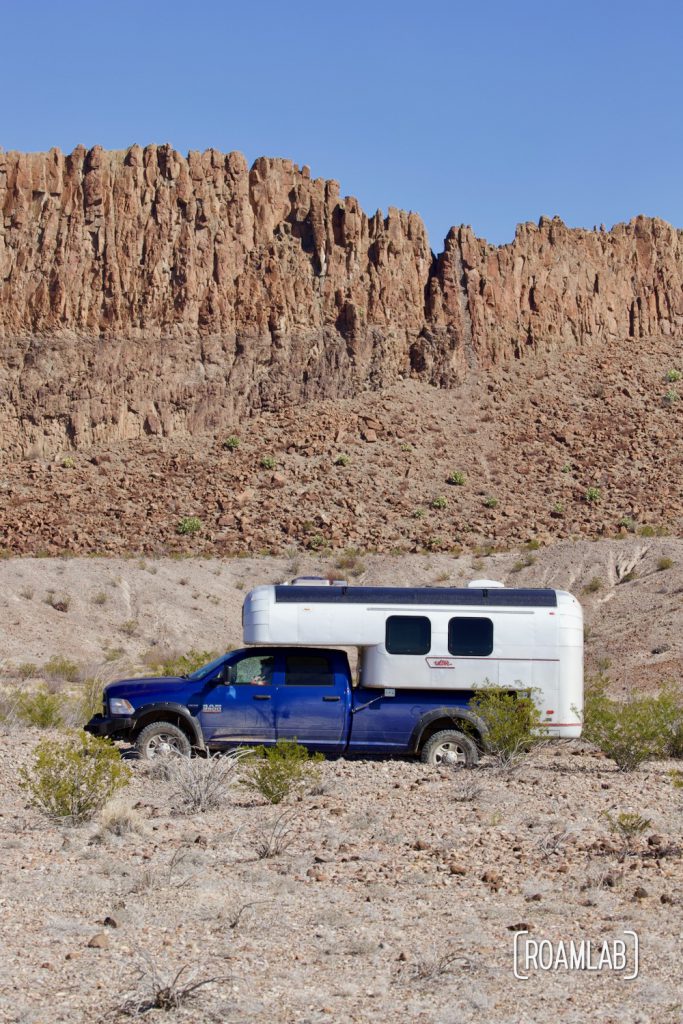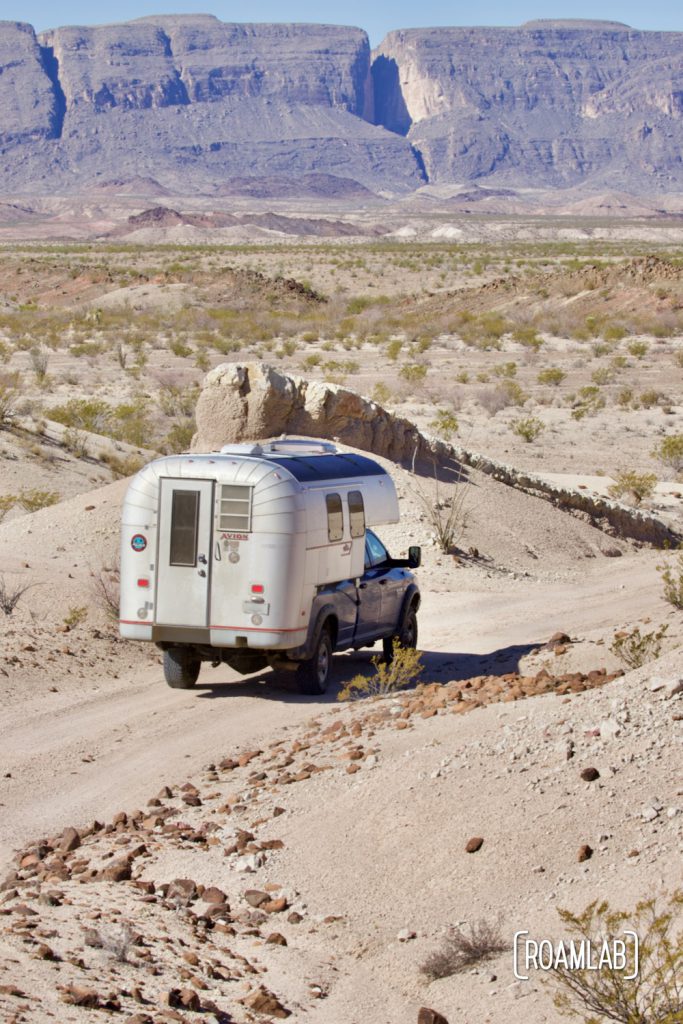 Driving River Road
While much of River Road is reminiscent of other unpaved routes on public land, one perk of driving in a National Park is how well-marked intersections are. When East River road converges with West River Road and Glen Springs Road, it is clearly marked with a tombstone-like marker at the intersection pointing out the direction of each road. 
Driving River road is similarly straightforward. The road is relatively wide, with plenty of spots to pull out to allow oncoming traffic to pass. Aside from a few larger stones that cause the vehicle to shimmy while driving over them, the road is evening graded and relatively smooth.
The terrain wavers between gravel and hard-packed clay. On a dry day, such as when we visit, we rarely feel the need to switch to 4-wheel drive. 13-miles down East River Road, we switch into a precautionary 4-wheel drive high, but even then, it is a fairly tame stretch of wash. Mainly, we take the road slow enough not to shatter our teeth or tie-downs on the washboard. Yes, there is washboard.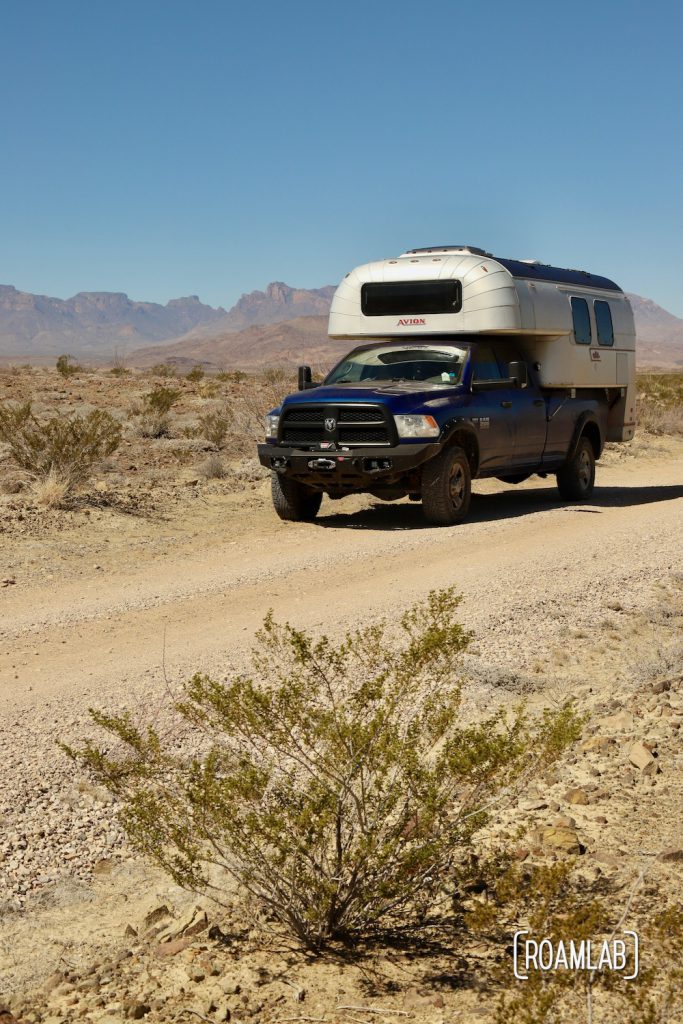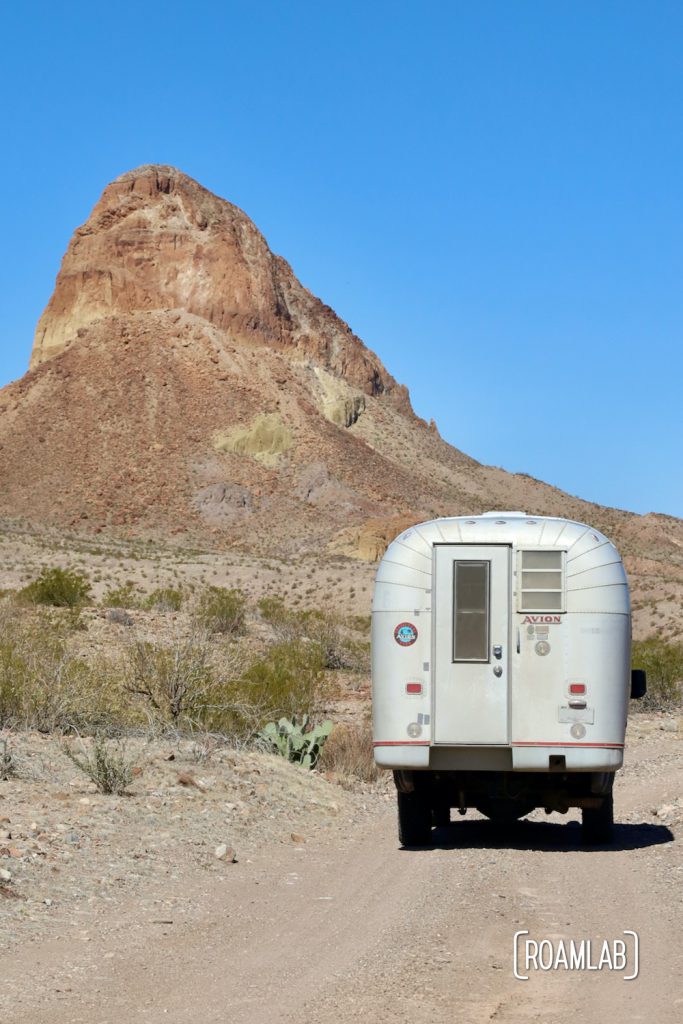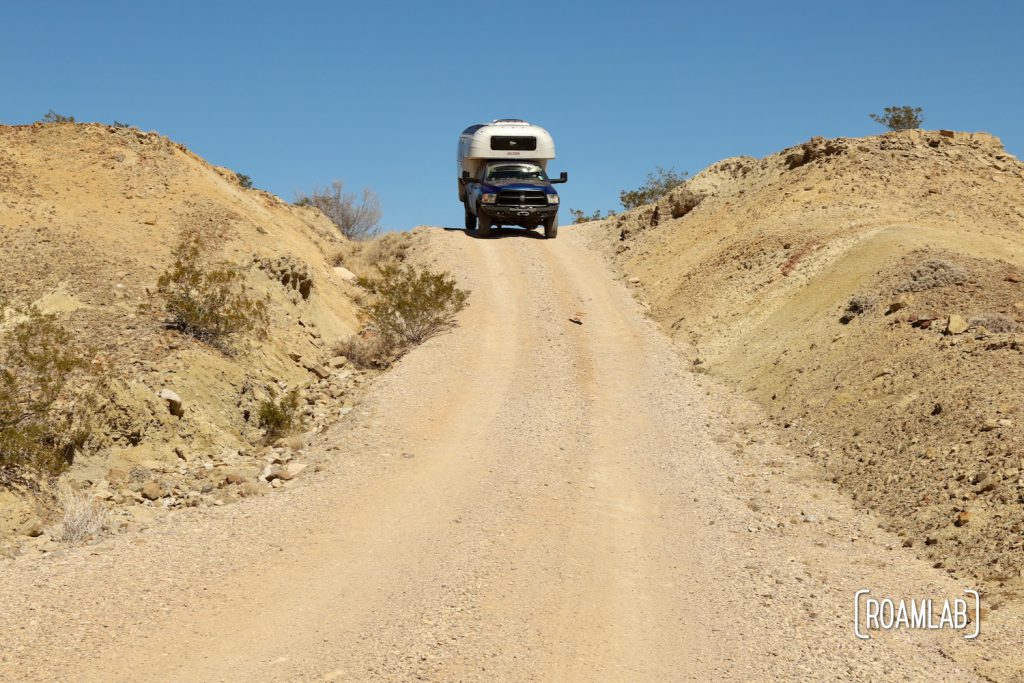 Washboard
Granted, every frequented level gravel road comes with a fair bit of washboard. Repeated passes by speeding vehicles have bounced ripples of discomfort into River Road.  And so it's not such a surprise that our Monday afternoon drive down the first twenty miles of the easterly entrance meet with little oncoming traffic. The Jeep and truck that we encounter while driving are dwarfed in number by the 10 or so motorcycles and automobiles that pass our campsite after we settle in for the afternoon and evening.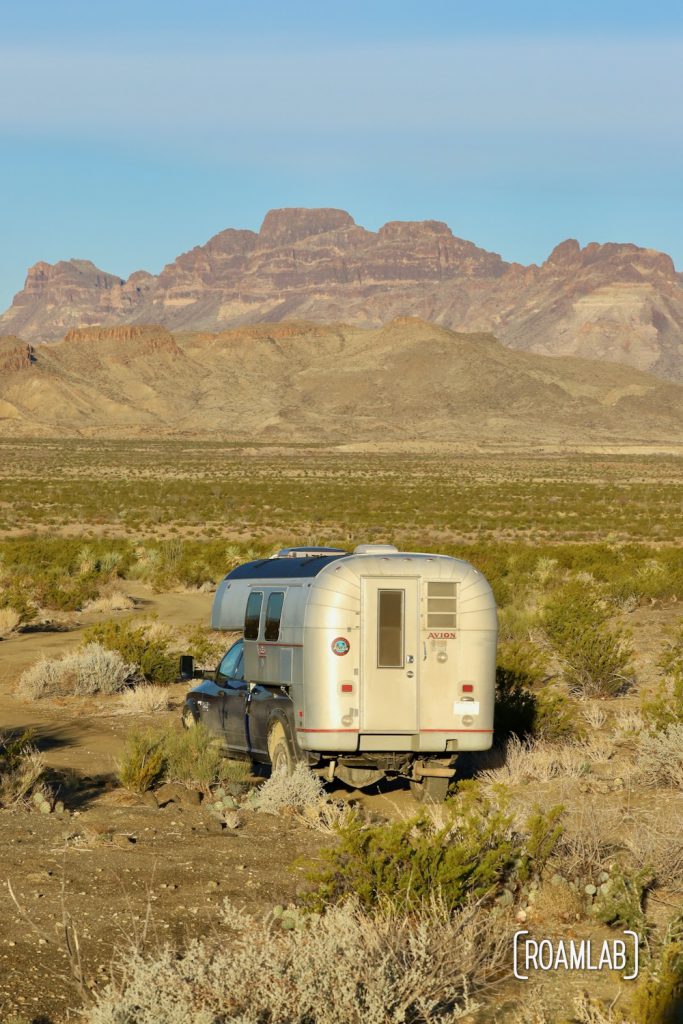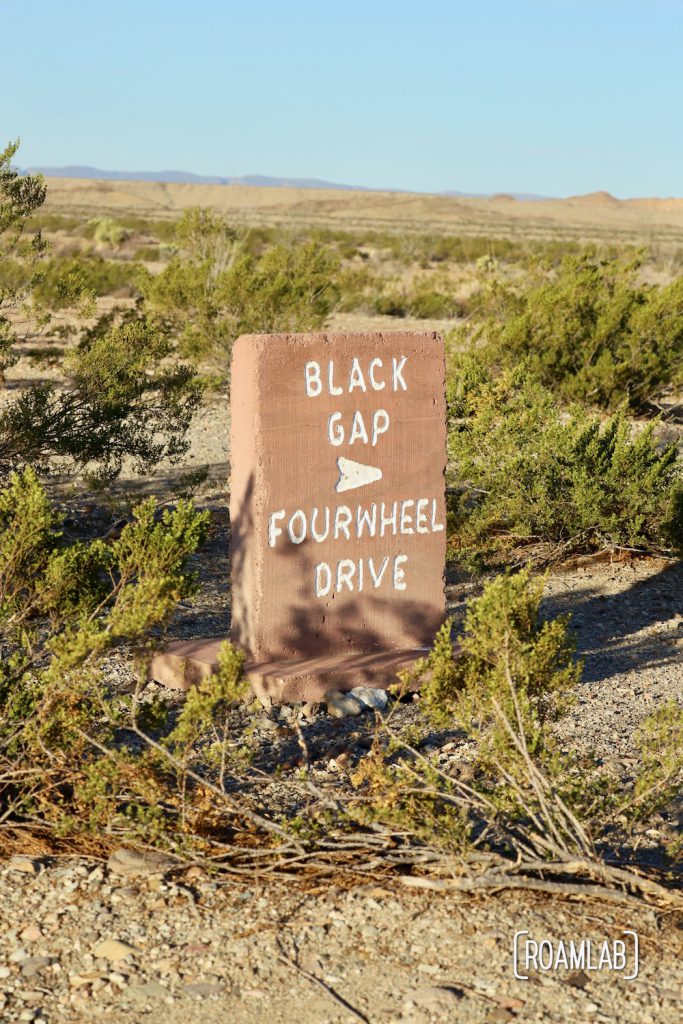 Along the Rio Grande
Midway through the trail, we transition to West River Road and enter a region dense with deep washes and ravines. Runoff from the mountains to the Rio Grande carves out a roller coaster as we exit one large wash to enter another. These elevation shifts are where we start to appreciate River Road's 4-wheel drive requirement. We even encounter a rocky patch reminiscent of Old Ore Road but hardly as challenging. These rolling washes aren't terribly technical, but they do require control.
As we travel west, the road flirts with the Rio Grande. We swing close to the river banks but never enough to see the water. Here, bushes grow taller, and even a few trees make a valiant stand against the searing sun. Clearance becomes a momentary and surprising concern as the trees brush up against the sides of our camper. Not enough to cause serious clearance issues but enough to threaten pinstripes.
Things to Know
As uneventful as our trip down River Road may be, there are some points of concern that and prospective driver should be aware of. After all, we pass through several gates along the road that could close off sections of flooded wash. They were open for us, but they could be closed under other circumstances. We are driving this road on a dry day. In the desert, that isn't a surprise in itself. But there's plenty of evidence of other driver's struggles on muddy days. One particularly steep climb out of a wash is deeply rutted from years of spun wheels. For us, though, that easily translates into a few bumps as we climb back up to a flat plateau. 
We also encounter a few narrow sections with a rock wall on one side and a drop-off on the other side. These aren't the heart-pounding stakes we've encountered on roads such as Shafer Trail, but they could certainly damage and trap an unscrupulous rig. 
Overall, if you have 4-wheel-drive, decent weather, and a modicum of experience River Road should be an easy excursion off pavement.
Camping off River Road
River Road connects 15 dispersed campsites along its length. Each site is clearly marked with a sign indicating the access road and large stones outlining the parking area and tent site. There is a bear box but little else. Campers must bring or dig their own latrines, pack in water, and pack out trash. But what you get in return is wilderness. During the day, most sites are close enough to the road to see traffic passing by. But in the evening, there is blessed isolation. The fifteen sites are spread relatively evenly across the 50-mile road.  River Road is far from your customary campground loop.
For this exclusivity, you do have to jump through a few hoops. These campsites are only $10 but cannot be reserved in advance. Would-be campers must personally visit the Panther Junction Visitor Center to reserve campsites the day of or one day in advance.
In our case, we were fortunate to arrive Sunday afternoon and have three choices of a campsite for the following Monday night. We settled on Fresno campsite, which you can read more about in our detailed write-up.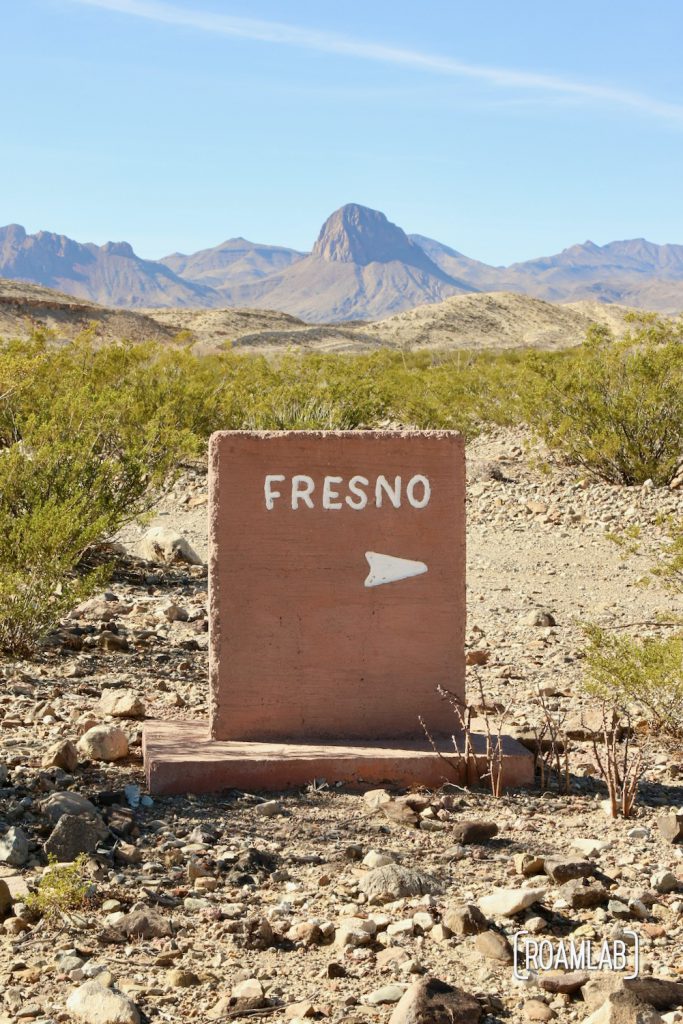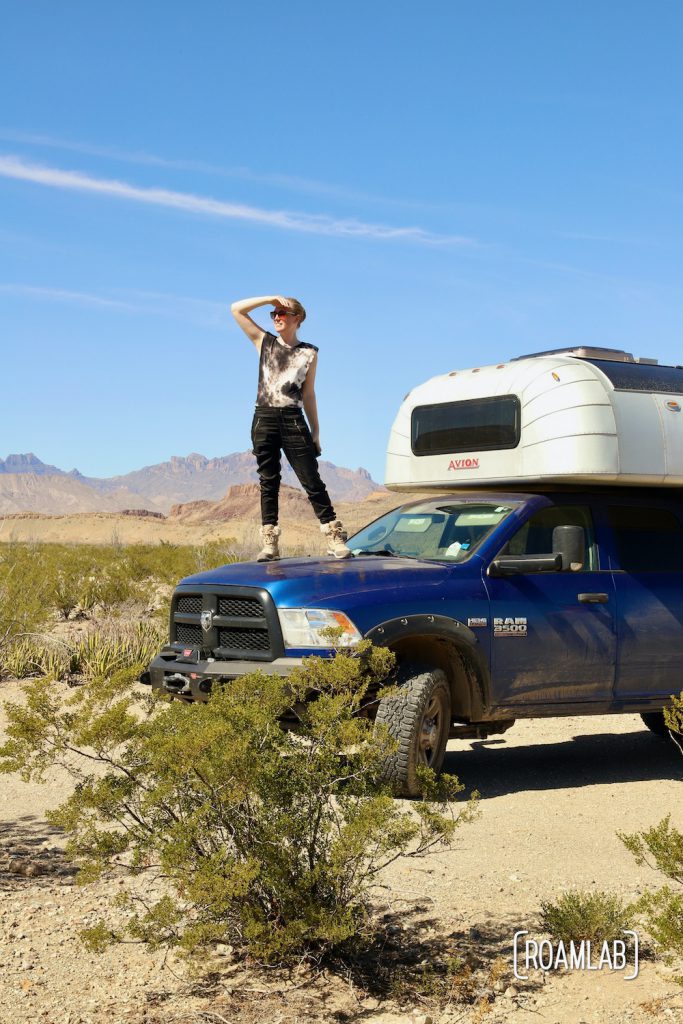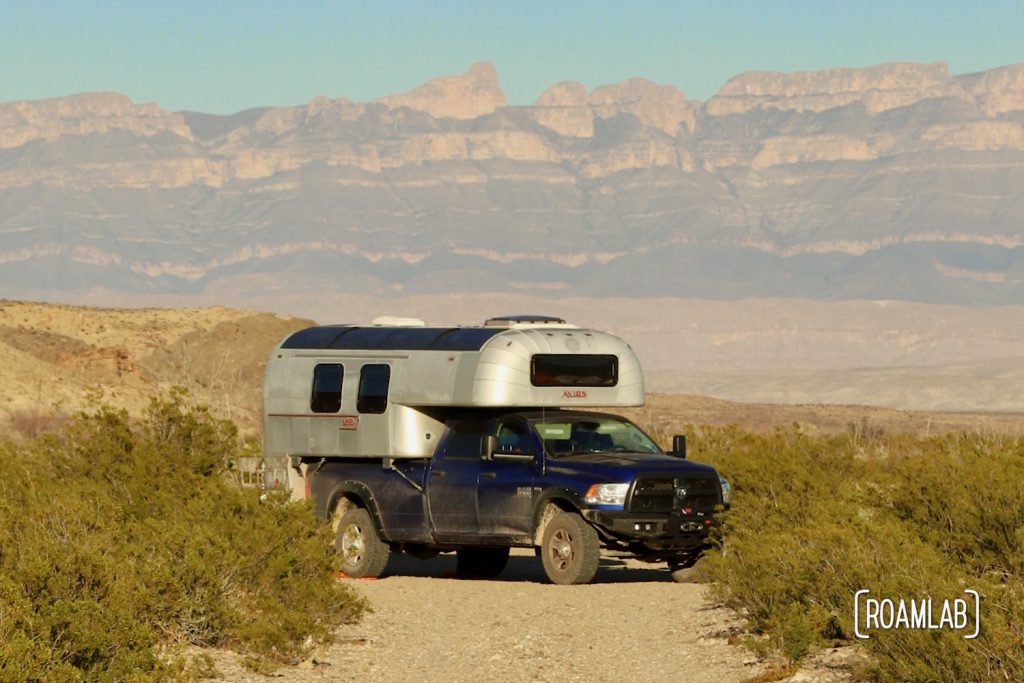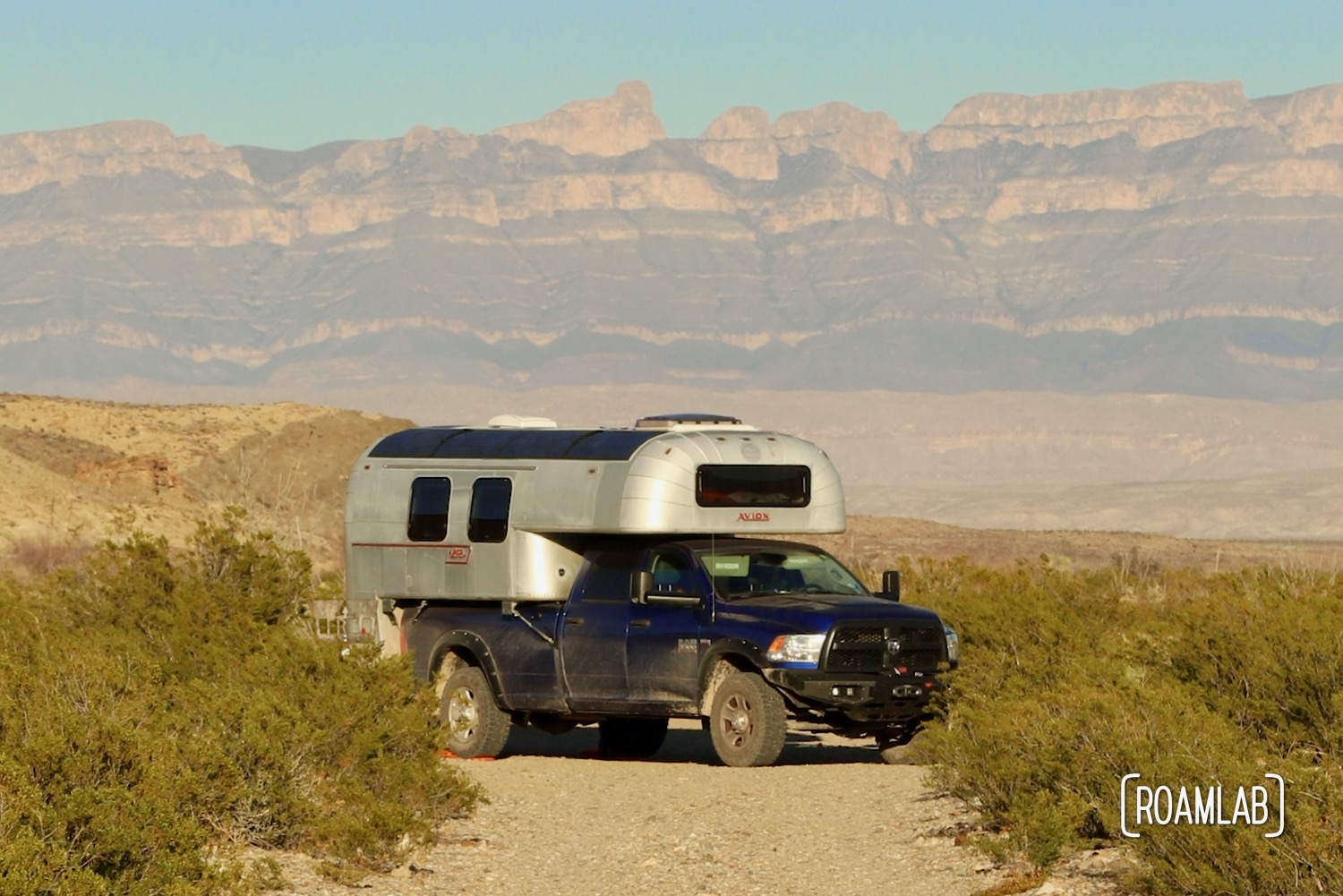 Wildlife on River Road
The ecology of this river desert region supports a wide range of wildlife.  As we start down River Road, we spot a brown eagle in flight, circling overhead and then off into the distance. We encounter a couple of kangaroo rats at dusk hopping around our campsite, as well as a pack of horses and mules in a wash the next morning. We'll get more into those later.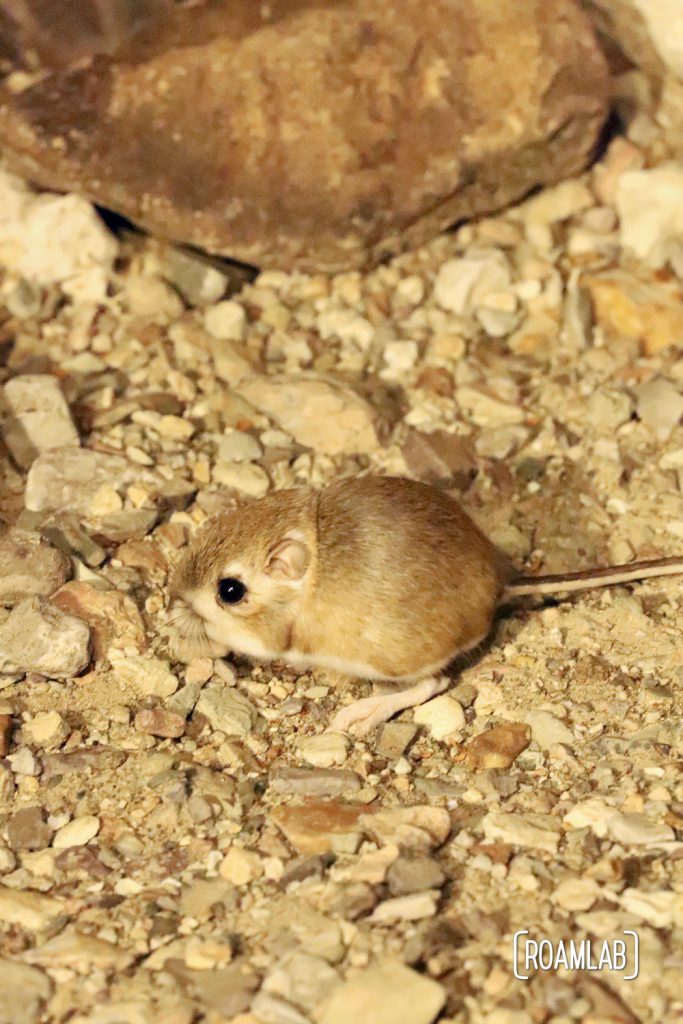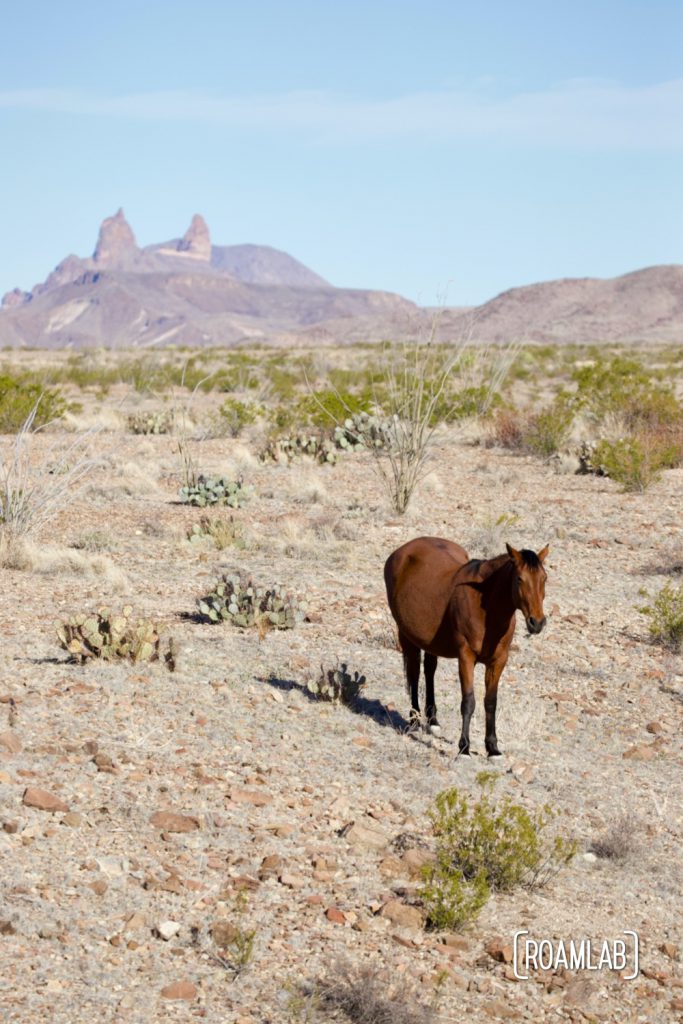 Photography along River Road
One of River Road's most striking aspects is its unrivaled access to the Chisos Mountains. While the Eastern River Road is a mundane study in desert washes, as we travel further west, the views continually improve until Black Dyke campground when they become obscured by towering gravel hills. 
In the winter, with the sun relatively low to the south and the mountains stretching north of the road, it is nearly impossible to get a bad photo. The sun perfectly illuminates dramatic rock formation, whatever the time of day.  Ross Maxwell Road may be the scenic drive of note in the park, but I find it rather disappointing in comparison. Much of the dramatic rock formations from the western side are in shadow most of the day, so we cannot capture the colorful striations of rock as well as we can from River Road. 
Cell Service
As expected in the wilderness of Big Bend National Park, there is next to no cell service along River Road. We both have blips of service at the eastern entrance to the road but went without until we experienced the first hints of AT&T cell service by Buenas Aires Campsite (No Verizon coverage here). So be sure to have any maps or other digital resources downloaded in advance.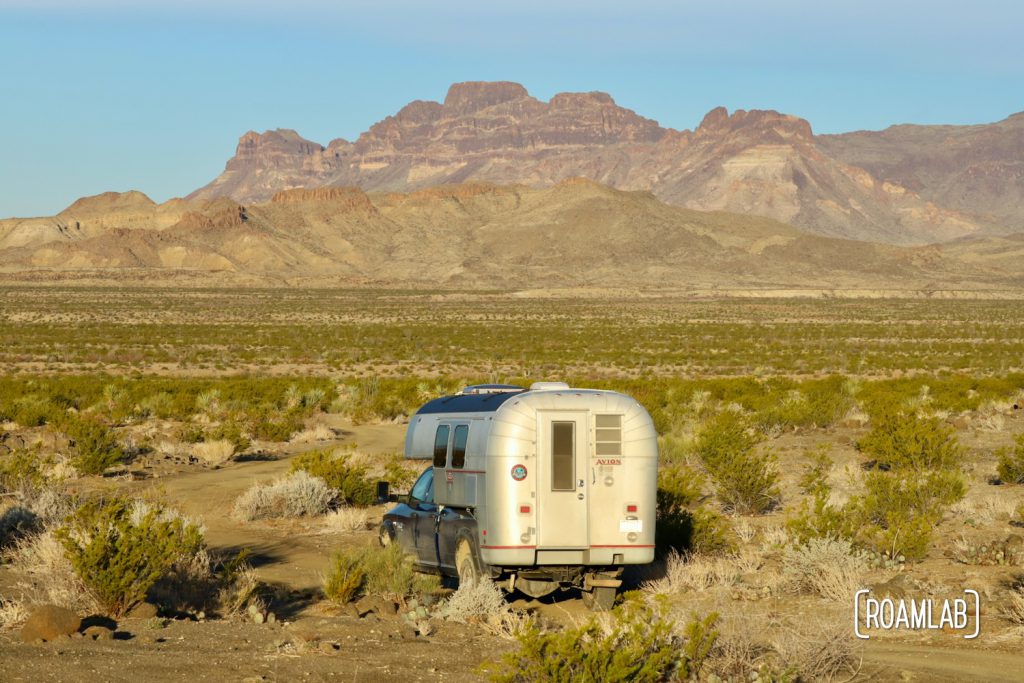 Our Experience
We come away with mixed opinions of River Road. There are some attractive vistas. But the overall experience is somewhat bland compared to other options in the area. If we score a campsite along River Road in the future, we will be happy to drive to it, but we'd be unlikely to drive the entire length again unless we have some special reason to exit the road by the opposite end than we accessed it. After all, relative to other backcountry roads, it's an easy drive. But relative to a paved road, the ride can be tedious.