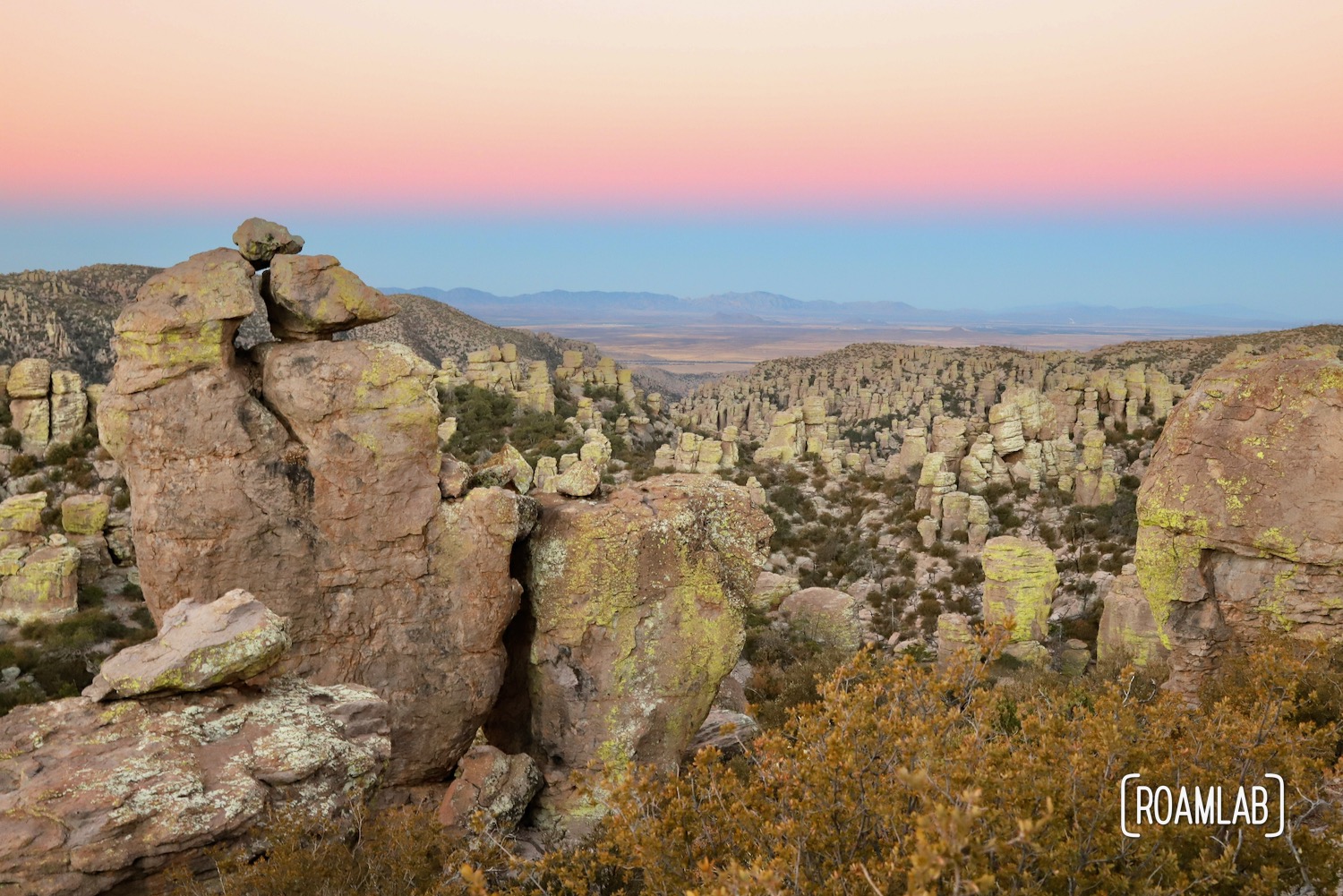 It starts as rolling grassy hills. Reaching Chiricahua National Monument is a long drive from any large metropolitan location. From Tucson, Arizona, the route starts with an 80-mile drive east along Interstate 10. By the time we turn south on the rough Arizona highway 186 E, we are surrounded by farm and ranch land. Everything looks flat until our final approach to Chiricahua and the mountains that protect this geological oddity.
We've seen hoodoos in many places before. These odd stone pillars may not be commonplace, but when they do pop up, they are almost always preserved in a park. Bryce canyon is an amphitheater of pink hoodoos. But Chiricahua is an extensive canyon system of towering lime green rhyolite hoodoos.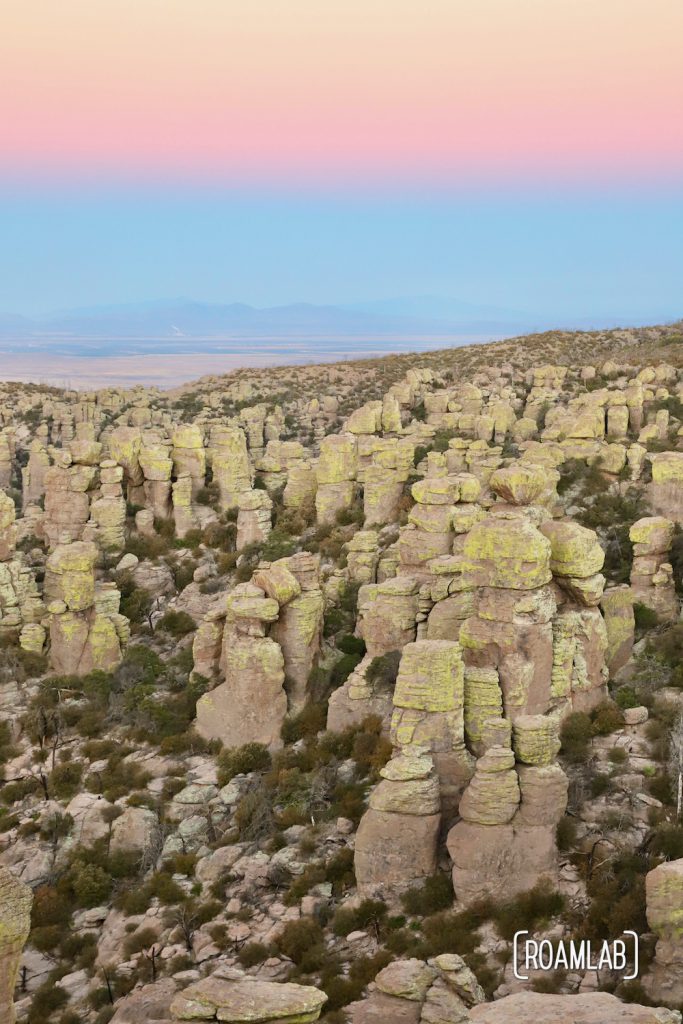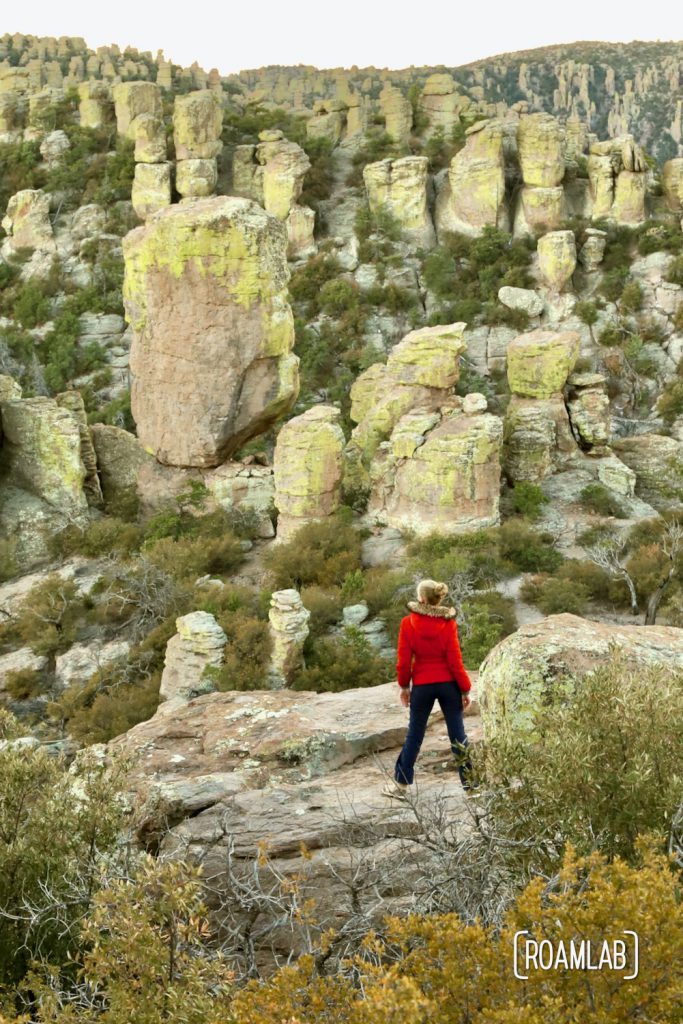 Chiricahua Rhyolite Hoodoos
Chiricahua's hoodoos strike an odd contrast to better-known formations such as the sandstone spires of Bryce Canyon National Park, but the comparison is noteworthy. While Bryce's whimsical pink formations draw millions worldwide, Chiricahua is a lesser-visited National Monument, but its rhyolite hoodoos are much larger and lime green. Well, the stone is grey, but they are covered in lime and mint green lichen. The effect is otherworldly.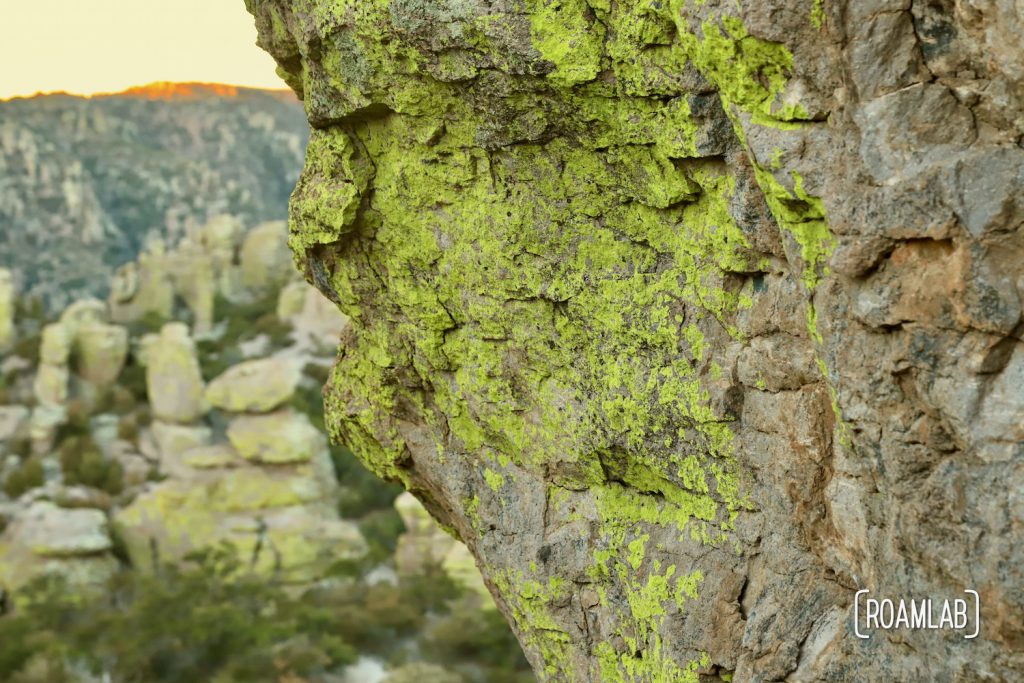 Wildlife
Among these stone pillars, Chiricahua is home to 350 species of forest and desert plants, including oak, sycamore, cypress, juniper, and mesquite. And with these plants come 250 species of birds, 100 arthropods, 50 amphibians and reptiles, and 60 mammals. Among them are oddities such as the coatimundi, a house cat-sized scavenger that looks like a mix between a monkey and a bear but is actually the cousin of the raccoon. But there are also familiar threats, such as bears and mountain lions. Store food, trash, and other pungent goods in your vehicle or some other hard-sided container and don't let pets or small children wander out of sight.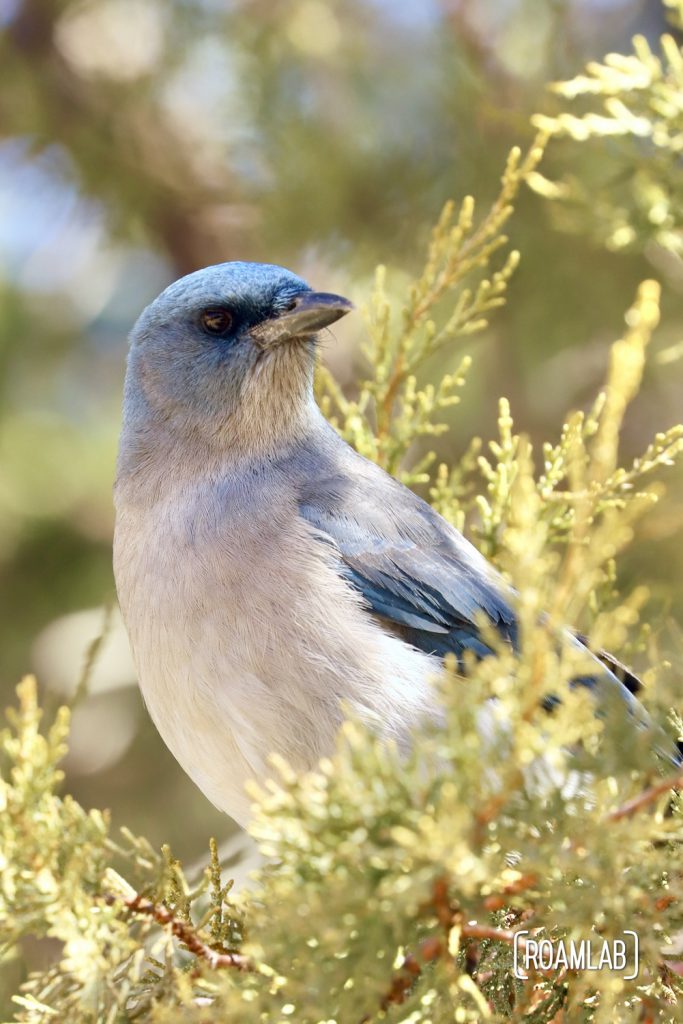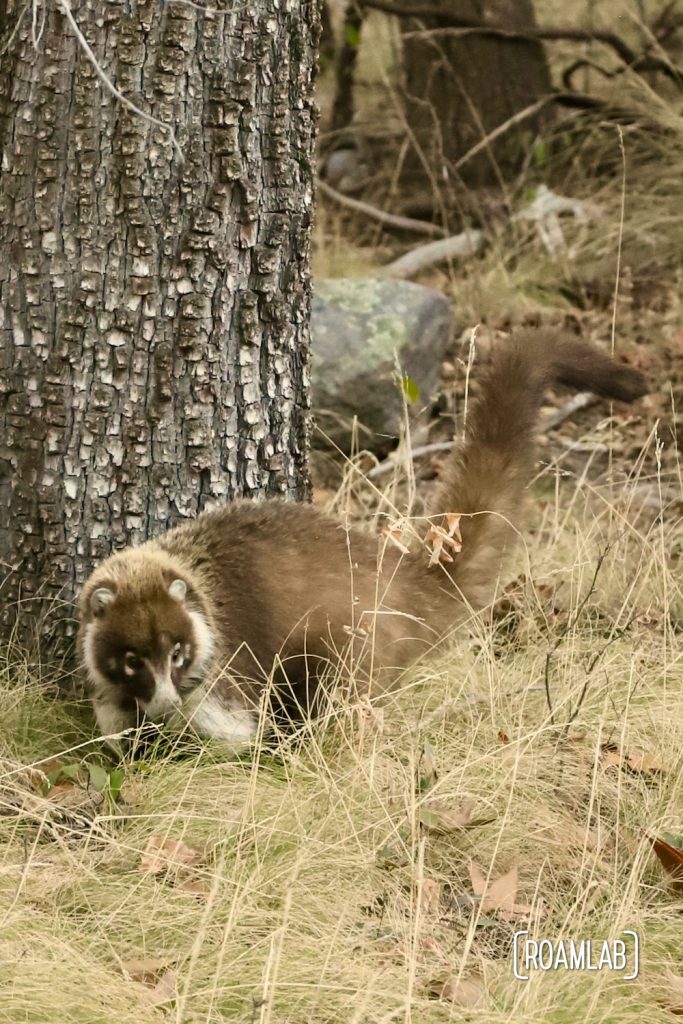 Homesteading History
Before it was a national monument, Chiricahua was home to native tribes and was settled by homesteaders. Evidence of past settlers remains in the park, including the Stafford Cabin and Faraway Ranch. The Ranch was originally the homestead of Neil and Emma Erikson beginning in 1886. The family converted into a guest ranch in the 1920s. The scenic canyon was an easy draw for visitors and continued operation into the 1970s. But Erikson's descendants eventually sell the house, land, and other assets to the National Park Service in 1979. Today, visitors can explore the grounds and even attend tours in the house.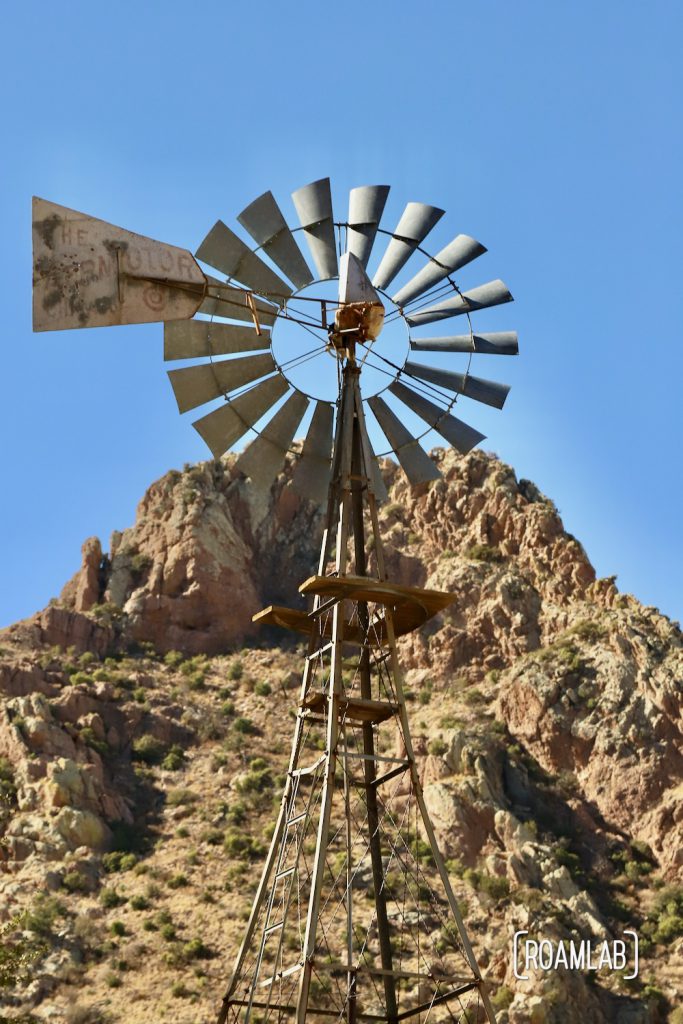 Visiting Chiricahua National Monument
Chiricahua National Monument is located in the far southeast corner of Arizona. It is a 2-hour drive southeast of Tuscon, Arizona, and yet its location among a mountain range makes it a surprise sky island, rising from the rolling grassy plains. Despite its southerly location, Chiricahua is surprisingly cold thanks to its elevation gain and supports a diverse assortment of wildlife and flora.
Visitors can learn about the park's history and ecology at the visitor center near the park entrance. Along with the hiking trails are horse trails, picnic areas, and the Bonita Canyon Campground. Unfortunately, these attractions can be difficult to access. The narrow winding roads mean that vehicles over 28 feet long are not allowed within the park, and vehicles over 25 feet long can only reach the campground and visitor center. The scenic lookouts and popular trails are all limited to vehicles 25 feet and under. Even our truck camper was a bit of a squeeze.
Many of the trails in Chiricahua were built by the Civilian Conservation Corps (CCC). One CCC company worked and lived in Bonita Canyon from June of 1934 to June of 1940. Remnants of their camp remain along Silver Spur Meadow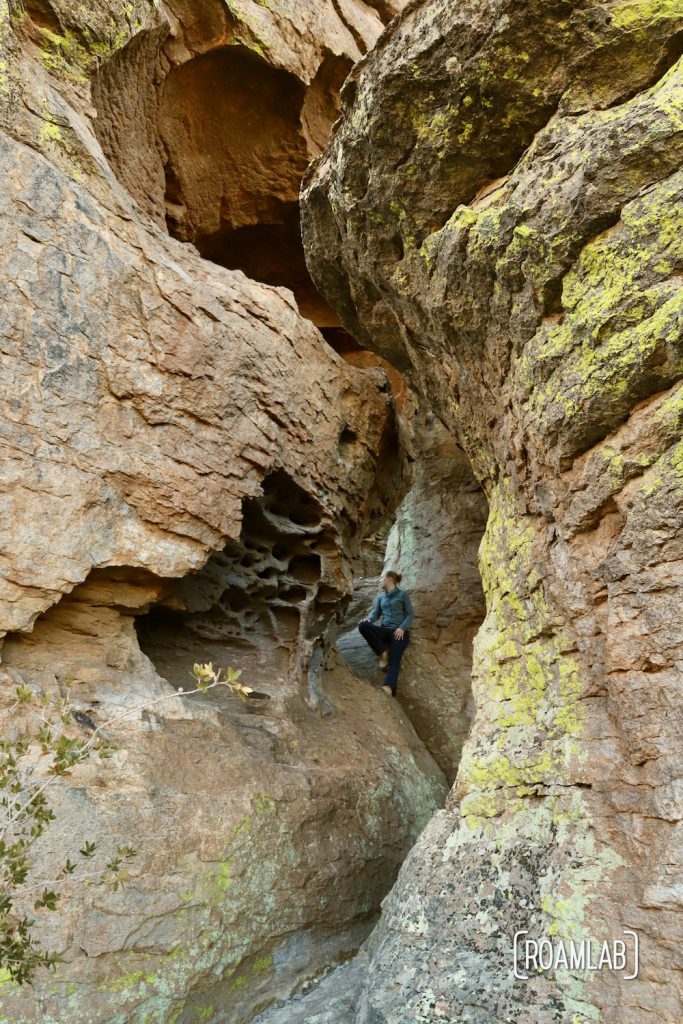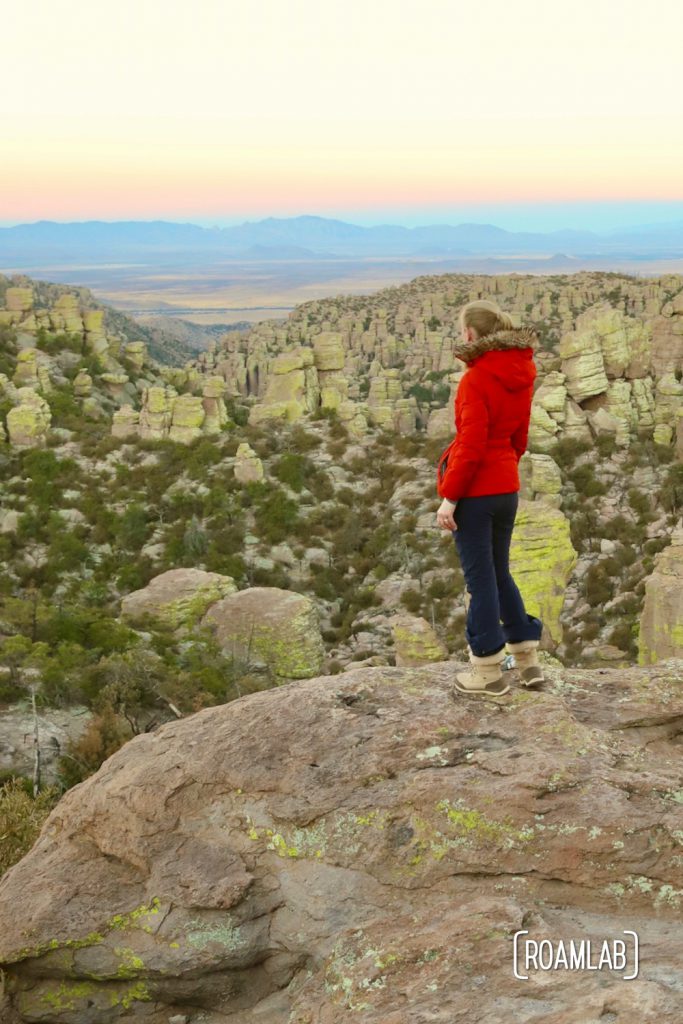 Safety
Chiricahua is a wilderness area. Emergency intervention can be slow and difficult. So, practice safe recreation by being aware of common risks in the area and preparing ahead of time. Cougars, black bears, and rattlesnakes are native to this park. Be aware of cacti, cliffs, falling rocks, desert temperatures, and changing weather. Before taking off, plan to be back before dark and alert someone outside of the hiking group of your plans. Stay on designated trails for your safety and the preservation of this wilderness. Wear proper footwear and be careful not to step on loose rocks. Travel with enough water and other nutrients for the trail you are tackling. I know it all seems obvious, but accidents happen, and preparation is a key to survival.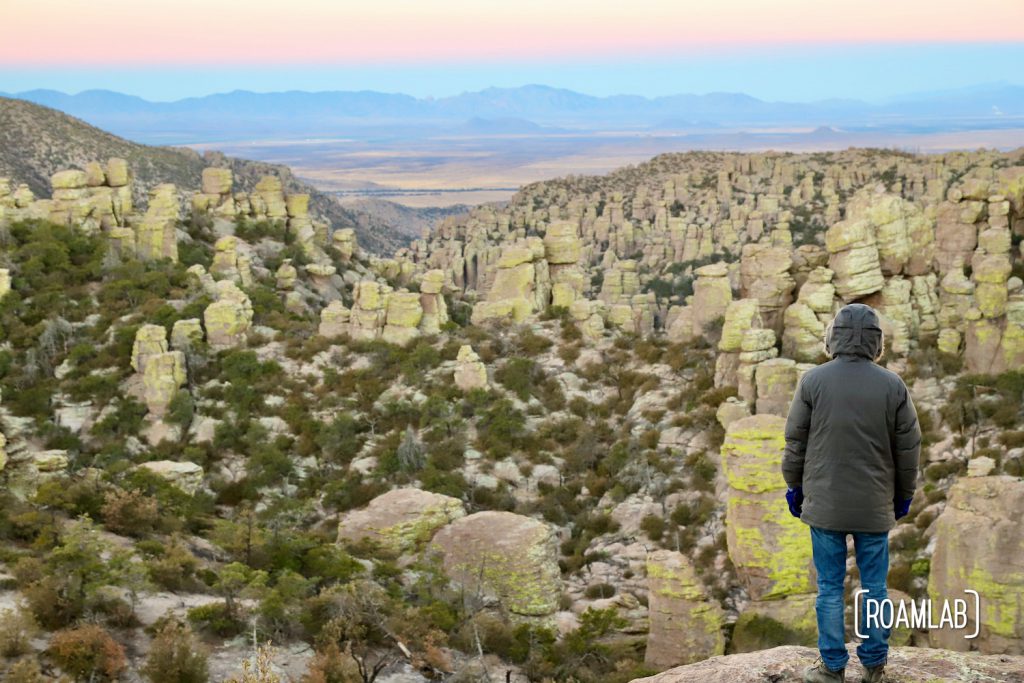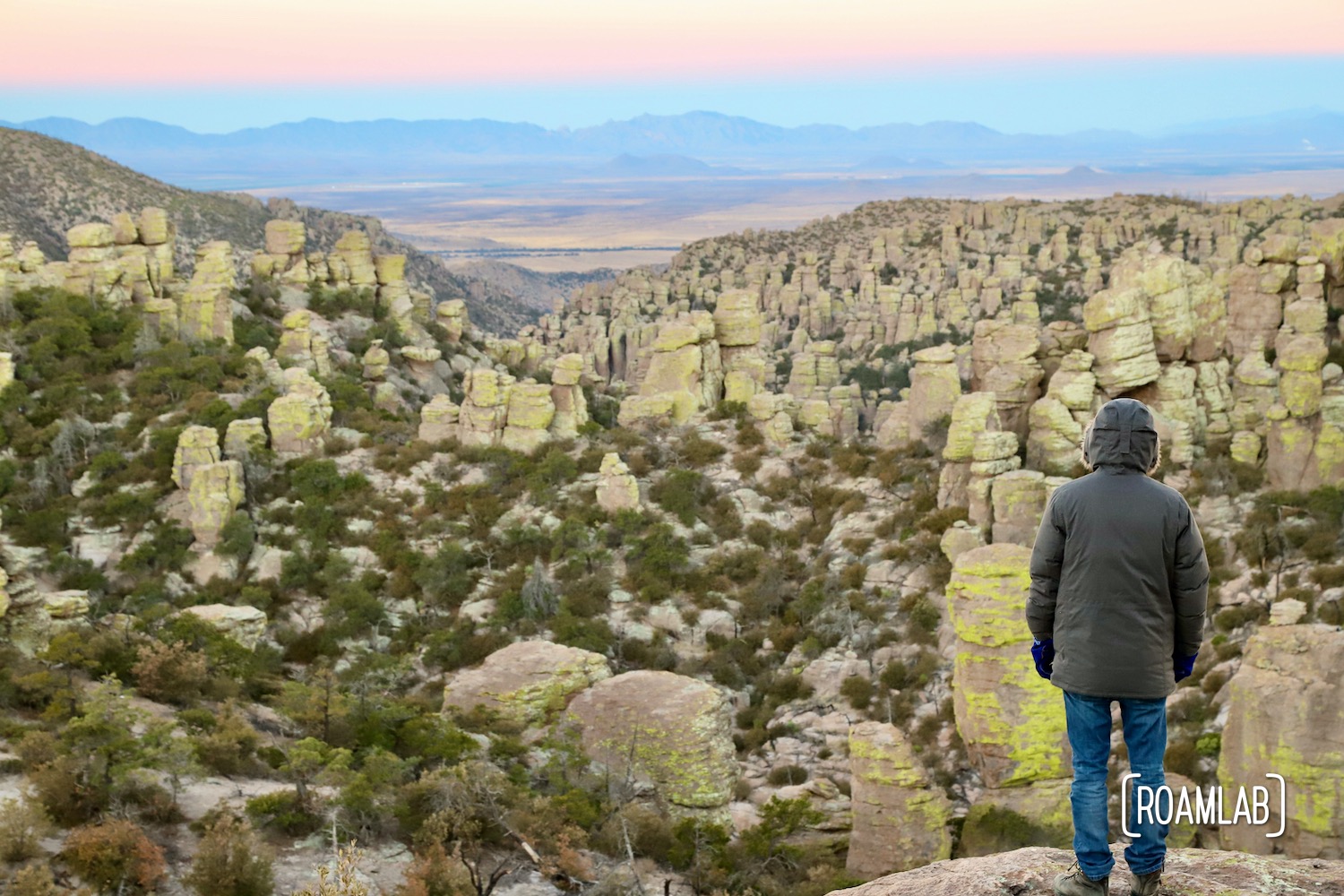 Our Experience
We've learned to approach new places with cautious optimism. Most parks have some impressive pictures associated with them. But it can be just that one view in a sea of mundanity. ⁠⁠So, while we see impressive pictures of the Chiricahua National Monument, we also acknowledged that those green hoodoos on the website might be a small field. ⁠⁠We arrived too late to get a feel for the park on the first day, so we set up camp and go to bed early. But we head out before dawn the next morning ⁠to see the sunrise from Massai Point.⁠⁠ And it is awesome⁠⁠!
Chiricahua is more than a breathtaking view, we hike among the hoodoos on Echo Canyon Trail and encounter unusual wildlife including coatimundi and mexican jays.