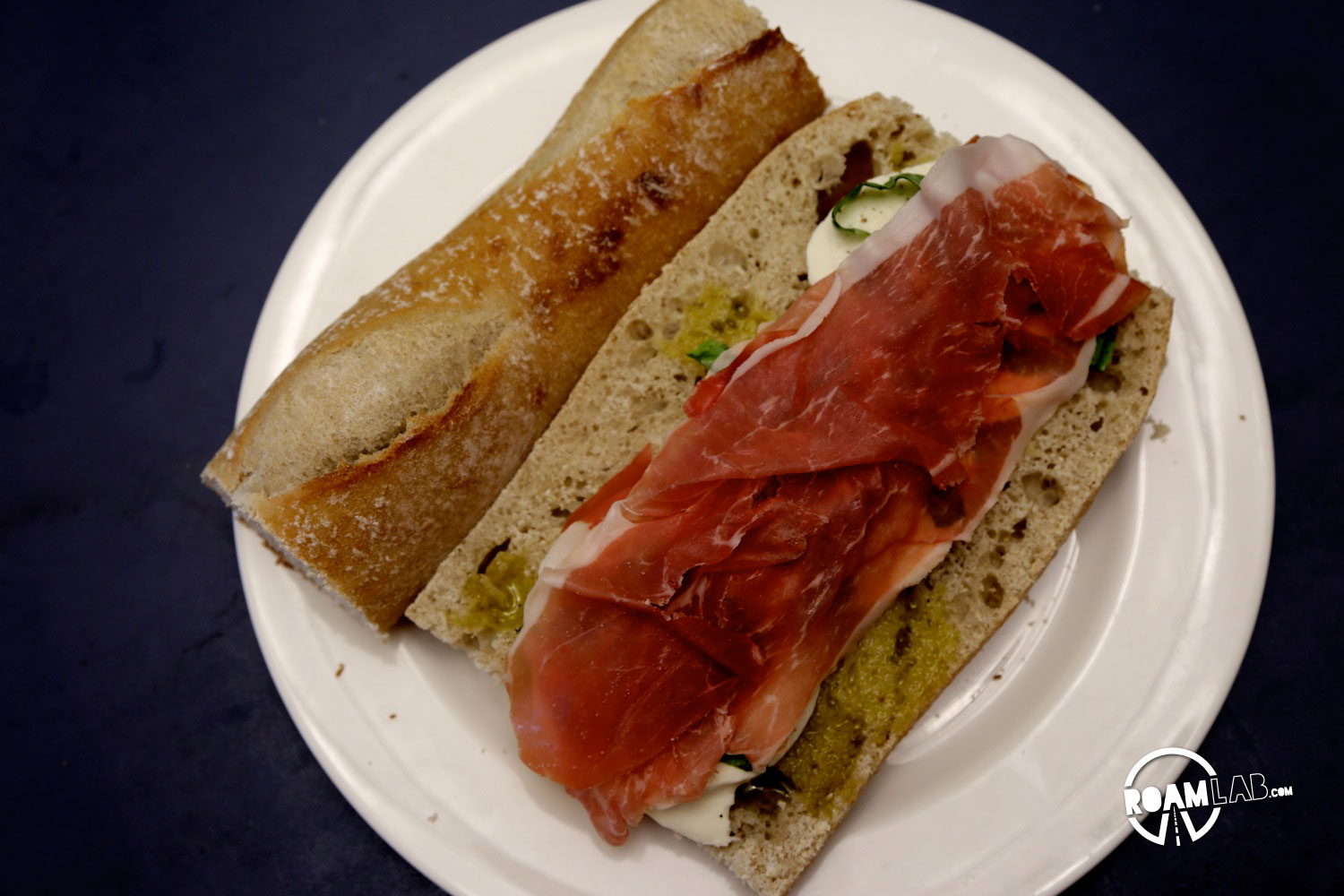 As hard as it may be to believe, there are days I'm just not up to cooking a complicated meal. Yet, I may still want the comfort of a fire and the pleasure of a hot meal. That is where toasted sandwiches come in. They have crispy outsides, warm insides, and melted cheese. Better yet, when I want the luxury of fine ingredients in a simple recipe, I bring together two of my best friends: prosciutto and mozzarella. I call this pairing the Class in the Campground Prosciutto Mozzarella Sandwich.
We weren't allowed to have camp fires at the Overland Expo. So I had resorted to cold meals for the weekend. Now that we were headed to the Smokey Mountains, it was time to make up for lost cooking. Just before we left Asheville, North Carolina, we provisioned and I had the perfect shopping list…
Class in the Campground Prosciutto Mozzarella Sandwich Recipe
Serves 2
Ingredients
1 baguette
4 slices of prosciutto
Fresh mozzarella (About the size of a tennisball)
1 tablespoon fresh basil (shredded)
1 tablespoon olive oil
1/4 teaspoon salt
1/4 teaspoon pepper
Equipment
Grill Basket (can alternatively wrap in tin foil and cook but I find I'm more likely to burn the sandwich that way.)
Directions
Being a sandwich, the Class in the Campground Prosciutto Mozzarella Sandwich is quite easy to assemble. Cut the baguette lengthwise into two halves. Drizzle olive oil over the interior. Slice mozzarella into thick (1/8 inch) slices and layer over baguette. Sprinkle salt and pepper over mozzarella. Shred fresh basil and scatter over mozzarella. Layer prosciutto over the basil. Prosciutto has a very strong flavor, so you don't need a lot of it. I like to have a couple layers but your are welcome to add more. Fold baguette around the contents.
The first time I made this sandwich, I simply wrapped it in tin foil and placed on the fire pit's grill, as far from the direct heat as I could. All the same, it is hard to monitor the progress of a sandwich when it is covered in tin foil. I burned the sandwich. After several misadventures, I've accepted that tin foil is an excellent tool but it is not ideal for grilling sandwiches over a campfire. Obviously, if it is all you have then go ahead, but keep a close eye on your sandwich. Instead, I really like the grill basket. Most come with variable sizing so you can fit both narrow and thick items in it. The basket can hold the sandwich together while letting you easily check on the crispness of the bread and melty-ness of the cheese.
Grill sandwich over fire until cheese is soft and baguette is crisp. Let cool and enjoy!