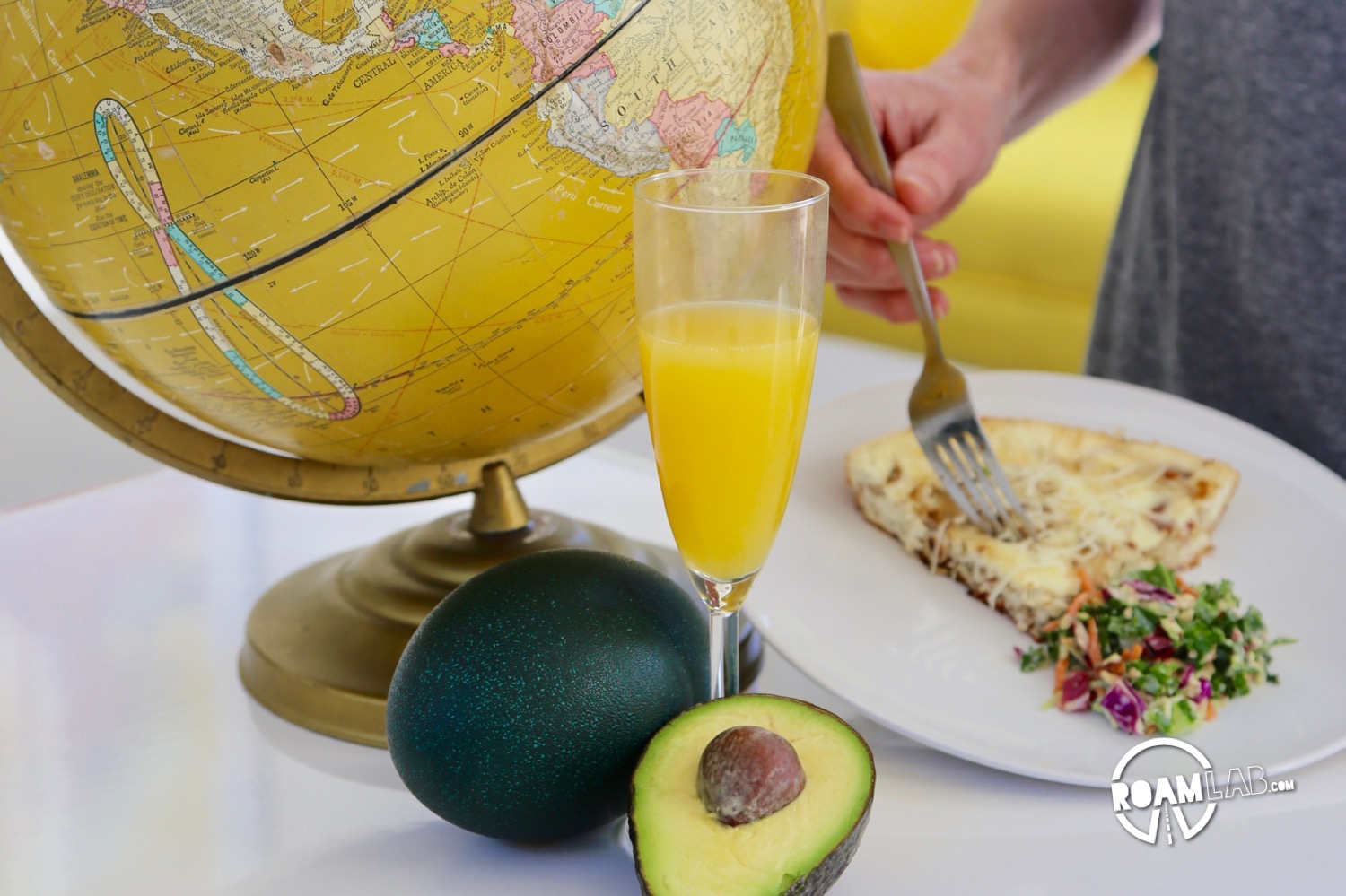 Yeah, you read that right. When we stopped off at OstrichLand USA, we picked up an emu egg as a gift for our next host. The morning after we arrive in Palm Springs, I am ready with a treat for our host: an emu egg frittata.
A single emu egg is the rough equivalent of a dozen chicken eggs and can feed four to six people. They are much like a conventional chicken egg but a little creamier. There is no strange flavor that might be off putting to the lay consumer. The ratio of yolk to egg white is lower, so an emu egg frittata looks more pale than than a chicken egg frittata. And "why a frittata?" you might ask? While I am tempted to make one giant fried egg, a I can cook a frittata in my cast iron pan and it will require less damage to the emu shell. It's a neat shell and I'd like to keep it in one piece, or as close to one piece as possible.
As the emu egg is an oddity of its own, I don't feel the need to pull any surprise tricks with the emu egg frittata recipe. At the time of collecting ingredients, I am not familiar with the flavor, only the assurances of two young men behind the counter of OstrichLand USA that "it tastes like chicken." So, below is the recipe to what I cooked: a bacon, mushroom, onion, and emu egg frittata.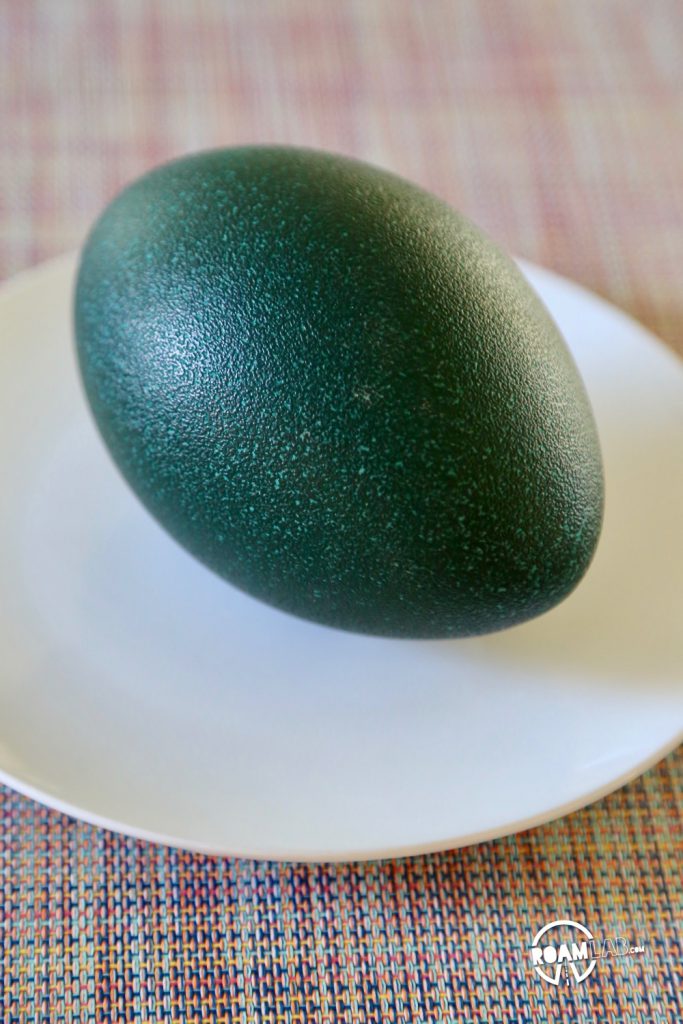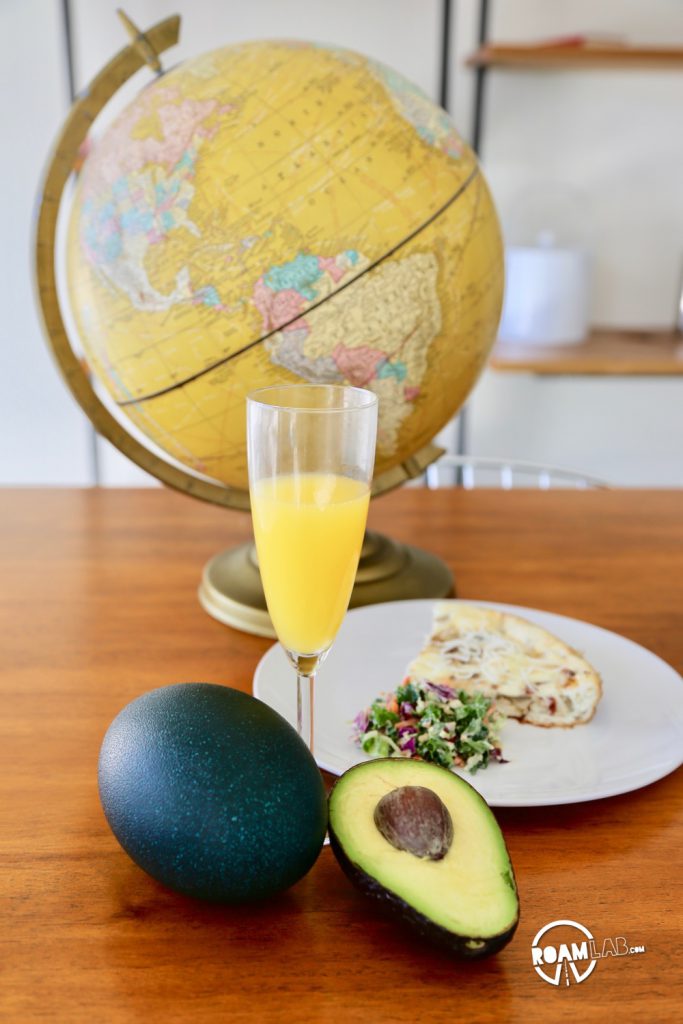 Emu Egg Frittata Ingredients
1/2 chopped onion
1 cup chopped mushrooms
6 strips of bacon, crumbled
1 emu egg
1 avocado for garnish (seriously, you want to place an avocado next to the egg.
mozzarella cheese
Add a side salad to complete the meal
A Note on Opening an Emu Egg
Emu eggs are thick. While there are many ways to open one, we are traveling with a drill, so we drill a hole. It takes patience to make a hole as opposed to chipping a large portion of the shell… I did not have that patience. In drilling the shell, a quarter sized bit of the tip chips off. Still, the shell remains mostly in one piece.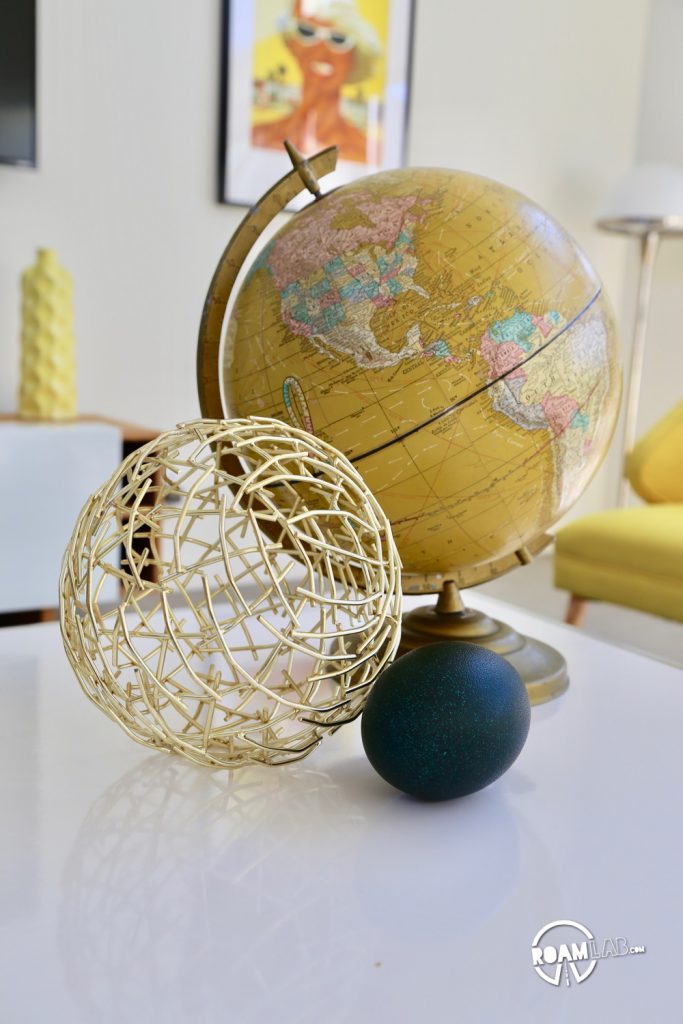 Making the Emu Egg Omelete
Preheat oven to 425°
Fry bacon slices in case iron pan. Let fry until bacon is crisp. Remove and pat down bacon on a paper towel. Pour remaining bacon grease into a heat resistant container for later use. If you are good at multi tasking, you can move on to the next step while the bacon fries:
Carefully open the emu egg. Empty emu egg contents into a bowl and mix yolk and white into a consistent liquid. (If you intend to keep the shell, rinse out the shell and let it sit, open tip down, to dry.)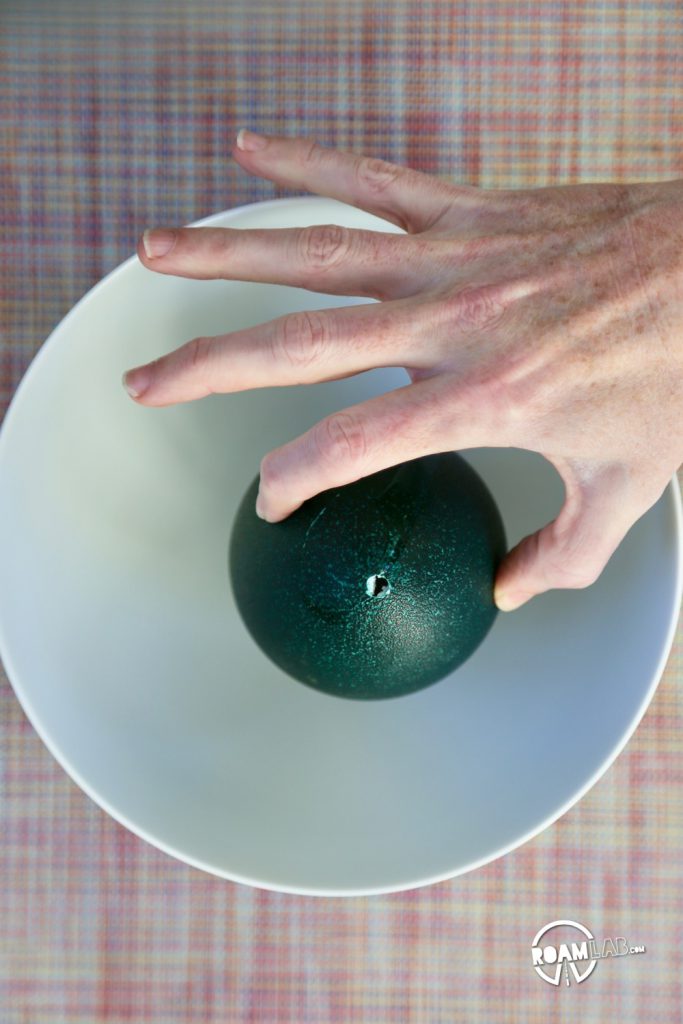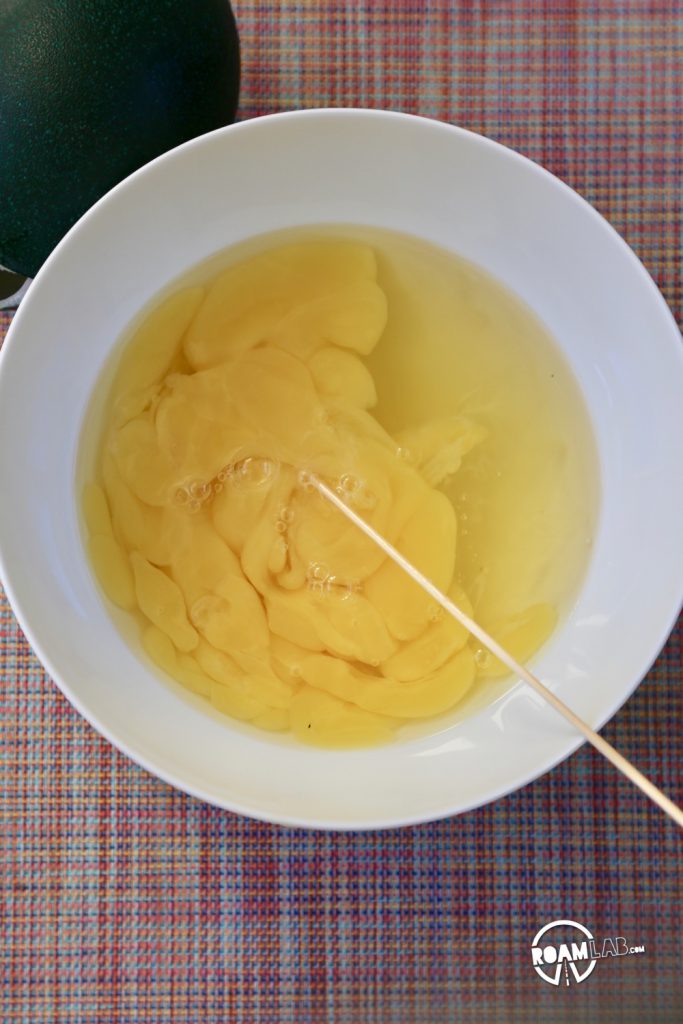 Sauté onions and mushrooms in bacon grease. Once soft, crumble the bacon in with the onions and mushrooms. Make sure there is some excess grease sitting on the bottom of the pan before pouring in the mixed emu egg yolk and white. This will help keep the egg yolk from baking into your pan. Quickly mix the emu egg with the onions, mushrooms, and bacon for an even arrangement. Sprinkle an even layer of mozzarella cheese on top. Let the mix sit on the stove for 30 seconds to allow the edges to firm up then transfer the pan to the oven.
Keep an eye on the frittata as it cooks in the oven. It will take between 6 and 15 minutes to cook and it would be a pity to over cook. Look for puffy eggs that jiggle slightly in the center when you gently shake the pan.
Remove from oven and serve with avocado. We recommend a side salad with a sweet vinaigrette to complete the meal.