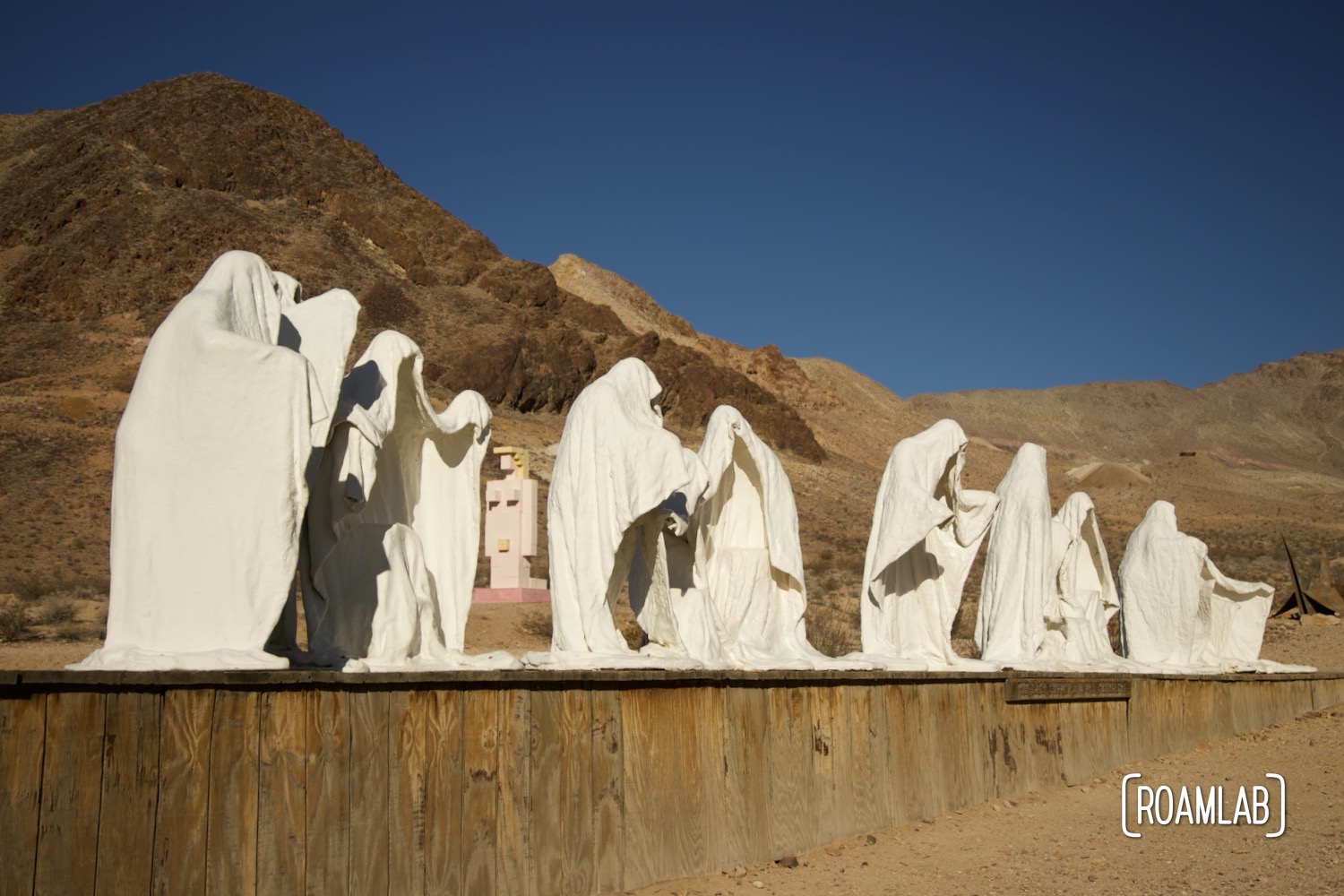 Strange things happen in the desert. It is a place of extreme temperatures and temperaments. It is a place of rugged self-sufficiency and creative invention born of necessity. Those that survive here are the outliers. And in the remote outskirts of the Nevada desert, along the border of Death Valley National Park, is one of the strangest destinations we have encountered: the Goldwell Open Air Museum.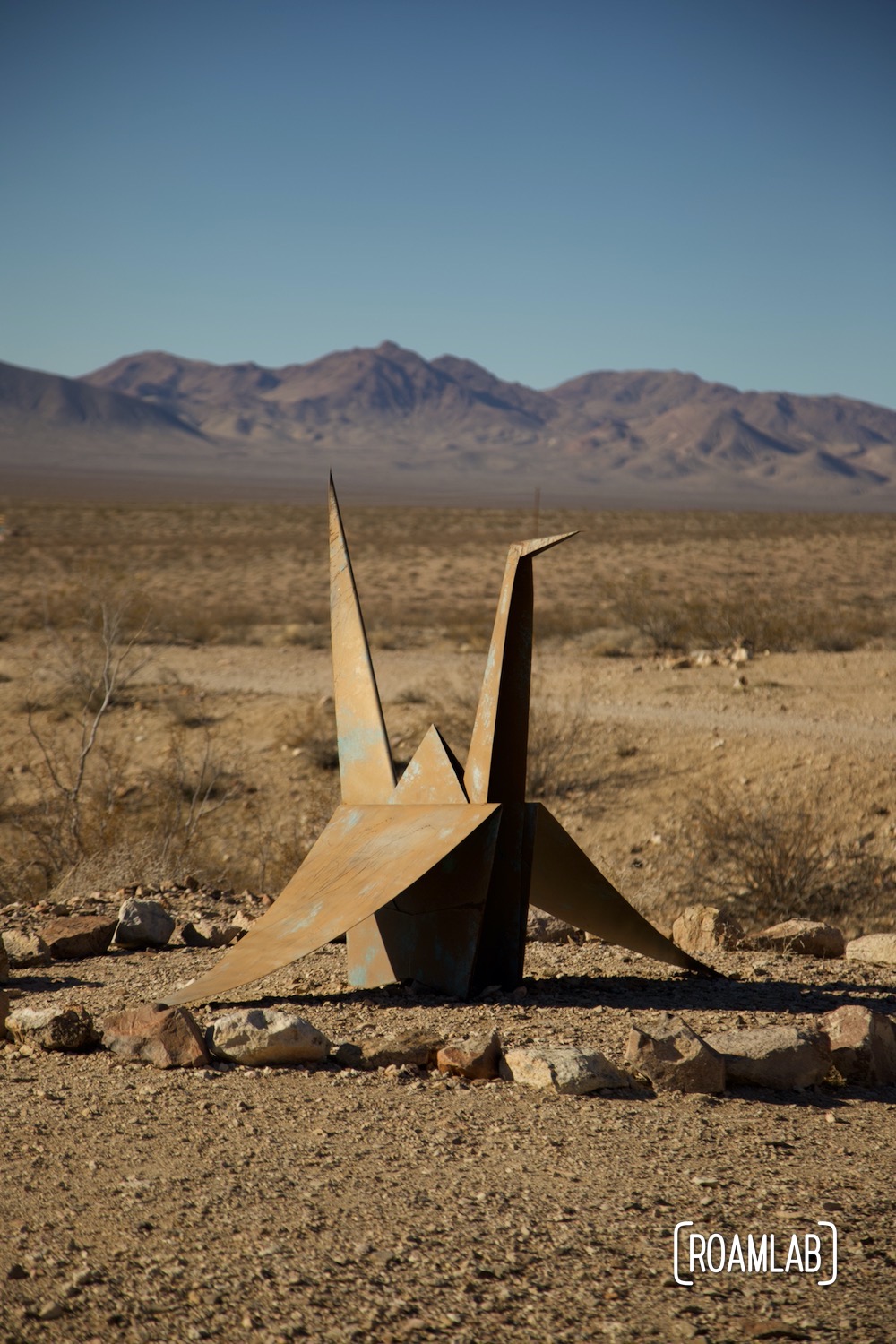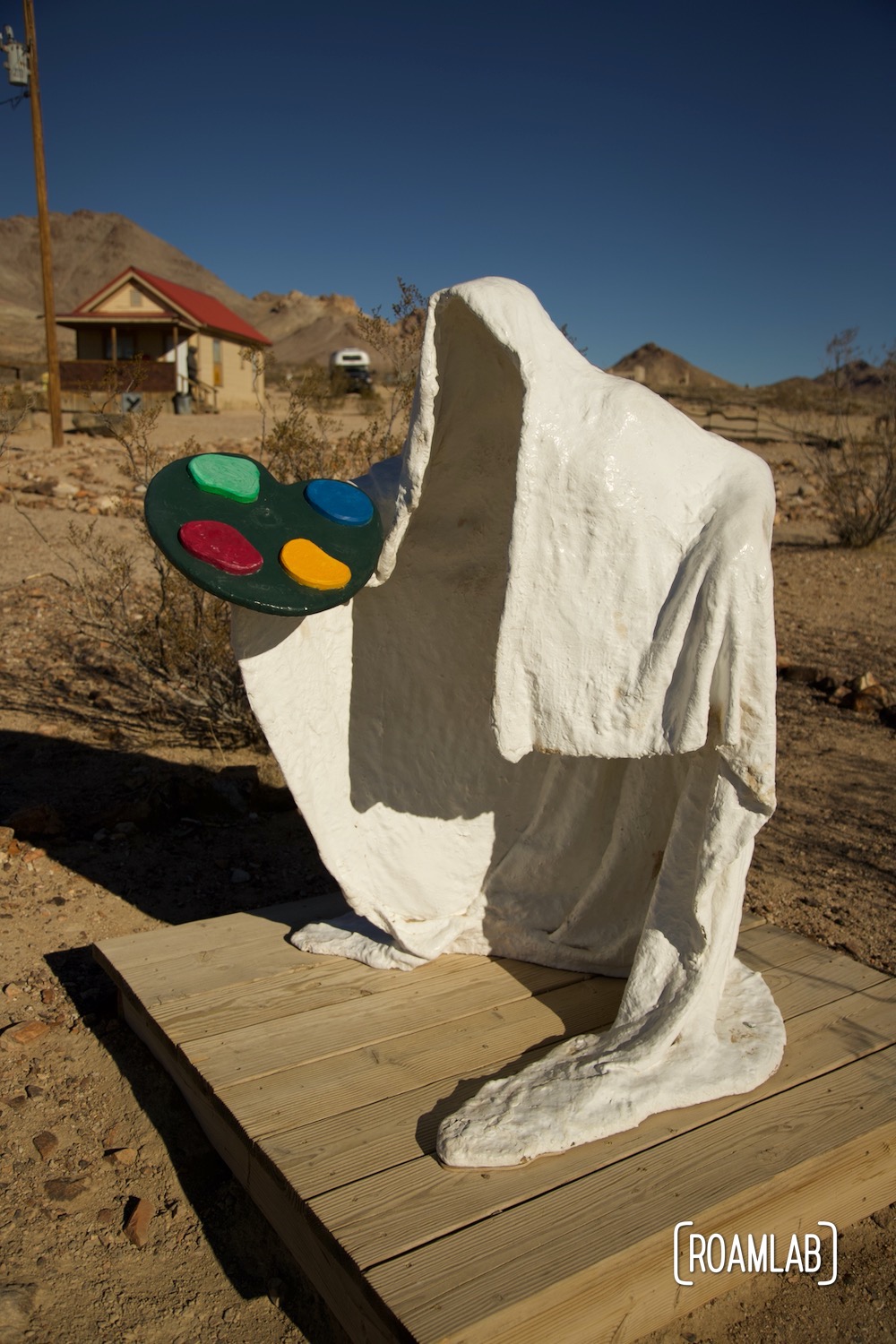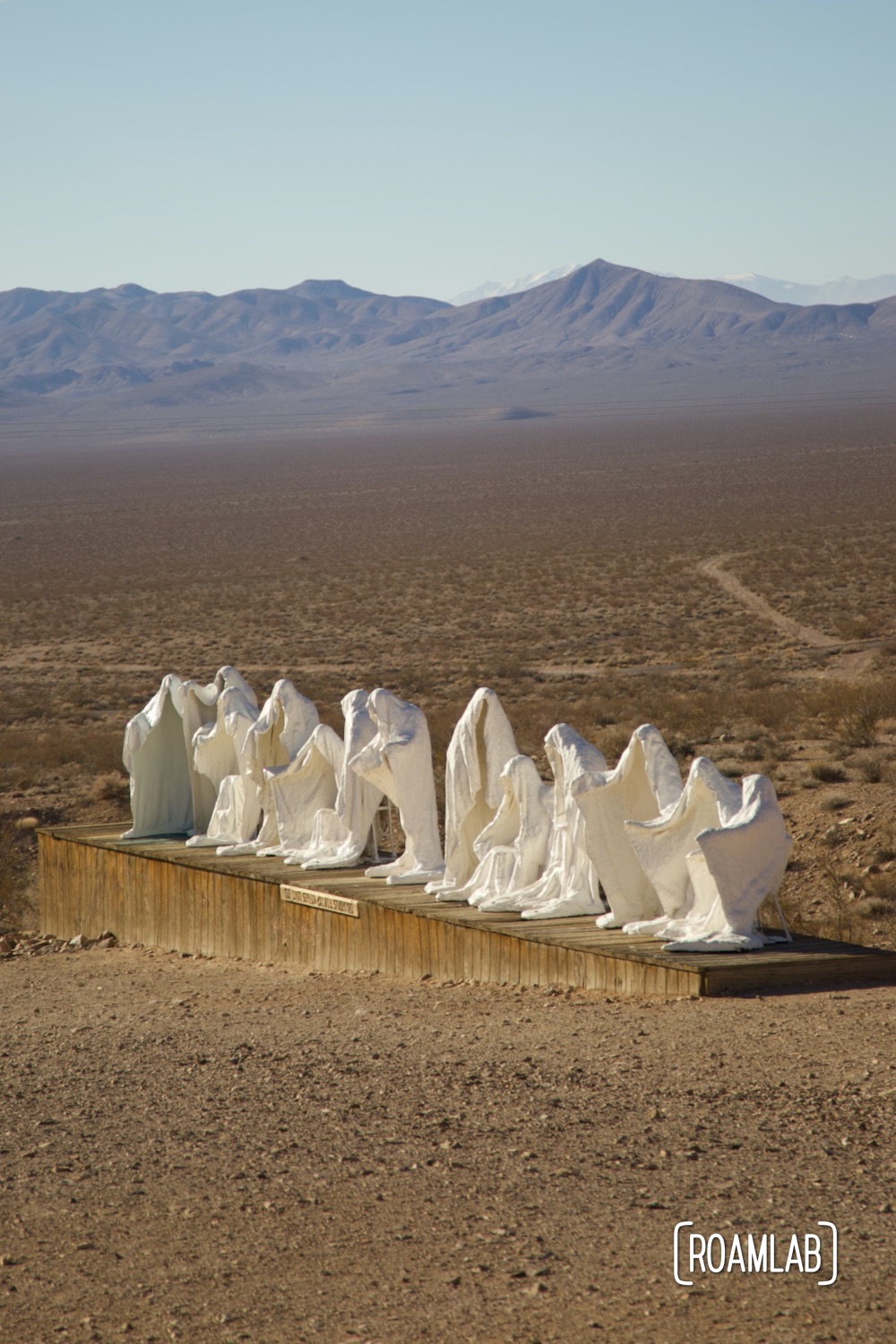 About Goldwell Open Air Museum
Goldwell is an unconventional venue to show one's work, yet many notable artists—whose works have found success in the traditional art sphere—also have displayed pieces here in the relative obscurity of the Amargosa Desert. The museum was founded in 1984 with the installation of "The Last Supper" by Albert Scukalski—a ghostly sculptural reinterpretation of Leonardo da Vinci's mural. The work is a collection of life-sized ghosts created by fabric soaked in wet plaster and draped over live models. Once the plaster had hardened, the models could slip out, leaving the ethereal shrouds which Szukalski further coated in fiberglass to weatherproof each piece. Nearly four decades later, the ghosts have weathered the harsh desert and sit at the heart of the museum collection.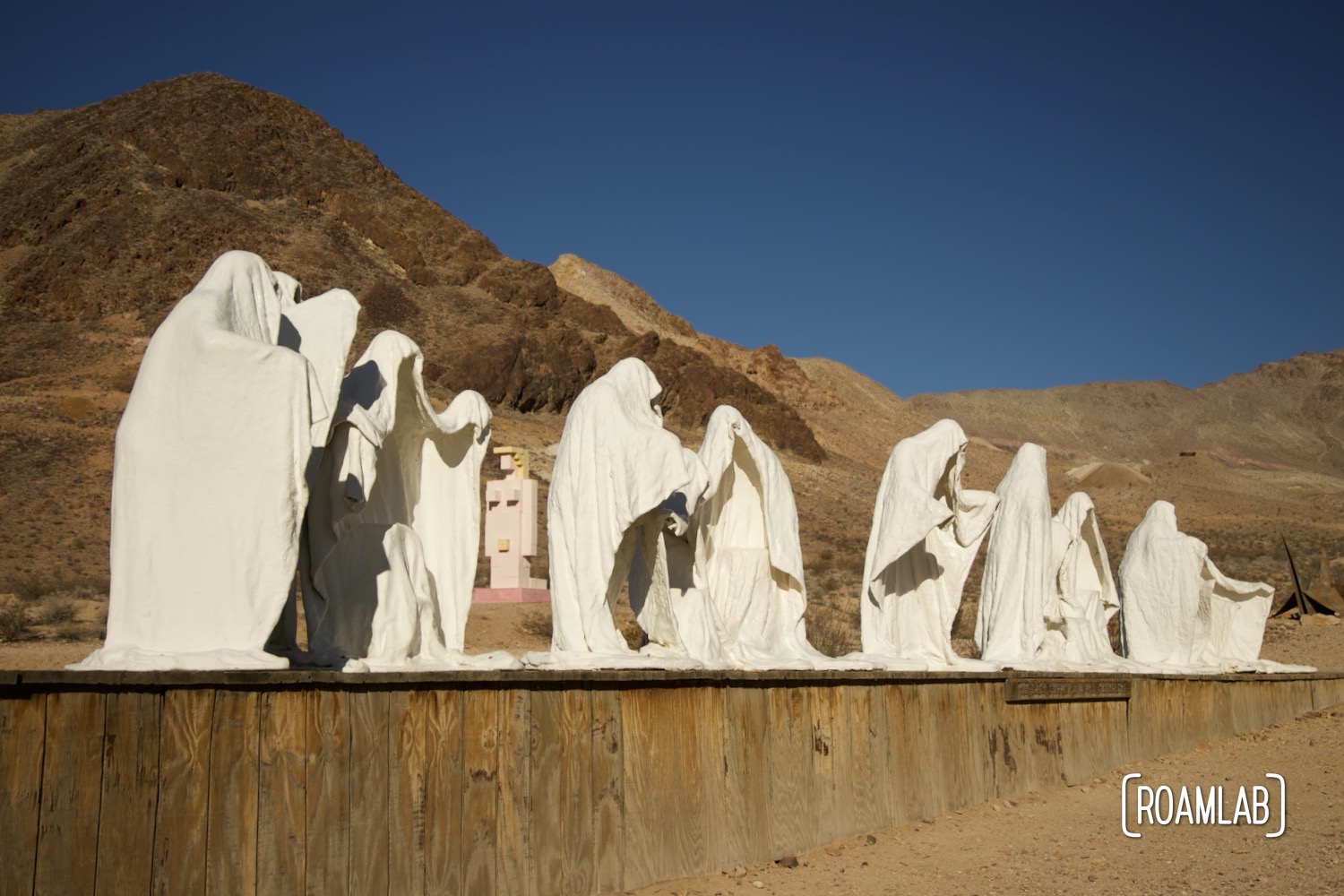 A Rugged Setting
If there is a theme to the collection, one part must clearly be resilience. This is not a place for oils on canvas or delicately woven tapestries. Instead, works are rendered in metal, cinderblock, and stone. Dr. Hugo Heyeman's "Lady Desert: The Venus of Nevada" (1992) is a towering pink cinderblock statue of a kneeling pixilated nude. The paint may have faded in the harsh desert sun, but the form stands in defiance of the rough wind and grit. Sofie Siegmann's "Sit Here!" (2000) was originally created as part of an artist-in-residence project at the Lied Discovery Children's Museum but this mosaic couch is well suited to the harshness of the desert where it was rehabilitated and relocated. Metal is also a common medium for Goldwell artists, found in Cierra Pedro's folded metal "1000 in 1 Cranes" (2016) origami crane and Fred Bervoet's "Tribute to Shorty Harris" (1994).
We were rather delighted and surprised to encounter a contribution from Eames Demetrios, whose work we have encountered before. The plaque "Rhyolite's District of Shadows" continues Demetrios's global Kcymaerxthaere project. He has scattered plaques and other artifacts of a creative alternate reality across the globe. We visited one of his other locations outside of Joshua Tree National Park, the Krblin Jihn Kabin.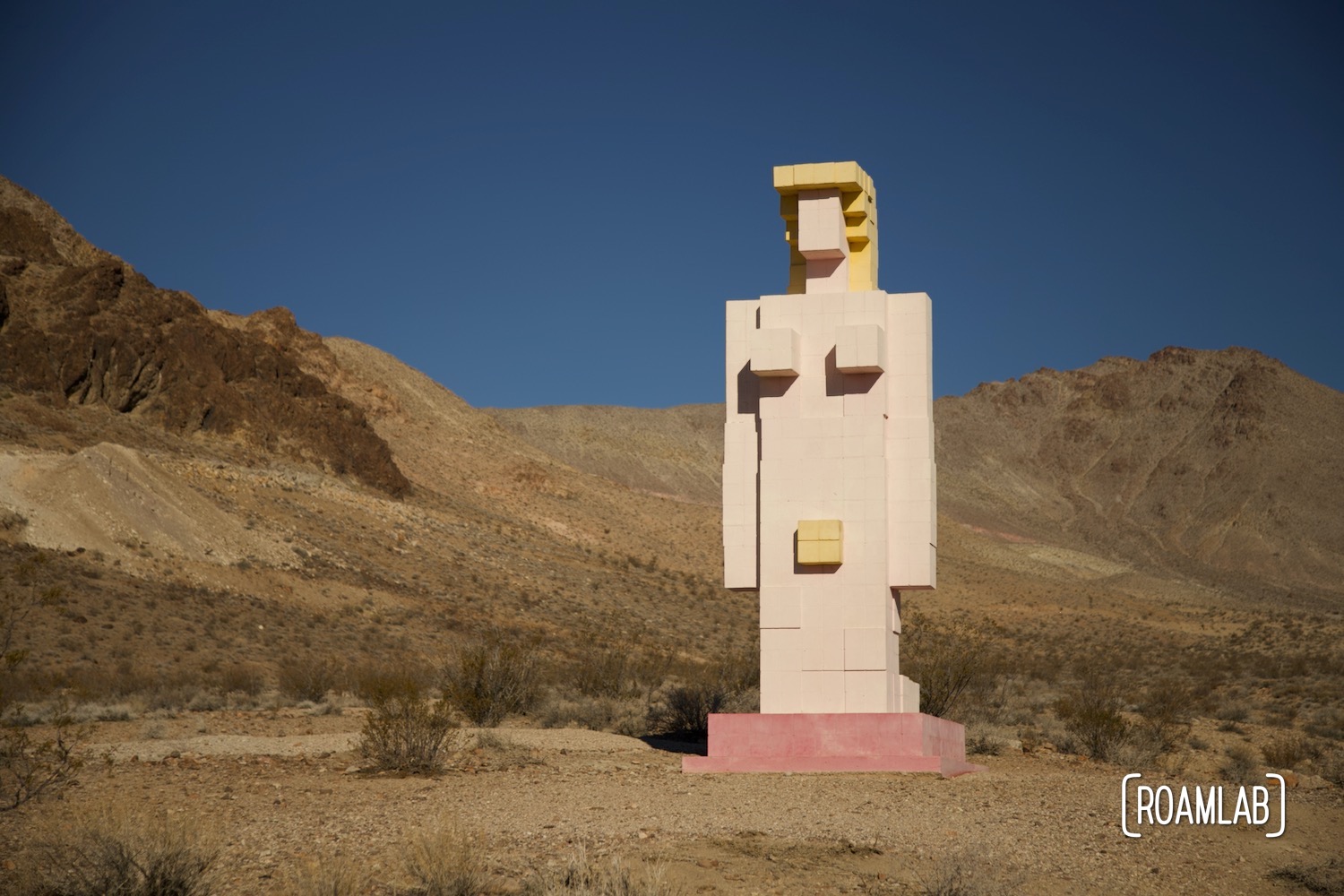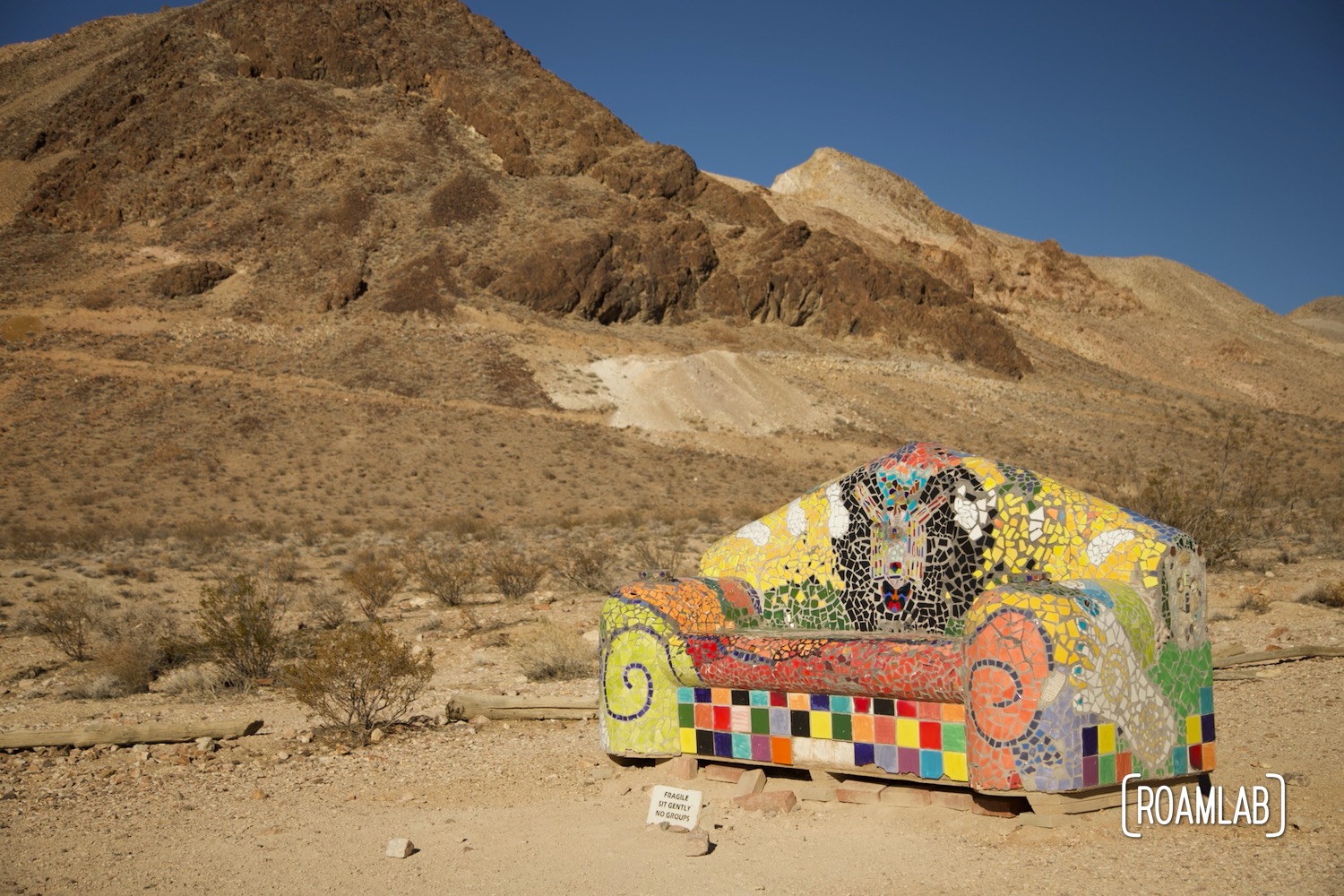 Visiting Goldwell Open Air Museum
The Goldwell Open Air Museum may feel isolated but its location is rather convenient. While the museum is surrounded by dirt roads, Goldwell is accessible 1 mile north of Nevada Highway 354, on Rhyolite Road (which is paved). This is also a 45-minute drive northeast from Furnace Creek Visitors Center in Death Valley National Park, or a two-hour drive from Las Vegas, Nevada. The town of Beatty, Nevada is only five miles east of Goldwell with all the traveler's necessities: food, gas, and lodging.
There is a small dirt parking lot for cars and a wooden shack with information pamphlets detailing the history of the museum, work, and artists. Please be considerate of any signs. While these art pieces have survived remarkable abuse by the elements, they are susceptible to wear and tear.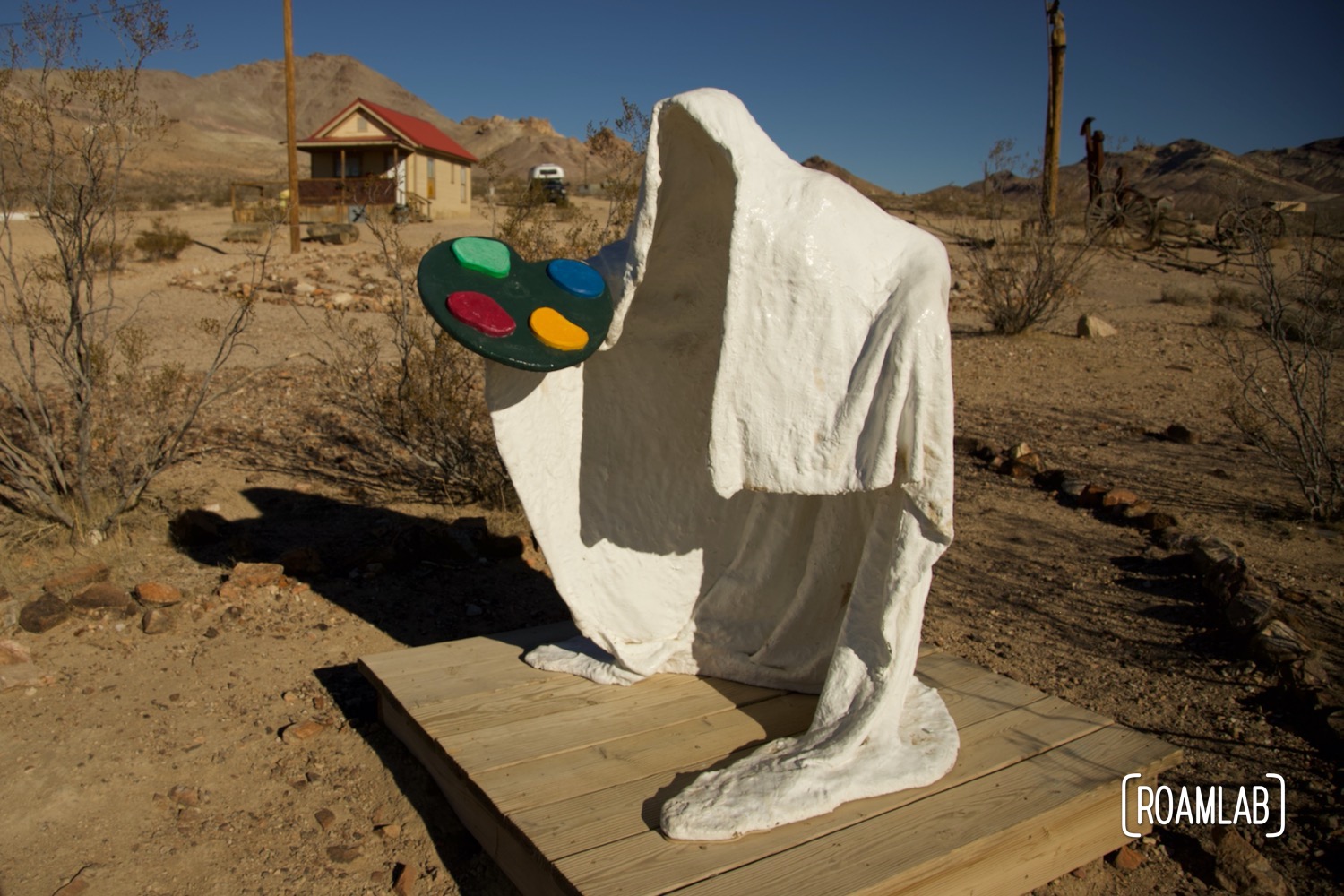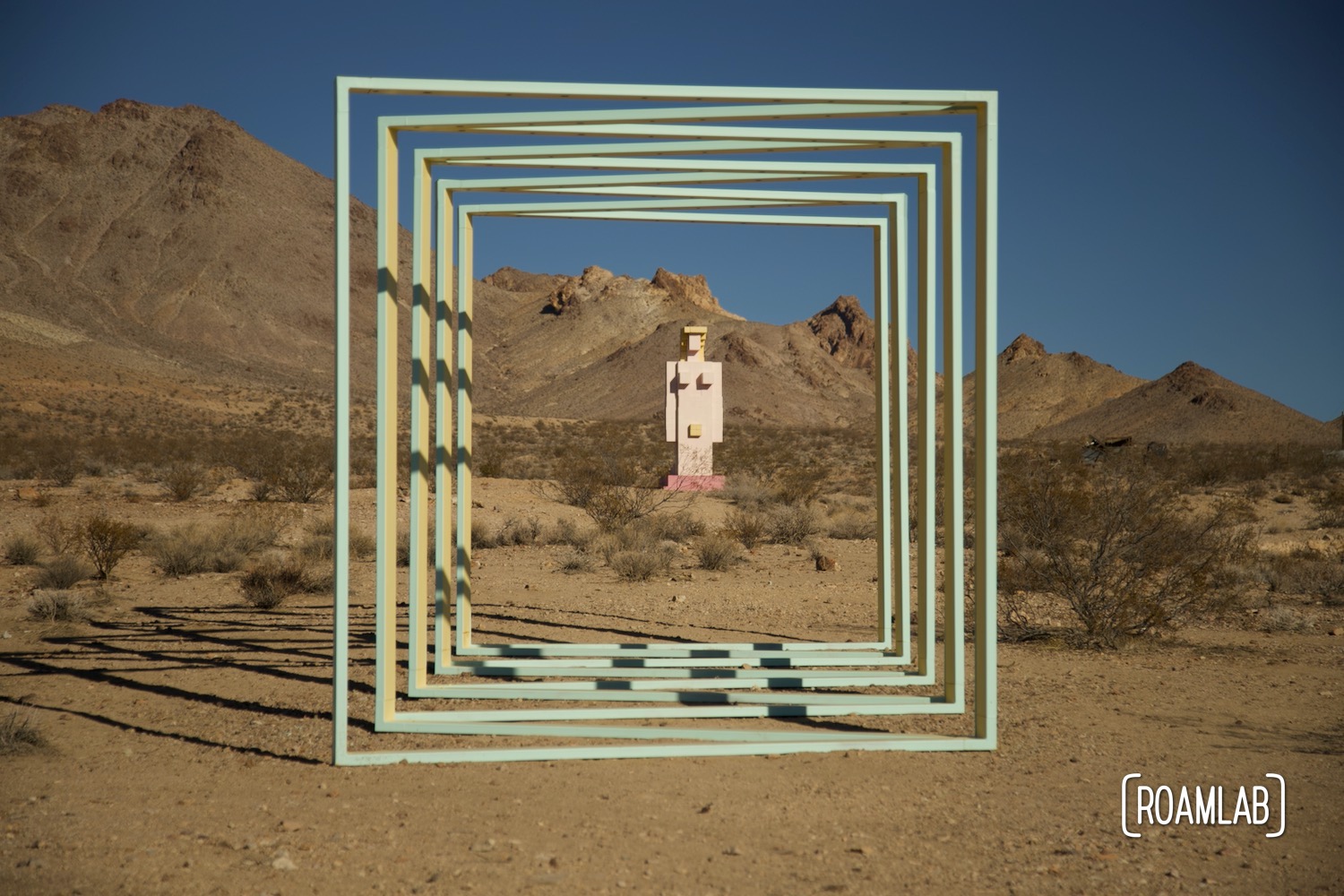 Nearby Attractions
As noted, Goldwell is located right on the border of Death Valley and all the attractions therein. But there are several standout attractions nearby. A hop-skip-and a jump further down Rhyolite Road brings passengers to the crumbling remains of Rhyolite Ghost Town with interpretive signs detailing the history of this gold rush boomtown. Three miles southeast of Goldwell is the trailhead for Titus Canyon, a scenic dirt road into Death Valley. It's a remarkable drive but be sure you are properly equipped with favorable weather conditions.