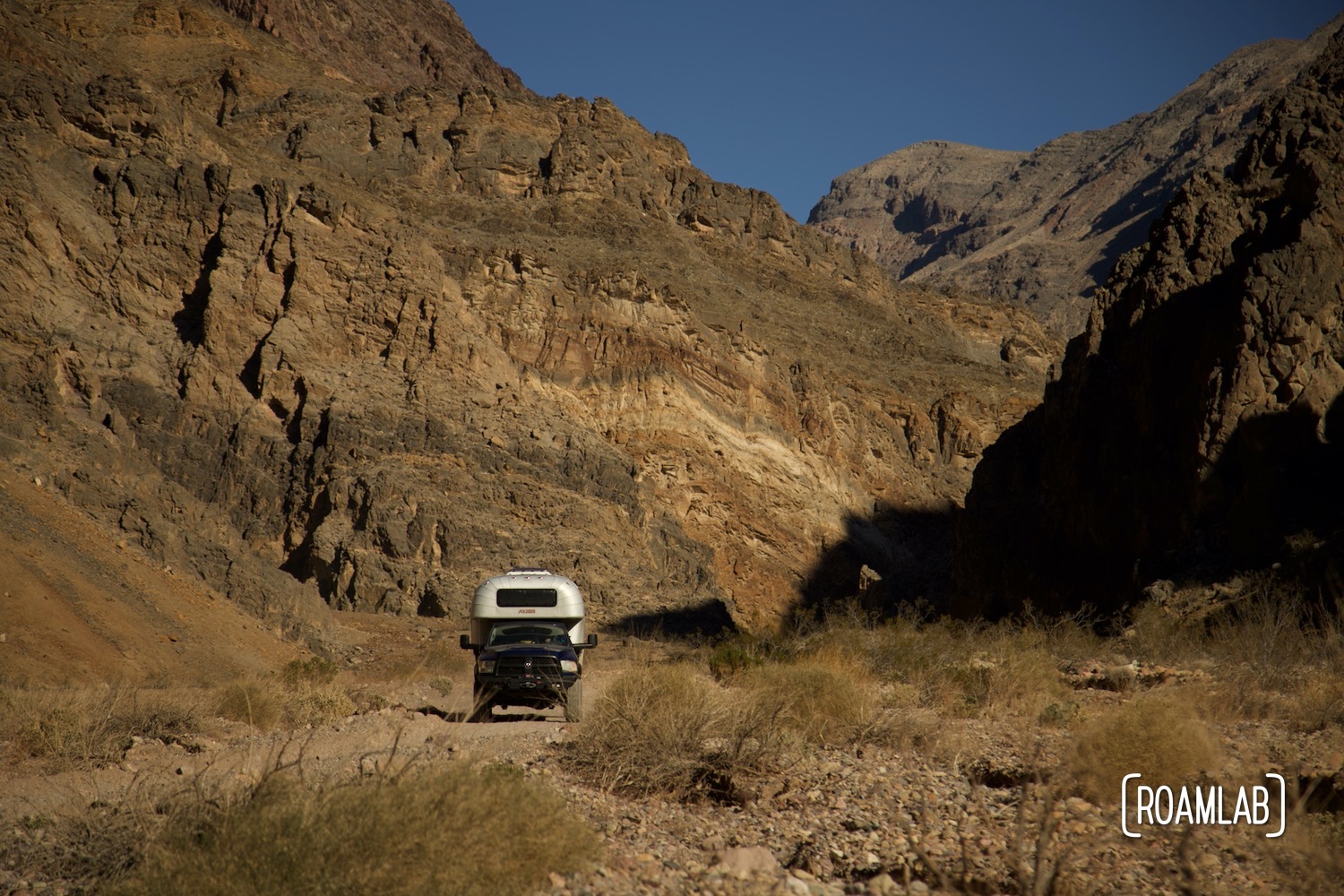 Titus Canyon Road
Death Valley National Park
Death Valley is a park meant for vehicles. Stretching 140 miles in length, the Valley is full of attractions that require some kind of vehicle to see in a timely manner. But vehicular diversions are not limited to the pavement. Death Valley is also home to a host of rugged dirt roads such as Echo Canyon and Racetrack Valley Road. Today, we are visiting another notable dirt byway: Titus Canyon Road.
Titus Canyon Road is one of Death Valley's premier 4-wheel trails for good reason. Its colorful canyons, narrow ravines, and historic sites combine the best that the park has to offer. This 27-mile long route takes vehicles between 2-3 hours to drive. But it can easily take the better part of a day of hiking trails, scenic pull-offs, and exploring the Leadfield Ghost Town. The first half winds up and down mountain ranges for breathtaking vistas and colorful mountainsides before descending into a wash and a vehicle sized slot canyon. For a properly equipped vehicle, this narrow, rough, and steep one-way road is a simple enough drive with next to no technical skill needed. For a truck camper such as ourselves, large rocks and tight turns make for a bit of a challenge.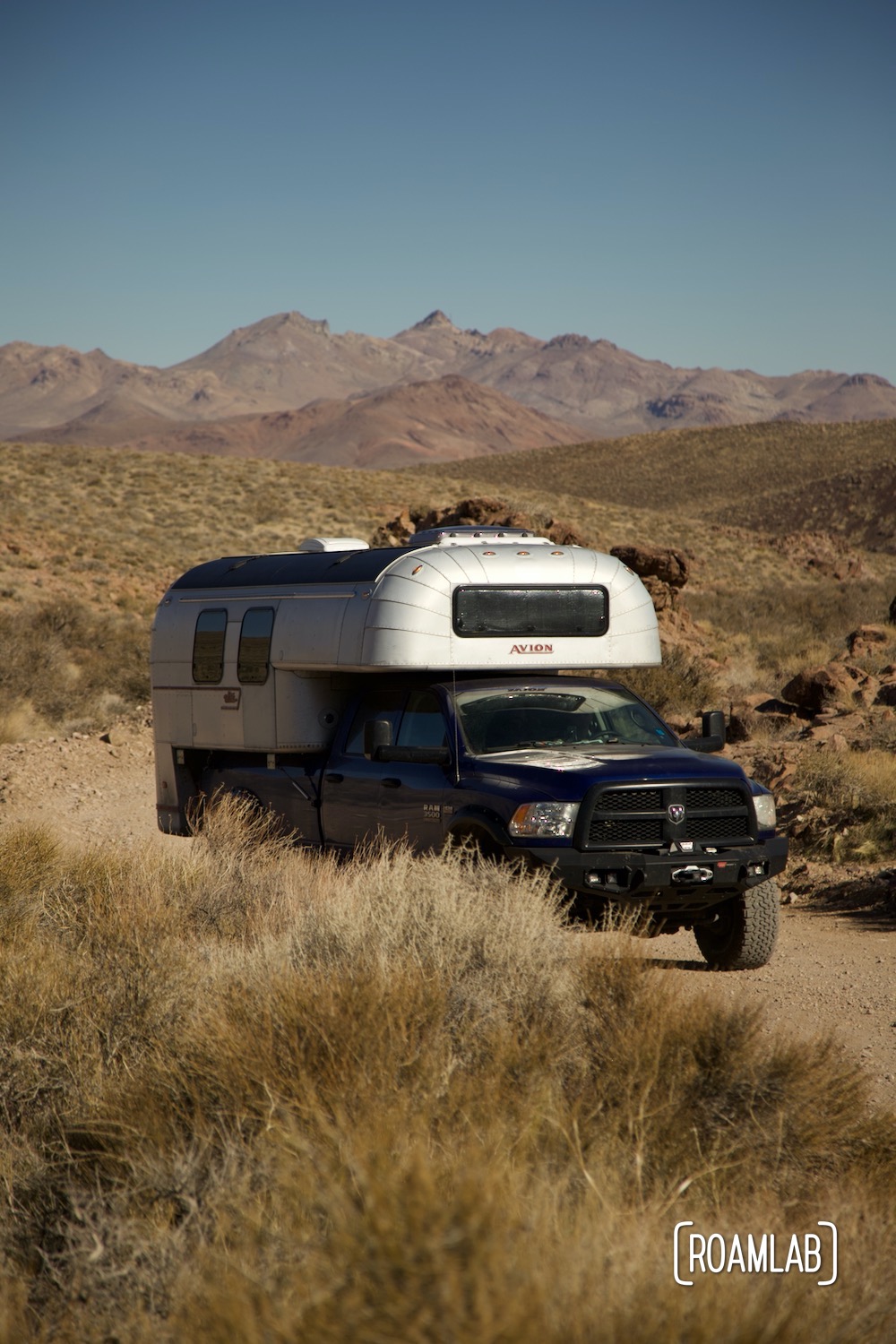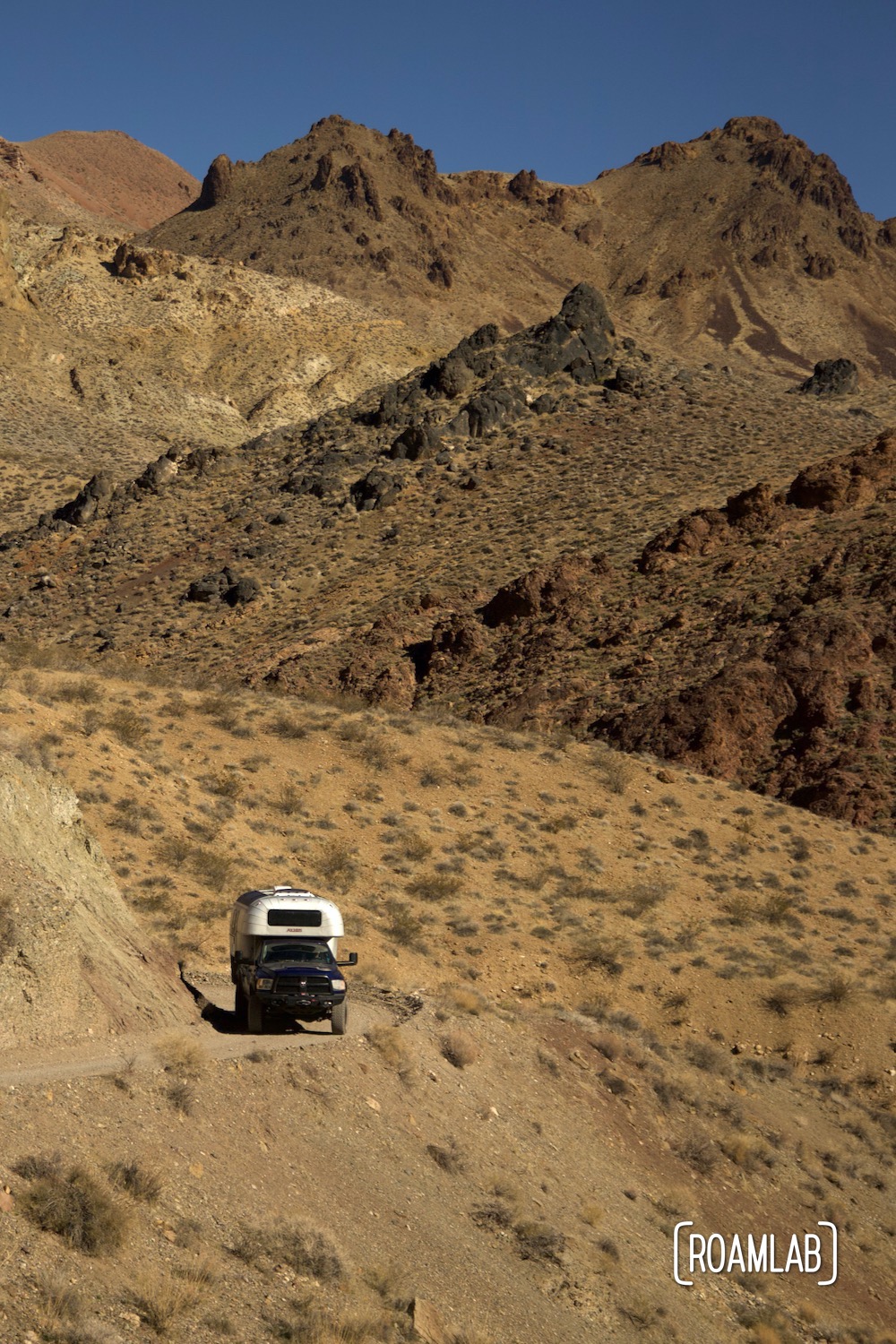 Driving Safety on Titus Canyon Road
While Titus Canyon Road is only 27-miles long, it travels through rough conditions with limited access to cell service and recovery resources. Vehicles are limited to no longer than 25 feet long and high clearance, 4-wheel drive is recommended though not required. Summer travel is not advised. The canyon is also prone to flash flooding so avoid entering when rain threatens. Even in more temperate seasons, the route is often closed for snow, mud, or washouts, so check with a park ranger that the road is open and that you are properly equipped for the conditions you'll be facing. Alert someone outside before traveling down the road. With proper planning ahead, this should be a relatively uneventful trip.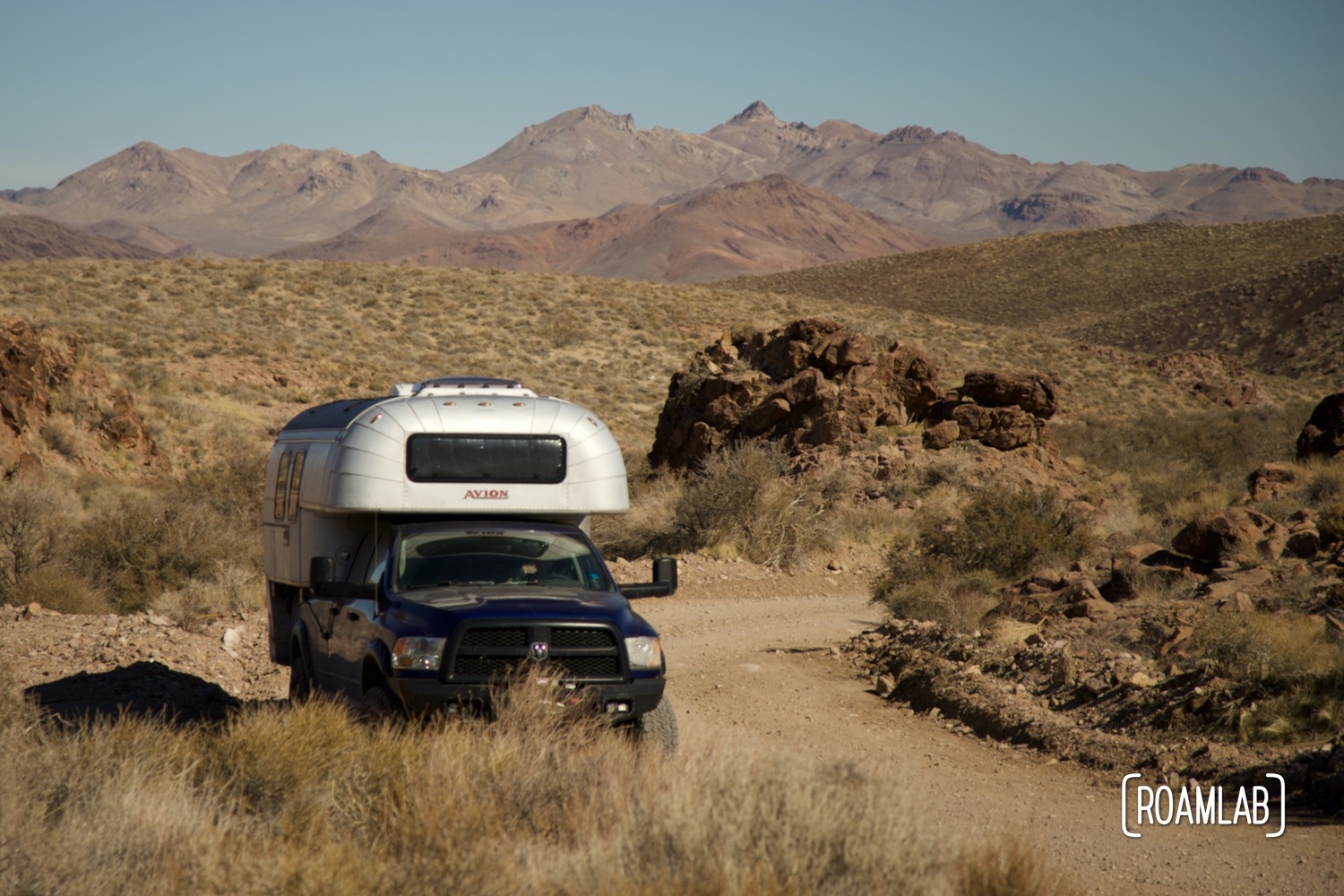 Pre-Drive Preparation
With all those risks in mind, it's important to come prepared. Pack water, food, and proper weather gear. Before launching down the road, be sure to gas up in Beatty, Nevada. There are two gas stations. The Arco is cheaper but has an intermittent history of slow pumping. The Eddie World Gasoline is a much larger and more convenient gas station. So it's a question of how much is the saved money worth. 
Along with Beatty, consider stopping by the historic mining town Rhyolite and the Goldwell Open Air Museum. These are both just a short side trip 2-miles north off Nevada Highway 374 South between Beatty and Titus Canyon's entrance.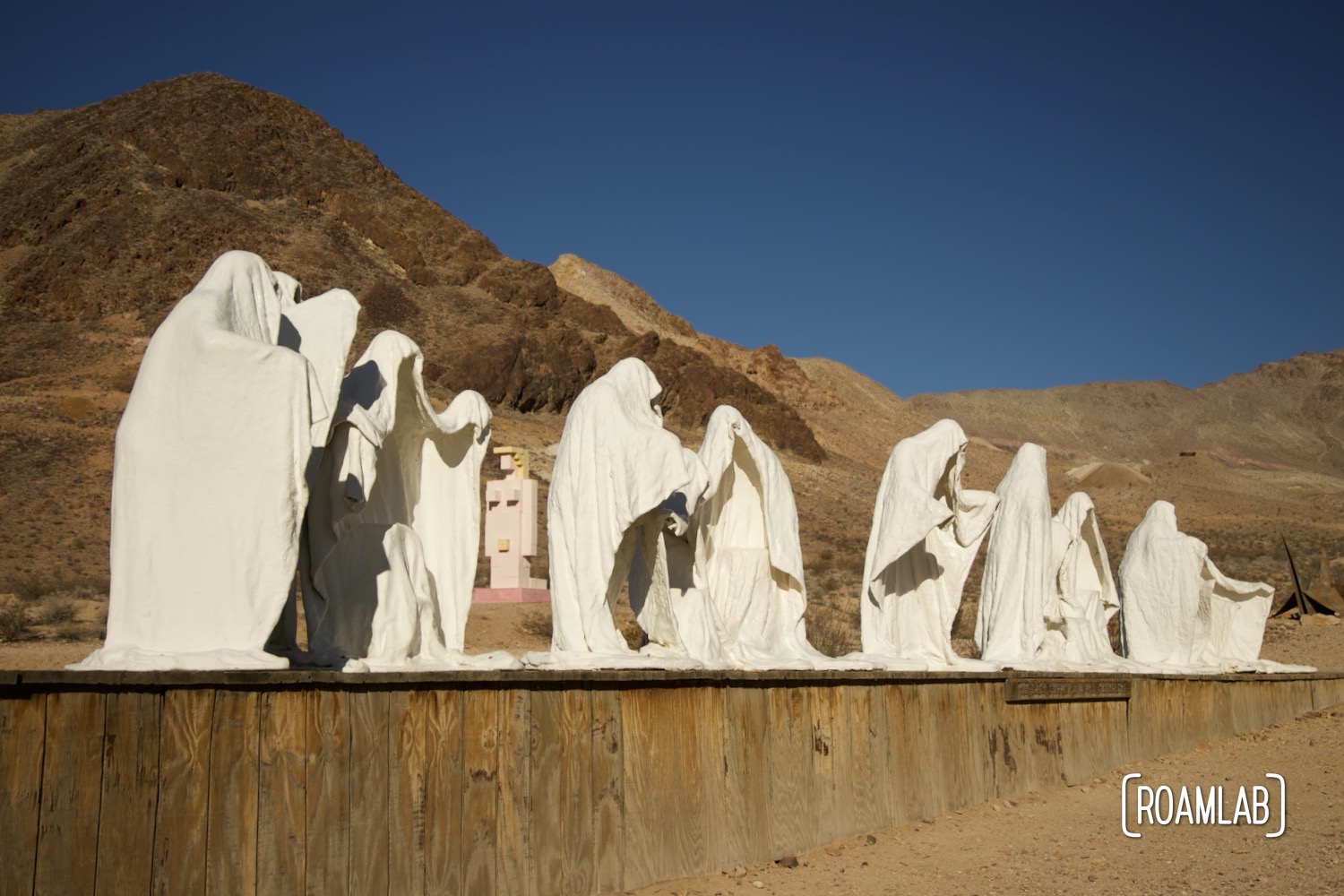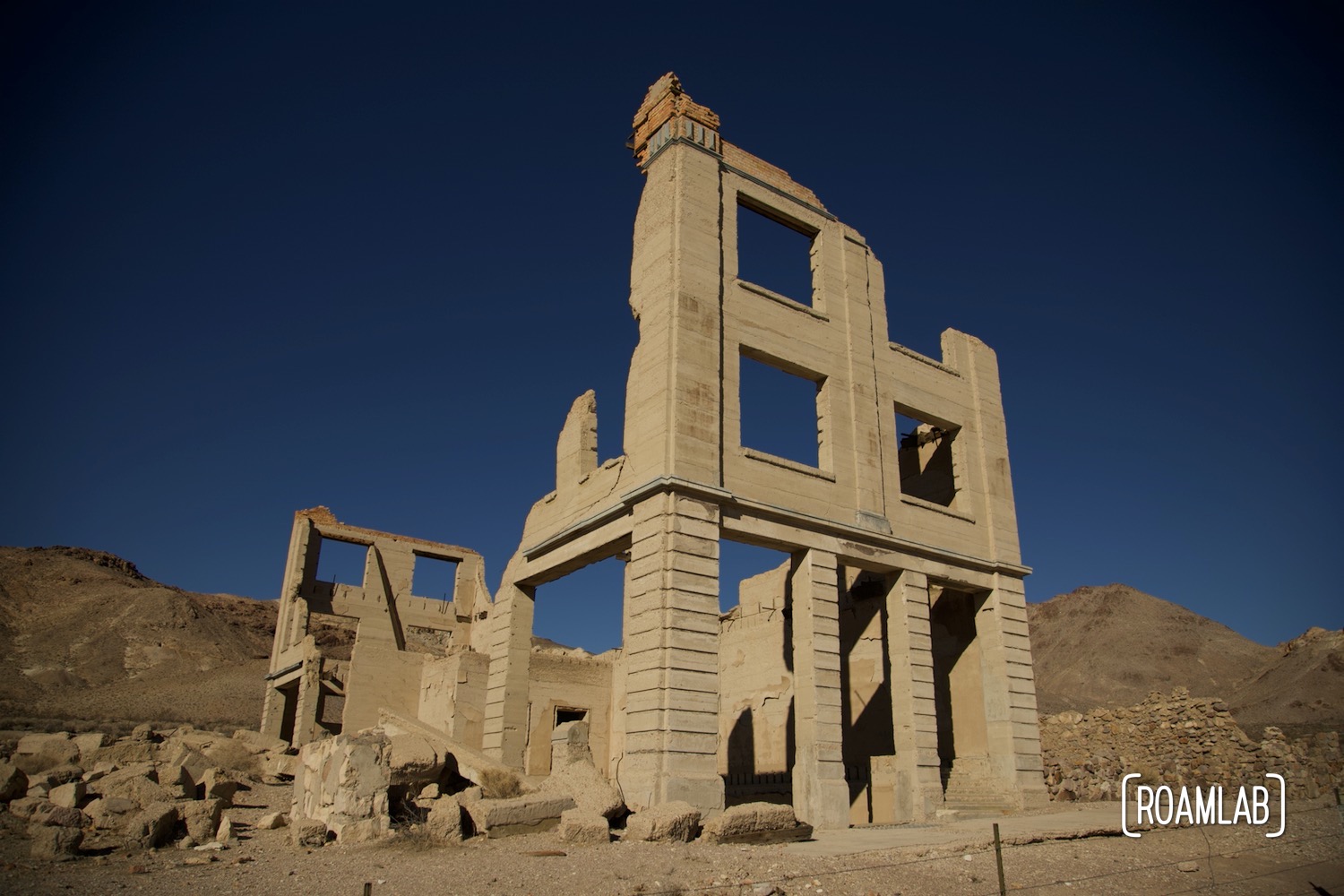 Titus Canyon Road Entrance
While Titus Canyon Road does have an outlet inside Death Valley National Park, we can only drive to the mouth of the canyon where the road becomes a one-way road traveling in the other direction. To reach the beginning of Titus Canyon Road, we have to leave the park and travel east on Nevada Highway 374 (Daylight Pass Road) toward Beatty, Nevada. Two miles east of the park boundary, turn northwest for Titus Canyon.
The road cuts back sharply through the Amargosa Valley and BLM Land for nearly 2 miles. This short, strait, and broad stretch of dirt road is two-way until it reaches the park border. Along here, you may notice vehicles of rock hounds and boondockers pulled to the side. These activities are permitted on BLM land but not in the park. The transition into California also marks entry into the park. Here, the road starts to wind and climb into the mountains.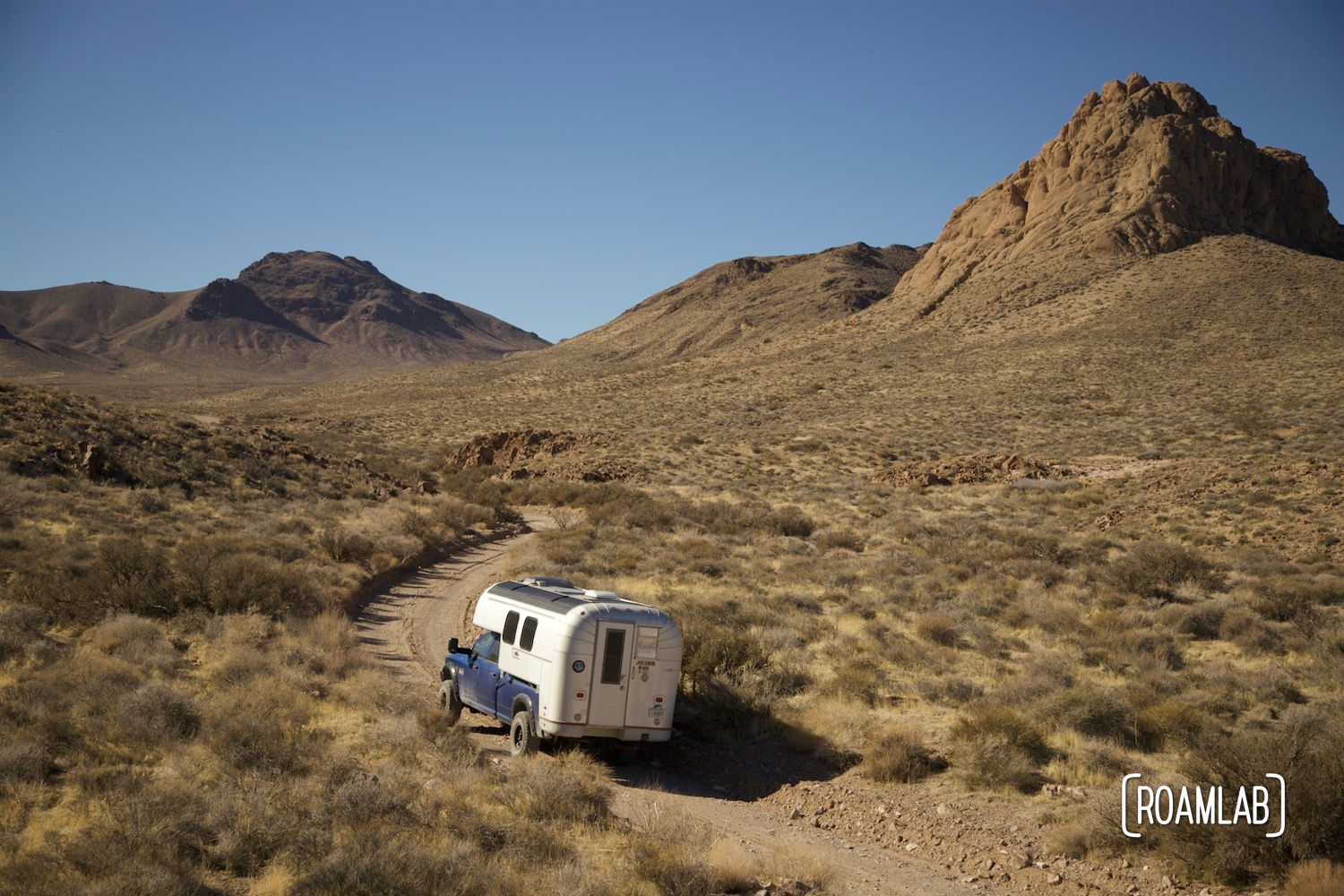 Titanothere Canyon
While we may be driving on Titan Canyon Road, the first canyon we encounter is Titanothere Canyon. As soon as we cross into Death Valley's boundaries, the road climbs into the Grapevine Mountains and over White Pass into upper Titanothere Canyon. The colorful rock here includes 30-35 million year old fossil deposits. In 1933, the skull of a titanothere was discovered here. The fossilized skull of this giant rhino-like creature inspired the name of this canyon.
While the road is wide along many of the straightaways, the trail warrants its one-way status with tight and narrow switchbacks. Our long bed truck manages but just barely. At points where the road skirts a rock wall, we pull in our rearview mirror to allow a little more room. 
The road is relatively popular and as the views get more scenic, the pull-outs become fewer and further between. Steep cliffs, rock walls, and tight switchbacks are commonplace. For the average, unencumbered high clearance vehicle, this is just a relaxing Sunday drive. But as someone who desperately wants to take pictures at every turn and with all our belongings in the bed of the truck, the trip is a little dicier. We travel slower than other rigs and without pullouts to let them pass, we find ourselves harried by jeeps and smaller trucks riding our tail.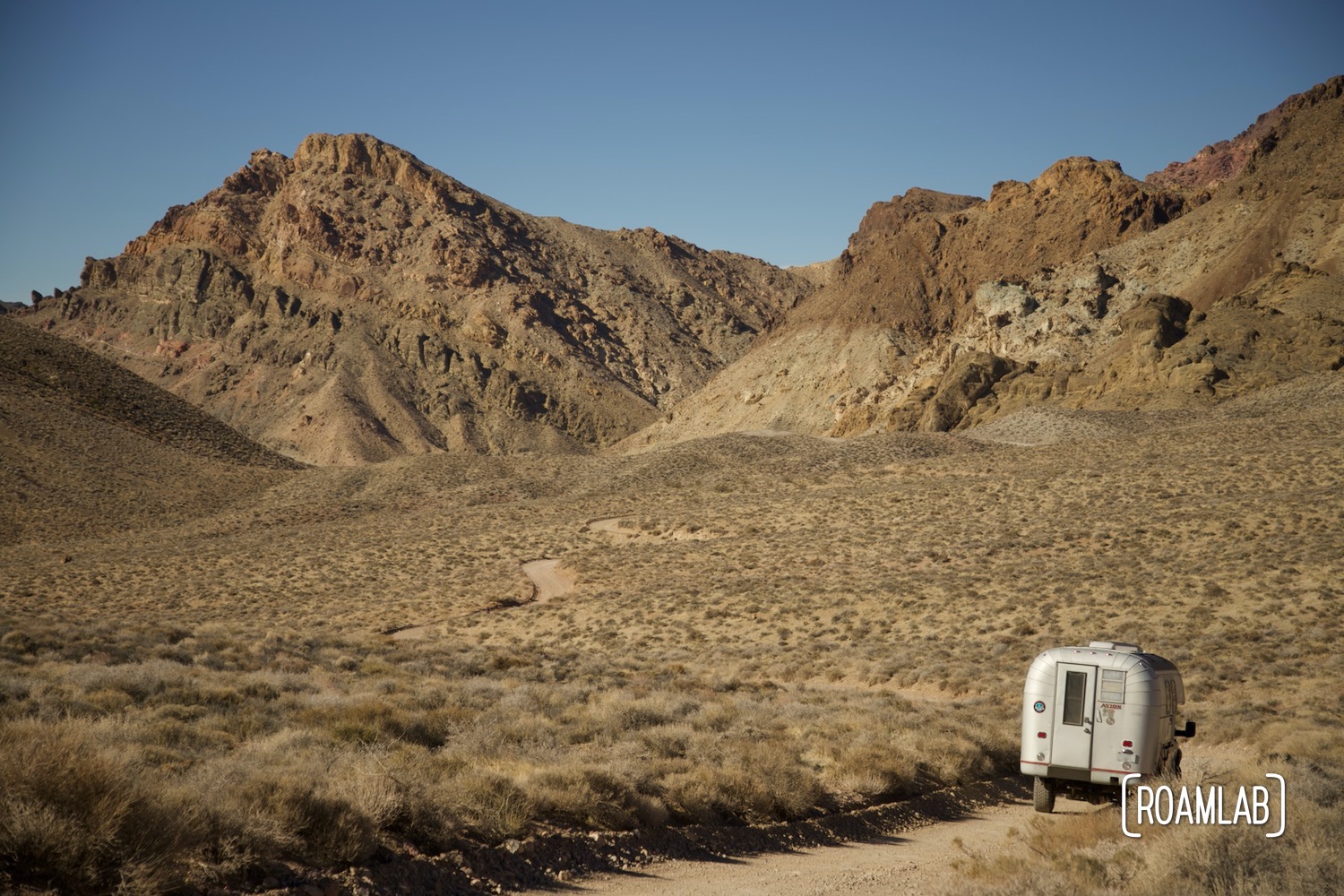 Red Pass
After winding through Titanothere Canyon, we climb 5,250 feet above sea level to the Red Pass, marking the divide between Titanothere and Titus Canyons. The trail is at its most narrow and windy at the Red pass. Here, there are limited pullouts to allow other vehicles to pass so we (sadly) do not have many pictures to document the descent from Red Pass, despite its awesome views.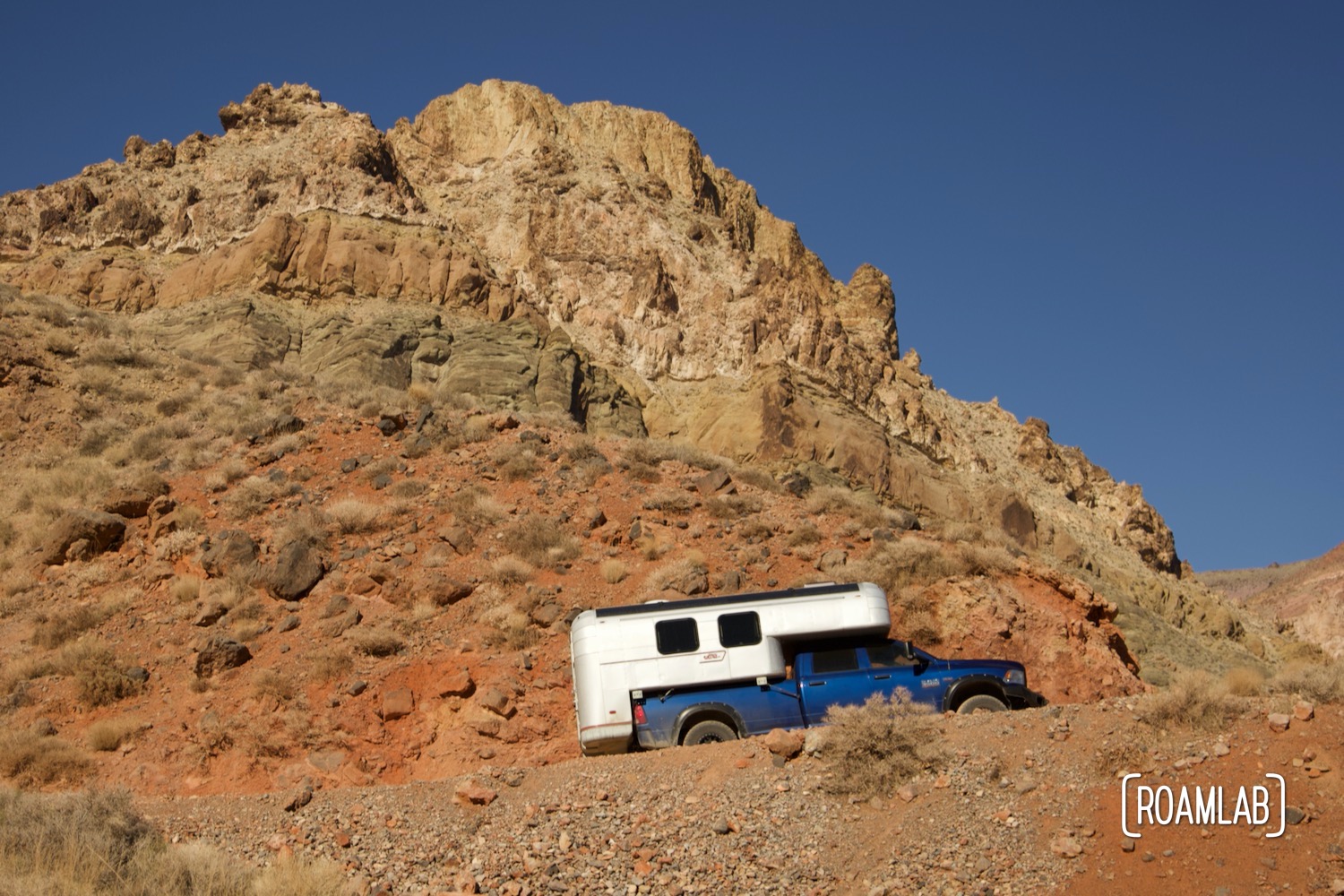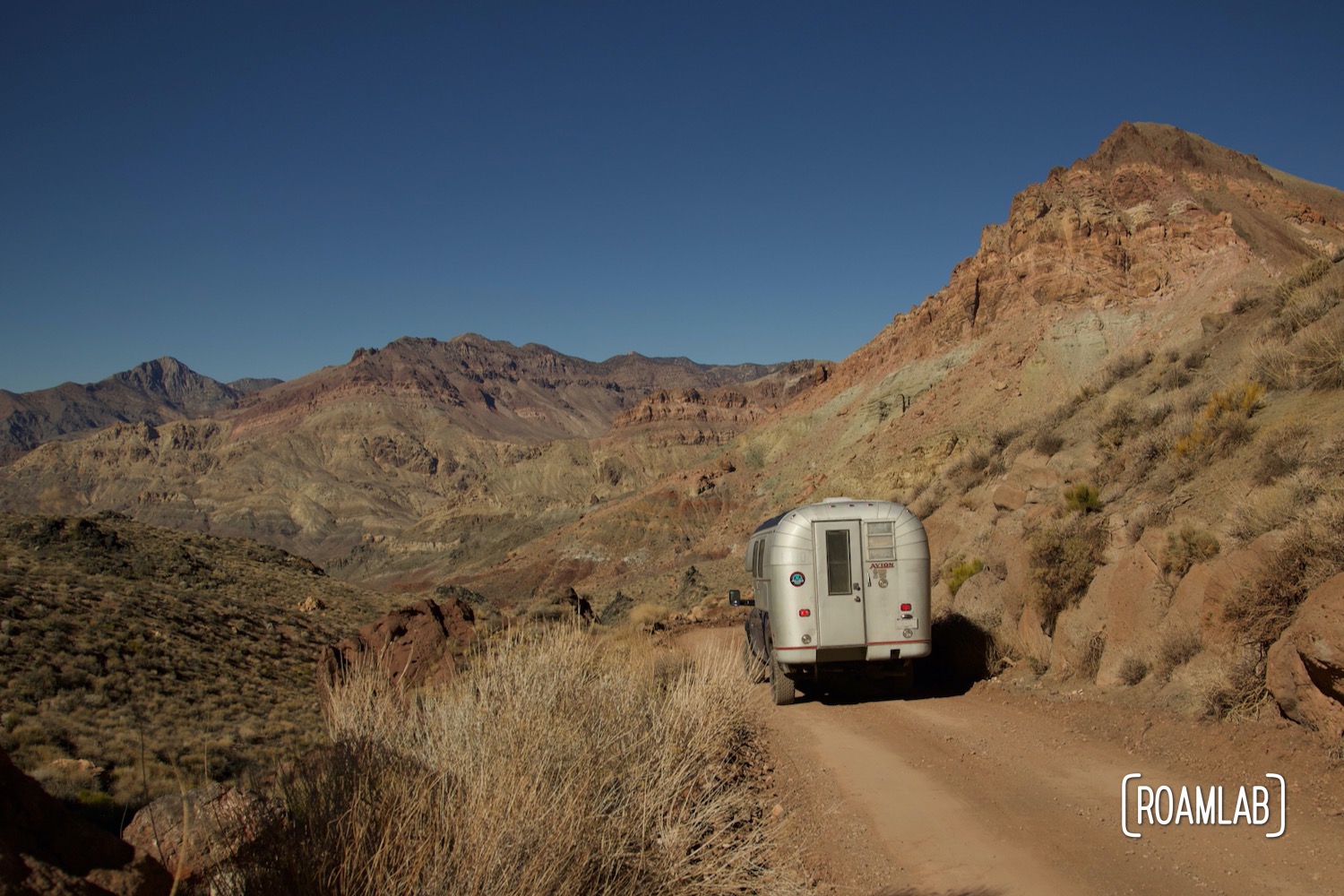 Leadfield
Leadfield is located roughly halfway along Titus Canyon road. The road widens into a small parking lot which can get quite busy during peak times. This ghost town boomed for less than a year between 1926 and 1927. The lead deposits that drew prospectors quickly bottomed out. Today, only a few shacks and mines remain. While many of the mines are open, enter with caution. Unexpected vertical shafts, loose timbers, and sheltering wildlife all pose a threat to the unprepared explorer.
These ruins also mark the transition from mountain climbing to valley cruising. Here, the trail winds past boulders and ever-narrowing walls of the canyon.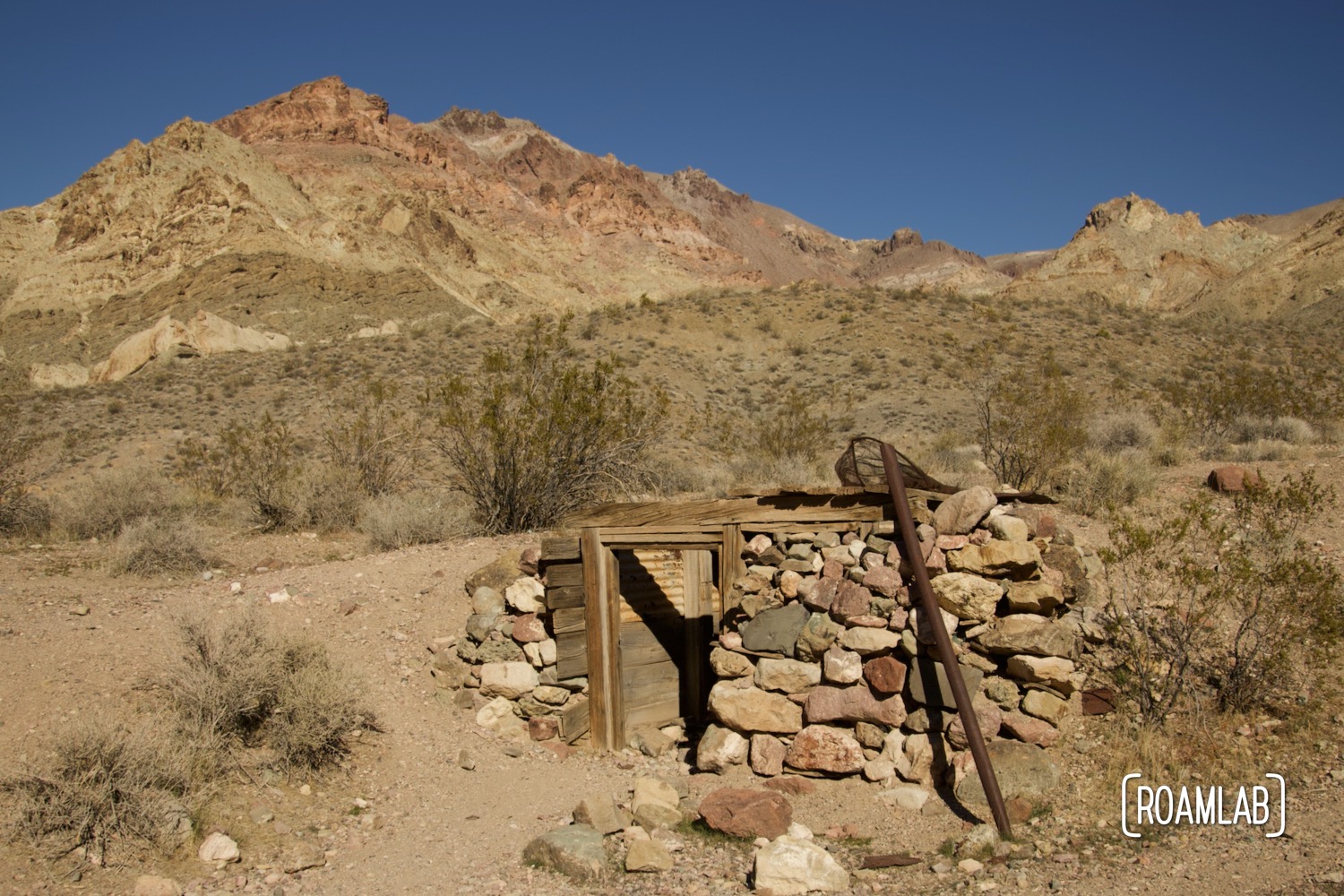 Titus Canyon
After Leadfield, we enter the main fork of Titus Canyon. While we drive along the rocky wash, the canyon's limestone cliffs rise and narrow into a slot canyon for cars. This is Chris's favorite part of the road. With awesome rock walls to stop and gape at but also enough space to pull over and let more eager vehicles pass. Being a wash, the drivability is very susceptible to weather conditions. After the rain, this is an area where many vehicles get stuck. More serious still, in the case of a rainstorm, this is an area at risk of flash flooding. Fortunately, we arrive on a clear sunny day.
Petroglyphs
Keep an eye out for the petroglyphs sign. It is a late, brown sign with white lettering to the left (north) and is easily seen from the road. The petroglyphs themselves are white abstract patterns on large grey rocks and are also easily seen from the road.
The petroglyphs are located near Klare Spring. The spring was an important resource for native tribes who left evidence of their presence in petroglyphs. Today, the spring is a critical resource for Bighorn Sheep, making this also a promising location to view these elusive animals. That said, Titus Canyon Road is well-trafficked, and at midday, we don't see any wildlife.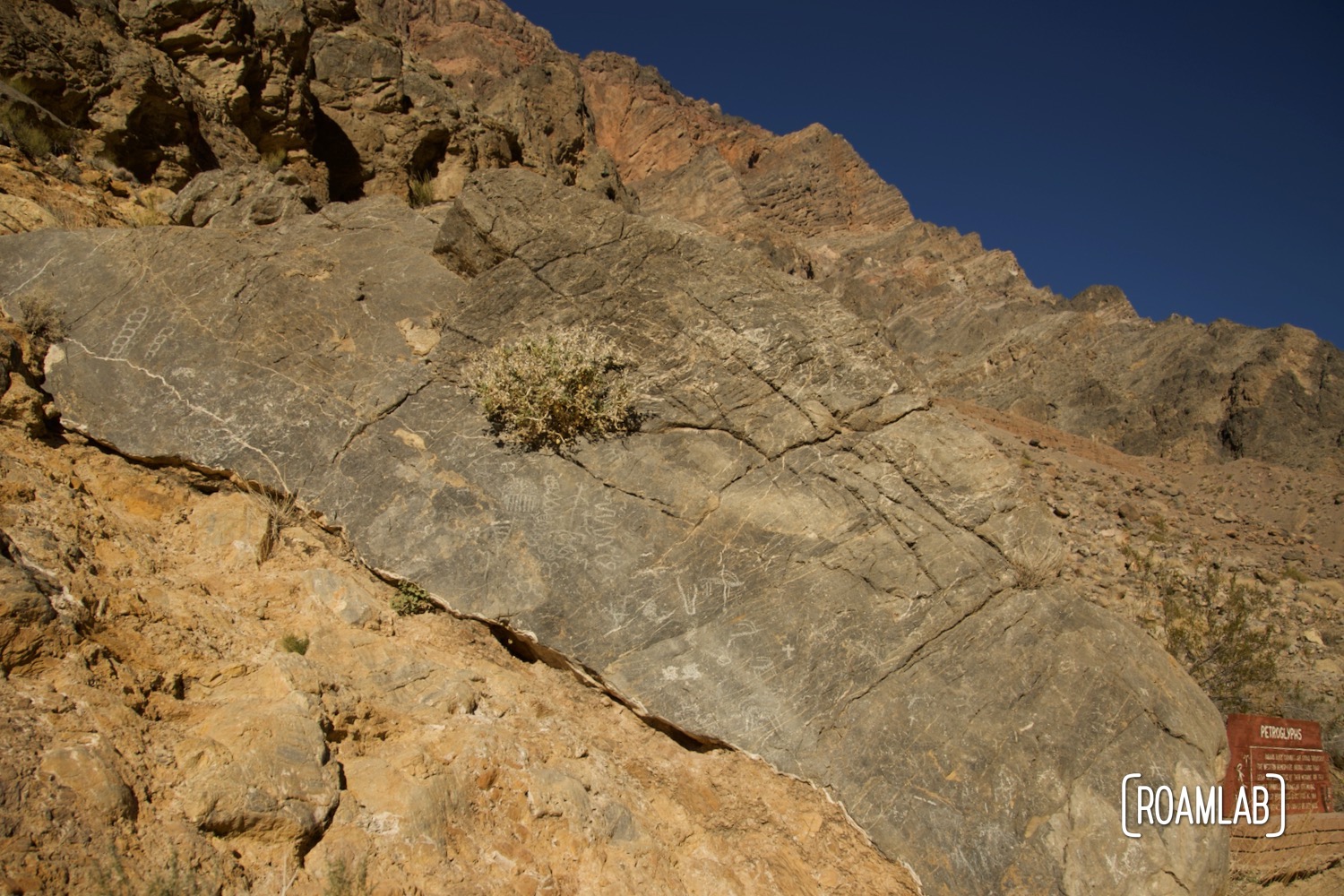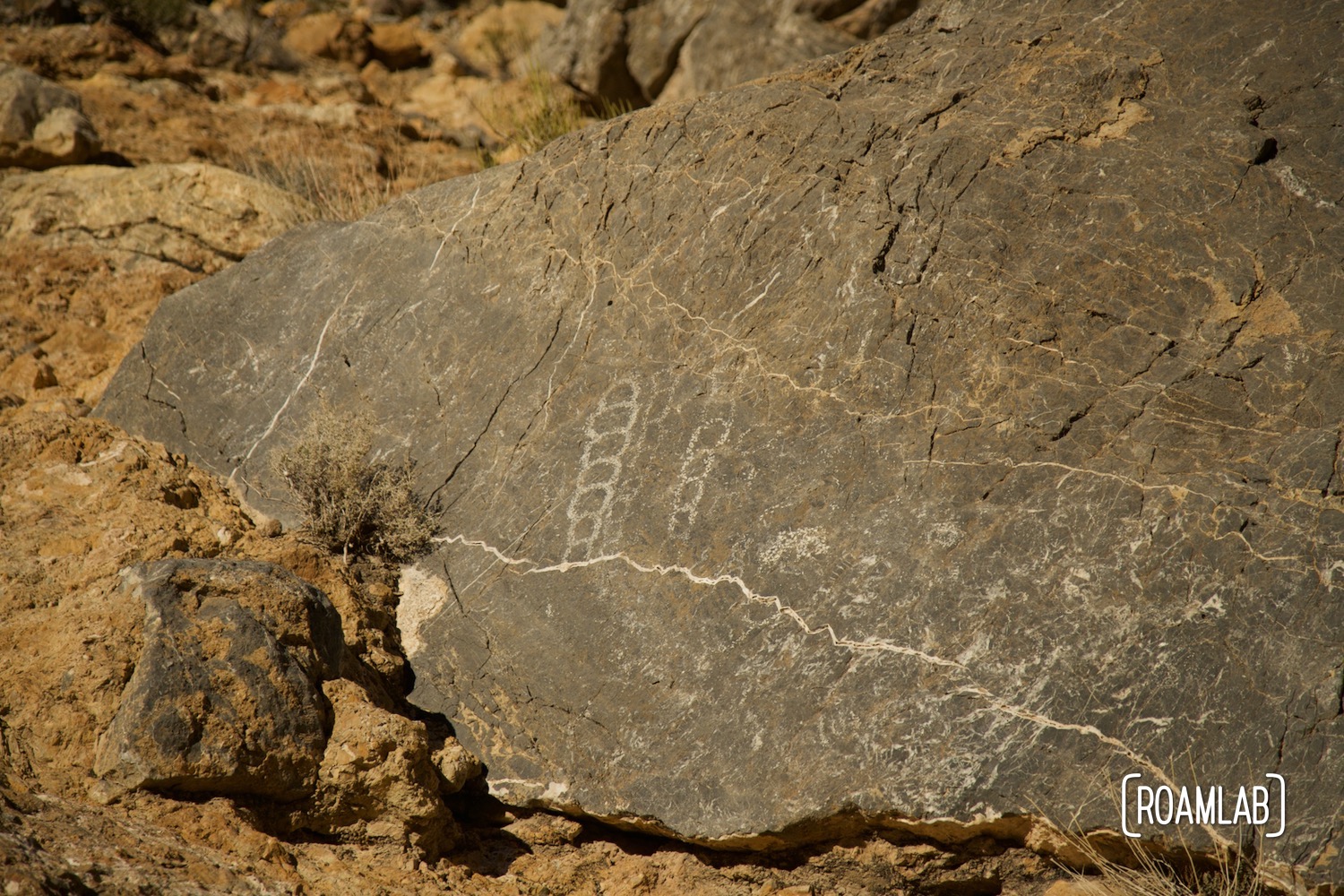 Canyon Narrows
By the final mile and a half of the Titus Canyon, we enter into the narrows. At its narrowest, the canyon walls are only 20 feet apart. This section has been known to be the toughest portion of the road and drivers are encouraged to scout ahead. Nevertheless, on the dry winter afternoon of our visit, we simply enjoy the awesome view.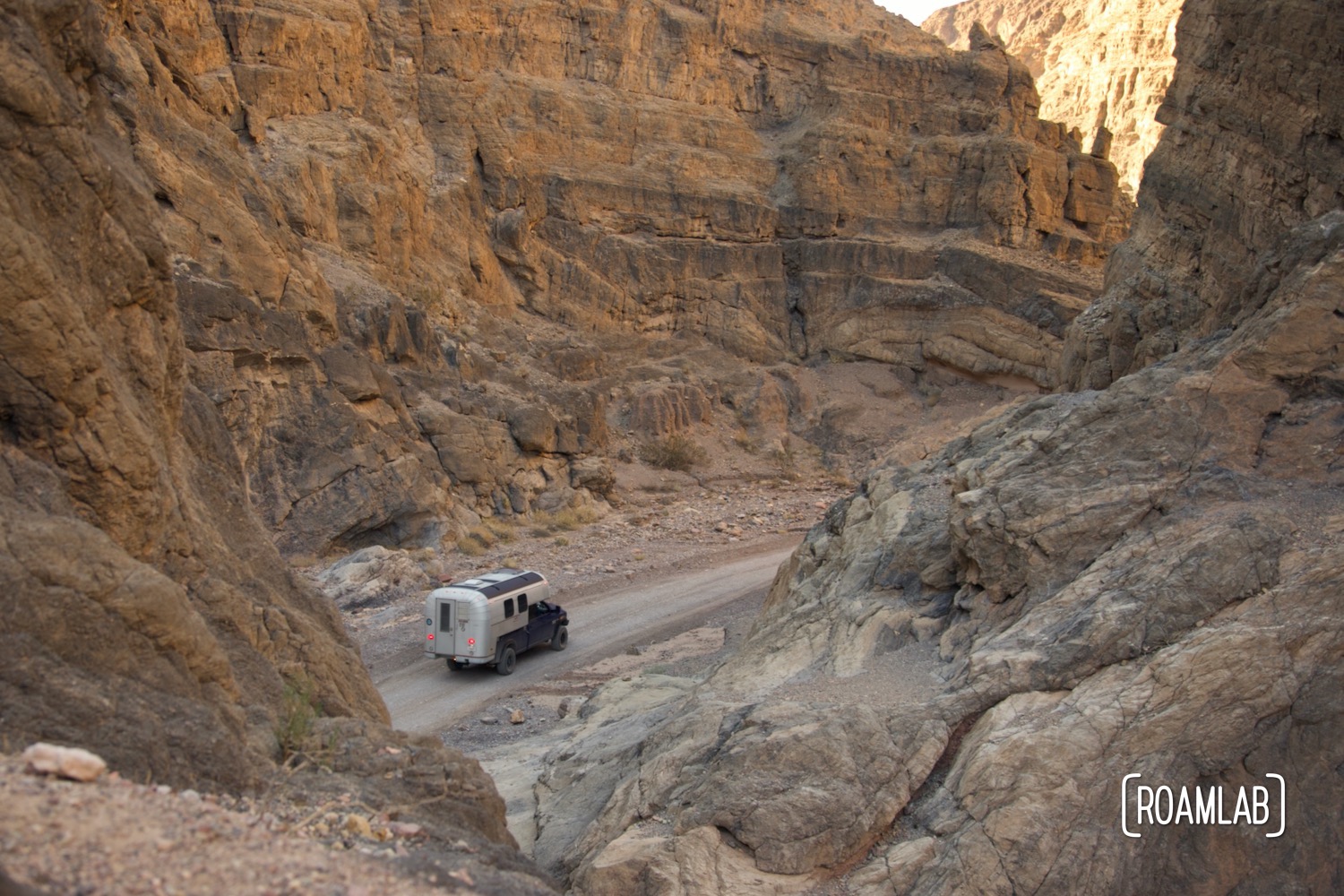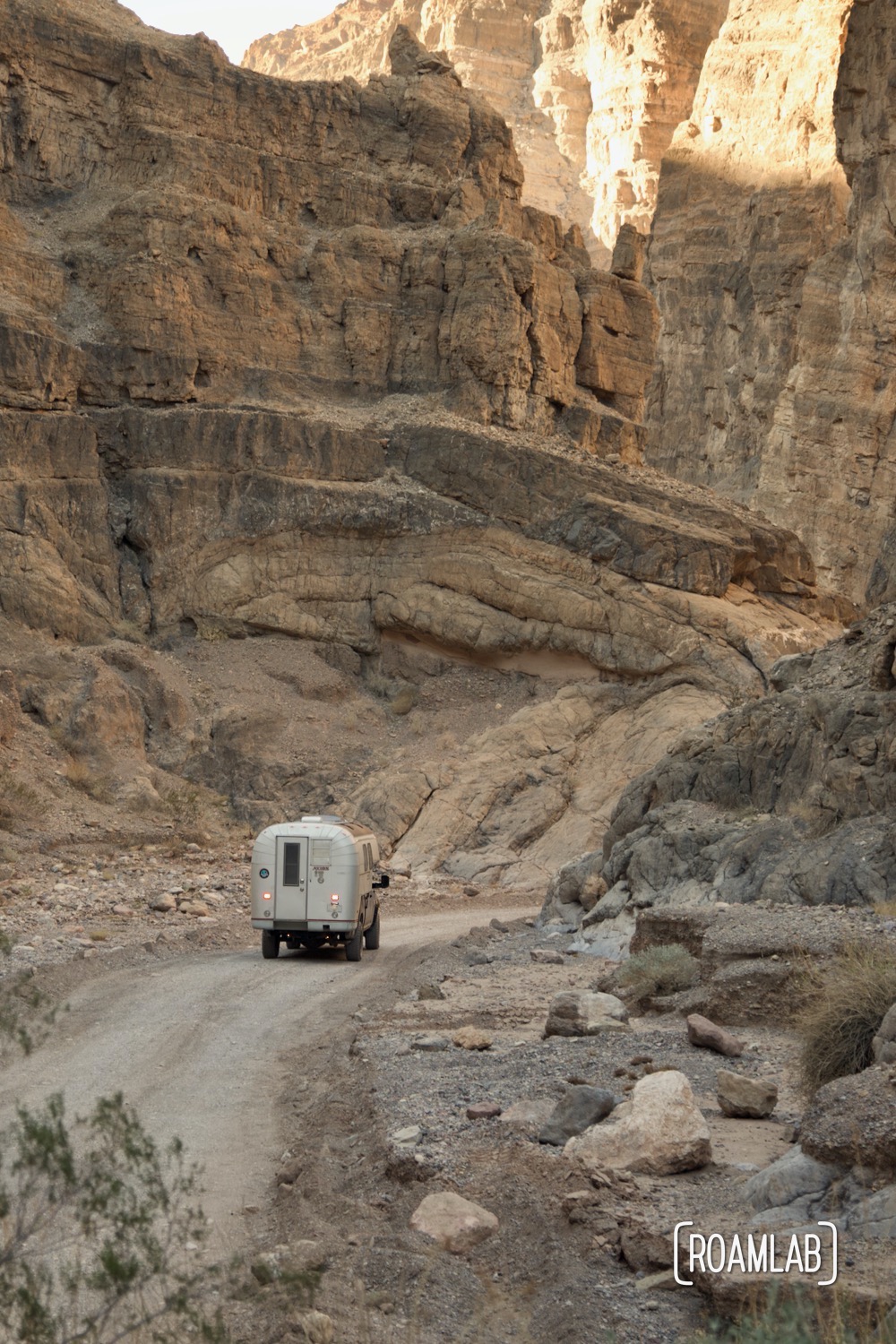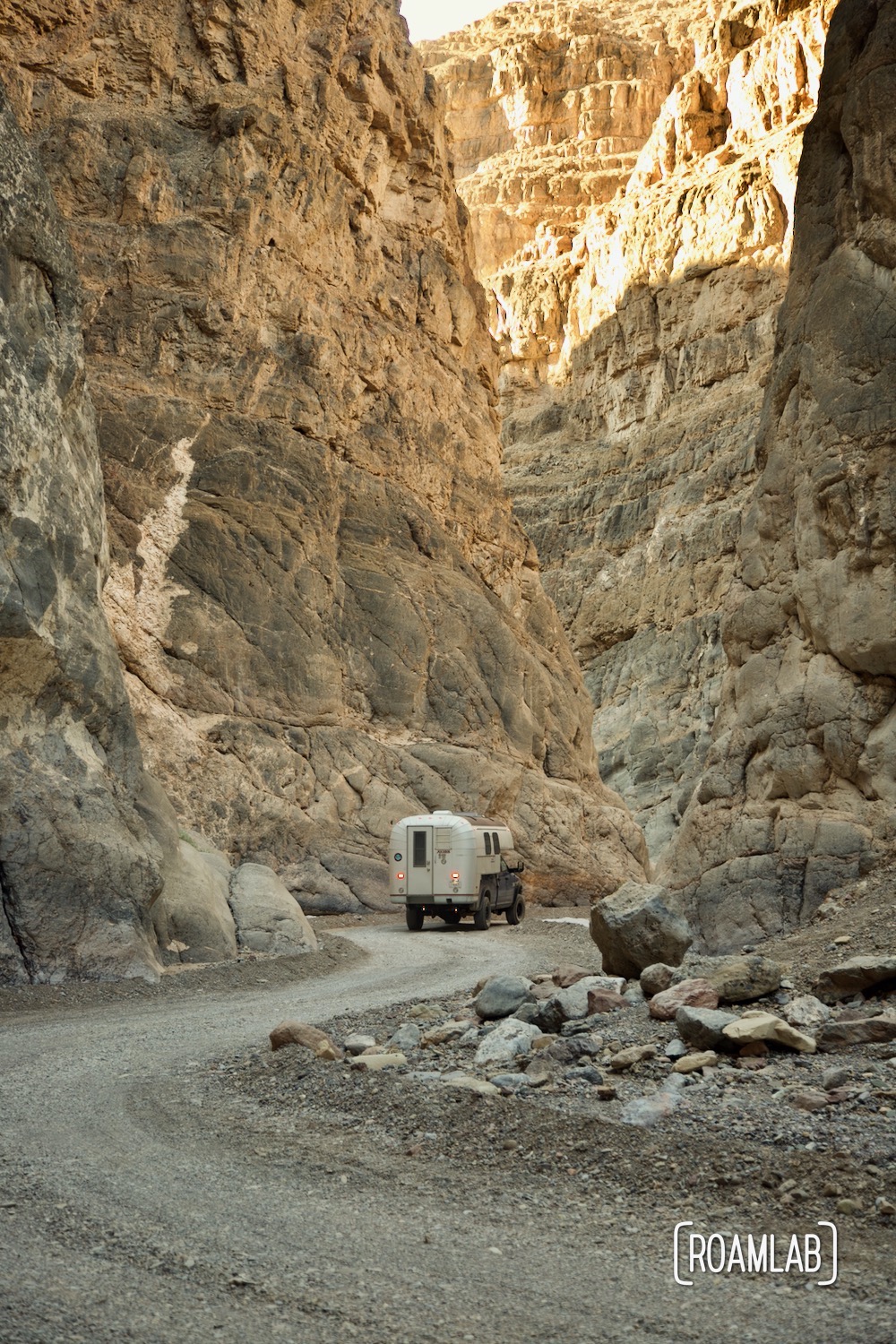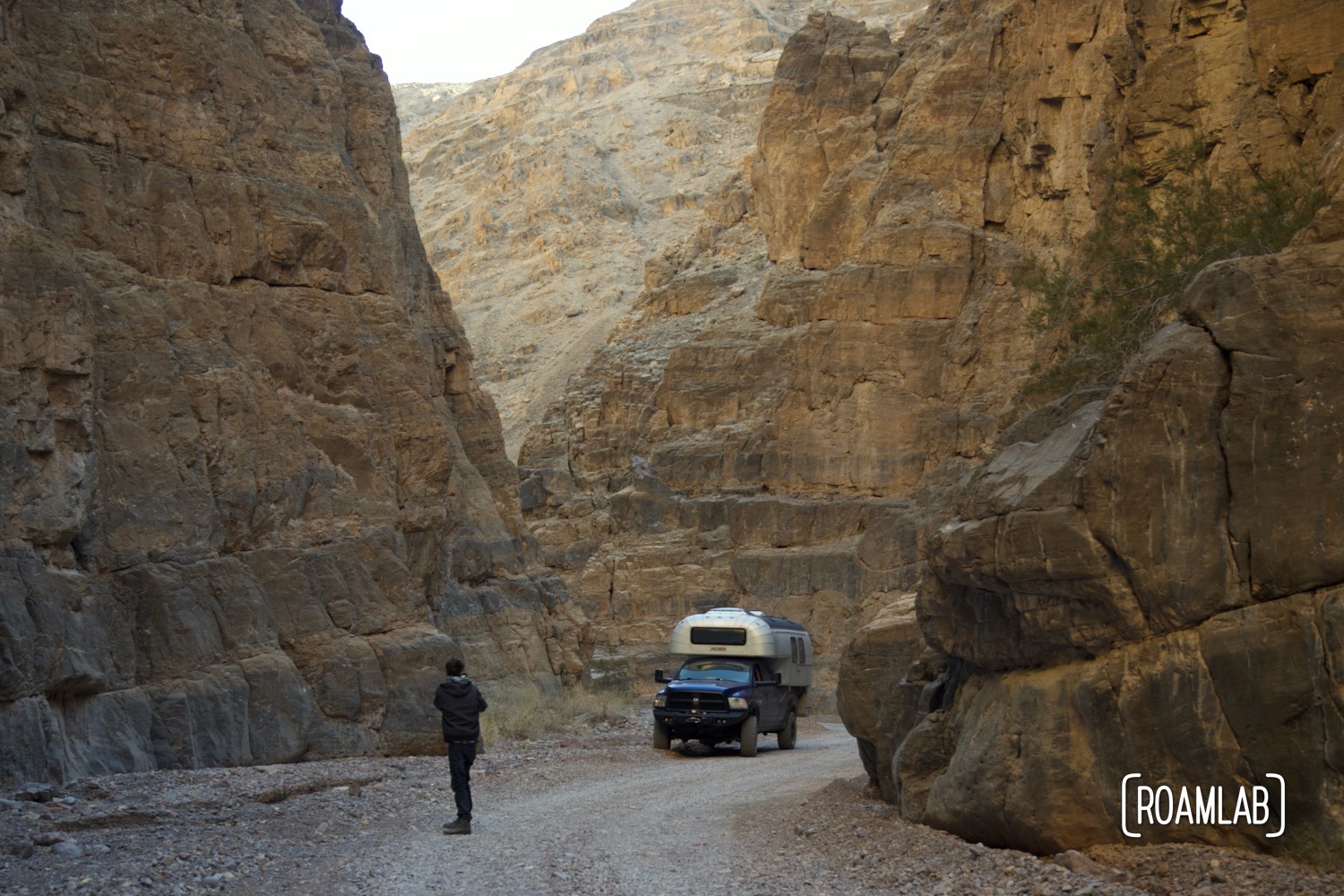 Our Experience on Titus Canyon Road
Titus Canyon Road is an awesome if troublesome road. It should be no surprise that this is a bumpy road. We strive to minimize the jostling of our truck camper. Yet, with our limited storage options, the rumbling route effectively spread our possessions across the camper floor. 
As we alluded to earlier, this road is popular. The many other vehicles traveling along the road and limited pullout options made some of the most beautiful spots the most stressful as well. We drove Titus Canyon on a week day, yet there was rarely a moment where we couldn't see some other vehicle in the distance. If we were to ever drive this road again, we'd make an effort to depart much earlier in hopes of avoiding the worst of the crowds.
Even so, we completely understand while Titus Canyon Road is so popular. There's something for everyone. As the photographer, the colorful rocks of the first half are my favorite. But Chris loves driving through the canyon narrows and wouldn't have minded skipping the cliff side drama of the first half.