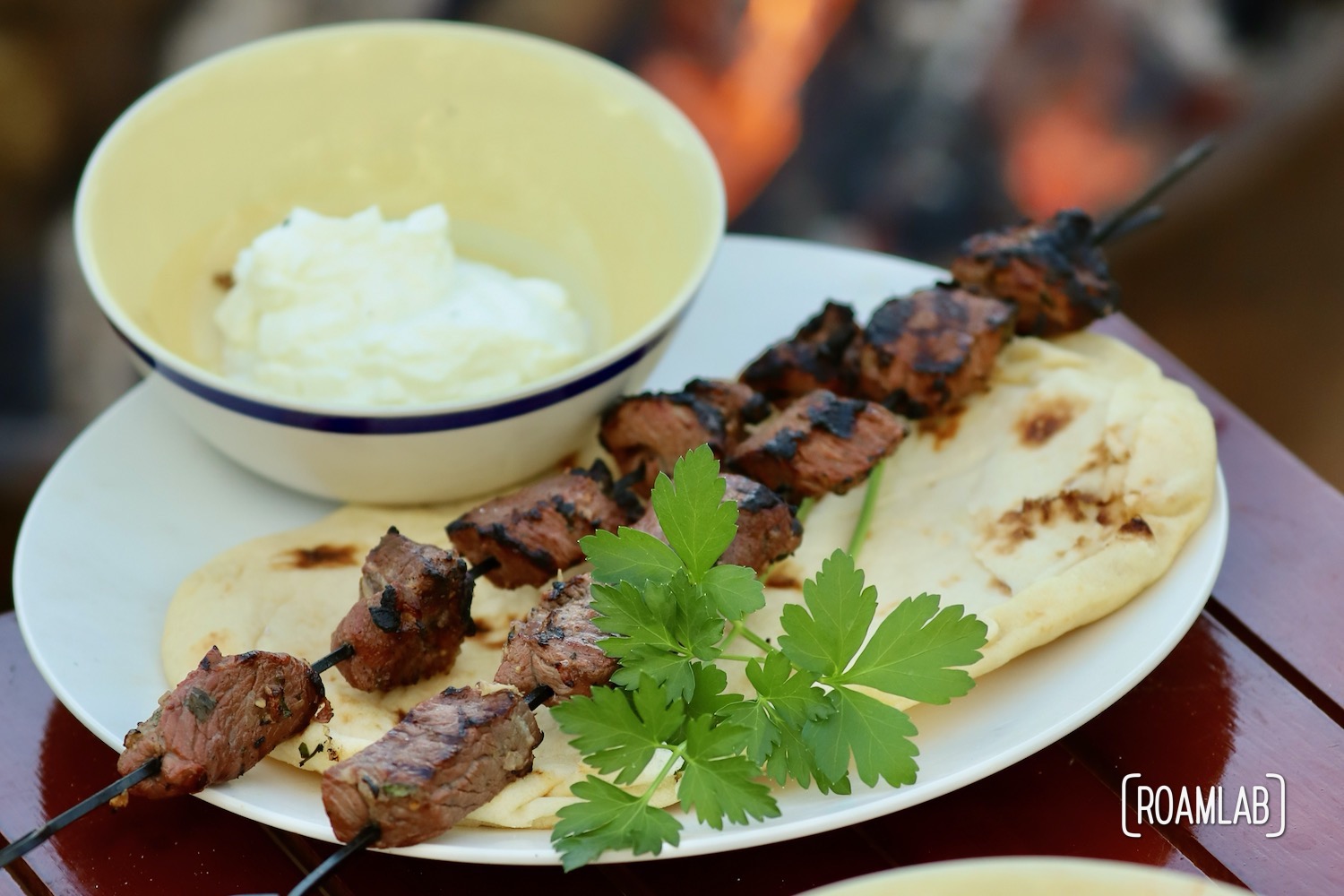 Fire Grilled Lamb Shish Kabob
Campfire Cooking
As the weather continues to warm, I'm in a kabob state of mind. Shrimp, chicken, and steak are all solid options. But a special place in my culinary heart is reserved for some fire-charred lamb cubes. While I've tried reproducing this with a broiler, nothing quite matches that smokey flavor directly from an open flame. Grill this savory middle eastern style Lamb Kabob campfire cooking dinner recipe with a side of toasted pita bread and yogurt for a delicious al fresco meal.
Lamb Shish Kabob Recipe
Serves 8
Ingredients
1 pound of lamb loin in 1-inch cubes
½ medium onion, minced
4 garlic clove, minced
2 tablespoons minced parsley
½ teaspoon lemon zest
3 tablespoons fresh lemon juice
1 teaspoon ground allspice
1 tablespoon kosher salt
2 tablespoons olive oil
(optional) toasted pita & greek style yogurt
Equipment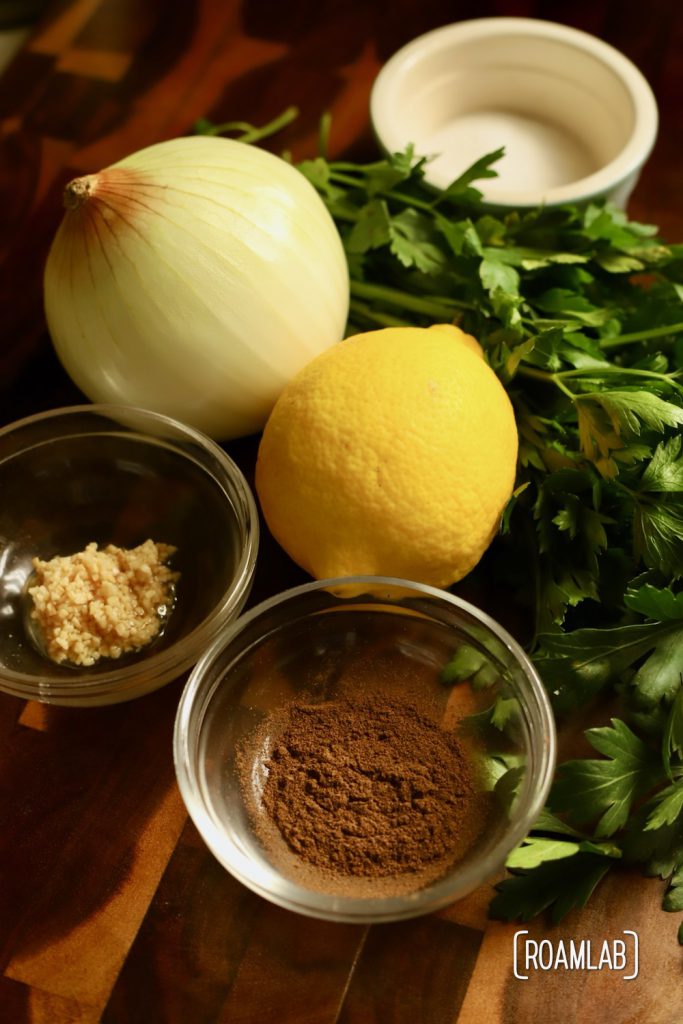 Directions
This is a convenient recipe provided you plan. The lamb should marinate for at least six hours. So, go ahead and prepare the lamb and marinate the day before you plan to have dinner and keep it in the refrigerator until you are ready to cook it. When I had a large freezer, I would take this one step further: preparing many portions in individually sealed bags and freezing whatever I didn't plan to eat the next day.
For those off for a weekend camping getaway, a bag of frozen marinating lamb kabob is a perfect "day 2" dish to throw in the cooler. The lamb cubes will contribute to the general chill for the first day and have enough time to thaw out in the cooler. By the time the second day of camping rolls around, you'll be relieved to have dinner practically done with just the fun camping part left to complete: grilling.
Whisk together onion, garlic, parsley, lemon zest, lemon juice, salt, and allspice
Mix marinade with lamb and seal in a resealable plastic bag
Place the bag in the refrigerator to chill for at least 6 hours
Stoke up fire and place grill over high heat
Thread lamb between four skewers with a gap between each cube
Place lamb on the grill and rotate occasionally.
When lamb cubes are lightly charred (around 5-minutes), remove from heat.
Serve with toasted pita and yogurt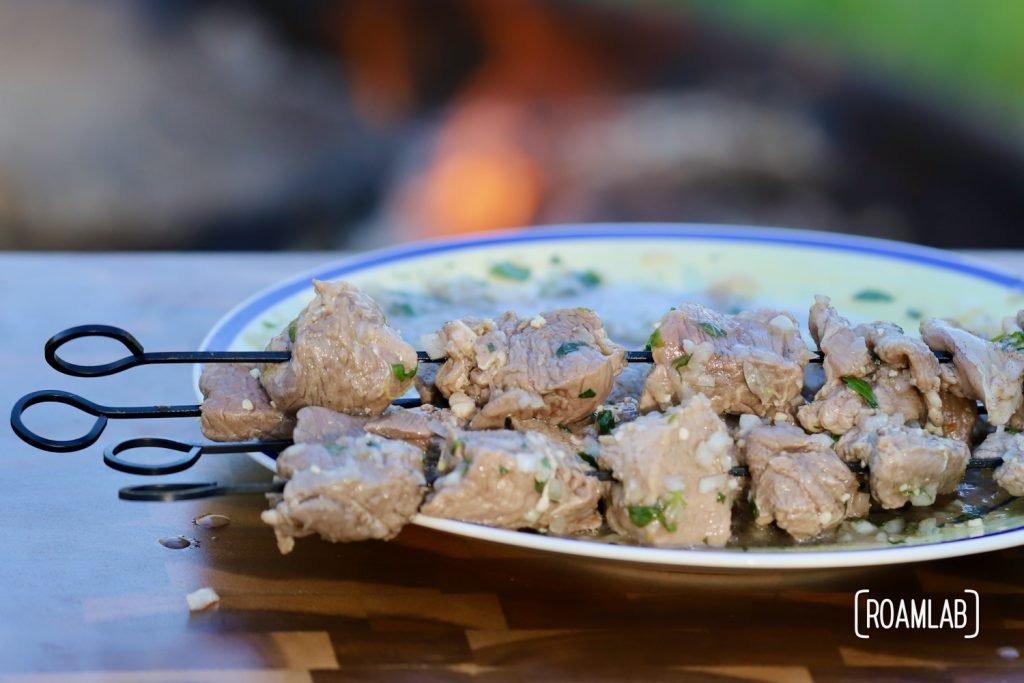 Pairings
Along with pita and yogurt, this rich and savory recipe really shines with a side of baba ganoush and a glass of Shiraz. Class it up with a sprig of fresh parsley. I have to restrain myself from snacking on the lamb skewers as I plate everything. It's so good!