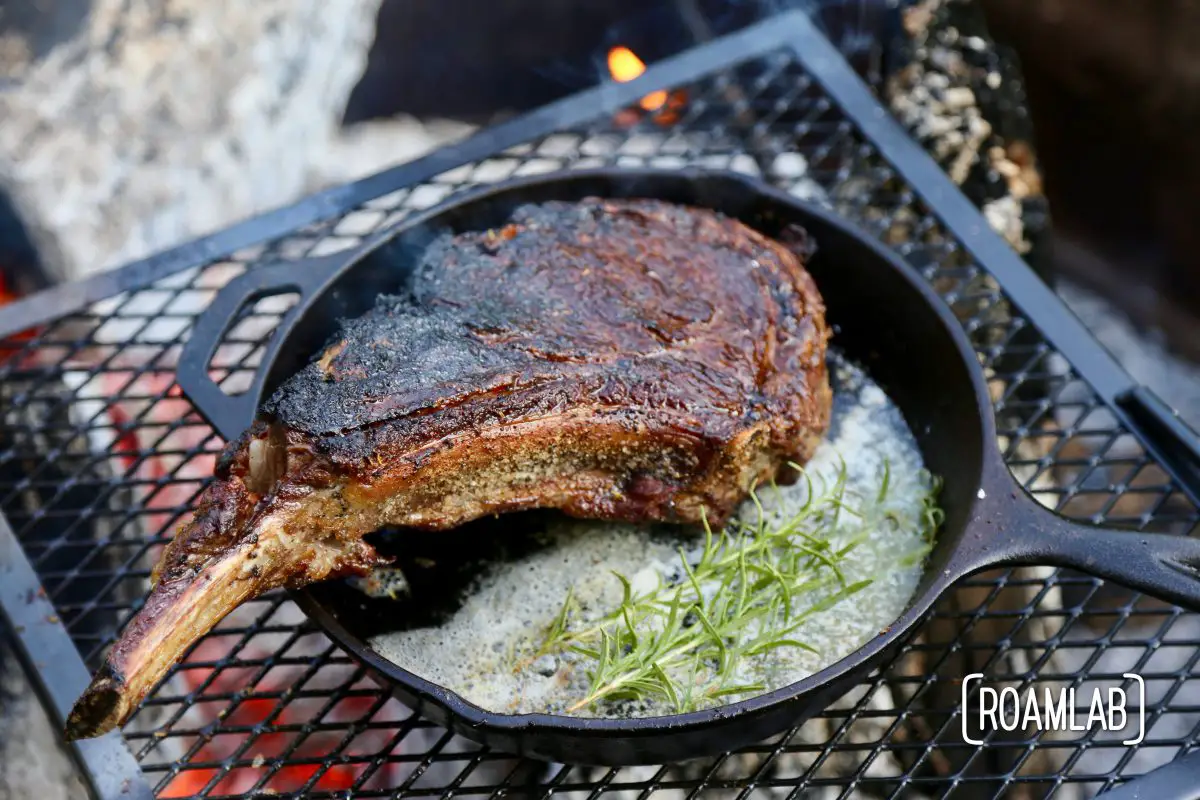 Tomahawk Steak
Campfire Cooking
Who has heard of a tomahawk steak before? I hadn't. But it makes sense. The Tomahawk steak is a ribeye with the rib still attached. You've probably encountered a bone-in ribeye, but this is SO MUCH MORE. Rather than a chopped up bone, this is a complete one. And ribs are thick. So is a tomahawk steak. It is cut to the thickness of the rib, so one of these steaks can be between 2 and 3-inches thick. One steak can easily feed 4 people or more, depending on portion size. And given their thickness and fattiness, they are a favorite for gourmet grillers. Of course, we don't have a fancy backyard grill. We have a simple assembly grill and a cast iron pan. That's fine, though, we'll manage.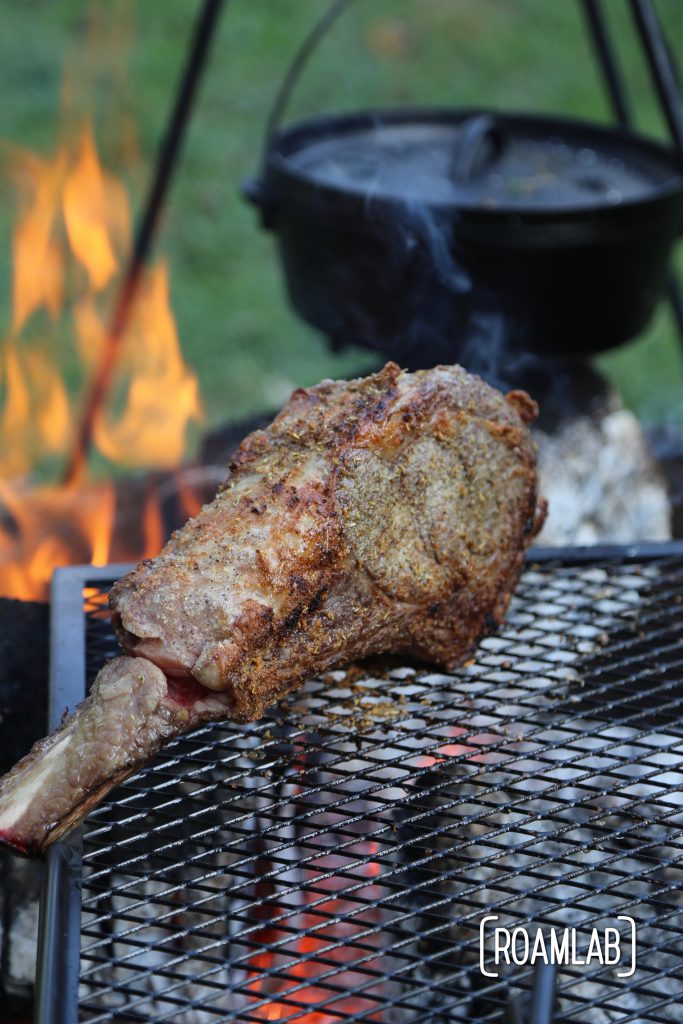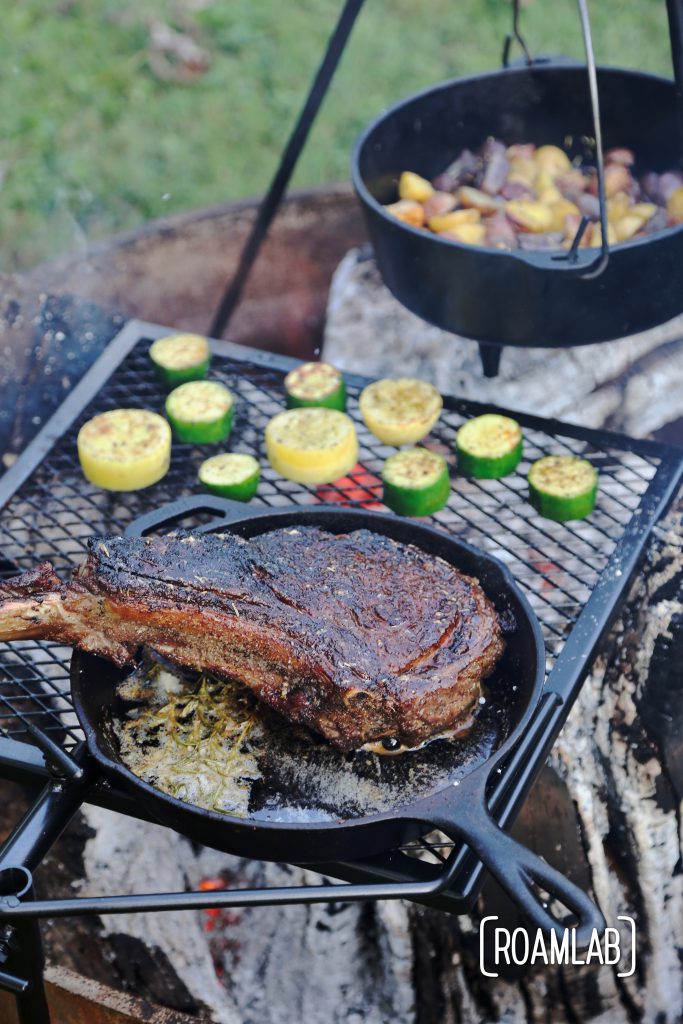 Ingredients
Tomahawk Steak (generally around 3 lbs)
Sea salt
freshly ground pepper
rosemary
thyme
butter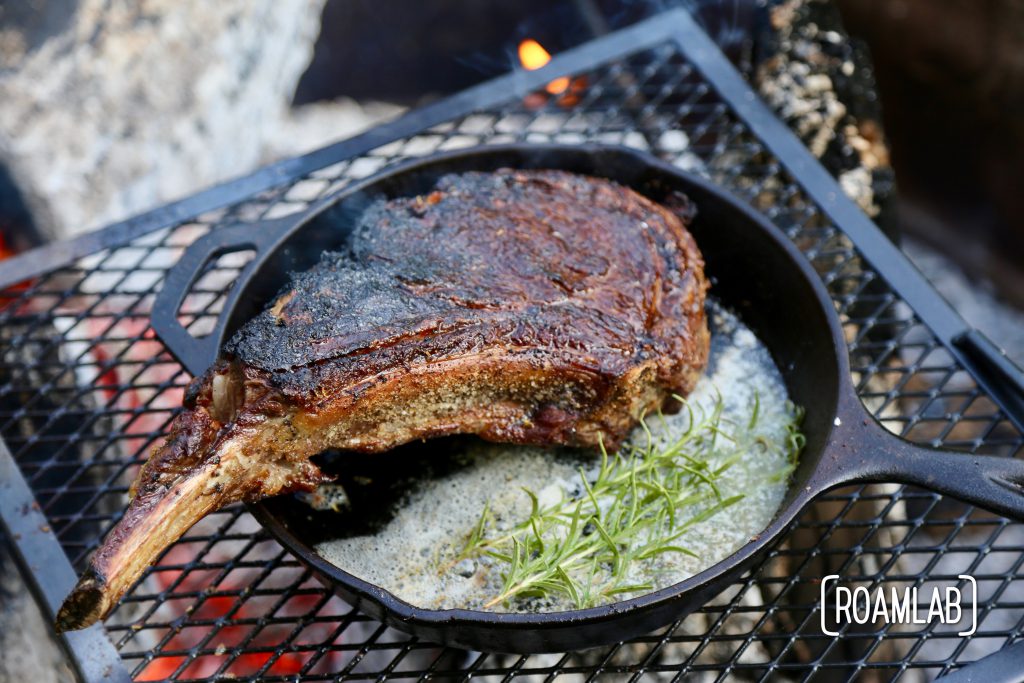 Preparation
With the thickness of the steak, it makes sense to go wild with the seasoning. Personally, I like simplicity, so I cake on a coat of freshly ground black pepper, sea salt, rosemary, and thyme. Once coated, I let the steak sit out at room temperature while I prepare my fire and grilling equipment. With such a thick steak, it really helps to start with the steak thoroughly at room temperature.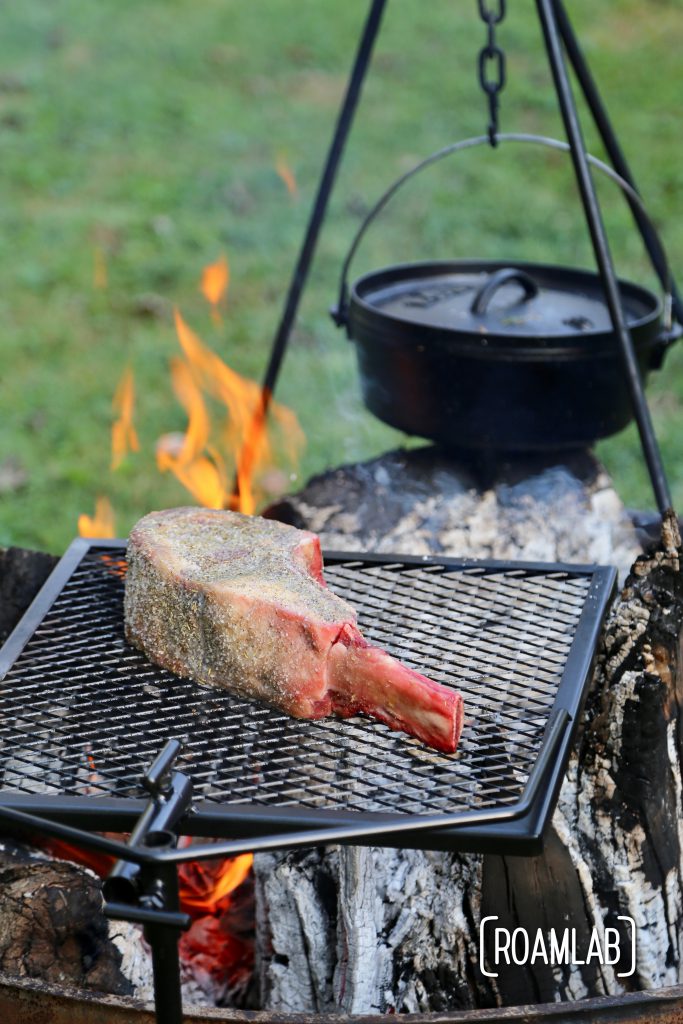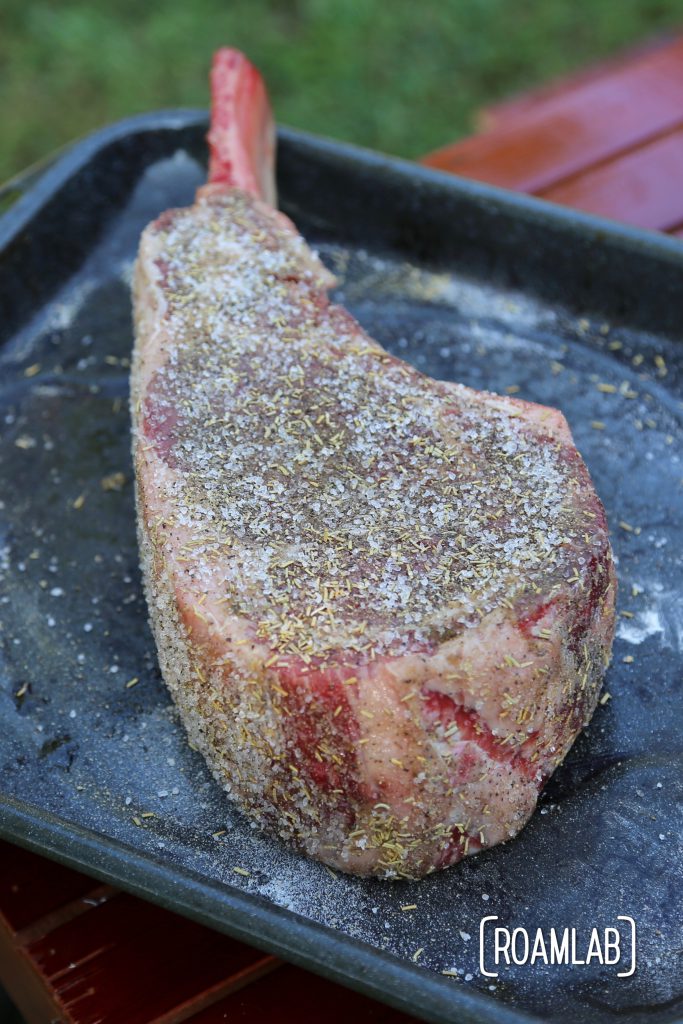 Grilling
Once I have a hot, even fire, I slap the steak on the grill to get a nice char on each side. And I mean every side. I have a long pair of tongs to help me balance the steak along it's edge so that everything has a pleasant char. For me, that meant about four minutes on each side. But, working with a camp fire, that time is highly variable. Keep an eagle eye on the steak so it isn't over charred. The steak will still have a lot of cooking to do after searing. The point is to seal in those juices with a solid sear.
While the outside may have an excellent brown, the inside still has a lot of cooking to do. At this point, I pull the steak away from the direct heat. Ideally, you have a cooking situation where the steak can sit on one level while a dish of butter and rosemary can sit below it and catch your drippings. With that, you can occasionally pause to brush the steak with this mixture. I do not have that kind of a setup. Instead, I have the rosemary and butter mixture in a cast iron skillet and lean the steak over it. The steak is too large to completely fit in the skillet which is, frankly, perfect, This isn't about soaking the steak, it's about coating the steak. Sit the steak and pan over a medium heat and regularly check the steak's inner temperature with a meat thermometer. When the steak reaches between 130 and 135 degrees, remove it from heat and then serve.
A quick note on presentation: this steak is huge and meant for multiple people. So you aren't going to just slap if on a plate and start eating. But you still want a nod to that awesome rib. So, cut the steak away from the bone. Cut the steak into strips. I like mine half-an-inch thick but it's your choice. Arrange everything on the serving platter in relative position so your dining guests can get a sense of the full scope of this awesome cut of meat.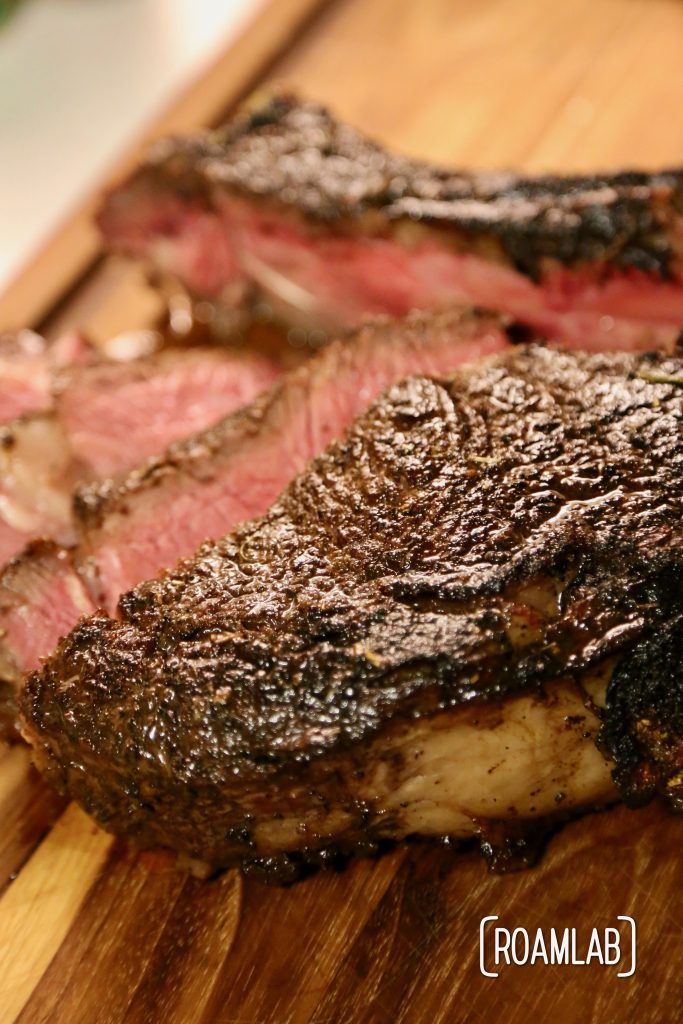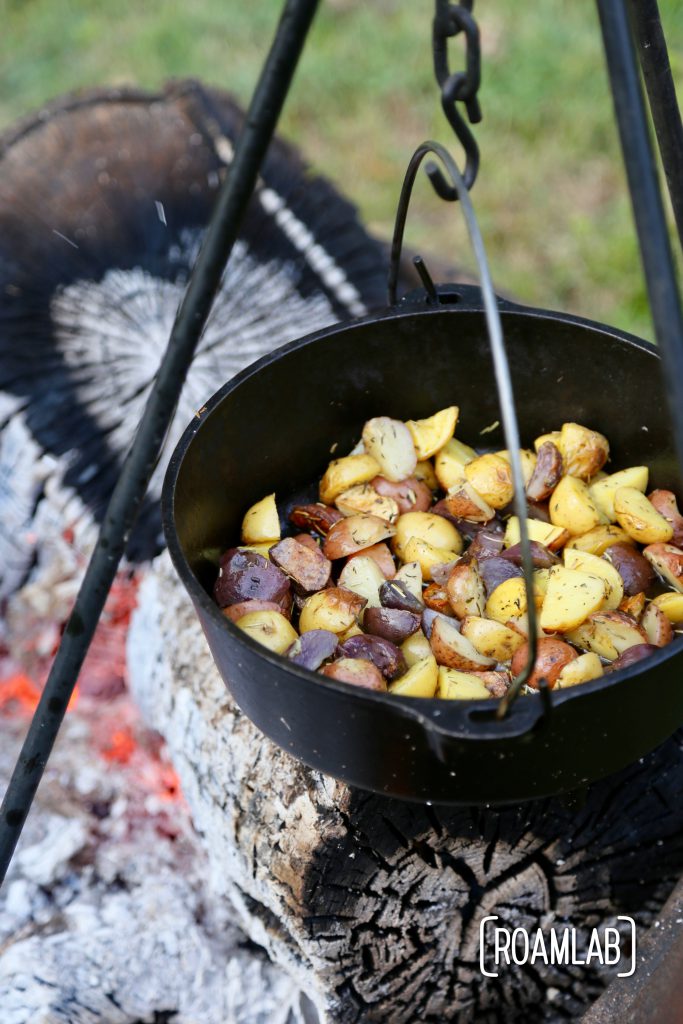 Suggested Sides
The first time prepared this steak, I accompanied it with my regular mushrooms in a red-wine reduction. It was simply too much. The steak is already rich and fatty. It doesn't need extra butter. Instead, keep the sides simple with grilled zucchini, roasted potatoes, or spinach. Cheesy, buttery, or otherwise fatty sides are just overwhelming.