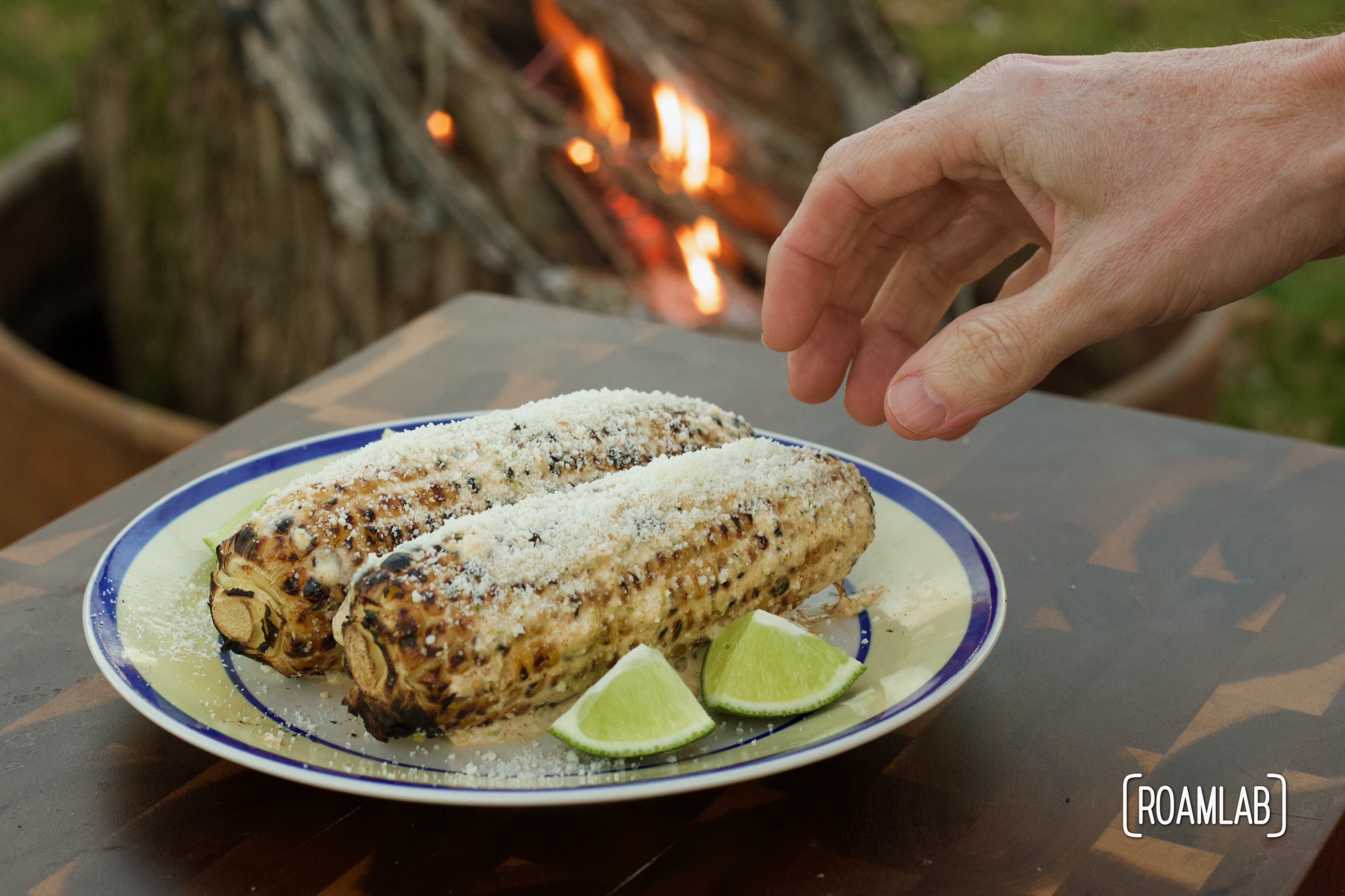 Grilled Elote
Campfire Cooking
There's good chances you have had elote before, even of you didn't know it by that name. This tasty roasted corn cob dish has also been called Mexican Street Corn. It is colorful, creamy, and zesty making for a perfect appetizer, side dish, or even a stand alone snack. One thing I love about this recipe (aside from the flavor) is the flexibility. As nomads, the shelf life of anything we buy is very important. Fish, delicate fruits, and many dairy products don't last long with our lifestyle and too easily lead to waste. Fortunately, a lot of these ingredients are relatively shelf stable. Sure, there is sour cream and mayonnaise but a reasonable cooler or refrigerator can keep those around for a long time. Cotija is a particularly good cheese for RVers because it has an incredibly long shelf life. I've kept a little bag of crumbled cotija a fridge for months. The only ingredient with a notably short shelf life is the cilantro and it is optional (though it definitely makes the elote look particularly colorful.) Best of all, this is a recipe meant for an open fire. Many indoor cooks rely on chili powder to create that smoky flavor but it comes with the cooking process for our campfire grilled elote.
Tin Foil Elote Recipe
Serves 2
Ingredients
2 ears of corn
2 tablespoons mayonnaise
2 tablespoons Mexican crema or sour cream
1/3 cup cotija cheese, finely crumbled
1 lime (1 half is for zest and juice, the second half is for garnish)
1/2 teaspoon ancho chili powder. (use paprika as a mild alternative)
1/8 teaspoon salt
1 small garlic clove, grated
Wooden skewers
(optional) 1 tablespoon cilantro, chopped
Equipment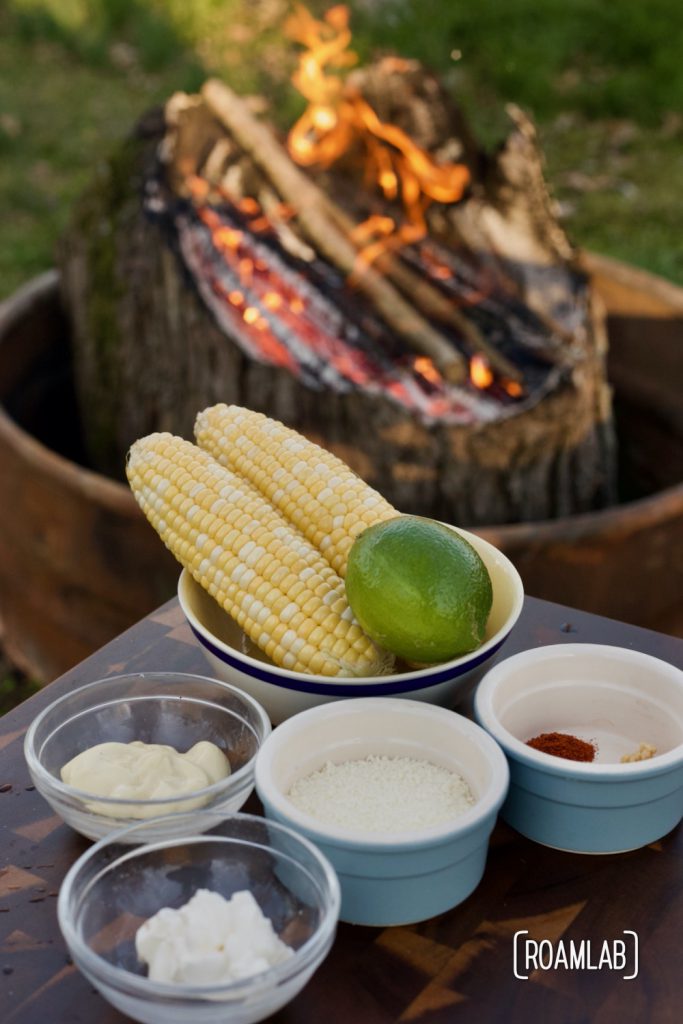 An off season alternative: there are plenty of occasions when I am on the road and find myself falling back on canned goods. There's plenty of occasions in nomadic living when fresh produce simply is not a reality. Fortunately, elote is easily (and a little less messily) adapted for canned corn. Your standard 15 ounce can of whole kernel corn contains the equivalent of 1 and three-quarters of an ear which is close enough to two ears that you can just take our recipe and swap out the two ears of corn for a can. In which case, a quick sear on a preheated cast iron skillet should make up for the lack of grilling.
Prepare fire and place grill close to coals for high heat.
Shuck corn and completely remove silk and stalk.
Place corn on grill. Rotate every three to four minutes for a nice char on the kernels without blackening the whole ear. This should take between 15 and 20 minutes, depending on the heat of your fire.
Set aside to cool.
Zest and then juice half a lime. (Try not to zest the other half since that's for pretty pretty garnish.)
Thoroughly mix mayonnaise, sour cream, two tablespoons cotija cheese (set the remaining cheese aside), chili powder, garlic, lime zest, lime juice, and salt in a bowl.
(optional) Delicately blend in 1 teaspoon of cilantro (set aside the rest for later)
Stick wooden skewers into each corn ear at the stalk.
Use stick as handle to liberally brush each ear of corn with mayonnaise mixture.
Sprinkle remaining cotija cheese, chili powder, and cilantro over corn.
Serve with wedges of lime.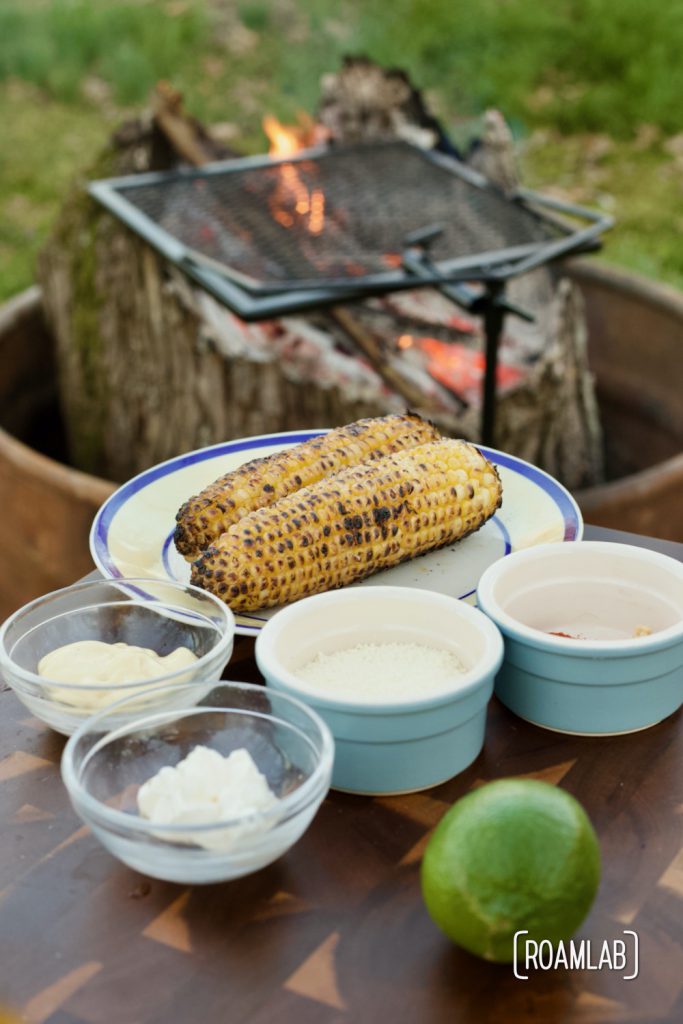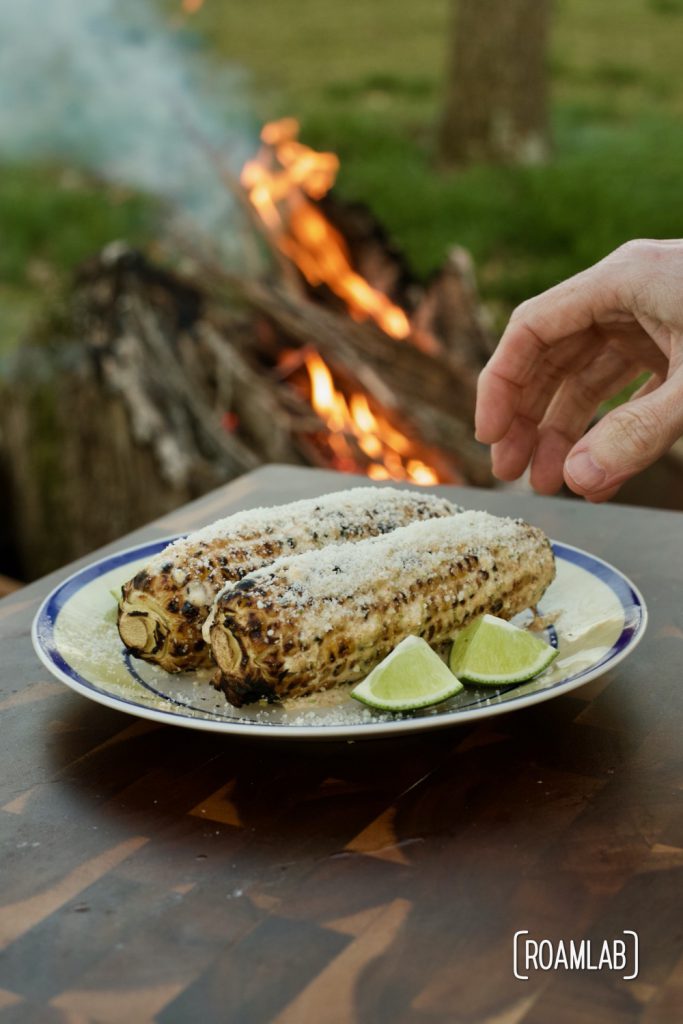 Pairing
Elote makes a fantastic standalone appetizer or snack. But you can also make it a side dish for a fiesta dinner. Of course, my favorite accompaniment are fish tacos. All that cotija cheese, sour cream, and mayonnaise makes me want a light main dish as accompaniment.