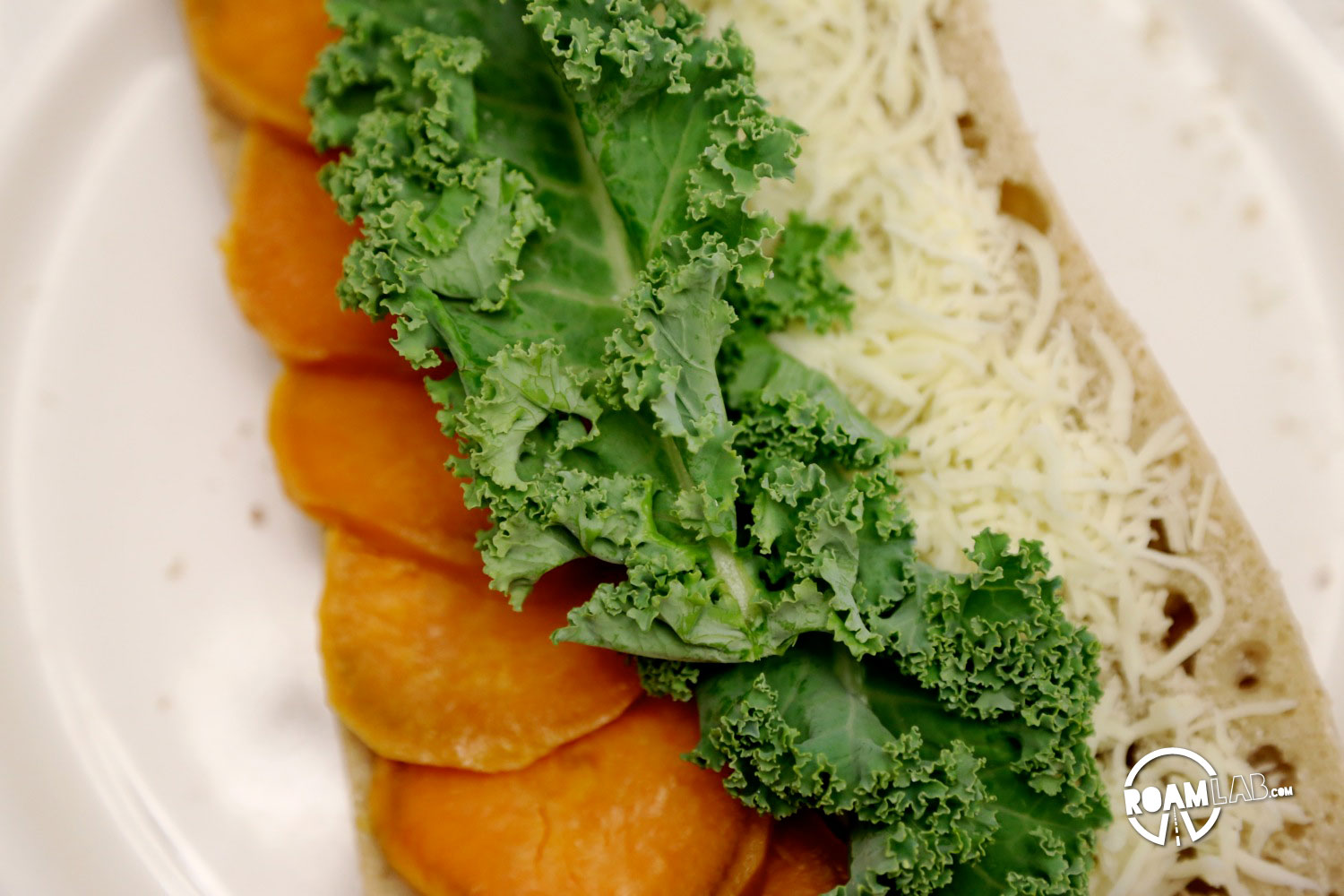 We are curious omnivorous. We are ready to try new and odd meals. If we see some animal on the menu that we have not tried, that will be our order. Even so, we are not above a mammal free meal. If it is tasty, we will eat it, and that includes vegetarian fair. One of my favorite examples of such a meal is the Grilled Sweet Potato, Kale, & Goat Cheese Baguette.
This recipe goes back to a New York cafe that I used to frequent. They had a rotating menu and every day. It was anyone's guess what would be available. There was always something good, but the best days would be when I could order a bowl of butternut squash bisque and a Grilled Sweet Potato, Kale, & Goat Cheese Baguette. When I moved out of the neighborhood, I was too far away to return there for lunches. But the lesson was learnt: sweet potato, kale, and goat cheese are an amazing combination.
So, when experimenting with campfire sandwiches, it occurred to me that I should include a vegetarian option. Sweet potatoes have a fairly good shelf life. Your most limiting ingredient is the goat cheese. Even so, it is a heck of a lot simpler than managing raw meat. So, I thought I would resurrect my old beloved sandwich:
Grilled Sweet Potato, Kale, & Goat Cheese Baguette Recipe
Serves 1
Ingredients
Sweet Potato Slices (grilled and sliced)
Kale
Goat Cheese
Baguette
Olive Oil
Salt
Pepper
Equipment
Grill Basket (I tried cooking this in tin foil but this meant that I was far more likely to burn the sandwich than if I had simply squeezed the sandwich into my grilling cage. So, yeah, get a grilling cage)
Directions
Unlike other sandwiches where the complexity is in the number of ingredients, the challenge in the Grilled Sweet Potato, Kale, & Goat Cheese Baguette is the prep work. To have the right consistency, it is important to have already cooked the sweet potato so that it is soft. I went ahead and had made a large batch of the Sweet Potato & Kale Packet for dinner the night before. While cooking the kale ahead of time is not necessary, it is also a plus. If you choose not to cook the kale ahead of time, toss the kale in olive oil.
Assembling the sandwich is pretty simple. Cut the baguette in half. Spread the goat cheese liberally on one half of the baguette. Stack grilled sweet potato on the other half. Sprinkle salt and pepper on the sweet potato if it has not already been seasoned. Toss kale in olive oil and then place on sweet potato. Close sandwich and place it in the grilling basket.
Warm sandwich over an open fire until the bread is crisp on the outside. No need to rush. It can take a while for the contents to warm but the sandwich is better when the everything is warm.
Enjoy!