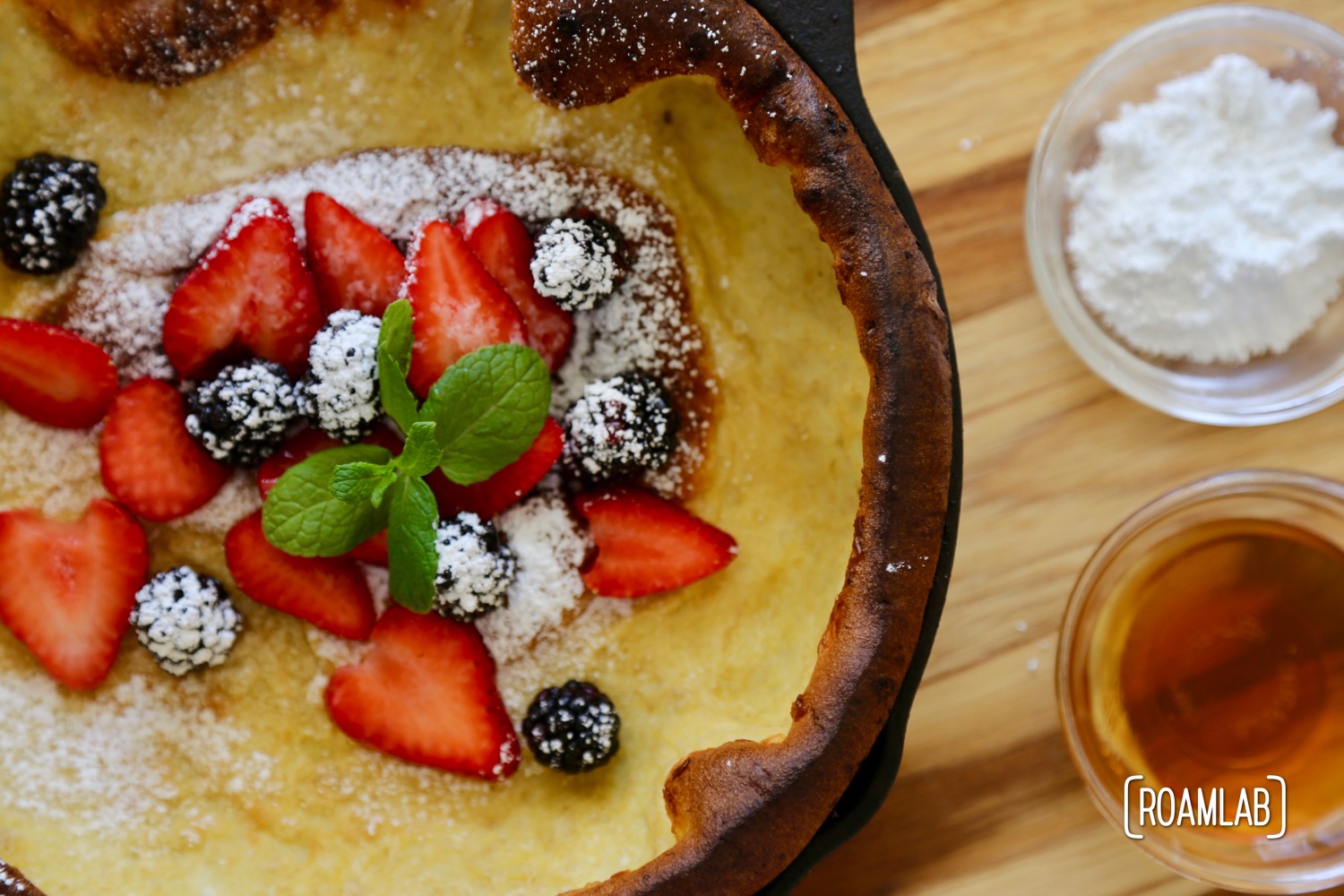 Dutch Baby Pancake
Campfire Cooking
Oh my friends. I've had a bit of an obsession with these Dutch Baby Pancakes. I have a few favorite breakfast and brunch recipes to impress guests when they are visiting and this is a new addition. The batter is incredibly simple to make with common pantry ingredients but the result is extraordinary! This large, single pancake is a fun twist on your more conventional stack of flap jacks and ideal for your cast iron gear. Feel free to fill this bowl of fluffy delight with whatever fruits strike your fancy. Personally, I love some strawberries and blackberries but go ahead and add blueberries, raspberries, or what ever is in season. Dutch baby pancakes are a delicious recipe to serve at home or the campground.
Dutch Baby Pancake Recipe
Servings 4
Ingredients
⅔ cups milk
½ cups flour
3 large eggs
¼ teaspoon vanilla extract
⅛ teaspoon salt
3 tablespoons butter
strawberries, blackberries, and or blueberries
confectioners' sugar
(optional) mint for garnish
Equipment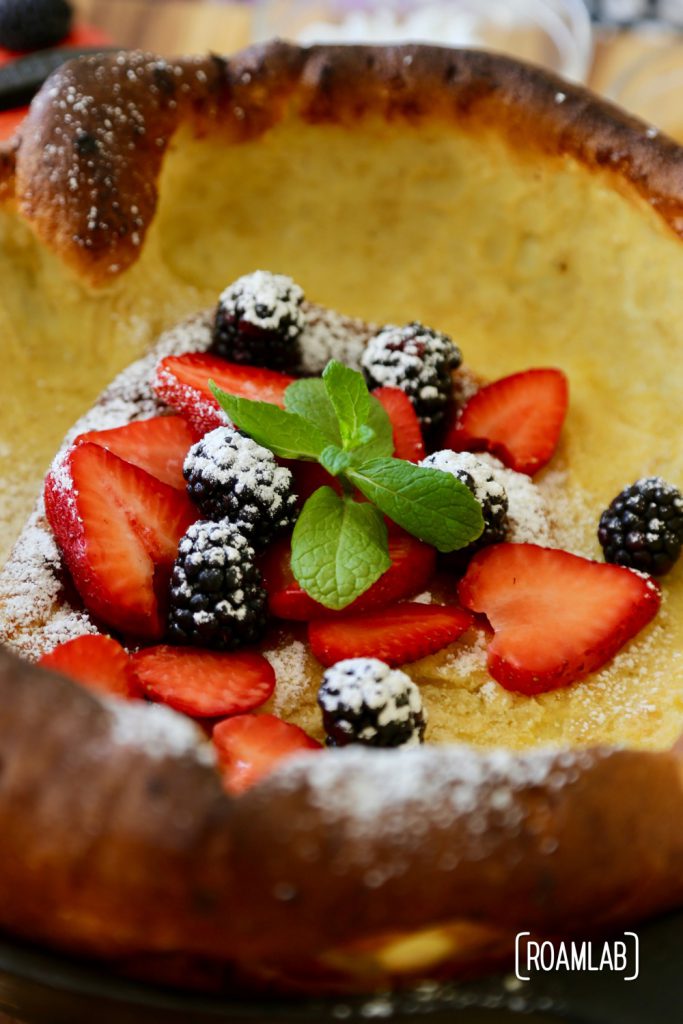 A note on serving size: Personally, I prepare this recipe for small breakfasts with a maximum of four people. Because this is a delicate pancake that rises and settles, doubling the amount of battery without increasing the size of our skillet will mess with your results. I prepare this recipe in a 10-inch diameter cast iron skillet or dutch oven. If you want to serve more people, you will either need to use a skillet with a larger diameter or cook a second pancake.
Directions
While this recipe starts baking as a thin layer of batter, the cooking process puffs up this pancake. So it is important to be cooking the pancake in a large space with room for expansions. When I have access to a conventional oven, I will use a cast iron skillet. When I am cooking over coals, though, I want the extra space of a dutch oven for the pancake to rise and to also allow coals on the lid for an even bake.
Prepare enough coals to heat your dutch oven to 425° F
Blend milk, flour, eggs, vanilla extract, and salt to a smooth consistency
Melt butter in skillet and coat interior with melted butter
Bake for 20-25 minutes
While you can gently remove this pancake the serve, I like to cut it into quarters in the skillet and serve the table from the skillet.
Top with fresh berries and confectioners sugar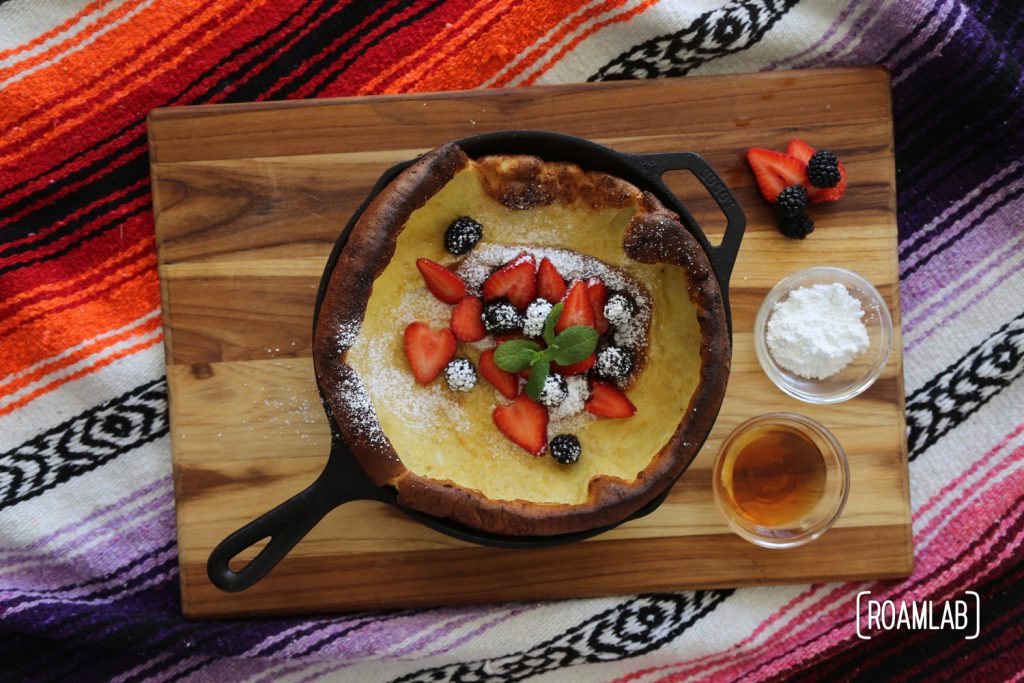 Pairings
Serve Dutch Baby Pancake with a side salad and some maple syrup. I personally like a side of protein such as a breakfast sausage or slice of ham as well. Catch a few pictures before you cut it up. It is a particularly photogenic breakfast.