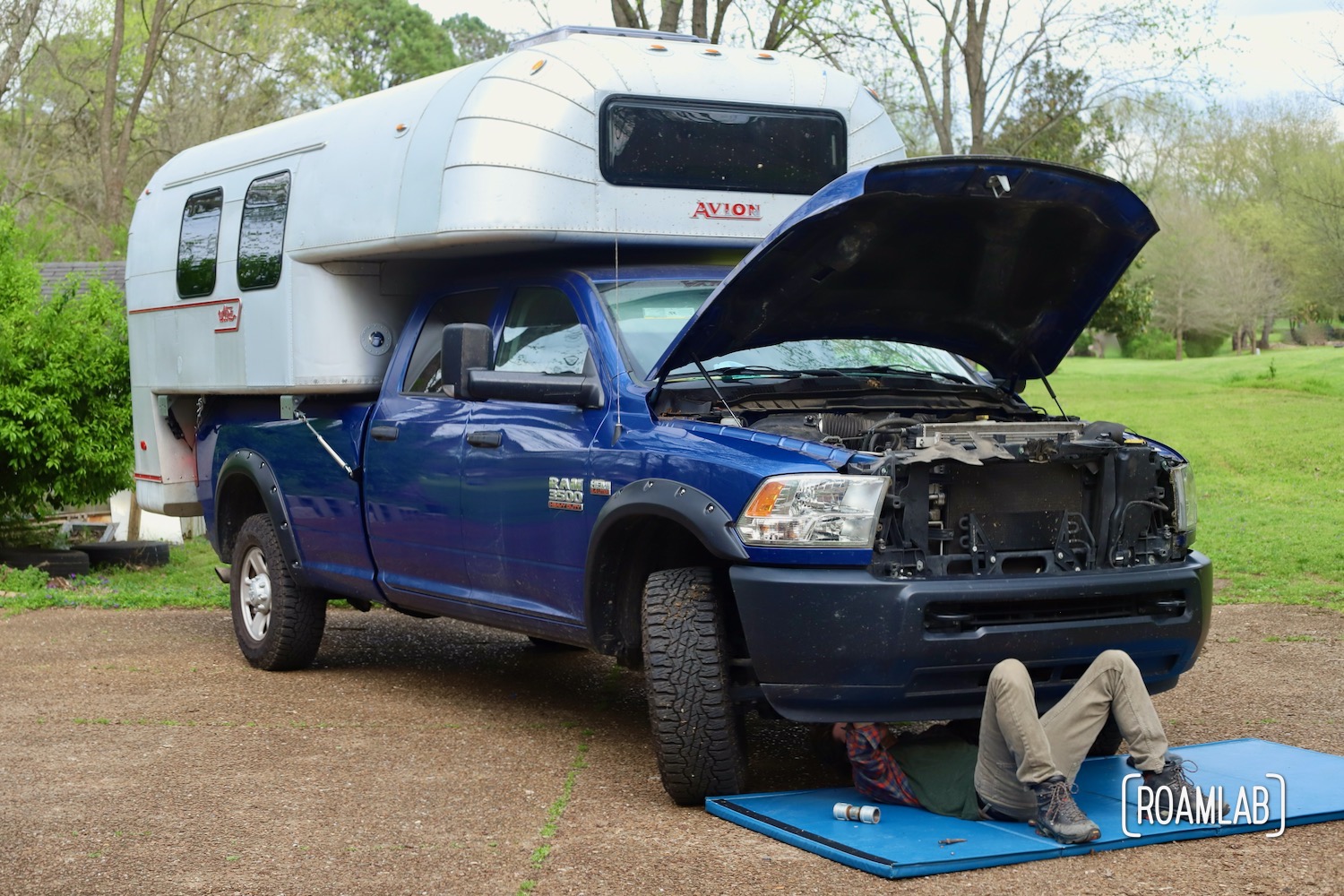 How To Remove A Front Bumper
2015 Ram 3500 Truck Mod
The factory front bumper of our 2015 Ram 3500 has been with us since the day we acquired our truck, Dodgy II: The Truckening. In the early days, there wasn't any reason for us to want more. But with beefier tires and badass fender flares, there is one particularly glaring omission from our overland adventuremobile: a winch. And while we are not much for flare, a winch requires a heavy duty front bumper for mounting. So, we bid farewell to our trusty factory bumper with this tutorial on removing a 2010-2017 Ram 3500 front bumper.
Equipment
Removing the front bumper is a fairly simple process but access to some of the main attachment nuts is very limited. Many of them are torqued very tight, so you will need some leverage and a good pair of work gloves to protect you from busted knuckles.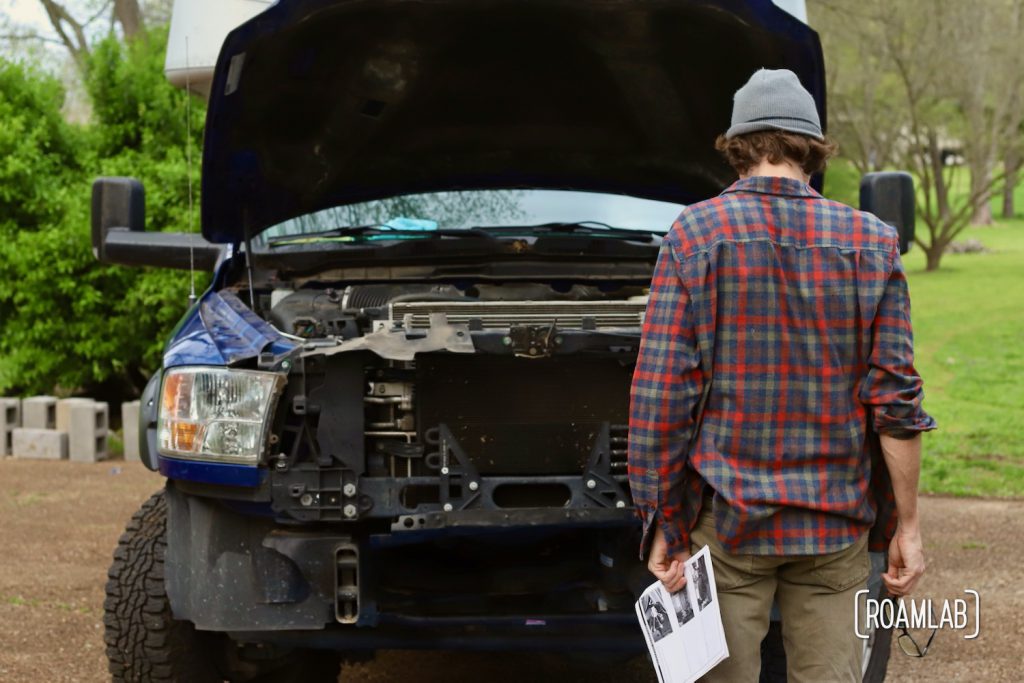 The Build Thus Far
Before removing the front bumper, you need to remove the truck grille. Removing the truck grill will grant full access to the nuts and bolts you will be removing for the bumper. Fortunately, the process is very simple. I already covered this process in an earlier post. So just jump over to How To Remove A Truck Grille and follow those steps. We'll be waiting here, when you are ready.
Removing a 2010-2017 Ram 3500 Front Bumper
There are very few steps to remove a bumper, however, access to many of the mounting bolts is hard to reach—especially when the truck is not up on jacks. Because Ram did such a great job of maximizing each inch of space under the hood, it's sometimes hard to reach certain bolts with an ordinary socket set. Often we relied on a basic wrench, instead. In addition, since the bumper is frame mounted with 1/2 bolts, the torques are around 75 lbs-ft. This means that freeing them can require quite a bit of muscle and leverage.
This should be a two person job. A lot of the early steps can be accomplished by one person, but having the second around is a valuable safety consideration, especially as you prepare to fully remove the front bumper.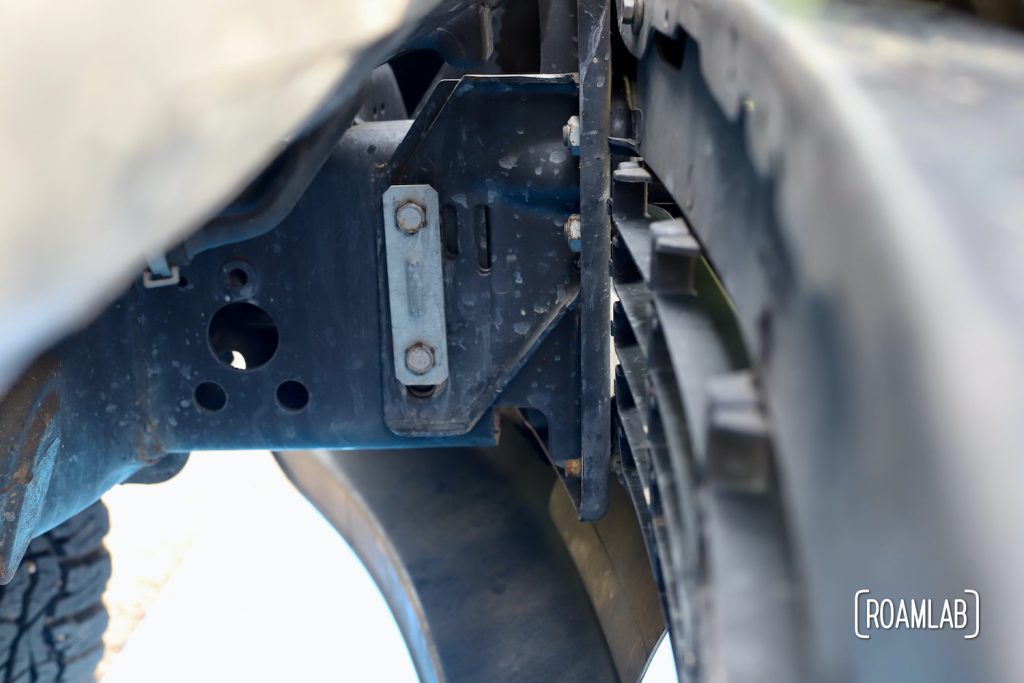 Let's Get Started!
The front bumper is only structurally secured by two front bumper mounting frame brackets. So, aside from a few panel clips we have to unclip, all we need to do is remove a few nuts to release the bumper.
Step 1: Free four panel clips from bumper.
Note, we have a gas truck so if you have a diesel you might not have this.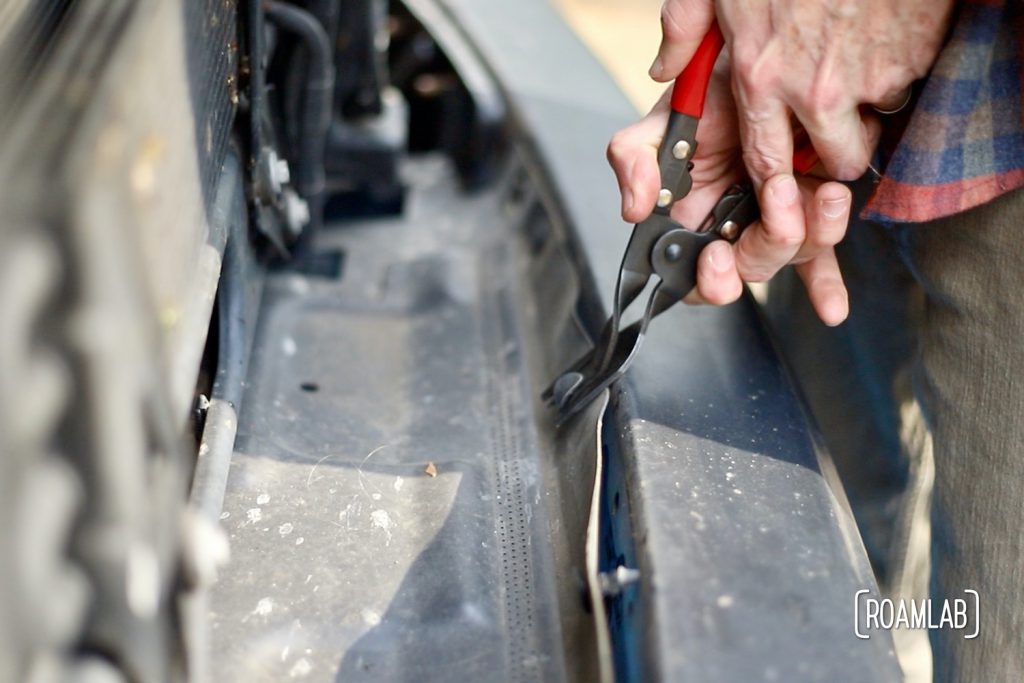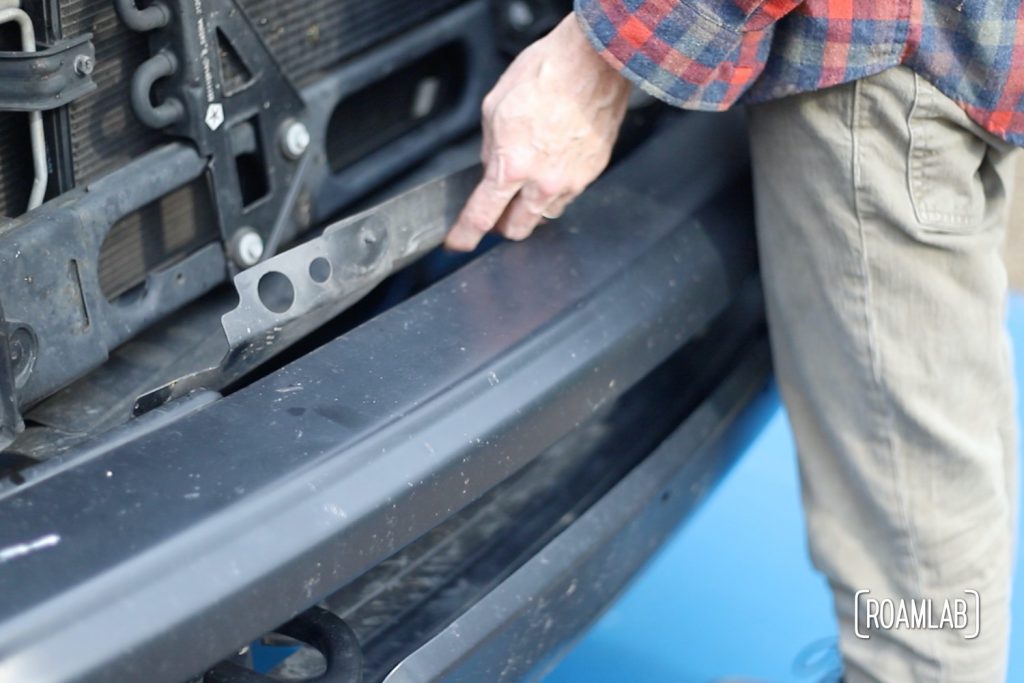 Step 2: Locate the bumper mounting frame bracket underneath the vehicle. There are eight flanged nuts securing the bumper—four on each side. Remove three from each side and save the fourth for the next step.
This step had us incredibly confused because the directions we were following mixed removing nuts to free the bumper with removing nuts to free the bumper mounting frame bracket. They are both things we will do, eventually. But this post is about the bumper, not the bracket. Doing everything in one go makes sense when you are working in a cramped space, but we find our method to be a little more intuitive and not leave you with some loose bolts in case you are using this tutorial for something other than installing a completely new front bumper assembly. So, we've split that up so that we can focus on removing the bumper.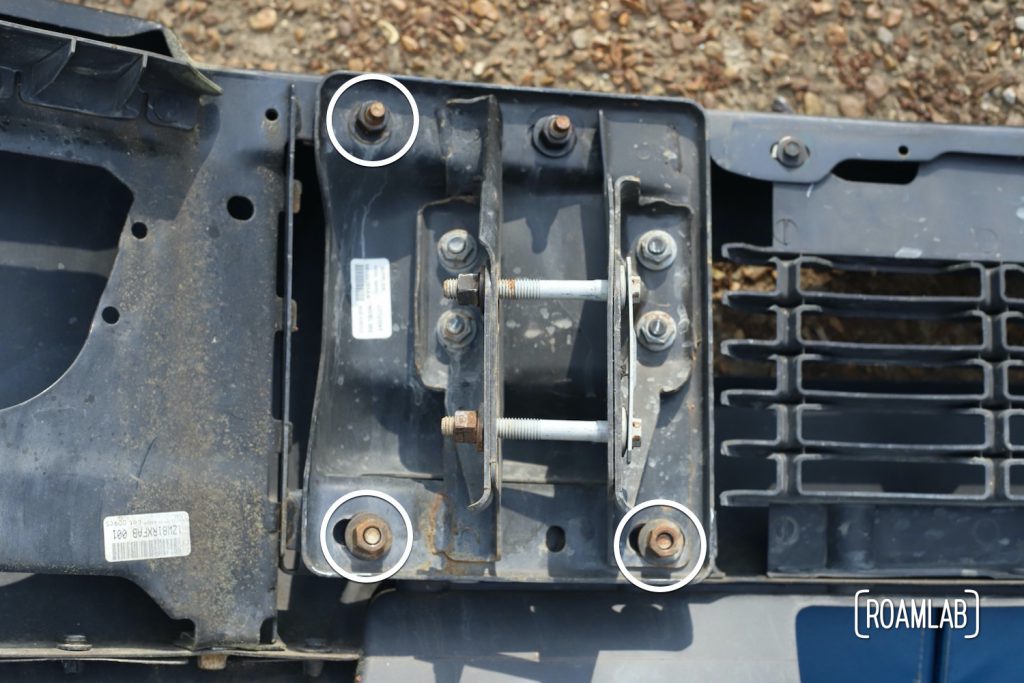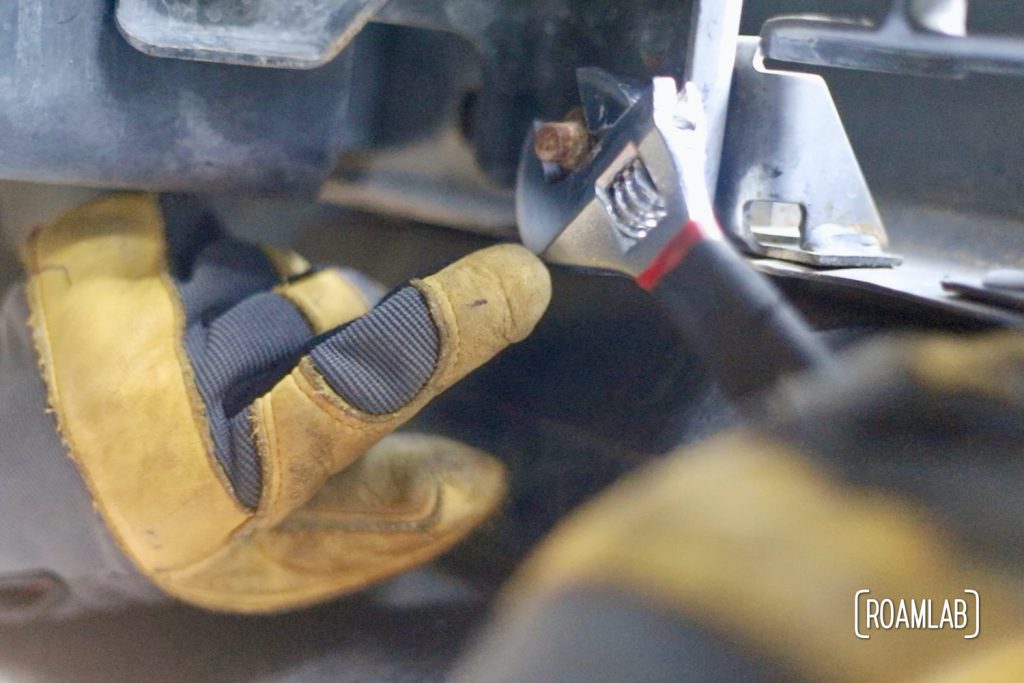 Step 3: Remove the fourth flanged nut from the bumper mounting frame bracket. You should be able to free this final nut from above the bumper. At this point, you should have a second person around to spot your work and make sure the bumper does not come loose until you are ready to remove it.
You cannot see the fourth nut from under the truck. It is visually blocked by the bumper mounting frame bracket and the truck frame. Even from above, it is very difficult to access. Feel free to take a breather or two at this point. It can be frustrating!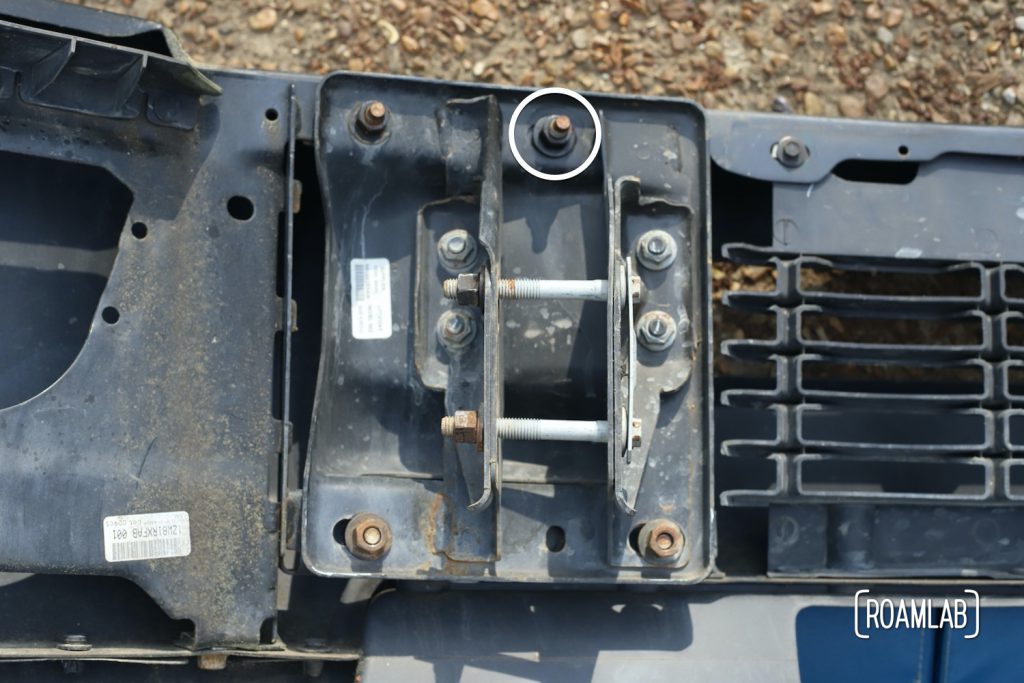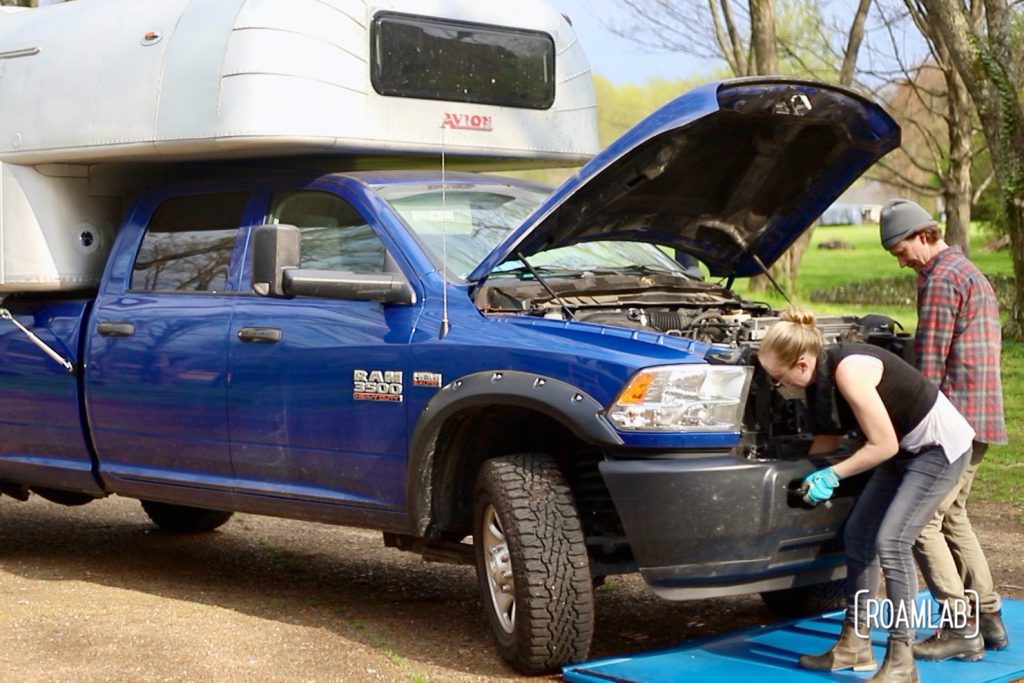 Step 4: Carefully remove the bumper from the vehicle, with assistance.
The front bumper is awkward to walk with. So it helps to have some cardboard to rest the bumper while you get a better hold and then move it any long distance.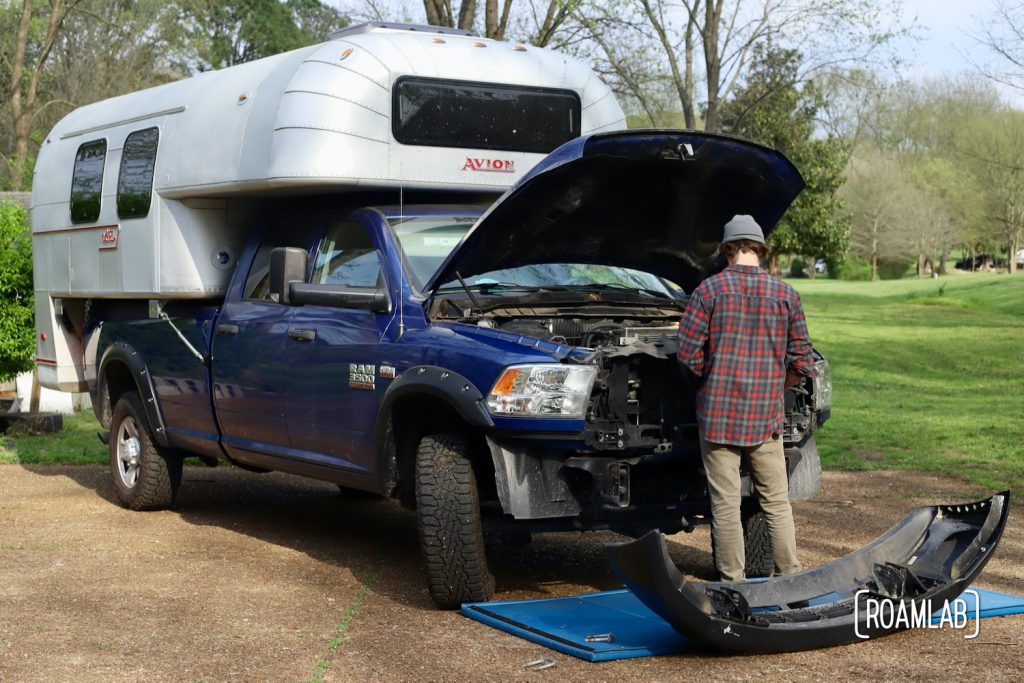 Conclusion
And there you go! Not many steps at all! As noted, there really isn't much to this process. The challenge is in the cramped conditions and confusing directions. Part of this may be the result of directions written to support the broadest spectrum of users. It seemed like some steps had nothing to do with our truck while one notable step was completely overlooked. I'm curious to know if anyone else has removed the front bumper from a 2015 Ram 3500 and had a completely different experience. If so, please, let me know in the comments.
All the same, we are ready for our next step: Installing A Warn Ascent Front Bumper